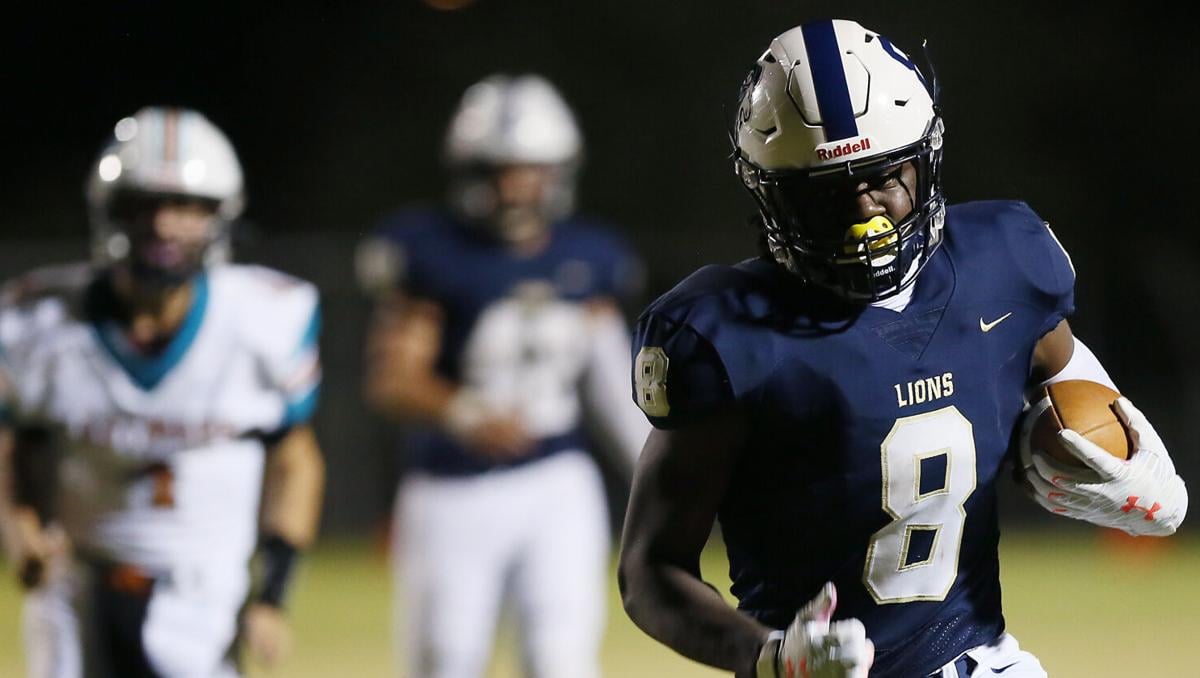 Rundown: Lovett is a senior running back at Pusch Ridge Christian, rated as a three-star prospect and a top-40 player in Arizona's 2021 class by 247Sports.com.
Who he is: The 6-foot-1-inch, 210-pound Lovett is a rare specimen who provides both speed and power out of the backfield.
The engine that makes the Lions' offense run is aiming to make his final high school season be his best season after a nagging knee injury in 2019 kept him from posting back-to-back 1,000 yard seasons. In his first game this fall, Lovett posted an eye-popping 134 yards on just six carries, three of which resulted in touchdowns.
Lovett said on opening night that he was "seeing the game in slow motion" as he's now understanding how to be more patient,. A step to the right here, a juke to the left there, "everybody's smaller to me," Lovett said with a laugh.
Pusch Ridge is 1-1 after losing Friday night's game at Yuma Catholic, 14-7.  The Lions are scheduled to host Safford this week.
Lovett loves football, crediting his perseverance through minor injuries and his work in the classroom as to why he's a three-star prospect and among the best running backs in the state.
Lovett has overcome adversity off the field. Lovett learned early in high school that he had a slight learning disability where his brain processed information slower than other students his age.
"I'd be doing homework till 12 at night after practice, turning in my assignments on time, and then just still not learning everything and not doing well on tests," Lovett said.
Lovett used football as an outlet to relieve the stress of school while also working with his family and the Pusch Ridge teachers to find ways to improve the ways he absorbs information in the classroom.
"We just completely reshaped it and have a formula for what we're doing and now I'm doing good in class," he said. "My processing speed now is getting close to the same level as others and I'm not struggling as much."
Proof he's good: Lovett was on pace his junior season to get close, perhaps even surpass, the 1,000-yard rushing mark for the second straight season before a knee injury forced him out of the team's final two games.
"It wasn't a major injury, but it wouldn't have been the best for me to go out and play," Lovett said.
Still, he put up 775 rushing yards and scored 10 touchdowns in eight games. Add those numbers to his his 1,192-yard, 13-touchdown showcase in 2018 and there's no question why he's has already received a scholarship offer from Eastern New Mexico University.
"It's a blessing and a relief," he said. "Just to see that my hard work is finally paying off."
Flexibility is "still a work in progress" for Lovett, though the senior said he feels a big 2020 campaign is on the horizon.
He said it: "This year I just want to be an example to others. I want to tell people you can do it, because life is hard. And I definitely want to help encourage people. who look up to me as well as my peers." — Lovett
Alec has been with the Star since October 2019. He writes stories and produces digital content primarily about the Arizona Wildcats. Alec graduated from the University of Arizona in May 2020.
Get in the game with our Prep Sports Newsletter
Sent weekly directly to your inbox!