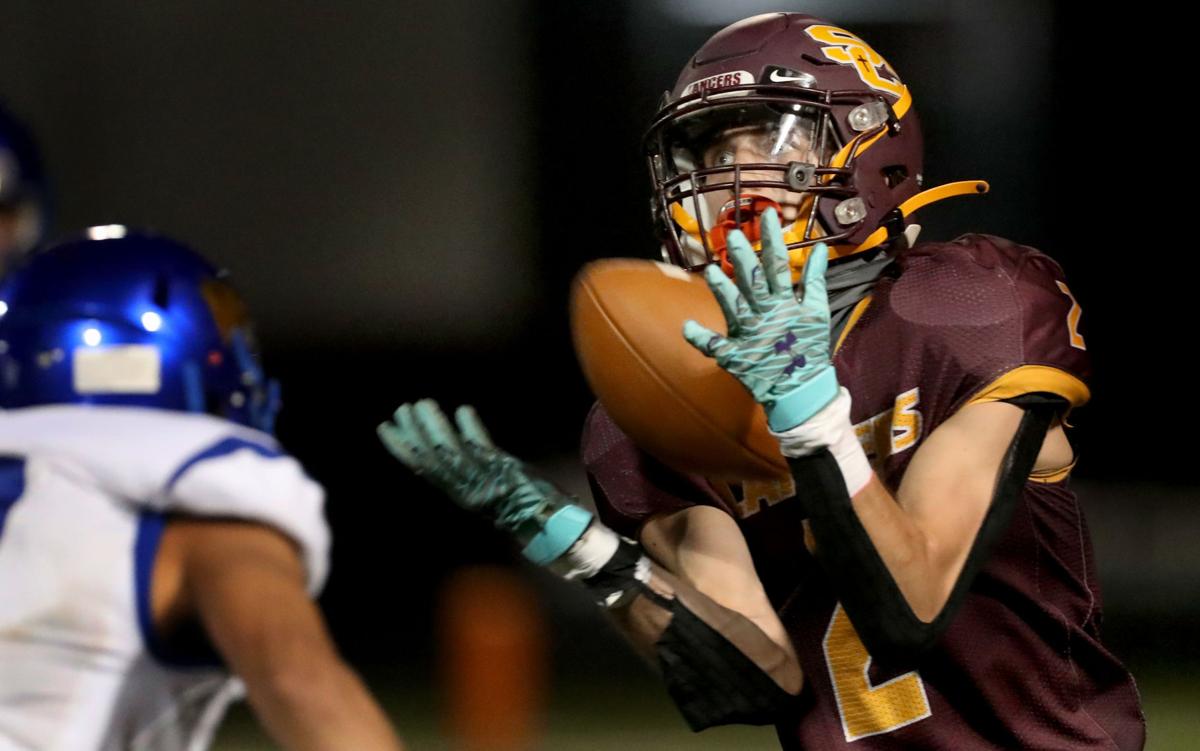 Editor's note: The Star is counting down the 22 best high school football players in Southern Arizona, in no particular order.
The rundown: Barclay is a 6-foot-2-inch, 175-pound junior wide receiver at Salpointe Catholic High School.
Who he is: Before arriving in Tucson this summer, Barclay attended California powerhouse Mater Dei and spent his free time at the beach.
Barclay's mother lives in Newport Beach, while his father resides in nearby Dana Point. When Barclay wasn't training for football, he body-surfed with his buddies.
He has since traded palm trees for saguaros.
California's decision to delay high school football season until January and personal issues in California prompted Barclay to relocate. He is now living with family friends that have known the Barclays since Elijah was a baby.
"It's just a restart," Barclay said. "It's kind of like a new chapter. I like living here, even though it's really hot."
Barclay will be looked at to be one of Salpointe Catholic's top playmakers on offense after the Lancers lost All-America running back Bijan Robinson, two-way star Lathan Ransom, tight end Jackson Sumlin, wide receiver Dae Han Chang, tight end Connor Witthoft and wide receiver Coben Bourguet to graduation.
In his first game as a Lancer, Barclay hauled in four catches for 82 yards as Salpointe Catholic beat Casa Grande. His connection with quarterback Treyson Bourguet, an Arizona commit, was apparent.
"It'll help us win games," Barclay said. "Hopefully we can play together in college, because we already have a connection as quarterback-wide receiver and as friends."
Barclay could become Bourguet's favorite target. Salpointe Catholic (1-0) is scheduled to return from its two-week coronavirus quarantine next week; the Lancers will take on Sierra Vista Buena on Oct. 23.
"It's always hard when you have a transfer, and I think what's special about Elijah is he's a great teammate. … He doesn't say a whole lot, but he leads by example," said first-year Salpointe Catholic coach Eric Rogers. "He goes after it and does whatever is asked of him, whether it's offense, defense, special teams; whatever the team needs, he's there to do it."
Proof he's good: Barclay is rated by 247Sports.com as a three-star prospect. He holds scholarship offers from Purdue, TCU and Illinois State.
"Not put any pressure on him, but if the University of Arizona was interested in him, I think that'd be a great spot for him," Rogers said. "But if ASU came calling, I'm sure he'd consider that. … He's going to have some more offers when it's all said and done."
He said it: "He brings another dimension to our offense in the sense that he can really spread the field. He's got tremendous speed, great hands and we have to take advantage of that. We have to make the other team defend the whole field and him running deep routes. …
"In a lot of ways, and I hate to compare him to this, but he is kind of like a Jerry Rice. The way he runs is effortless, and he's just very, very smooth. You don't realize how fast he is until he's by you, and you're like, 'Whoa, how did that just happen?' " — Rogers