Cole Sterns arrived in Atlanta earlier this fall ready to give professional football a shot.
His chance took the form of an invitation-only showcase. Sterns learned almost immediately that this wasn't college anymore.
"It's not like college, where you kind of get your hand held a little bit," he said. "They tell you where to be and if you don't show up, that's your money you're cutting into.
"It's really about taking that accountability for yourself. The coaches aren't necessarily going to yell at you, you might just get cut."
The weeklong tryout in Atlanta took place in front of XFL staff, and footage from the training was also sent to CFL and NFL teams. The new-look XFL will debut in February, with the Indoor Football League — home of the Tucson Sugar Skulls — kicking off the following month. Sterns has an agreement to join the IFL's Arizona Rattlers but will continue to chase other leagues. The 2020 CFL season, for example, begins in June.
"The feedback I got was solid," Sterns said. "There were probably close to 100 guys from all different places and skill levels. Some guys were former college players, some had experience in smaller leagues and then there were some who just went through training camp with an NFL team. It was nice to get back out there and play corner as opposed to safety because that's what I feel I'll play at the next level."
Sterns is well-traveled since his days as an all-state defensive back at Sahuaro High School. He played three seasons (2015-17) at NAU and one at SMU (2018) as a graduate transfer.
"The whole mind-set was to play at a higher level," Sterns said. "The recruiting was slow in the beginning, but once I tweeted my film out it really became a lot like high school again."
Deciding on SMU was a decision for Sterns that didn't come easily. After committing to the school, he says he heard from both Georgia and Texas A&M about potentially playing there.
He chose SMU, coached by former UA assistant Sonny Dykes, because he "felt it was the best chance to get on the field."
Sterns moved to safety, got injured and finished the season with 24 tackles. The Mustangs went 5-7, marking a disappointing end to Sterns' career.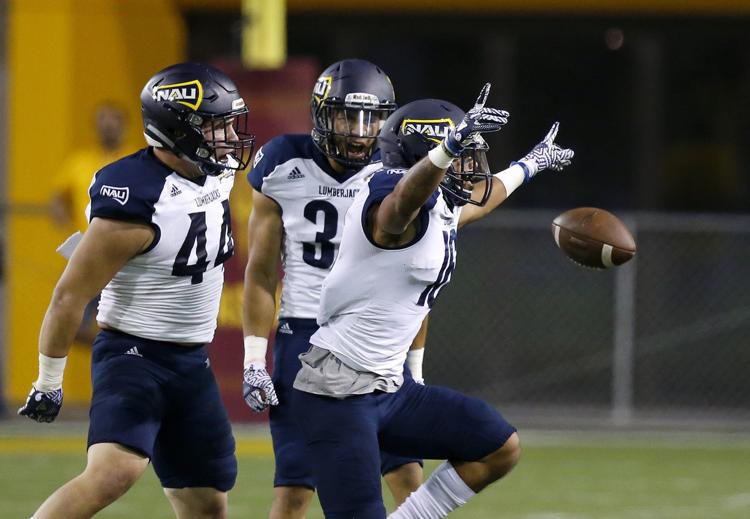 "I felt like it was going to be a great year for me early on," Sterns said. "I was starting the first couple of games at safety, which was a position I hadn't played since high school. I got a concussion that sidelined me for four weeks, including the bye, that set me back.
"From a personal standpoint, the season wasn't what I expected due to injuries. I felt like overall the experience itself was good and I would definitely make the jump again."
For now, Sterns is focused on staying in shape — and staying ready.
He lifts about four times a week, does speed work three times a week and mixes in football drills as much as possible.
"There's a lot of little things in terms of just simple push-ups or studying film from the past on things I maybe messed up or could do better," he said. "It's about being the person I want to be at all times."
While Sterns has his mind set on making it to the next level, he may not even be the most athletic person at the next family gathering.
Sterns' father, Darian, played football at Pima College, and his older brother Bryce Dempsey played defensive end at Valparaiso. Two of Sterns' cousins played major college football: Jordan Sterns attended Oklahoma State, where he was an All Big 12 Conference defensive back in 2016, and Caden Sterns, currently at Texas, was the Big 12 freshman of the year and a first team all-conference pick in 2018.
Sterns says that despite all of the family accolades on the gridiron, the best athlete in the family is someone who never stepped foot on a football field.
"I'm gonna give that to my little sister, definitely," he said with a smile. "She has like six state medals, I can't compete with that."
Brielle Sterns is currently at New Mexico State on a volleyball scholarship. During her time at Sahuaro, she was a three-time state champion in the hurdles and set a state record in the 100-meter hurdles as a freshman.
Despite having so many athletes under one roof, Sterns says things never got as competitive as people may think.
"I wouldn't say it was a competitive household because we all wanted each other to do well," he said. "We would give each other constructive criticism and get on each other when we weren't living up to our potential."
That potential is something Sterns hopes will earn him a chance to live out his dreams at the next level sometime soon.
"Nobody is going to give me anything out there," he said. "I have to take it."
Get in the game with our Prep Sports Newsletter
Sent weekly directly to your inbox!