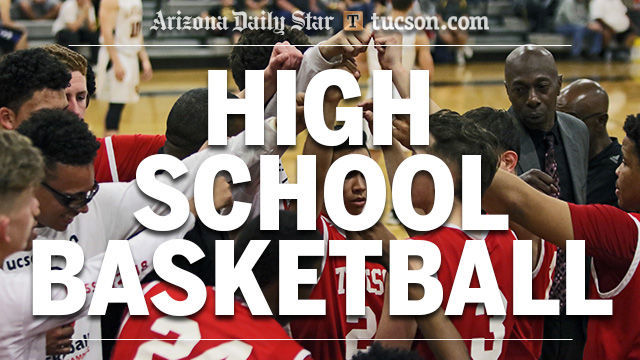 Although it's still early in the season, injuries to key players are becoming a factor for three Tucson-area teams: Sabino, The Gregory School and Sierra Vista Buena.
At Sabino, senior guards Charlie Hasler and David Busby have missed the start of the season because of injuries.
Coach Martin Roth understands what his players are going through, having had his high school playing career curtailed in his sophomore year because of a leg injury.
"Emotional trauma due to injury; it's real," the coach said.
Referring to the two players he added: "These are great kids. They've played ball their whole life and worked extremely hard getting ready for this year. To have that opportunity taken away is more than tough."
Despite the injuries, which Roth said were "non-contact and freakish," both players remain involved with the team and are still supporting their teammates.
At The Gregory School, a mid-game injury to the team's top player marred a three-game trip to Phoenix.
The Hawks beat Phoenix Christian 50-48 in their first game. They fell behind late in the first half of the second game, Mohave Accelerated, following a knee injury to senior Josiah Prior. The Class 1A Hawks lost 46-33, then dropped the third game, to Parker, 53-32.
Coach Craig Everson was optimistic after the game that the injury to his starting guard would not prove to be serious in the long term. Prior was averaging 26.5 points per game.
As for the busy schedule, the coach said the games were useful from a competitive perspective for the team because it allowed them to play "mostly 2A teams."
At Buena, an off-season injury to an all-around athlete will likely cost the Colts the services of one of its best long-term prospects this season.
Justin Davis, a 6-foot-6-inch sophomore forward, suffered a slight patella fracture exiting a trampoline earlier this year. And a second Buena player, junior forward Christian Gouchie, has seen very limited action in one game this year but is expected to play more as the season progresses.
Coach Dave Glasgow says Gouchie has a knee issue similar to UA guard Brandon Williams, who will not play for the Wildcats this season.
Gouchie "got a cortisone shot, will play the rest of the year, and have surgery after the season," Glasgow said.
Coach Glasgow described the third injured player, guard Jaylen McFadden, as the team's "best all-around player."
McFadden suffered an ankle injury Nov. 16, and has not played or practiced since. He will likely be out for another couple of weeks.