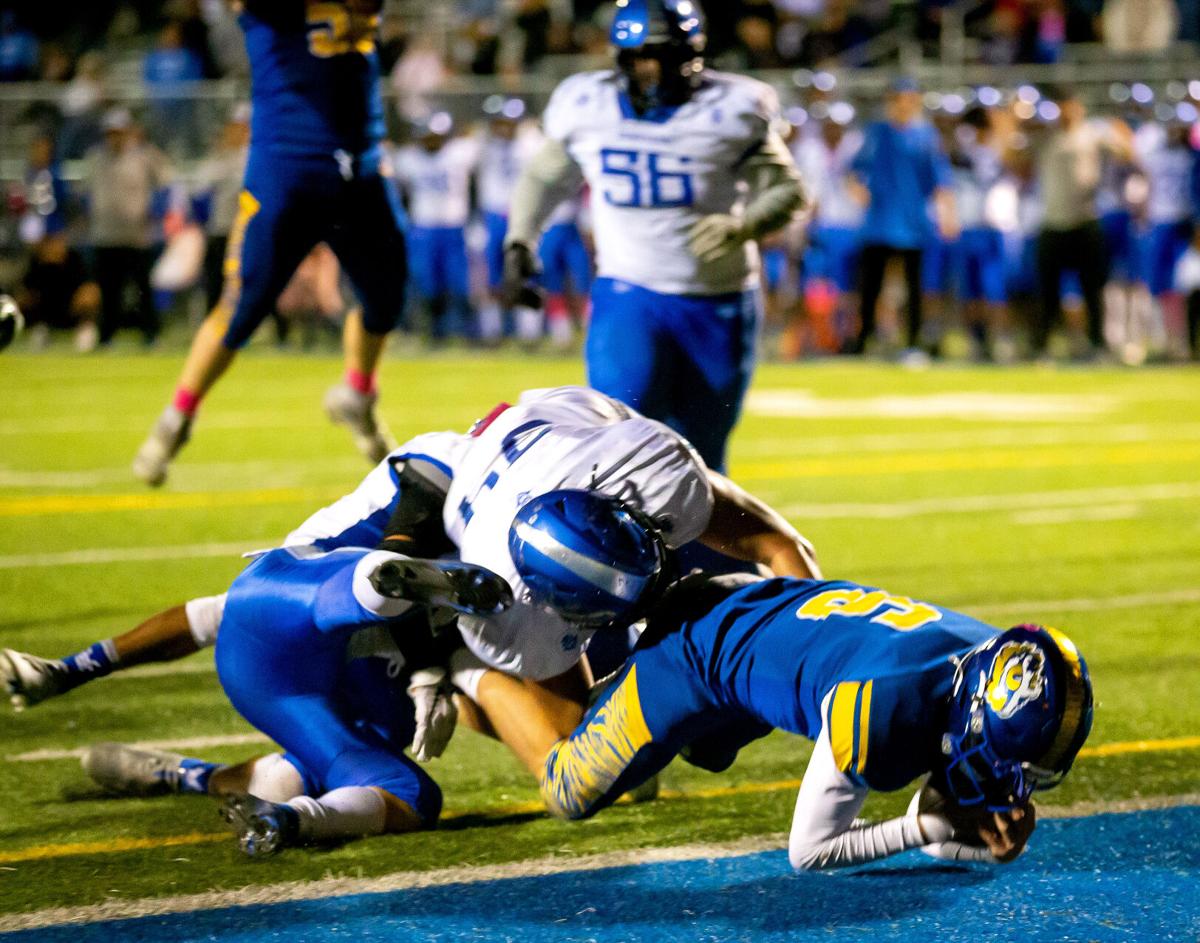 Moments after Marana head coach Philip Steward addressed his team following the Tigers' thrilling 36-35 win over Sunnyside on Friday night, "Don't Stop Believin' " by Journey began playing over the stadium speakers.
The Tigers overcame a three-touchdown fourth-quarter deficit by scoring two touchdowns late, recovering an onside kick and converting a two-point conversion to pull off the come-from-behind victory.
"It's in there. We can do whatever we want if we believe," Steward said with the song blaring across Marana's field. "We believed tonight."
Sunnyside began its first drive on the Marana 30-yard line following a shanked punt by the Tigers; the Blue Devils answered with a goal-line touchdown by running back Nycholas McDaniel to take a 7-0 lead.
The Blue Devils went ahead 14-0 after an interception was returned for a touchdown by Sunnyside's Roman Canez.
Just when the Blue Devils garnered momentum, Marana freshman wide receiver Dezmen Roebuck took a 35-yard pass from quarterback Elijah Joplin down to the 2-yard line and capped the drive with a swing pass to get the Tigers within a possession, 14-7. Marana then had a fourth-down stop inside the red zone, but Sunnyside countered it the next drive by debunking a fake punt attempt by Marana.
Sunnyside quarterback Deion Conde tossed two touchdown passes in the second quarter, including a 63-yard bomb to Tre'von Armstrong, as the Blue Devils led 28-7 at halftime.
"I told them at halftime: 'What did we do this summer? It got tough and y'all responded,'" Steward said. "'So, how are we going to respond? Y'all know what we did this summer is paying off for us.'"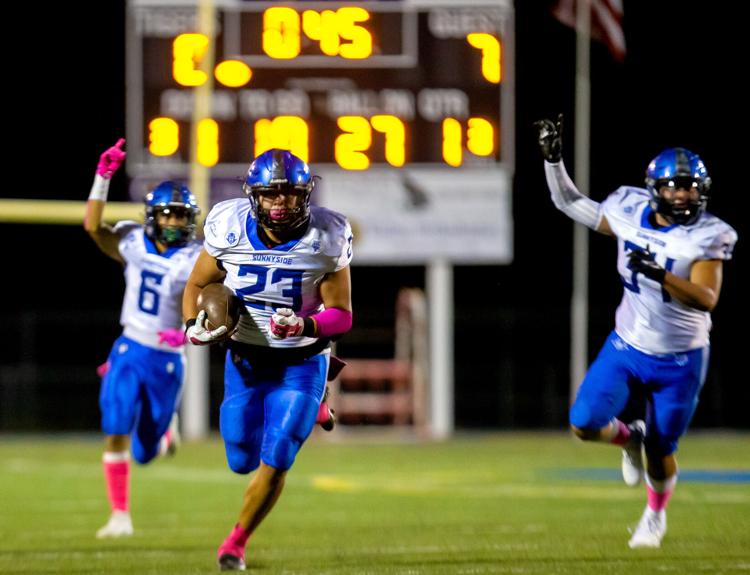 McDaniel's 16-yard rushing touchdown put the Blue Devils ahead 35-14 with 6:37 left to play.
"In the second half I said, 'Hey, we're losing, so just go out there and play and have some fun,' and they went out, had fun and started playing free and then boom," Steward said. "That's the kind of football we want to play."
Joplin found running back Matthew Jensen for a 42-yard touchdown, and Marana intercepted Conde on the following drive. Joplin answered with a touchdown pass to Chika Ebunoha that pulled the Tigers within one possession with 57.5 seconds left.
After Marana recovered an onside kick, the Tigers marched down to the red zone with a pair of passes to Sam Brown. With three seconds remaining, Joplin darted a pass to Jason Wood to bring the score to 35-34.
Then a decision had to be made.
"I asked our coaches what they wanted to do and they said, 'Whatever you want to do coach.' So, I said, 'Let's go win it,'" said Steward. "I talked to my quarterback and told him to make his reads and if nothing is there, make a play."
Joplin took the snap, read the blitzes coming from the edge, stepped up and scampered in for the two-point conversion.
"It was a great feeling getting into the end zone," Joplin said. "It was a big feeling of relief and I'm just happy we got the win."
Sunnyside (4-2) is on the road again next Friday at Ironwood Ridge, while Marana (5-1) will play at Rincon/University.
Contact sports producer Justin Spears at 573-4312 or jspears@tucson.com. On Twitter: @JustinESports