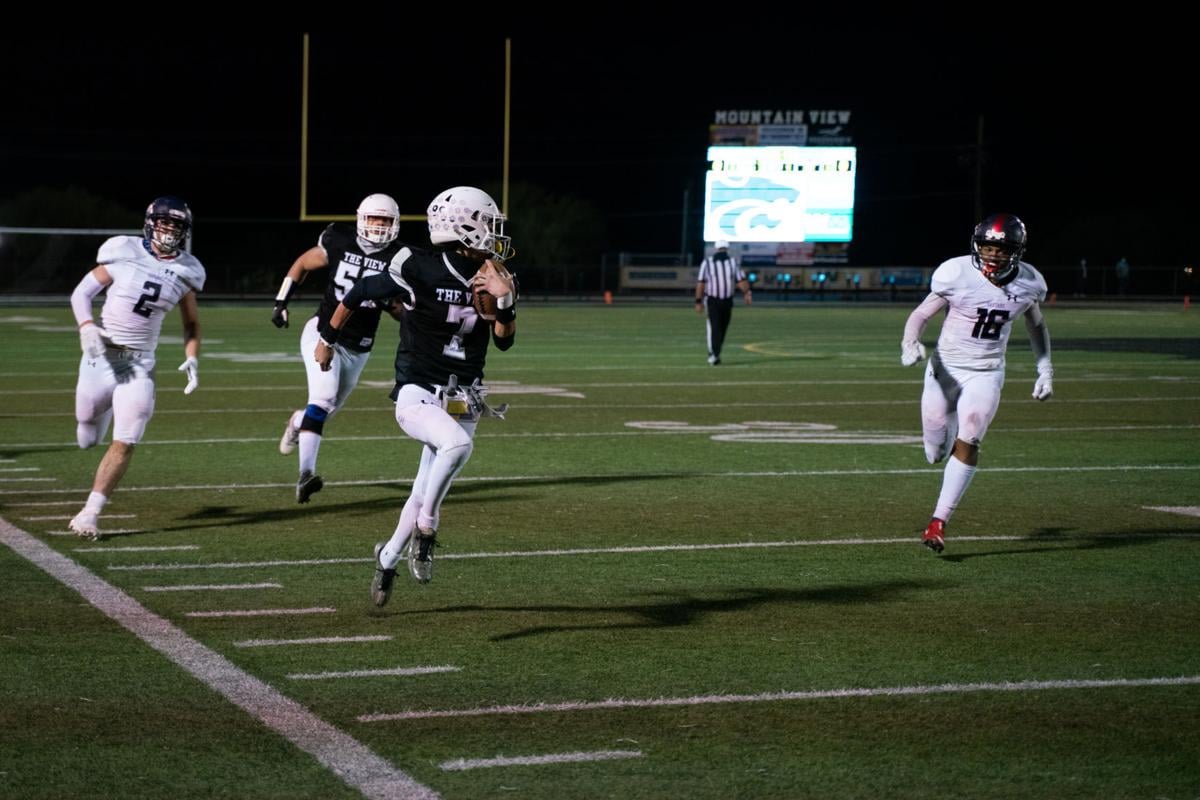 Perhaps nothing better signified the Sahuaro offense's mountainous task Friday night than third-and-45.
The play, a four-yard scramble by quarterback Devyn Roberts, came with 10:45 remaining and Mountain View holding onto a 14-point lead. While a two-score lead in the fourth quarter of a high school game is usually a good spot to be in, the Mountain Lions had lost their senior quarterback Giovanni Ciaccio, and their offense had sputtered.
Still, the defense rose to the occasion, forcing that third down and very long, just one of its many highlights in a dominant 35-7 victory.
"It feels great," senior Hayden Parson said. "It makes you feel like you've done a very good job on defense to push them back that far."
Aside from a miraculous 32-yard catch by do-it-all back Jamir Gasaway, Sahuaro mustered only 30 yards on 29 first-half plays. Mountain View's defense allowed just one first down in the second quarter, and even that came with less than a minute before the buzzer.
But it wasn't just limiting the Cougar's explosive plays. Mountain View's defense provided a few of their own, forcing six turnovers.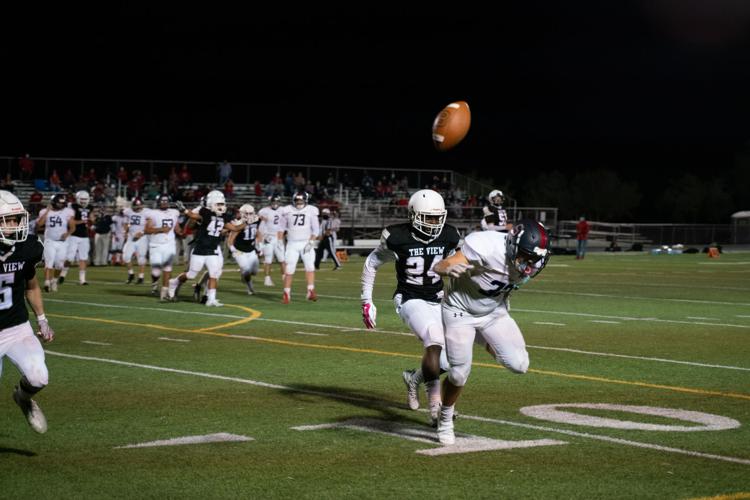 After a 53-yard punt had Sahuaro backed up on its own goal line, senior linebacker Daylin Smith forced and recovered a fumble at the Sahuaro 4-yard line. A few plays later, senior running back Kollins Opoku-Appoh, who finished with 116 yards on 13 carries, dragged four Cougars into the end zone.
On the next Sahuaro drive, a tackle for a loss by Hayden Parson forced a Sahuaro punt. The snap flew past the Cougar punter, who recovered under pressure at his own 5-yard line. Backup quarterback Gerardo Pelayo punched in a 2-yard score to put the Mountain Lions up 21-0, their largest lead.
Mountain View also shut down Sahuaro's air attack, intercepting quarterback Devin Roberts three times, two by Lloyd Morning and one from Dallin Torres.
On the other side, Pelayo was forced into action after Ciaccio left the game after an injury to his throwing shoulder late in the second quarter.
Up to that point, Ciaccio was Mountain View's most effective weapon, rushing for 73 yards on seven carries while also completing a 40-yard touchdown pass to Parson. The towering 6-foot-5 tight end/defensive end hauled in two more catches to bring his receiving total to 103 yards.
"I can throw anything to him, and he'll catch it," Pelayo said.
Sahuaro leaned heavily on running back Trevion Watkins, and to his credit, he never got worn down. A whopping 67 of his 113 yards, on 22 total carries, came in the second half.
"Trevion is a good football player, but there's a lot of things he's got to work on," Sahuaro coach Scott McKee said. "I've got to do a better job of putting him in better positions and the rest of the group has got to help him. This was just not a very good night for us."
Sahuaro (1-3) hosts Tucson High next week, as Mountain View (1-3) travels to Desert View.
Get in the game with our Prep Sports Newsletter
Sent weekly directly to your inbox!