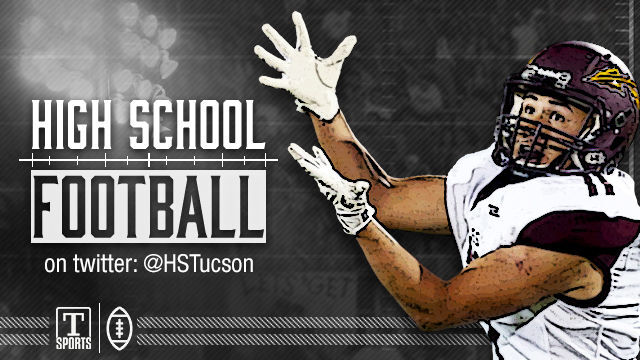 Pusch Ridge Christian had the spotlight to itself Friday night, and the Lions didn't disappoint, thundering past Thatcher 58-26 in the only local high school game of the night.
The backbreaking play came with 5:33 left in the first quarter. Receiver Jayden Rittenbach came down with a pass in the middle of the field and cut to his left, leaving two Eagles tangled behind him. Seeing the center of the field closed off, he reversed course when running back Evan Lovett came to his rescue, bulldozing into three Eagles defenders and leaving an open path to the end zone. The score put Pusch Ridge up 21-0; the Lions led 37-6 at halftime.
"I saw him catch that and I got so ecstatic," Lovett said. "I knew I had to open up those lanes for him, because he's like my little brother. I was like let's go. That was just like second nature. I was like, 'Let's get it!'"
It quickly became evident that the Eagles couldn't contain the Lions' explosive offense. Starting quarterback Ryan Fontaine completed 6 of 11 passes for 203 yards and three touchdowns, including a fourth-down strike to Hayden Hallett to open the scoring. Hallett had recovered a fumble to set up the touchdown.
Hallett took over the signal caller duties in the second quarter, and after a rusty start, completed four of his final five passes in the first half — including a 32-yard dime to Rittenbach in the end zone with 37.4 seconds left before halftime. Thatcher fumbled the ensuing kickoff, giving Hallett the chance to slip a 32-yard field goal through the uprights as the half expired.
The Lions (2-1) grabbed their largest lead when running back Javier Grajeda plunged into the end zone from nine yards out. The pint-sized Grajeda, who had four catches for 41 yards and ran nine times for 44 yards with two touchdowns, served as the perfect change of pace to the bruising Lovett, who finished with 88 rushing yards on 16 attempts with one score.
Still, Rittenbach stole the stage, hauling in six catches for 210 yards with three touchdowns.
"The next team is going to have be prepared for him and our quarterbacks," Lovett said.
"It's honestly surreal that we get to play, because no one knew if we would get to," Lovett said. "It's just God working with his hand in all this."