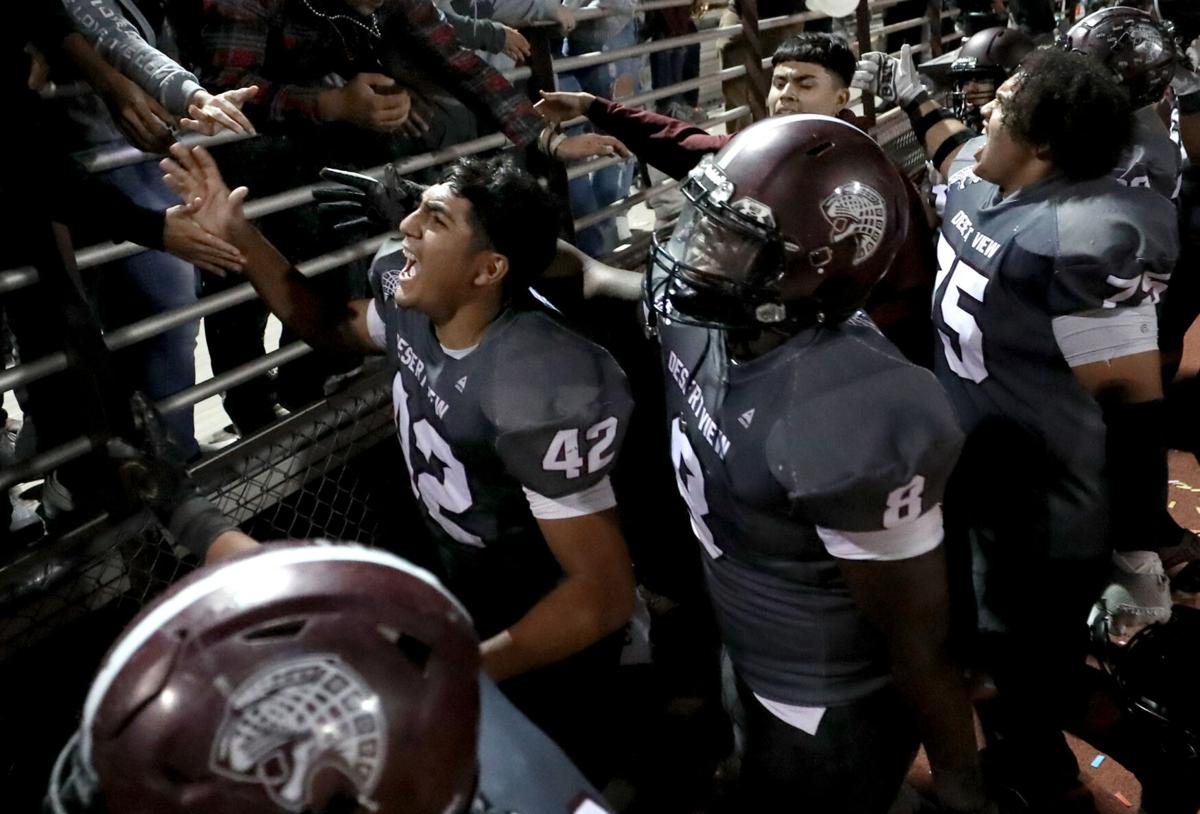 As the Desert View band blasted "Livin' La Vida Loca," the Jaguars lived out Ricky Martin's 1999 hit on the field.
But at the end of the rollercoaster ride, the Jaguars (10-1) hopped off with a 26-13 victory over Goodyear Millennium (5-6) in Friday's first round of the Class 5A state playoffs. Desert View will travel to face another Goodyear opponent, Desert Edge, in next Friday's quarterfinals. The Scorpions (9-2) pummeled Canyon View 43-7 in their first-round game.
"We did a good job of keeping our heads in our game," coach Robert Bonillas said. "Maybe, we haven't been here, huh, so we got too excited. But the energy was there all week."
In its first playoff victory since at least 2003, Desert View had an onside kick recovery, a forced fumble on Millennium's final drive, and an interception by Jah-Li Govan on a half-back pass, which led to its final score. It overcame 14 penalties for 138 yards. Nothing symbolized the crazy life more than having to pick up the same fourth down twice.
Facing fourth-and-23 from Millennium's 33-yard line with a minute left before half, Desert View's Oscar Barraza connected with receiver Richard Santiago, who collided with a teammate and dashed into the end zone.
The play was called back on a rare "assisting the runner" penalty, as the teammate was ruled to have helped Santiago forward. Since the foul was called at the eight-yard line, with a five-yard penalty, it was fourth-and-short. No matter: Running back Abdulahi Yusuf pushed forward for the first down and tailback Serge Gboweiah finished off the final nine yards.
Gboweiah has been a monster all season, surpassing 1,000 yards Friday night. His bruising runs bled the life out of the Tigers, as he tallied 11 first downs and three touchdowns racking up 199 rushing yards on just 25 carries.
"That's what he does," Bonillas said. "He did a great job, great effort. It all started as a group. Monday we had a great practice and now, we're going to be part of the eight practicing on Monday."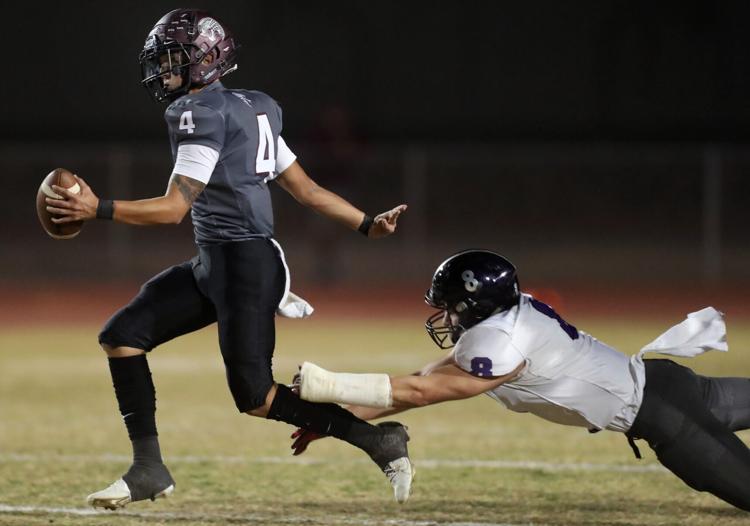 But a big part of the success was the emergence of Barraza, keeping the defense from keying on Gboweiah and the run.
Barraza only completed six of 11 passes for 97 yards, but each time he found an open receiver, it felt like a crushing blow to the visitors. In the first half, he found Enrique Cancio twice on third down to keep an eventual touchdown drive alive. On fourth-and-8 at Millenium's 40-yard line, he hit Santiago for a 23-yard reception on a drive that led to an 18-13 lead. Then, with 4:45 left, he found Santiago again, this time in the corner of the end zone for the final score.
"He's doing a better job of being our quarterback and our leader," Bonillas said. "Our kids are following him more. They're responding to him. He does a great job of just going out there and going hard."