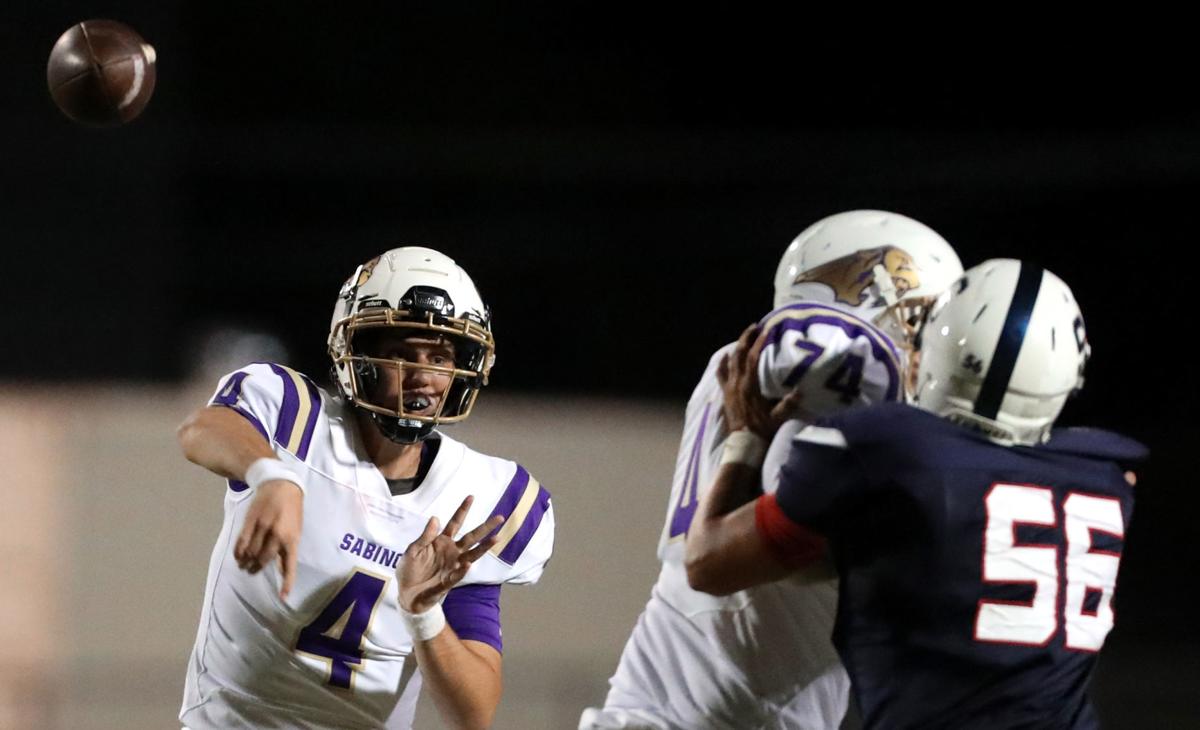 When Sabino struggled to start the 2018 season, coach Ryan McBrayer turned to a promising sophomore with hopes that he was the answer.
AJ Skaggs took over at quarterback, and the Sabercats won the remaining eight games on the schedule before falling short in the Class 3A state playoffs. Now a junior, Skaggs is among the top passers in Southern Arizona with 1,348 yards and 16 touchdowns. As a result, the Sabercats are 5-2 heading into this week's matchup against Pusch Ridge Christian.
Skaggs completed 14 of 17 passes for 304 yards and five touchdowns in a 48-2 win over Tanque Verde last week. Skaggs' performance earned him the Star's Player of the Week honors. The Sabino quarterback joined the Star's Justin Spears on ESPN Tucson earlier this week to talk about his evolution as a player:
How would you describe your performance against Tanque Verde?
A: "We just had a great week of practice. Our offensive line had a great game all around and so did our receivers. We have playmakers that we can get the ball to. It's easy to find guys down the field because they get open so fast."
What's been key to your evolution as a quarterback since you took over as a starter?
A: "It's been an amazing ride. I've had a lot of help coming up. I always practiced as if I was the starter and the coaches helped me a lot — so did the older guys. There were two quarterbacks in front of me who both helped me out the whole season so much, mentored me and took me under their wing. This year, the biggest thing for me is sticking around in the pocket and working on pocket mechanics. I've gotten a lot better at putting power into my throws this season. I worked on that a lot in the offseason last year. I'm following through and being more efficient with my throws."
What are you looking to improve this year before becoming a senior?
A: "Like I said, staying in the pocket is the biggest thing that I need to work on. The other thing I need to work on going into next year is taking that leadership role. I've kind of stepped into that this year. We just need to keep building that chemistry and carry it into next year. I want to help the younger guys coming up and get them ready just like the older guys did for me when I was coming up."
What did you take away from the win over Tanque Verde?
A: "We did a lot of things right that game. We had a lot of guys stepped up even when the starters were taken out. One of the big things we did well was our defense had so many stops and the offense kept rolling. We just need to keep that momentum for the rest of the season."
Who did you look up to growing up?
A: "From a player's perspective, one guy I always looked up to was Larry Fitzgerald. He's not a quarterback, but I love the way he handles himself on and off the field. He's such a great teammate and player and he's always been someone I looked up to."
Now that Sabino has won two games in a row, what can we expect out of the Sabercats this week against Pusch Ridge Christian?
A: "Pusch Ridge has always been a great team. It's always a good fight between us. The one thing we need to do is stop the run. They have some guys that will make plays if we let them. Our defense needs to step up this week and so does our offense, we just need to keep that momentum."