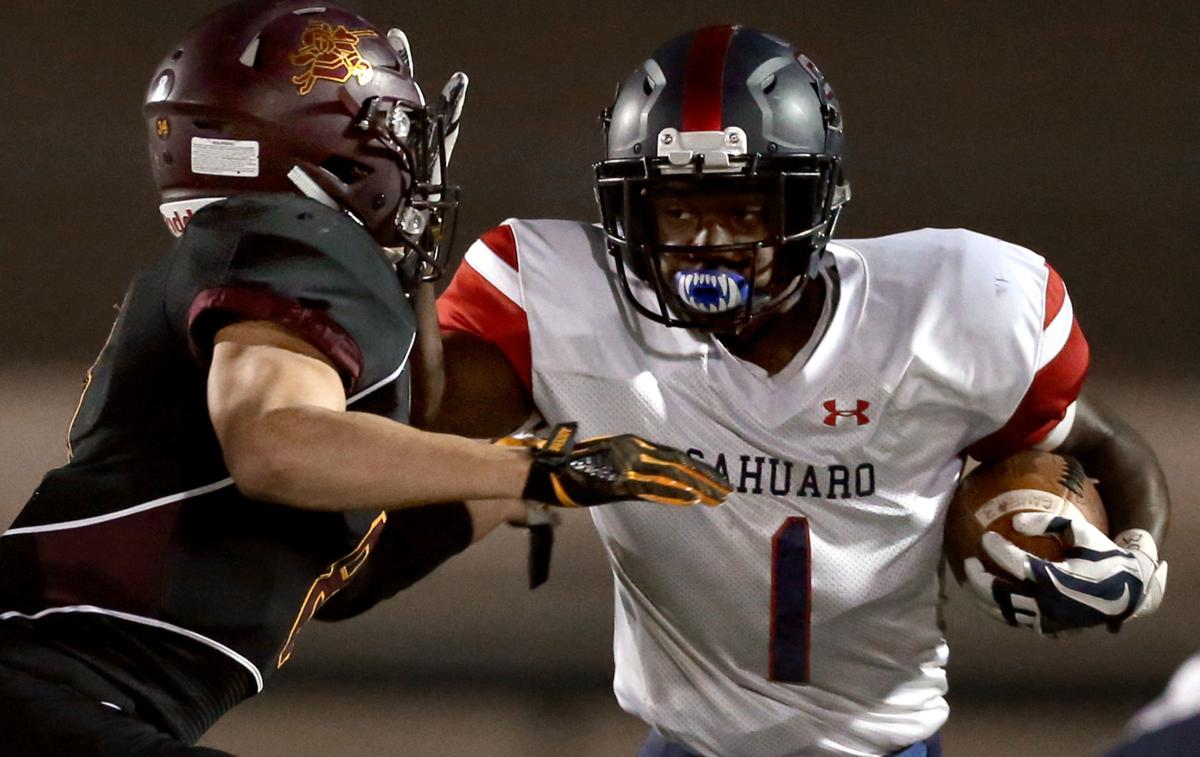 As Sahuaro's football team ended finished practice on Tuesday evening, the lights went out. Darkness overtook the Cougars' football field.
It was fitting that senior running back Izaiah Davis was the last one to leave the field. Davis has been lights-out for a Cougars team that will continue its state championship run Friday night, when they host Yuma Gila Ridge in the Class 4A state quarterfinals.
Sahuaro is considered the favorite to win it all. The top seed didn't come easily.
Entering the final week of the season, Sahuaro figured it needed to win and get help in the form of both a Canyon del Oro loss and wins by Salpointe Catholic and Scottsdale Saguaro. That's exactly what happened: The Dorados lost at Casa Grande, Salpointe and Saguaro were selected for the first-ever Open Division playoff, and Sahuaro ascended to the No. 1 spot — and the guaranteed home games that come with it.
"It surprised us at first, because we expected CDO to finish out and win," Davis said. "We were really excited and ready to go when we found out we got the top seed. A lot of stuff comes with being the No. 1 seed, but we're trying to hold up to it."
Davis' unselfish approach has turned the Cougars into one of the best running teams in the state.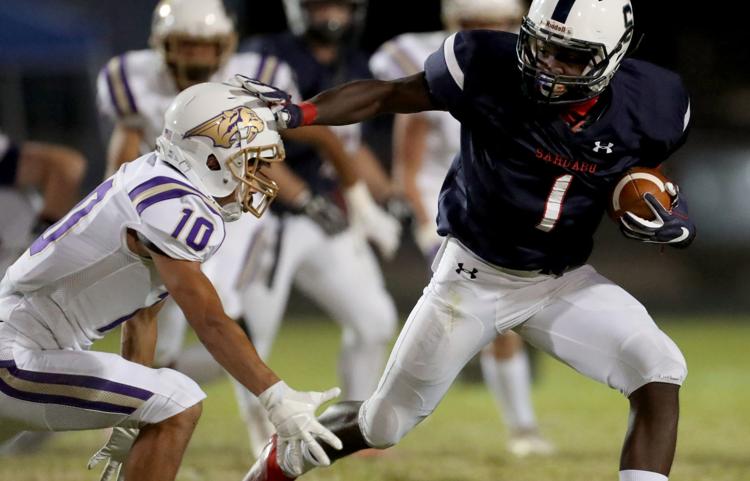 Davis, Jamir Gasaway and Trevion Watkins have combined for 2,768 yards and 34 touchdowns on the season, with Davis leading the group with 1,083 yards despite missing two games with an ankle injury.
All three rushed for more than 100 yards in the first-round victory over Glendale, with Davis saying they each bring something unique to the run game.
"I'd say we all have speed, but are different in other ways," Davis said. "Jamir is more like the slippery, elusive back. Trevion is the power runner and a really good blocker. I would say I'm more of an all-around back. I can block, run, (I'm) maybe not as elusive as Jamir, but I have a little bit of that, too."
And yet Sahuaro (9-2) has been somewhat of a well-kept secret, overshadowed by Salpointe's so-far-undefeated season and Bijan Robinson's record-breaking performance.
Davis says that the lack of recognition "has bothered me a little bit."
"I moved past it and learned to stay humble and keep working," he said. "I know if I keep at it, my time will come — and when it does, I have to seize the opportunity."
Opportunity will knock again Friday, and the stakes are high. Gila Ridge is 10-1, having outscored its opponents by 200 points. Last week, the Hawks rallied from a 9-0 deficit to beat Coconino 10-9 in Flagstaff.
Sahuaro coach Scott McKee reminded his team that Tuesday could have been the last practice together of the season. Even if Sahuaro does advance to the state championship game, the Cougars' time together is running out.
Davis says the lessons McKee has taught him go beyond football. They'll stick with him long after he leaves the field for the last time.
"He has taken me in like a son," Davis said. "He's taught me about being a man, always holding yourself accountable and doing your job. Four years has gone by quick, but we're sticking to the same stuff this week we always have, just like our first time on this field."