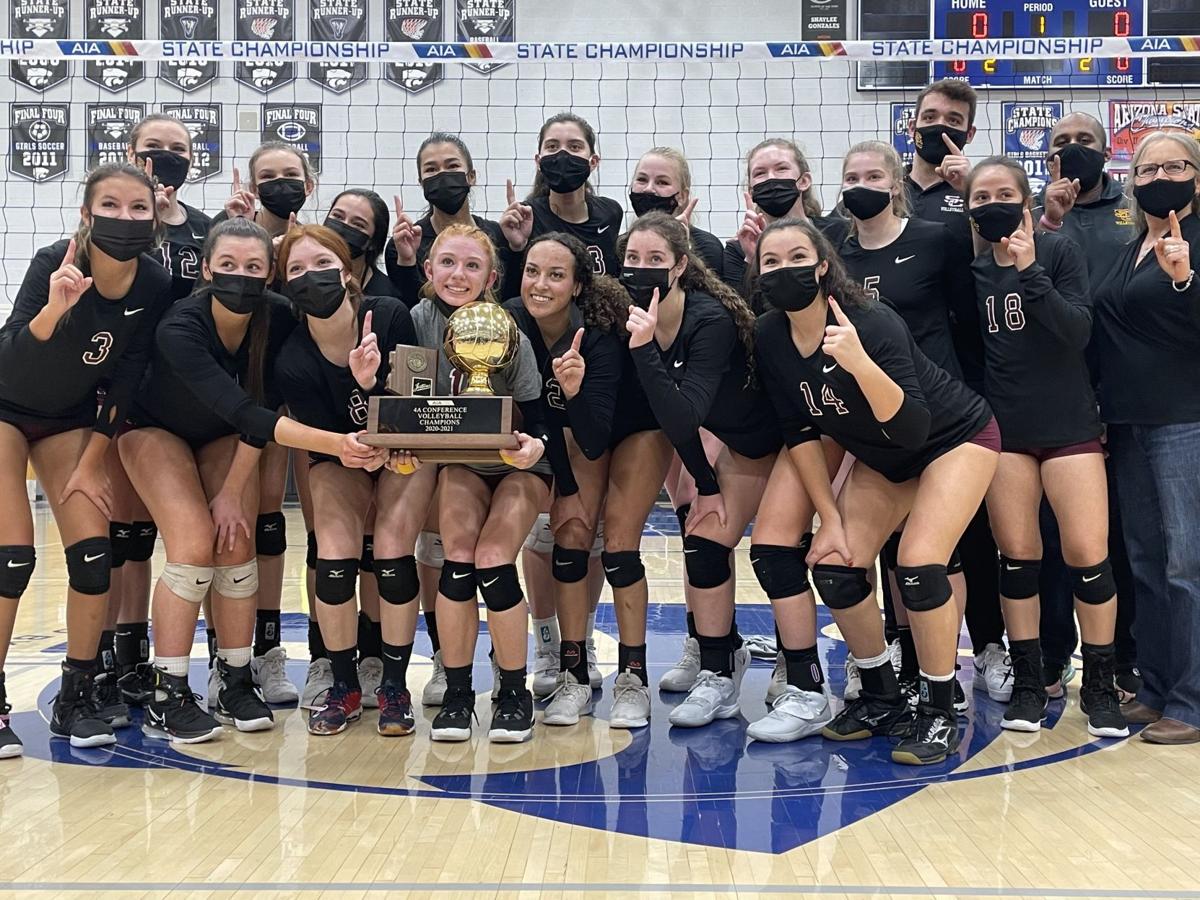 GILBERT — Salpointe Catholic High School can add another championship trophy to the case.
The Lancers' girls volleyball team rallied to outlast top-seeded Scottsdale Notre Dame Prep 25-22, 15-25, 24-26, 25-21, 15-11 in Saturday's Class 4A state championship match at Mesquite High School. Salpointe's third state title since 2016 avenged a straight-sets loss suffered at Notre Dame Prep on Oct. 29.
Saturday's match came down to the fifth and final set, and the Lancers were able to ride their building momentum to a victory.
"We came into this game knowing it was going to be a dogfight, and we fought hard," said Salpointe senior Andrea Owens, who finished with a team-high 27 kills.
The Lancers jumped out to an early lead in the first set, but it didn't take long for Notre Dame Prep to come back. Salpointe Catholic was able to keep just enough of a lead, though, and took the first set 25-22.
Notre Dame Prep took an 11-1 lead in the second set, and won 25-15.
Both teams started the third set strong before Notre Dame Prep grabbed a 12-6 lead. Salpointe Catholic battled back, with Owens and junior Meena Moore (11 kills) making key plays to tie up, 18-18. However, the Saints were able to gain the edge and won 26-24 behind stellar performances by freshman Evan Hendrix and senior Denae Pitts.
"We didn't really think about the fact that we were down 2-1; we were just happy we were improving throughout the match," Salpointe coach Heather Moore-Martin said.
Facing elimination, seniors like Owens, Brandy Kishbaugh, Sofia Peña and Bianca DeVitis reminded their teammates that they already had won the first set and they had what it took to do it again.
"I really have to credit our seniors, they were so great," Moore-Martin said. "Without them, we wouldn't have gotten here."
Their leadership and encouragement before the set helped motivate both Moore and her fellow junior Leah Palomares to buckle down and stay focused. Salpointe Catholic took a slight edge and was able to win 25-21, forcing a winner-take-all fifth set.
"They just made good adjustments," Moore-Martin said. "They were good this year at listening on the fly, which it's really hard to adjust during the match."
Salpointe Catholic led early in the fifth set before the Saints came roaring back to tie it, 9-9. The Lancers stayed aggressive, though, and prevailed to win 15-11.
Emma Hugeback had eight kills, and Palomares added five. DeViitis led the Lancers with 27 digs, and Rylen Bourguet had three aces. Kishbaugh led the Lancers with 44 assists.
"I think it's just hard work together," Palomares said. "We all play really well together, and we all have good attitudes whether we're winning or losing, and I think that's just such a big part of it. If we were to have bad attitudes, I don't know if it would have been the same outcome."
In a year with so much uncertainty, the victory was even more sweet.
"Just given the circumstances, I didn't think that we would be here today, and I didn't think we would stand a chance at winning," Kishbaugh said.
Moore-Martin said the win "says a lot about our school."
"You know, the fact that we were able to play volleyball, we had a lot of stipulations and a lot of requirements and our team was willing to make those," she said. "Our support from our administration was excellent."
Get in the game with our Prep Sports Newsletter
Sent weekly directly to your inbox!