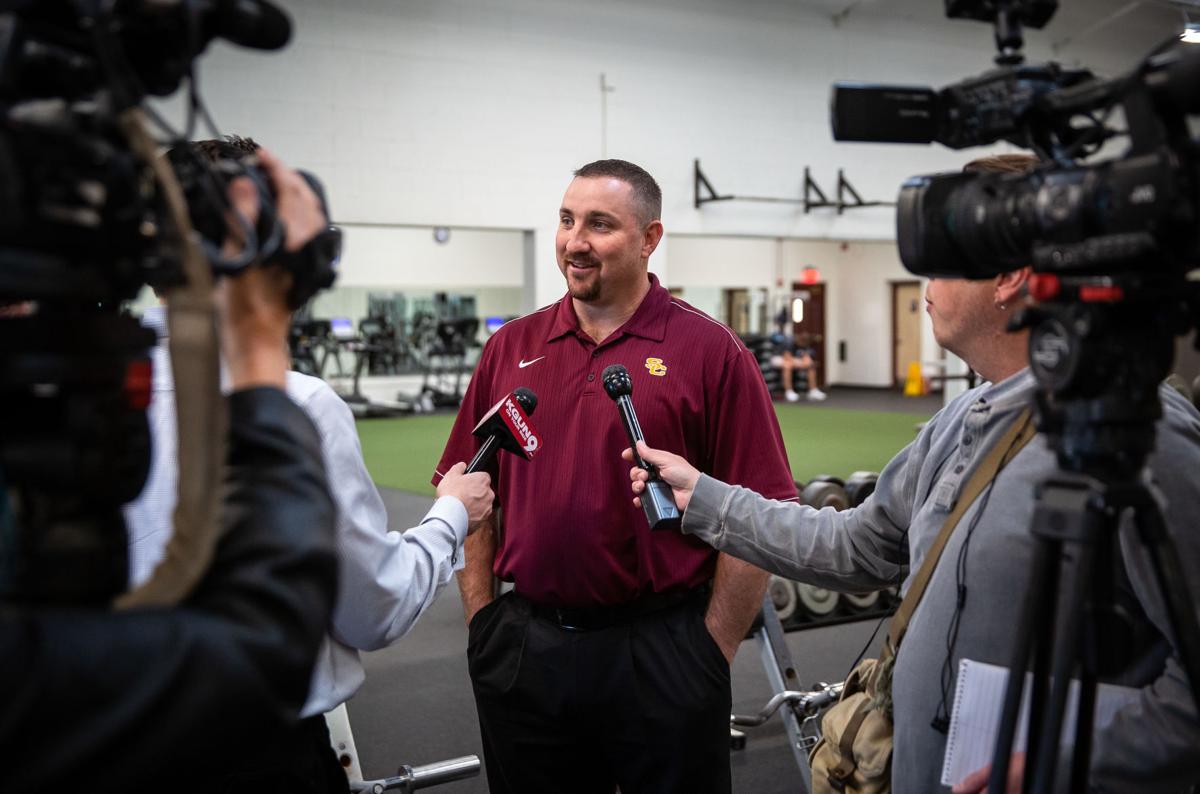 Two private high schools in Tucson have continued to hold voluntary offseason workouts despite rising COVID-19 cases in Arizona, saying they are doing so with an abundance of caution.
Both Salpointe Catholic High School and Pusch Ridge Christian Academy have allowed student-athletes participating in football, women's volleyball and cross country to train with restrictions.
Limited training for players on the boys and girls basketball teams has also taken place.
"We're very diligent on doing everything we can to keep the students safe," Salpointe Catholic athletic director Phil Gruensfelder said. "Temperatures are taken each day. Athletes and coaches wear masks."
The Arizona Interscholastic Association has postponed the start of practices until Aug. 17, the day many public schools are scheduled to reopen. Though no schedules have been released, the first football games will take place the week of Sept. 7 — likely on Friday, Sept. 11.
Salpointe's heralded football program has been the most active of the bunch, holding regular morning workouts as early as June 15. The 60 to 80 Lancers who show up on any given day follow strict protocols.
Athletes enter the facilities with masks on, then are spaced out to have their temperature taken by members of the staff and are asked a series of questions related to their health. Once tests are completed, the Lancers break up into groups of 10 or less and spread out across either Salpointe's main stadium field or their practice field. Their training consists of conditioning and drills related to their specific positions.
Both Gruensfelder and Eric Rogers, the Lancers' first-year coach, emphasized that the workouts are optional.
"There's no pressure at all. Nobody's winning a starting job right now," Rogers said. "We're just trying to get some of the kids out there that want to."
At Pusch Ridge, where training began June 8, athletes works out three or four days per week.
Pusch Ridge's football team has been lifting weights, which consists of groups of 10 players or less and includes regular temperature testing.
Athletic director Lonnie Tvrdy makes sure the proper guidelines are followed.
"So far we've had success keeping everyone safe," Tvrdy said, adding that no one associated with the workouts has tested positive for COVID-19.
Salpointe sought guidance from the Arizona Wildcats football coaching staff after the UA athletic department suspended bringing additional student-athletes back to campus, a decision that occurred June 29.
The conversations led Gruensfelder to feel comfortable continuing while also reminding him to be as cautious as ever.
Both schools stressed the need to provide a safe outlet for athletes to be able to practice.
While some athletes have been able to train at home in a garage or in their backyards, not all have had that luxury.
"Odds are these kids at our school or somewhere else are already trying to get together at a park to play where there are no safety rules in place," Rogers said. "So we feel that we're doing the right thing by providing a place for them to do their training and having unified guidelines in place."
Get in the game with our Prep Sports Newsletter
Sent weekly directly to your inbox!