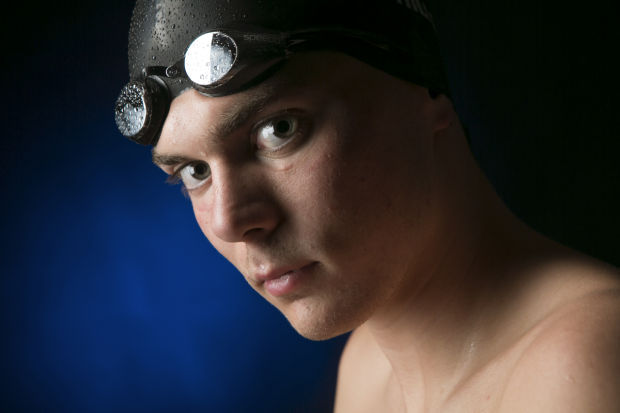 Swimmer of the Year: Matt Lujan, Catalina Foothills
Coach of the Year: Ed Walter, Catalina Foothills
FIRST TEAM
200 medley relay: Catalina Foothills (Matt Lujan, Andy Duffield, Brendan Finn, Jack Hadley)
200 free: Brooks Fail, So., Catalina Foothills
200 IM: Matt Lujan, Sr., Catalina Foothills
50 free: Collin Murphy, Sr., Ironwood RIdge
100 fly: Steven Rothe, Jr., Salpointe Catholic
100 free: Erik Orr, So., Rincon/University
500 free: Brooks Fail, So., Catalina Foothills
200 relay: Salpointe Catholic (Eric Hardy, Nick Valcke, Hunter Grim, Patrick Weed)
100 back: Matt Lujan, Sr., Catalina Foothills
100 breast: Collin Murphy, Sr., Ironwood Ridge
400 relay: Catalina Foothills (Matt Lujan, Andy Duffield, Sam Mulay, Brooks Fail)
Diving: Matthew Paulsen, Sr., Catalina Foothills
SECOND TEAM
200 medley relay: Salpointe Catholic (Steven Rothe, John Casey, Kevin Balserak, Hunter Grim)
200 free: Erik Orr, So., Rincon/University
200 IM: Sam Mulay, Fr., Catalina Foothills
50 free: Nathan Covello, Sr., Tucson
100 fly: Nathan Covello, Sr., Tucson
100 free: Eric Hardy, So., Salpointe Catholic
500 free: Andy Duffield, So., Catalina Foothills
200 relay: Catalina Foothills (Sam Mulay, Jack Hadley, Brandon Coverdale, Brooks Fail)
100 back: Francisco Vazquez, Jr., Ironwood Ridge
100 breast: Andy Duffield, So., Catalina Foothills
400 relay: Rincon/University (Erik Orr, Samuel Freitas, Ethan Done, Tristan Daniels)
Diving: Carter Berg, So., Salpointe Catholic
HONORABLE MENTION
Canyon del Oro: Timothy Oetter, David Worden. Catalina: Colin Judstra. Catalina Foothills: Martin Hocheder, Atharva Deshmukh, Scott Bockisch, Sean Seyller, John Andrade. Cholla: Brent Zang. Cienega: Jason Brown, Ryan Molina, Gavin Bell. Douglas: Martin Dominguez, Rogelio Martinez. Ironwood Ridge: Francisco Vazquez. Marana: Jake Heston, Dominic Sealy, Jeremy Parry. Mountain View: Alex Quenelle. Pusch Ridge Christian: Jared Weinberger. Sabino: Chase Newbold. Sahuarita: Ernesto Legarda. Sahuaro: Jason Schlottman, Will Stott, Landon Ogle. Salpointe Catholic: Jackson Breshears, James Hines, Ryan Blanchard, Thomas Crosby, Holden Romanoski, Blake Rosen. San Manuel: Will Newman, Jacob Christian, Woods Taylor. Sierra Vista Buena: Grant Lawley. Tanque Verde: Austin Morris, Samuel Merrill. The Gregory School: Ben Siemens. Tucson: Abe Hudak. Walden Grove: Paul Hanusek, Brandon Lewis.
Get in the game with our Prep Sports Newsletter
Sent weekly directly to your inbox!