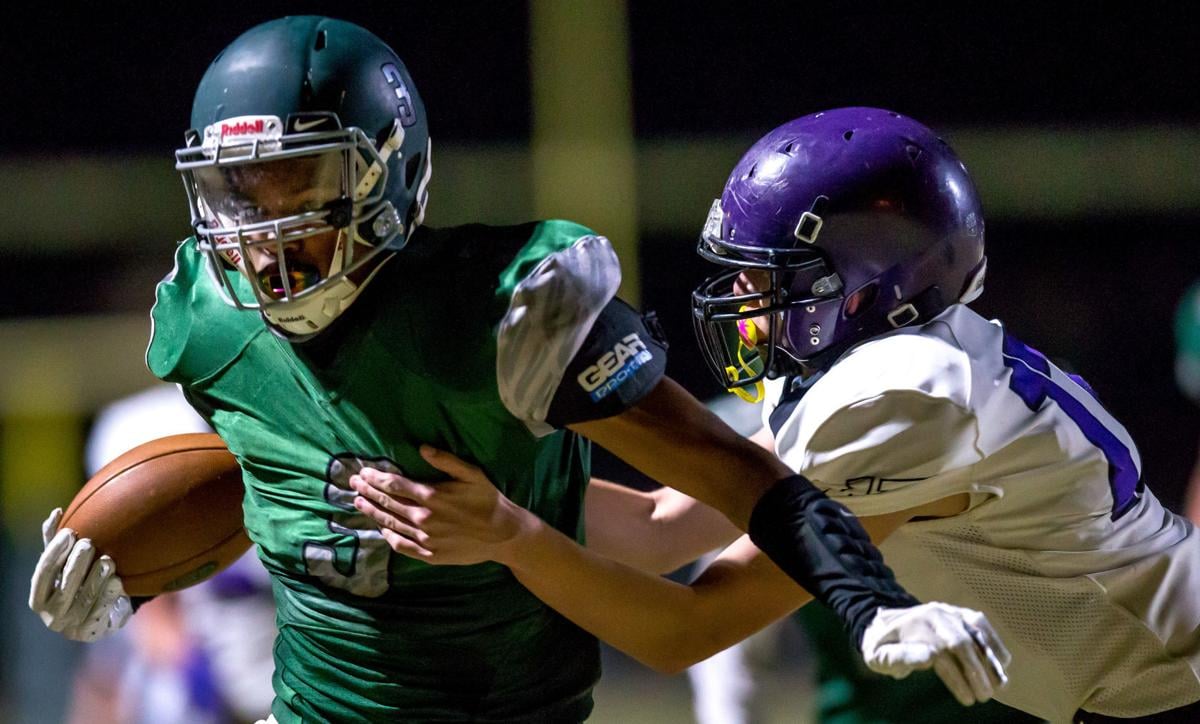 If you're free Friday nights, head out east and join the Tanque Verde party. It's just getting started.
After each of six first-half touchdowns, Todd Rundgren's "Bang the Drum All Day" filled the night air as the Hawks beat their drum to the tune of a 49-10 victory Friday over Rincon/University.
In his head coaching debut, former Arizona Wildcat Jay Dobyns showed this is a different group of Hawks, one to be reckoned with, as they got revenge for a 61-14 loss to Rincon in 2019. That was part of a winless season. Just one game in, the Hawks seem headed for a much different future.
"It's been two years and one month since the kids at this school won a football game," Dobyns said. "That is exactly 778 days. So, when I came to this program, and brought this staff in, our goal was to change the culture. But we can't do that by ourselves. It takes the players, who have to buy in, make all those sacrifices and that commitment to get it turned around."
Quarterback Corbin Austin ran an efficient and explosive offense, completing 6 of 10 for 101 passing yards, including an 18-yard touchdown strike to tight end Ryan Oppel right before half. While he also rushed for a score, he let his running backs do most of the damage on the ground.
Big 6-foot-1, 200-pound tailback Dillon Simmers bruised his way to 168 yards on just nine carries with two touchdowns. Dalton Arnold, his pint-sized companion, tallied an additional 64 yards on 10 attempts, and fullback Brayden Scott punched in two short-yardage scores.
"Our staff when we got here, they didn't even know what terminology we used," Dobyns said. "When we started meeting with these kids in January, they didn't know how to get in stretch lines. So you look at that and what they've overcome to get to this, where they're running a fairly dynamic offense.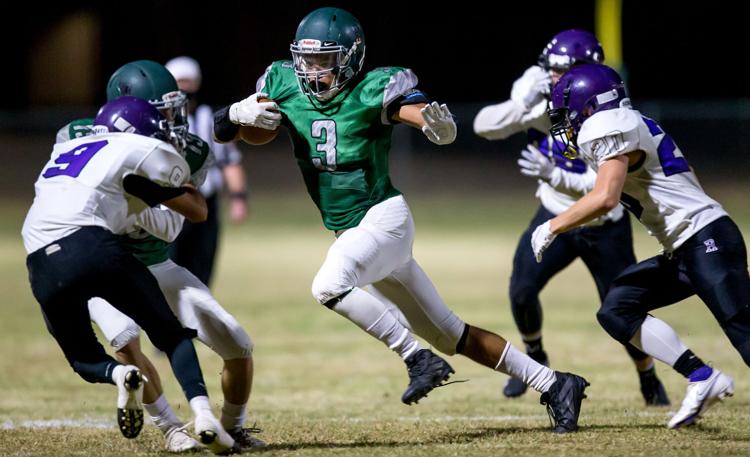 "What we're blessed with is amazingly smart kids. These kids can be told things one time they can retain it. They learn things real fast and they absorb it and retain it."
The organized and powerful offensive line proved that point.
"I didn't get touched at all," Austin said. "Our offensive line did a heck of a job tonight."
Rincon finally reached pay dirt in the closing minutes on a 20-yard touchdown reception by Clayton Vallentine. It seemed like the only time the large home crowd ever fell silent.
"Can you imagine what it would have been like here with no COVID," Dobyns said. "We would have had 5,000 people in this place tonight. There is so much enthusiasm for these kids and this team and what we're trying to do."
With the scoreboard over the backs, the Hawks got together for a celebration picture. The perfect end to a seemingly perfect night.
"Once we got into the game and realized how much potential and talent we had, we got started and we just didn't stop," Simmers said. "It was like a party for us."
"It has been long needed here," Austin added.