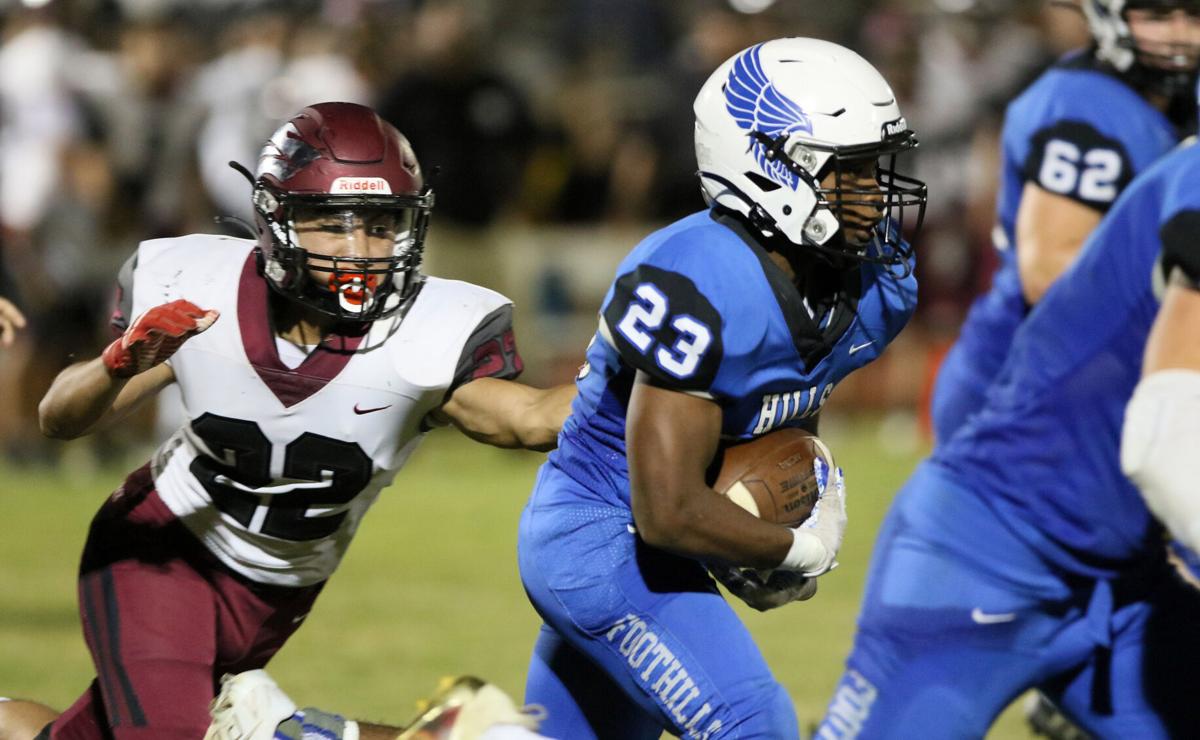 Another week of the 2021 high school football season is upon us, and there are several notable matchups around Southern Arizona.
On Thursday, Salpointe Catholic will visit Cienega for the first time since 2017. One night later, unbeaten Marana will battle Tucson High in the Star's game of the week.
The Star's Justin Spears breaks down and predicts each contest around the Tucson area this week. All games kick off Friday night at 7 p.m. unless noted and predicted winners are in ALL CAPS.
Thursday's game
SALPOINTE CATHOLIC (1-0) at Cienega (1-1)
Location: 12775 E. Mary Ann Cleveland Way, Vail
What to expect: Cienega bounced back from its season-opening loss to Peoria Sunrise Mountain with a commanding 34-7 win over Sierra Vista Buena — the first of the Justin Argraves. Linebacker Ritchie McCormack led the way on defense with 15 tackles, three stops for loss and a sack, while the Bobcats' secondary tabbed three interceptions and four pass breakups. Now Cienega's defense will face an offense that has arguably the top quarterback in the state in Treyson Bourguet, who will be protected by a wall of linemen with Division I potential. On the other side, Cienega's offensive line will have to contain Salpointe's three top defenders: 6-foot-5, 225-pound sophomore edge rusher Elijah Rushing and linebackers Davian Miranda Carrasco and Joey Sumlin, the team's two leading tacklers. Thursday's game has all the makings of a classic high school football game; we like the Lancers to outlast Cienega 45-28.
Friday's games
MARANA (2-0) at Tucson High (0-1)
Location: 400 N. Second Ave.
What to expect: After beating Mountain View 13-12, a game Marana was predicted to lose, the Tigers responded with a 61-0 rout of Tempe on the road. Marana led 34-0 lead after just the first quarter, and went into the halftime break up 48-0. Seven different Tigers scored touchdowns in last week's victory. We've learned our lesson picking against Philip Steward's Marana team. Expect the Tigers to take care of business once again. Call it 38-20.
Nogales (1-0) at CHOLLA (1-1)
Location: 2001 W. Starr Pass Blvd.
What to expect: Nogales shut out Rio Rico 16-0 last Friday, and did so by a calculated rushing attack of juniors Benjamin Ley and Arturo Alvarez, whom both combined for 173 yards. The Apaches finished Friday night averaging 8.3 yards per rush. Meanwhile, Cholla wants to get back to its winning ways after a 63-12 loss to Casa Grande Vista Grande. Expect them to do it, 24-16.
Mountain View (0-1) at SAHUARO (0-1)
Location: 545 N. Camino Seco
What to expect: Running the ball effectively has been Scott McKee's bread and butter at Sahuaro. McKee has coached star running backs such as Derik Hall, Cameron Smith, Izaiah Davis and most recently Trevion Watkins. It appears the next star in line is Javez Blair, who rushed for 185 yards on 27 carries in a 15-12 loss to Phoenix Arcadia last week. Expect Blair to have another productive night against a tough Mountain View team coming off a bye week and a tough loss to Marana. Call it 23-17.
Gilbert Campo Verde (1-1) at IRONWOOD RIDGE (1-1)
Location: 2475 W. Naranja Drive
What to expect: You'd be hard-pressed to find a team that wants to move on from last week as much as Ironwood Ridge. The Nighthawks were blanked 31-0 by Mesa Desert Ridge, and will have to face another tough Phoenix-area opponent this week. Quarterback Tyler Hanie completed just 6 of 16 passes for 58 yards and three interceptions, a week after going 10-for-13 passing for 246 yards and four touchdowns. Expect Hanie and the Nighthawks to get back on track with a 30-28 win.
RINCON/UNIVERSITY (0-2) at Phoenix Maryvale (0-2)
Location: 3415 N. 59th Ave., Phoenix
What to expect: Good news for the Rangers: they'll play a Phoenix Maryvale team that has lost the first two games by a combined score of 143-6. Rincon gets its first win of the season. Call it 13-0.
Paradise Valley (1-1) at SUNNYSIDE (1-1)
Location: 1725 E. Bilby Road
What to expect: It wasn't the most pleasing game to watch, but Sunnyside gained its first win of the season last week in a 20-14 overtime victory over Phoenix South Mountain. Expect a similar result for Sunnyside, only in regulation. Call it 35-27.
CANYON DEL ORO (0-2) at San Tan Valley Poston Butte (1-1)
Location: 32375 N. Gantzel Road, San Tan Valley
What to expect: CDO lost a nail-biter last week, falling to Apache Junction 35-28. The young CDO defense has coughed up 900 yards through the first two games. If the Dorados can figure out how to create stops and takeaways, they'll be fine this week. And they will be on the road. Call it 24-21.
Rio Rico (0-1) at WALDEN GROVE (1-1)
Location: 590 N. Camino Galindo, Rio Rico
What to expect: Walden Grove discovered a well-balanced attack in last week's thrilling 28-27 win over Catalina Foothills. WGHS wide receiver Duncan Hoover caught six passes for 150 yards and two touchdowns, while running back Matthew Enriquez rushed 15 times for 151 yards. Expect Walden Grove's offensive to be humming once again this week. Call it 49-14.
Phoenix Thunderbird (1-1) at AMPHI (2-0)
Location: 125 W. Yavapai Road
What to expect: What can't Kiko Trejo do? Amphi's star two-way player scored five touchdowns, including a 45-yard pick-six, in the Panthers' win over Sahuarita last week. Through two games this season, Trejo is averaging 11.7 yards per carry. It won't be a breeze this week, but Amphi should win at home. Call it 21-20.
CATALINA FOOTHILLS (0-2) at Pueblo (1-0)
Location: 3500 S. 12th Ave.
What to expect: Catalina Foothills' first two games of the season were losses to Class 3A state title contenders Sabino and Walden Grove. If the Falcons can contain Pueblo standout running back Xavier Noriega, Catalina Foothills should win. If not, the Warriors will be 2-0. Call it 28-24.
Douglas (1-0) at SAFFORD (3-0)
Location: 1400 W. Bulldog Blvd., Safford
What to expect: Douglas held off its rival Bisbee 24-21 last week. But Safford is rolling right now and has kept its last two opponents to six points. Safford wins, 20-6.
Sahuarita (0-3) at PUSCH RIDGE CHRISTIAN (3-0)
Location: 9500 N. Oracle Road
What to expect: Sahuarita quarterback Alex Valdez attempted to carry the Mustangs in a come-from-behind victory against Amphi last week, but costly turnovers and an early 21-0 deficit was too much to overcome. Valdez threw for 214 yards, four touchdowns and two interceptions in the loss. Bad news for the Mustangs: Pusch Ridge is in position for another historic season. Lions win, 42-28.
SABINO (2-1) at Thatcher (3-0)
Location: 601 N. 3rd Ave., Thatcher
What to expect: The Sabercats were humbled 33-21 by Gilbert American Leadership Academy last week, but not all was lost. Quarterback Cameron Hackworth went 18-for-22 passing for 189 yards, two touchdowns and one interception while rushing for a game-high 138 yards. Thatcher is a small town that lives and breathes football, and looking past them could result in a very silent bus ride back to Tucson. Still, we like the Sabercats to prevail. Call it 38-30.
Catalina (1-2) at QUEEN CREEK AMERICAN LEADERSHIP ACADEMY (1-1)
Location: 19935 E. Chandler Heights Road, Queen Creek
What to expect: The Trojans picked up their first win of the season due to forfeiture by Miami. This week's game will be played, and Catalina won't be on the winning end of it. Call it 40-21.
PIMA (1-2) at Santa Rita (0-3)
Location: 3951 S. Pantano Road
What to expect: It's a tough season for the Santa Rita Eagles. They'll win ball games, but it won't be this week. Call it 20-6.
Tombstone (1-1) at TANQUE VERDE (1-2)
Location: 4201 N. Melpomene Way
What to expect: After routing Laveen Heritage Academy 50-8, Tanque Verde dropped its next two games by a combined 58-0. The Tanque Verde "Fighting Jaybirds" win this week, 20-14.
Contact sports producer Justin Spears at 573-4312 or jspears@tucson.com. On Twitter: @JustinESports