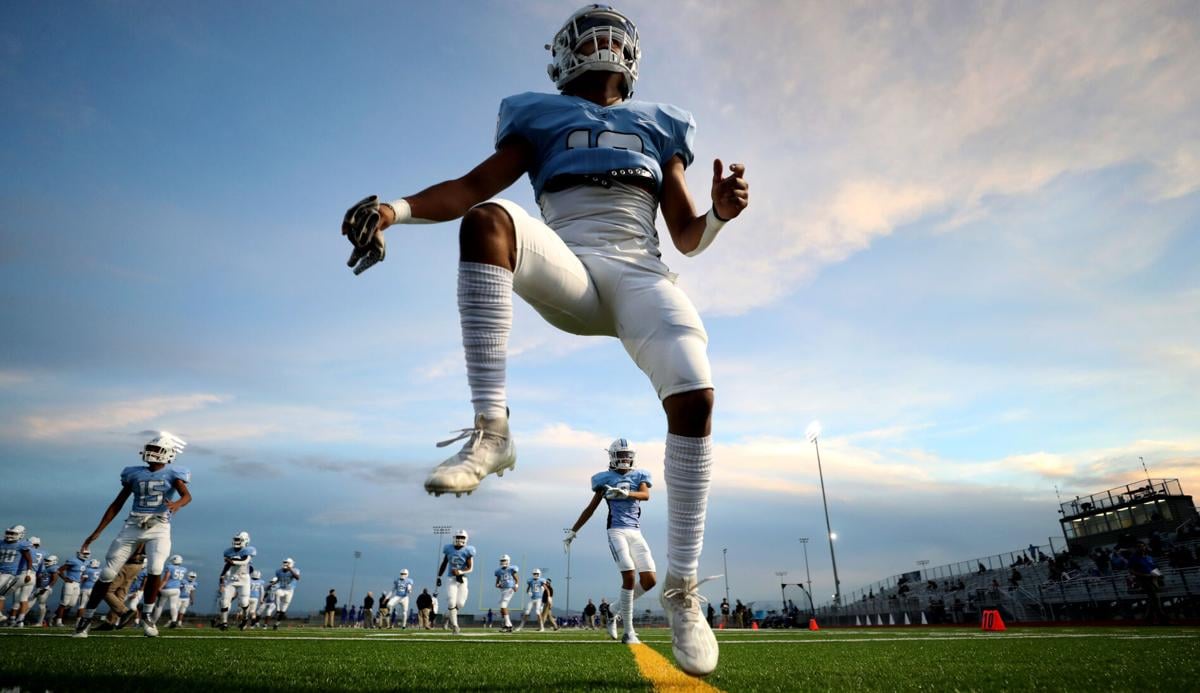 Another week of the high school football season is here, and this might be the most notable one yet.
The Star's game of the week is a showdown between Salpointe Catholic and undefeated Desert View The Star's Justin Spears previews and predicts every game around Southern Arizona; predicted winners are in ALL CAPS and every game is set to kick off at 7 p.m, unless otherwide noted
Thursday's game
MESA MOUNTAIN VIEW 37, Mica Mountain 7
Friday's games
Mesa Skyline (0-5) at TUCSON HIGH (2-3)
Location: 400 N. Second Ave.
What to expect: The Badgers have found their mojo, winning the last two games — including a 26-point road win over Mesa Westwood. Now Tucson High returns home to face a winless Mesa Skyline team desperate for its first win of the season. Momentum favors the Badgers in this one. Call it 24-10.
SALPOINTE CATHOLIC (3-2) at Desert View (5-0)
Location: 4101 E. Valencia Road
What to expect: Salpointe Catholic was likely knocked out of the Open Division playoff hunt after falling to Phoenix Pinnacle in a grind-it-out 28-21 contest. Now the Lancers turn their focus to win the Class 5A Southern Region, and Friday night's game could determine who wins the division. Desert View's standout rushing attack of Serge Gboweiah and Carlos Alvarez is arguably the best 1-2 punch in Southern Arizona. The Jaguars will be well-prepared for this game. But close games boils down to quarterback play, and Salpointe Catholic's Treyson Bourguet rises to the challenge when it matters. Close call, but Salpointe Catholic wins 35-28.
Ironwood Ridge (2-3) at CIENEGA (2-3)
Location: 12775 E. Mary Ann Cleveland Way, Vail
What to expect: Cienega picked up a statement 35-6 win over Mountain View on the road. Now the Bobcats come back to Vail to battle an Ironwood Ridge team looking for revenge from last year's game that resulted in a 36-22 win. Cienega quarterback Brayden Cherry is starting to find his rhythm; he threw for 227 yards and two touchdowns in the latest win. Ironwood Ridge will look to snap a two-game losing streak, but Bobcats prevail at home after the first punch thrown by Ironwood Ridge. Call it 34-28.
Sunnyside (4-1) at MARANA (4-1)
Location: 12000 W. Emigh Road
What to expect: Marana was outlasted by Desert View at home two weeks ago, so the bye week came at a convenient time for the Tigers. It doesn't get any easier: Sunnyside's high-powered offense, led by quarterback Deion Conde and running back Brock McDaniel, comes to town on Friday. Marana quarterback Elijah Joplin threw his second interception of the season two weeks ago. The last time Joplin threw an interception, he responded the next week with a 338-yard, five-touchdown performance. Expect the same this week. Call it 42-35.
Rincon/University (1-4) at NOGALES (2-3)
Location: 1950 Apache Blvd., Nogales
What to expect: Nogales hasn't scored a point since Sept. 17. Expect that to change this week, with the home team winning, 14-7.
CANYON DEL ORO (4-3) at Walden Grove (2-4)
Location: 15510 S. Sahuarita Park Road, Sahuarita
What to expect: CDO has won three straight games after starting the season 1-3, taking down Catalina Foothills, Ironwood Ridge and Peoria. Walden Grove, meanwhile, started the season 2-1 before losing its last three games. The Dorados have the hot hand, so we'll give them the nod. Call it 28-21.
Sahuaro (0-4) at CASA GRANDE (6-0)
Location: 2730 N. Trekell Road, Casa Grande
What to expect: Casa Grande quarterback Angel Flores has thrown for 1,031 yards and 15 touchdowns with no interceptions this season. He's also the Cougars' second-leading rusher with 484 yards. Casa Grande's offense is overwhelmingly talented. Call it 49-21.
Douglas (1-3) at AMPHI (3-1)
Location: 125 W. Yavapai Road
What to expect: Amphi running back Kiko Trejo is averaging just over 172 yards per game this season. He has rushed for over 200 yards in two games this season. Expect the third this Friday. Call it 42-14.
Rio Rico (0-4) at EMPIRE (2-4)
Location: 10701 E. Mary Ann Cleveland Way, Vail
What to expect: After two brutal games against Thatcher and Phoenix Sierra Linda, Empire is looking forward to coming back home. Last week, the Ravens had negative-18 yards rushing, but quarterback Miles Kinney's two passing touchdowns kept Empire close in a 26-21 loss. If Empire has less than zero yards this week, then it has a problem. But it won't. Call it 24-7.
Pusch Ridge Christian (5-2) at SAFFORD (6-1)
Location: 1400 W. Bulldog Blvd., Safford
What to expect: Pusch Ridge Christian quarterback Ryan Fontaine is one of the top passers in Southern Arizona. Friday, he'll face a defense that's only given up more than 19 points once this season. Bulldogs roll at home. Call it 30-20.
Tanque Verde (4-3) at SABINO (5-2)
Location: 5000 N. Bowes Road
What to expect: Cameron Hackworth outdueled Pusch Ridge's Fontaine last week and now the Sabercats have won three straight ever since their 17-point loss to Thatcher. The big question is: How many all-purpose touchdowns is Hackworth scoring on Friday night? Call it 49-14.
MESA EASTMARK (4-3) at Sahuarita (1-5)
Location: 350 W. Sahuarita Road, Sahuarita
What to expect: Sahuarita quarterback Alex Valdez has been a bright spot for the Mustangs this season, posting 10 passing touchdowns. He won't be enough to top Eastmark on Friday, though. Call it 30-21.
Catalina (1-5) at SANTA RITA (0-6)
Location: 3951 S. Pantano Road
What to expect: Catalina and Santa Rita have scored a combined 18 points this season. Friday's winner will be the team that makes the least amount of mistakes and commits the fewest penalties. Call it 6-0 in favor of the home team.
PUEBLO (2-3) at Tempe (0-3)
Location: 1730 S. Mill Ave., Tempe
What to expect: Tempe hasn't played a football game in nearly a month. Although Tempe is at home, Pueblo won't be rusty. Call it 41-20.
Saturday's game
MOUNTAIN VIEW (1-4) at Flowing Wells (3-3)
Location: 3725 N. Flowing Wells Road
What to expect: Mountain View made it through the daunting first half of its schedule with a win; that's the positive. The negative: The Mountain Lions now have to win the rest of their games if they want a shot at postseason play. It won't be easy against a Flowing Wells team coming off back-to-back wins, but we like Mountain View. Call it 24-16.
Contact sports producer Justin Spears at 573-4312 or jspears@tucson.com. On Twitter: @JustinESports