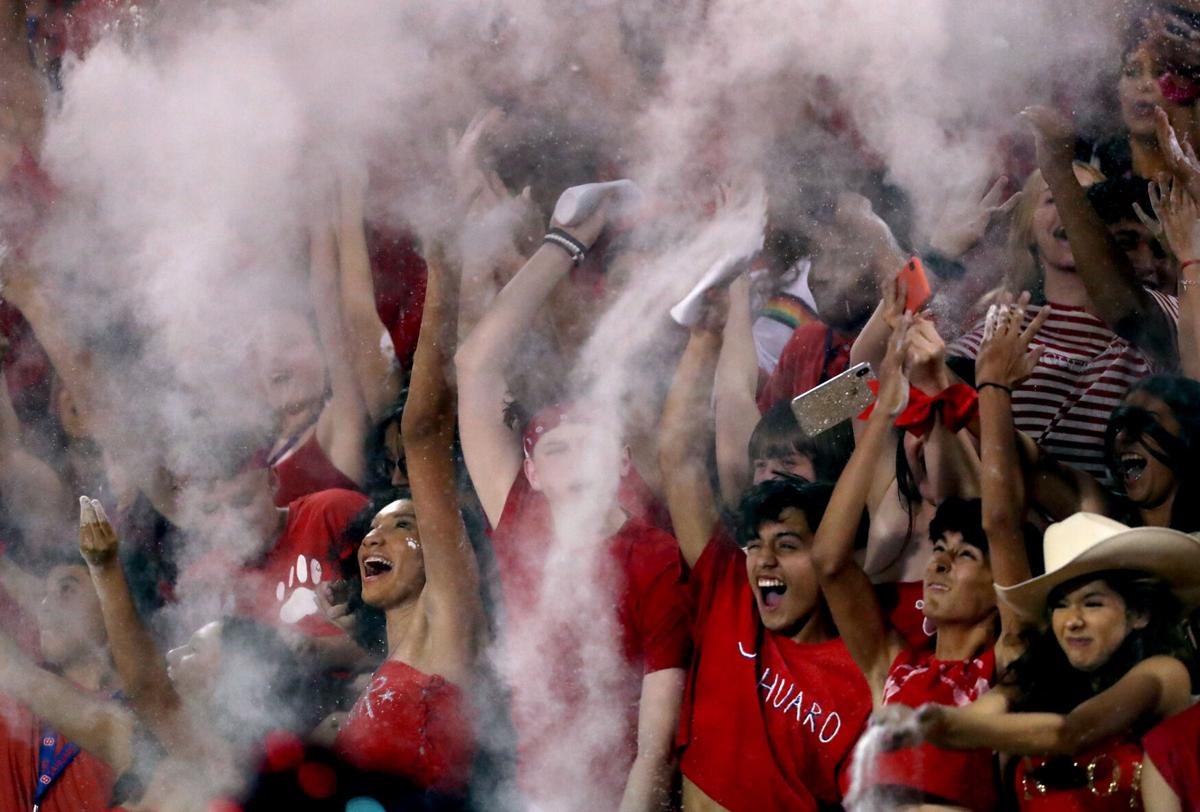 The high school football season is officially a month old. For two local teams, it's rivalry week.
The Star's game of the week is an east-side rivalry matchup between Sabino and Sahuaro, and that's not the only noteworthy game in Tucson. Pusch Ridge Christian has added a home game against Catalina Foothills.
How will Friday night pan out for Southern Arizona teams? The Star's Justin Spears previews and predicts each game around town. All games kick off at 7 p.m.; predicted winners are in ALL CAPS.
Thursday's game
Douglas (1-1) at CASA GRANDE (4-0)
Location: 2730 N. Trekell Road, Casa Grande
What to expect: Douglas hasn't played a game in two weeks, while Casa Grande has shown no signs of slowing down. Casa Grande quarterback Angel Flores has thrown for 576 yards and seven touchdowns this season; expect him to be at his best Thursday night against Douglas. Call it 49-14.
Friday's games
TUCSON HIGH (0-3) at Rincon/University (1-2)
Location: 421 N. Arcadia Blvd.
What to expect: Rincon earned its first victory of the season last week, outlasting Phoenix Maryvale 28-6. Meanwhile, Tucson High lost a halftime lead against Phoenix South Mountain and fell 26-20. The Badgers' luck changes this week, with a 21-20 win over their crosstown Class 6A rival. Legendary coach Richard Sanchez gets his first win leading the Badgers.
PHOENIX MOUNTAIN POINTE (2-2) at Sierra Vista Buena (1-2)
Location: 5225 Buena School Blvd., Sierra Vista
What to expect: Despite a 112-yard, two-touchdown performance from senior running Jelani Brown, the Colts fell to Sunnyside 41-24 last week. Life doesn't get any easier this week; Phoenix Mountain Pointe has beaten Phoenix Brophy Prep and Tempe Corona del Sol. Expect the visitors to win Friday night. Call it 42-21.
SUNNYSIDE (3-1) at Cholla (1-3)
Location: 2001 W. Starr Pass Blvd.
What to expect: Since losing to south-side rival Desert View in gut-wrenching fashion, Sunnyside has won three games in a row. In last week's win over Sierra Vista Buena, Sunnyside quarterback Deion Conde completed 14 of 19 passes for 191 yards and four touchdowns, while running back Brock McDaniel tacked on 153 yards on the ground. The Blue Devils have one of the best all-around offenses in Southern Arizona, and it'll be on display once again Friday night. Call it 35-21.
Desert View (3-0) at MARANA (4-0)
Location: 12000 W. Emigh Road
What to expect: The bad news: One of these teams will receive its first loss of the season. The good news: Someone is walking away with an unscathed record and will inch closer to an undefeated regular season record. Desert View's running back tandem of Serge Gboweiah and Carlos Alvarez has produced 341 of the Jaguars' 410 rushing yards through three games. As for Marana? The Tigers have outscored their last three opponents 165-14 and have only given up 26 points through four games. Junior quarterback Elijah Joplin is Southern Arizona's second-leading passer with 1,021 yards and 10 touchdowns, which ranks 11th in the state. Expect Joplin and the Tigers to roll this Friday, beating a tough Desert View team 38-17.
Catalina Foothills (1-3) at PUSCH RIDGE CHRISTIAN (4-1)
Location: 9500 N. Oracle Road
What to expect: In a potential playoff preview, Pusch Ridge Christian fell to Snowflake 26-21 at home last week. The Lions had a 21-20 lead with just over eight minutes left in the fourth quarter, but Snowflake scored the game-winning touchdown on the ensuing drive. After a tough loss to one of the top Class 3A teams, Pusch Ridge Christian should prevail at home. Call it 42-20.
Flowing Wells (1-2) at NOGALES (2-1)
Location: 1950 Apache Blvd., Nogales
What to expect: The Apaches were humbled by Gilbert 42-0, but Nogales gets back to its winning ways this week in close fashion. Call it 23-17.
Scottsdale Notre Dame Prep (1-2) at MOUNTAIN VIEW (1-2)Location: 3901 W. Linda Vista Blvd.
What to expect: Mountain View sophomore quarterback Will Howell has passed for 388 yards, four touchdowns and one interception in three games this season. But Mountain View's bread and butter is running the football, as the Mountain Lions have four running backs with double-digit carries. Against a similar-style Scottsdale Notre Dame Prep team, this should be the high school equivalent to a Big Ten football game. Expect the home team to win, 28-24.
Salpointe Catholic (3-0) at SCOTTSDALE SAGUARO (2-1)
Location: 6250 N. 82nd St. Scottsdale
What to expect: This game has Division I football players scattered all over the field on both teams. The Arizona Wildcats alone have offered seven players from Saguaro and Salpointe Catholic, and that doesn't include former UA commit Treyson Bourguet. The marquee matchups of the night fall in the trenches, with Salpointe Catholic standout tackle Luis Cordova matching up against edge rusher Tristan Monday, a UA commit. The other line battle pits Saguaro offensive lineman and Washington commit Parker Brailsford against Salpointe Catholic star defensive end sophomore Elijah Rushing. However, the Sabercats are just coming off an upset loss to rival Scottsdale Chaparral, and they're at home, so we'll lean with Saguaro. Either way, expect it to be one of the best games of Friday's slate. Call it 30-27.
Gilbert Campo Verde (1-3) at CIENEGA (1-2)
Location: 12775 E. Mary Ann Cleveland Way, Vail
What to expect: After nearly pulling off a come-from-behind win against Salpointe Catholic two weeks ago, the Bobcats entered a bye week and hit the reset button. A reboot can do a team good, and it will for Cienega in a get-right game against Campo Verde. Expect quarterback Brayden Cherry to learn from his three-interception performance the last time he took the field — and expect Cienega to win, 35-28 .
IRONWOOD RIDGE (2-2) at Canyon del Oro (1-3)
Location: 25 W. Calle Concordia, Oro Valley
What to expect: The Dorados routed Ironwood Ridge 35-6 in 2020, just before the season was shuttered for the pandemic. Both teams are different now. Ironwood Ridge is another year older, while the Dorados are developing young talent. Ironwood Ridge avenges last season's loss with a 24-10 win.
SABINO (3-2) at Sahuaro (0-2)
Location: 545 N. Camino Seco
What to expect: The top passer in Southern Arizona is Sabino's Cameron Hackworth, who has 1,064 yards, nine touchdowns and three interceptions so far this season. Hackworth is also the Sabercats' leading rusher with 376 yards and five touchdowns. Hackworth alone should be enough to beat a struggling Sahuaro team. Call it 42-20.
Walden Grove (2-2) at GLENDALE DEER VALLEY (3-0)
Location: 18424 N. 51st Ave., Glendale
What to expect: Walden Grove lost to a tough San Diego Granite Hills club last week, but only fell by two touchdowns, thanks to a 20-point fourth quarter. It doesn't get any easier this week against an undefeated Glendale Deer Valley team. Red Wolves lose, but they'll prevail on the back half of their schedule. Call it 33-27.
Tempe Marcos de Niza (2-2) at AMPHI (2-1)Location: 125 W. Yavapai Road
What to expect: The Panthers experienced their first loss last week, falling to Phoenix Thunderbird 24-7. Sar running back Kiko Trejo was limited to under 100 yards, rushing for 83 in the loss. After a loss, we like Trejo and the Panthers to bounce back on Friday. Call it 21-13.
THATCHER (4-1) at Empire (2-2)
Location: 10701 E. Mary Ann Cleveland Way, Vail
What to expect: The other game on Mary Ann Cleveland features Empire and Thatcher, a team that last-minute scheduled Desert View and lost to the Jaguars 28-6 at home. Empire is coming off a 38-0 rout of Cholla last week behind quarterback Mile Kinney's 208-yard, three-touchdown outing. If Kinney has a similar performance, Empire could win this game. However, we like Thatcher to win, 21-17.
Rio Rico (0-3) at SAHUARITA (0-5)
Location: 350 W. Sahuarita Road, Sahuarita
What to expect: Sahuarita is winless through the first half of the season, but the Mustangs played games against potentially playoff opponents in Thatcher, Amphi, Pusch Ridge Christian and Safford. At home this weekend, Mustangs should top another winless team. Call it 24-7.
Catalina (1-4) at MARICOPA SEQUOIA PATHWAY (3-2)
Location: 19265 N. Porter Road, Maricopa
What to expect: Through five games, the Trojans have scored six points total. The offense improves this week, but Catalina falls 30-13.
Yuma Gila Ridge (0-3) at TANQUE VERDE (3-2)Location: 4201 N. Melpomene Way
What to expect: Tanque Verde's original matchup was canceled due to Santa Rita not having enough healthy players to compete. Jay Dobyns' program scrambled and scheduled Yuma Gila Ridge for a home game. Expect TV to prevail; call it 24-14.
Phoenix Arcadia (1-3) at PUEBLO (2-1)
Location: 3500 S. 12th Ave.
What to expect: Pueblo cruised by Rio Rico 51-14 last Friday, but will look to handle a tougher task when Phoenix Arcadia comes to town. Expect junior quarterback Diego Ramirez, who threw for four touchdowns last week, to have one of his best games of the season. Call it 33-24.
Contact sports producer Justin Spears at 573-4312 or jspears@tucson.com. On Twitter: @JustinESports