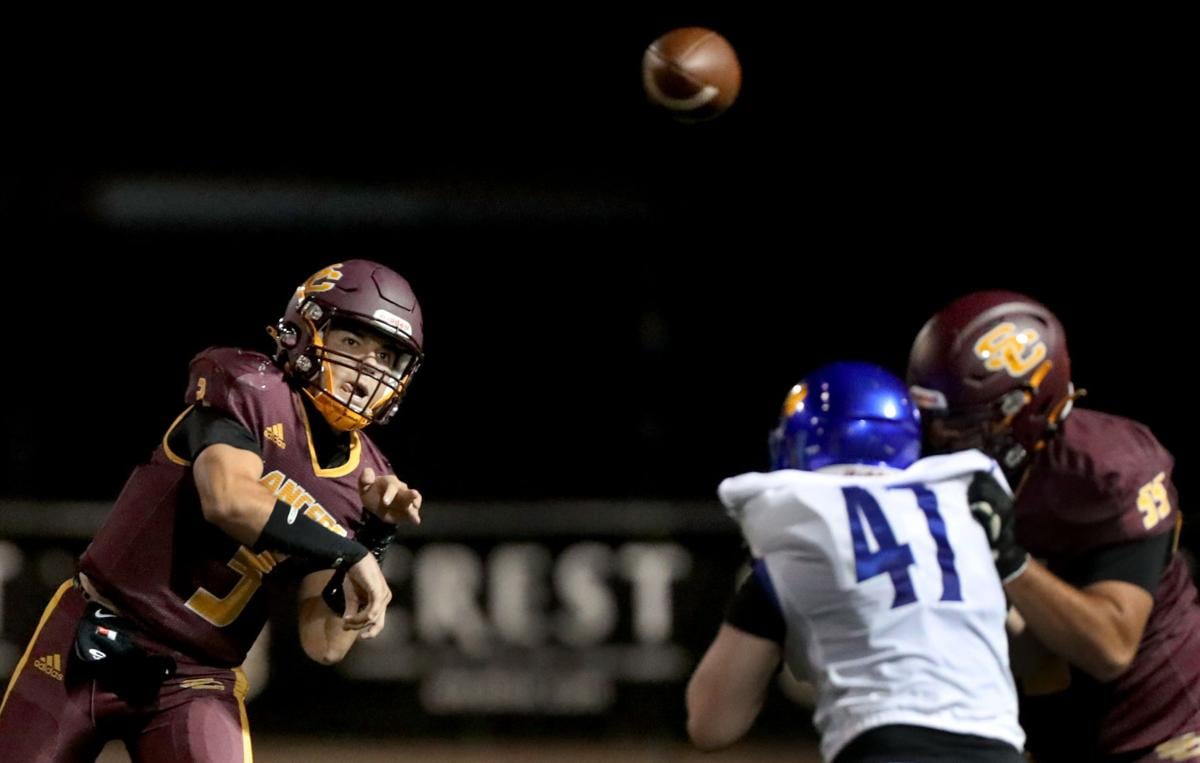 Treyson Bourguet is familiar with the bright lights.
From the time the Salpointe Catholic quarterback and Arizona Wildcats commit began playing flag football, his team— and arm — took him around the country to venues that kids only dream of playing in.
Bourguet led his Tucson Turf Elite team to the 2019 Pylon 7-on-7 national championship at the state-of-the-art Mercedes-Benz Stadium in Atlanta. He also played in the nationally televised NFL Flag championship at the Pro Bowl — twice.
Bourguet's football history is chock-full of memorable moments. But nothing compares to scene surrounding the AIA's Open Division playoffs.
For the second straight year, Bourguet and the Lancers — Southern Arizona's lone Open Division representative — have qualified for the state's all-schools final four.
Sixth-seeded Salpointe Catholic (7-0) plays at No. 2 Chandler Hamilton (7-1) Saturday, with the winner advancing to the Open Division championship game.
"I've played in a lot of big games, but this one is different," Bourguet said. "It's packed. Last year, it was standing room only around the whole field."
Space won't be an issue Saturday, as the state continues to limit attendance because of the COVID-19 pandemic.
On the field, however, the stakes have never been higher.
Hamilton's only loss this season came at the hands of rival Chandler two weeks ago in a game that aired on ESPN2. Chandler was the same team that eliminated the Lancers 24-16 in last season's Open Division semis. Bourguet completed 17 of 27 passes for 232 yards, one touchdown and two interceptions in that game.
The quarterback has been even better this season, completing 64 of 108 passes for 899 yards and 13 touchdowns. He has been intercepted just four times.
Bourguet "really grew up in that Chandler game," Salpointe coach Eric Rogers said. "I thought he played one of the best games of the year. He tends to rise up the bigger the game."
Last year's one-possession loss to a nationally ranked Chandler team was too much to digest for the Lancers. Bourguet said he and the returning cast of standouts "took it personally."
"We understand what we did wrong and what we could do better," Bourguet said. "We've reflected on the mistakes we made and what we could do to be better on Saturday. … I'm looking to fix what I did wrong and leave my mark at Salpointe."
A win over Hamilton on Saturday would be among the biggest in the history of the program. Not even the loaded Lancers from a year ago — which had Bourguet, departed seniors Bijan Robinson, Lathan Ransom and Bruno Fina and future Oregon Duck Jonah Miller — advanced to the Open Division championship.
The Lancers will face another opponent before they set foot on the field. One positive COVID-19 test could end their season. Just ask Scottsdale Saguaro, which had to forfeit its game against the Lancers last Friday because of multiple positive tests in the program.
Bourguet said the uncertainty of playing each week has been "stressful" for the Lancers all year long.
"There were times where we didn't even think we were going to play football," he said.
"I'm just thankful that I'm playing, because I know there's a lot of people around the nation who wish they could be playing."
The Lancers have had one brush with the virus already. They quarantined for two weeks early in October following a positive test in the program.
"A lot of people think football is just a sport, but we've been practicing all year for this opportunity. We've handled this COVID situation very well," Bourguet said. "But it's just crazy to think how far we've come. We're not even close to being done yet. We have so much more to prove and it's just awesome to have this opportunity to play in such a big game like this."
Salpointe has maintained a spot in the Open Division rankings every week this year and was ranked as the fourth-best team in the state on MaxPreps.com, but departing talent and coaches raised doubt state-wide.
Salpointe Catholic is arguably the best team in Southern Arizona, but are the Lancers that good? Can they go blow-for-blow with a Phoenix-area heavyweight?
Bourguet and the Lancers are embracing the doubters.
"With this whole new coaching and really a whole new team, a lot of people are doubting us," Bourguet said.
"The only people who truly understand our capabilities are ourselves, and I'm just super-excited. This is a huge game and we have to treat this like it's the championship right now."
What better way to show Arizona that Salpointe Catholic means business than a win over the Huskies at their house?
"They know the challenge ahead of us. They know who these guys are. Life is about challenging yourself, it's about being the best version of yourself," Rogers said.
"The only way you can find that out is if you compete against the best."
Extra points
Salpointe Catholic is the only team left in the Open Division playoffs that went through a coaching change in this past year. Dennis Bene retired and was replaced by Rogers, who still hasn't lost. He has been close a couple of times: the Lancers beat Casa Grande 29-21 in the season opener and escaped Gilbert with a 21-14 win over Campo Verde.
A win Saturday night would be significantly bigger.
"I want this one for these kids. I'm not worried about me. These guys have done everything we've asked them to do all year," Rogers said. "They've been so resilient and for them to go out there, have success and play well, it would be such a tribute to them."
Salpointe Catholic and Pusch Ridge Christian are the only two local teams playing after Southern Arizona's public schools ended their seasons early.
Now more than ever, the Lancers will wear the Tucson badge with pride.
"I know Tucson athletes wish they could be playing," Bourguet said. "I hope they know we're doing this for them. We're gonna represent Tucson the best way we can. We want to show everyone what we're about."