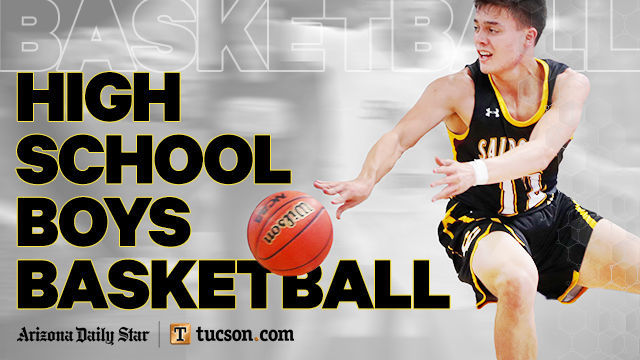 A second Tucson-area boys high school basketball coach is leaving his team. In this instance, it's not by choice.
Tucson High's Daryl Jones said he was relieved of his duties on March 10 following just one season at the helm. Jones was voted the Class 6A Metro Region coach of the year by his peers.
Jones said he was told he "lacked the judgment, responsibility and safety of the players," he said.
"I was surprised... after the season we just had, Coach of the Year..." Jones said. "Teachers stated that the boys were more respectful, the culture changed. My two freshman coaches have been here for 18 years and said this is the most fun they've had and the best culture. I've done everything I could to please the admin."
Jones said the decision was made by principal Shawna Rodriguez, assistant principal Mario Gastellum and athletic director Bobby DeBerry. DeBerry told the Star that any comments about Jones would need to come from Gastellum.
Gastellum did not return voicemail messages and an email requesting comment. Tucson High, like all schools in the state, is closed because of coronavirus concerns.
Jones said he had been left with the impression this season that his bosses were happy with the program.
"I believe that we would've been one of the top teams in Tucson and a team to watch in 6A (next season)," he said.
Tucson High went 19-9 in a tough Phoenix-dominated conference and won its play-in game over higher-ranked Scottsdale Chaparral to advance to the playoffs. They lost to second-seeded Chandler Hamilton in the first round.
Another region coach of the year, Dave Glasgow, announced earlier this month that he is leaving Sierra Vista Buena to return to Coolidge. Glasgow described Jones' firing as "ridiculous."
Glasgow said his fellow coach "did a fabulous job with a really young group. They played together offensively and the pressure defensive system that he had put in fit their personnel perfectly.
"He was very calm on the bench and handled himself professionally and with class in every way."
A third coach of the year, Jim Reynolds of Class 4A Salpointe Catholic, said he enjoyed his relationship with Jones.
"He helped a number of our players improve through club basketball and his Tucson team really improved during this past season," Reynolds said.
Jones also works with the AAU Tucson Spartans.
Get in the game with our Prep Sports Newsletter
Sent weekly directly to your inbox!