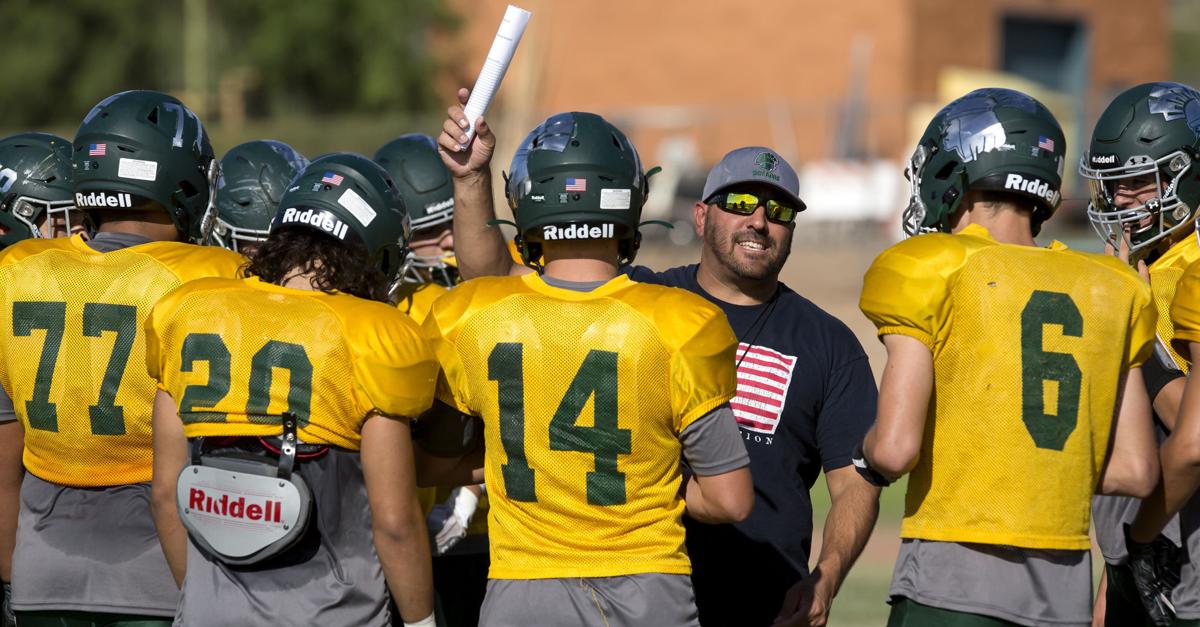 Over the last two months, Dustin Peace and other Southern Arizona high school football coaches have stayed in touch with a text-message group chat.
The Canyon del Oro High School coach, like his colleagues, hasn't had personal contact with his players since March, when COVID-19 shut down the spring sports season, including offseason football workouts. Under the Arizona Interscholastic Association's return to play plan, Peace won't see them again until Aug. 17, when schools are scheduled to reopen.
Teams are scheduled, for now, to play their first games on or around Sept. 11.
"We're allowed to practice, per the AIA. But none of the Southern Arizona school districts have allowed it," Peace said. "It's not like we can't go out and do it; it's just our superintendents have too much going on to be worrying about practicing summer football, which is the truth."
Peace, in collaboration with other coaches throughout the state, has created a petition to push the start of the high school football season to the spring.
The California Interscholastic Federation announced Monday that it is moving the start of fall sports to the winter, with state football championships scheduled for April 17. Winter sports like basketball and golf will end on June 12, while baseball, softball and track and field will conclude on June 19. New Mexico high schools have also pressed on with beginning the fall sports season in the spring.
The letter has received signatures over the last few days from Peace and fellow Southern Arizona coaches Pat Nugent (Cienega), Scott McKee (Sahuaro), Ryan McBrayer (Sabino), Matt Johnson (Mountain View), Louie Ramirez (Marana), Glenn Posey (Sunnyside), Jorge Mendivil (Amphitheater), Corey Noble (Walden Grove), George Kelly (Empire), James Hardy (Ironwood Ridge), Justin Argraves (Tucson High), Hunter Long (Douglas), Robert Bonillas (Desert View), Mike Wells (Palo Verde) and Don Watt (Sahuarita), among others.
The letter to the AIA and superintendents has 35 signatures from coaches ranging from Nogales to Phoenix, from Class 6A power Phoenix Pinnacle to tiny Monument Valley near the Arizona-Utah border.
"By keeping it in fall, it puts pressure on the districts to make a decision now when we know the district doesn't want to make a decision about school right now at all," Peace said. "They want to back things up as much as they can. … It would ease a lot of peoples' minds to move back to the spring, because I haven't seen my kids in close to five months.
"Expecting us to hit the field on Aug. 17 and be ready in four weeks is so superficial that we don't get to dive into giving the kids an experience. It's just, 'Let's get on the field and play Friday night,' when they missed spring recruiting, they missed summer camps, they missed our team camps, they missed passing league."
In the letter, dated Thursday, the coaches present eight bullet points about moving to the spring, beginning with safety and guidelines: "Schools, colleges and professional sport organizations are yet to figure out a method to follow guidelines and procedures ensuring the safety of everyone. Coaches are not health professionals that are prepared to lead this front. Resources and assistance in these areas are so complex, we will be unable to determine if our methods are effective until someone or their family is a victim."
The second bullet point is "providing the full experience for the sport," which gives student-athletes time to work with coaches and train for a full season even if it's in the spring. Southern Arizona's public schools have not been able to hold voluntary summer workouts because of the virus, and private schools — Salpointe Catholic and Pusch Ridge Christian — are holding limited workouts with safety precautions.
The third bullet point addressed the opportunity for players to have time to showcase their talent in front of college recruiters, which is more important now for seniors after "all high school players this season have missed out on spring recruiting, spring showcases, summer college camps and overall lack of assistance to develop their skills. Having a spring season will give these juniors and seniors an opportunity for college coaches to see them face-to-face and on the field."
Getting individual highlights on film is essential, especially for a juniors and sophomores, because it gets recruiters to notice them. Sometimes a single scholarship offer is all it takes to start the recruiting snowball.
Former Salpointe Catholic running back Bijan Robinson, for example, received offers from the UA and a couple other Pac-12 schools as a freshman, but after an impressive sophomore season, notable Power Five offers came flooding in.
"If you want to get put on the map in terms of recruiting, that junior season is very important. Now, you have even less time to get varsity film," McBrayer said.
The fourth and fifth points on the letter addressed two potential roadblocks for a spring start: What happens to multi-sport athletes? And what's going to happen to game officials?
The letter suggested giving athletes the option to choose which sport would benefit them the most, rather than AIA or local superintendents making the decision for them by canceling the season if a potential outbreak occurred. Ramirez said he would "try to accommodate them to (play both sports)."
"It's easy for kids to do track and play football, because usually meets and invitationals are on Saturdays or on Wednesdays; Baseball would be a little more tough," Ramirez said.
One potential predicament involves game officials, who often work multiple sports. The letter suggested "moving lower-level games to Saturdays or providing double-header lower-level games can help accommodate officials that will be at other sports."
The sixth point in the letter highlighted the lack of communication between local school districts and coaches. The letter said moving the fall sports season to the spring would "give school districts time to formulate and execute a plan."
"We are about four weeks from when schools are to open in person and many districts have not released a plan for the upcoming year. Most certainly, they have not executed or tested the plan to see it is effective," the letter said. "Saying we are going to start athletics the same day schools open in person is unrealistic. Many coaches have not had much communication with their district leaders that are making these decisions because they simply do not have time to consider athletics with the weight of the school year starting in a month."
The seventh point in the letter focused on schools "avoiding drastic district decisions to cancel or keep (sports)."
"Forcing districts to make this decision now will have several choices on the side of caution," it said. "This will, of course, be devastating to those schools, but also affect other schools who will have trouble finding games. Not to mention we will see a mass transfer of athletes to schools who are allowing fall sports."
The last point for fall sports being moved to spring is coaches would be willing to coordinate practice schedule and facility use with spring sports coaches.
"It was devastating to witness the cancellation of spring sports last year," the letter said. "We understand the inconvenience of having more sports going on in the spring and will be very accommodating to the traditional spring sports. Moving practice locations and times are just a few of the obstacles we know we will have to work around."
Added Ramirez: "Nobody wants to lose the season. Nobody. For us doing it in the spring, it's safer and smarter," Ramirez said. "Everyone just needs to buy into this little change and go through with it and go from there. I'm not saying it's the answer, but I'm more in favor of that more so than rushing back and playing in the fall when there's a likelihood of a mass amount of people getting the virus.
"And if we're not in school in person, then I'm not comfortable being out there."
Peace and other coaches said they're not completely opposed to playing as scheduled. But as long as questions from coaches and players still haven't been answered by the school districts, and time not in their favor, a spring football season becomes a wiser choice.
"The amount of uncertainties that we have in the fall are so much greater than the ones we can control in the spring," Peace said.
"Friday nights are great, but they're not everything."