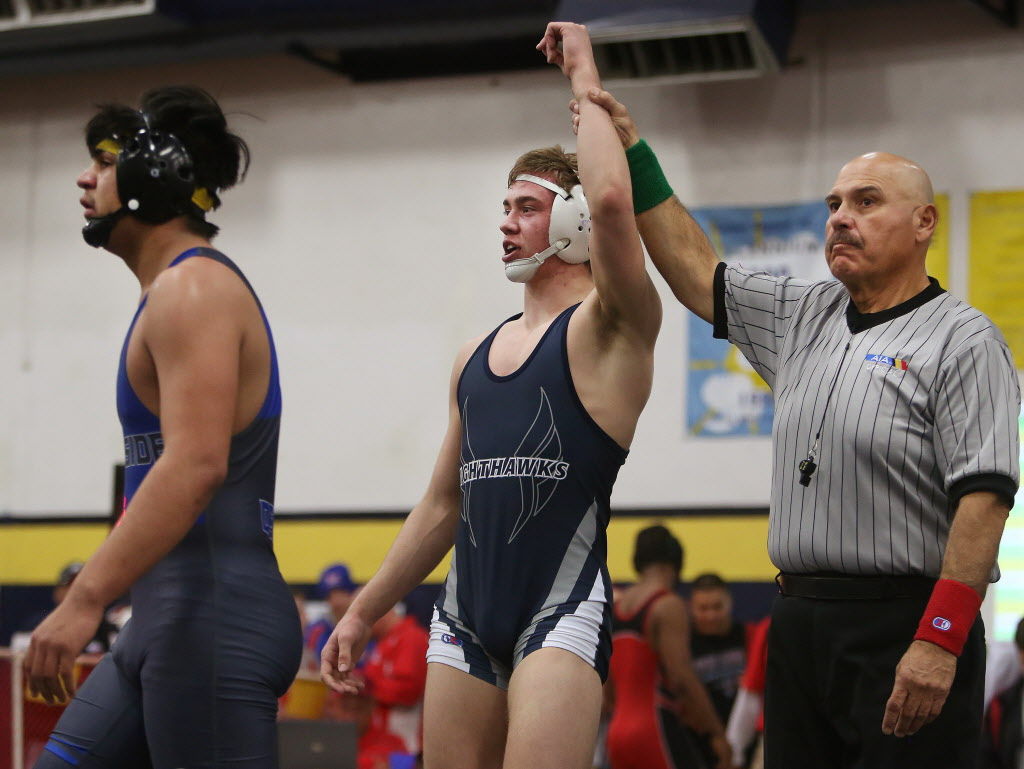 Ironwood Ridge's wrestling team didn't win the Flowing Wells Invitational in any of the years leading up to its three consecutive state championships. But winning the event — deemed one of the biggest and toughest meets in the state — can only be a good sign.
Coming off their second win at Flowing Wells, the Nighthawks are in good position to win their first state title since moving up to Division I two years ago. I-Ridge last won the prestigious meet in 2012, before going on to win the Division II crown.
The level jump has hardly affected the Nighthawks, who placed third one year ago and fifth in 2014. I-Ridge lost just one starter to graduation and return a tough and hungry group.
"We've got a core group of seniors that are not just talented, they want to win a team title," said I-Ridge coach Tim Berrier. "We started drilling from Day 1. We told them, 'We think you're a special group.' Those guys were like, 'Bring it on.'"
Any team that wins Flowing Wells puts the rest of the state on notice, even more so when you beat back-to-back Division I state champ Mesa Mountain View (222.5-211).
Here's a look at the Nighthawks with state just around the corner:
Lightweights
Undefeated 115-pound senior Danny Vega remains the model of consistency for lightweights around the state, winning his third straight Flowing Wells title.
"He's supremely confident," Berrier said. "He's the ideal drilling kid. He's like a machine. If a kid can keep up with him, they can keep up with anyone. But no one can keep up with him."
New to the I-Ridge Nighthawks this season is 134-pound senior Josiah Kline, a state champion from Missouri who is being looked at by Division I colleges Arizona State University and Southern Illinois University Edwardsville among others.
Rounding out arguably the team's most talented group are juniors Jayce Cunha (120 pounds) and Patrick Klass (126 pounds).
Middleweights
The middleweights are anchored by three seniors: 138-pound Alfredo Calzadillas, 147-pound Kyle Taylor and 154-pound Marco Dominguez.
Calzadillas finished third (at 126 pounds) at state a year ago. Taylor has placed fourth at state the last three years, wrestling alongside Dominguez as a freshman in 2013 on the state championship team.
Kyle Taylor, younger brother of former I-Ridge two-time state champion Troy Taylor, finished second at Flowing Wells.
Heavyweights
Aside from 172-pound senior and state runner-up Jeremy Berson, the heavyweights haven't had the success of their lighter peers. Still, Berrier credits the big guys for making a difference last weekend.
Berson, the only other Nighthawk to win at Flowing Wells, has been steadily improving since the middle of his sophomore season.
Jacob Mansman, a 184-pound junior, had been putting it together lately and was a runner-up for the Nighthawks last weekend.
"Even though he's underweight, he's a bruiser," said Berrier. I've been trying to convince him all year that he can win a state title. I think it's finally dawned on him."