Think of Salpointe Catholic and the names Bijan Robinson, Lathan Ransom, Bruno Fina and Jonah Miller likely come to mind. They're the stars of the undefeated Lancers football team, each boasting college scholarship offers and digital stars from recruiting websites.
The Texas-bound Robinson is nearing 7,000 career rushing yards. The hard-hitting Ransom is arguably the top safety in the country. Fina has UCLA coaches licking their chops, while Miller — the only junior of the bunch — could end up with an offer from every Pac-12 school by 2020.
The Lancers have star power, for sure. But a cast of newcomers and transfers make the Lancers unique heading into Saturday night's Open Division semifinal game against Chandler. Sophomore quarterback Treyson Bourguet, senior two-way standout Coben Bourguet, junior running back David Cordero and senior tight ends Connor Witthoft and Jackson Sumlin all began their high school careers somewhere else before finding their way to Salpointe.
"It doesn't matter what school they started at," coach Dennis Bene said. "The reason they're having success is really because the traits and characteristics they have are outside of football. It all comes down to character and integrity and work ethic. Things like that make good teams."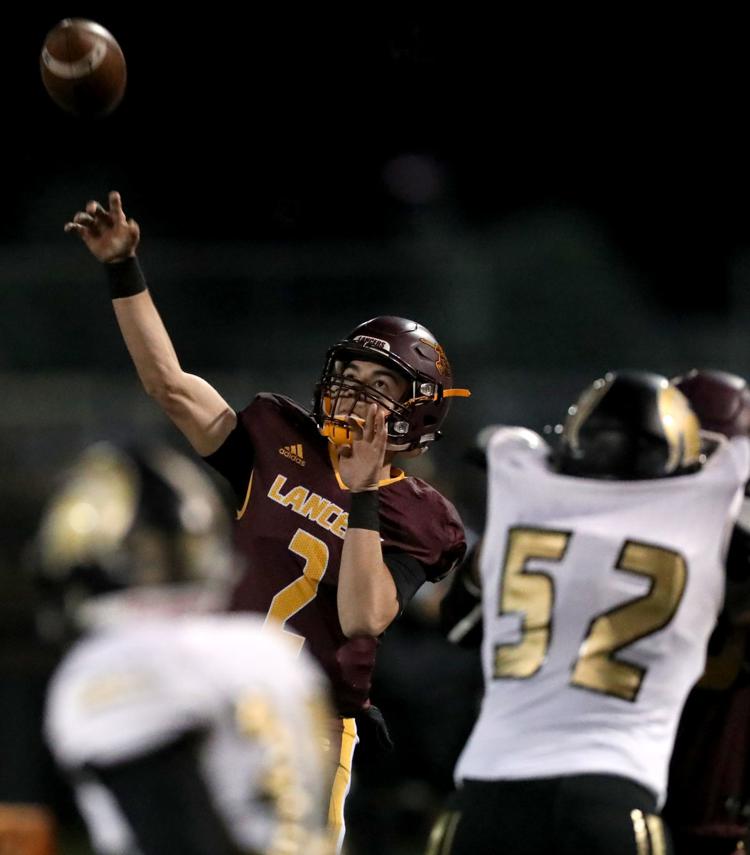 Bourguet entered the 2019 season with only three games of varsity experience under his belt, all as a backup to his brother at Marana. His reputation, however, preceded him. Bourguet led Tucson Turf Elite to another 7-on-7 national championship and, along the way, earned a scholarship offer from the UA.
Then the news hit. Just days before Salpointe's season opener, the Arizona Interscholastic Association ruled Bourguet and his brother Coben ineligible for the first four games of the season, citing the AIA's transfer rules.
The 6-foot-2-inch Bourguet took over the starting quarterback role in late October, and has since completed 28 of 41 passes for 573 yards and 12 touchdowns. He has been intercepted just twice.
"I just took the reins and stayed humble," Bourguet said.
Bene said Bourguet has an "it" factor.
"It's confidence in your abilities and having the ability to lead others without having to say a lot. And it's the commitment to do whatever it takes to make players around you successful. He has all of that and he's the summation of the 'it factor' for a quarterback," Bene said. "There's a presence about him that people see right away and believe in."
Salpointe Catholic didn't waste any time making him feel welcomed.
"We're brothers more than teammates. They really welcomed us … and it's one big family," Bourguet said. "Walking around school, football is a big deal at Salpointe and the teachers are always talking to you about football. It's just awesome to know how important football is to that community."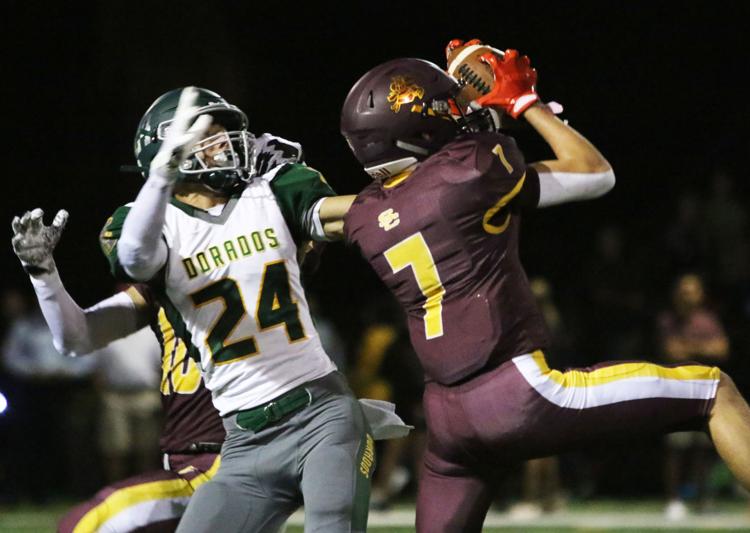 Coben Bourguet contributed right away after becoming eligible. He slid in as Salpointe Catholic's starting free safety and has since been added to the Lancers' offensive attack as a receiver.
Unlike Treyson or their older brother Trenton Bourguet, who's a walk-on quarterback at Arizona State, Coben's focus is defense. In six games at Salpointe, Bourguet has 26 tackles and one interception.
"You get to hit people and control what you can. It's been fun playing one side so far," Bourguet said. "This defense is super well-rounded. … It's really cool to see it come together as one unit."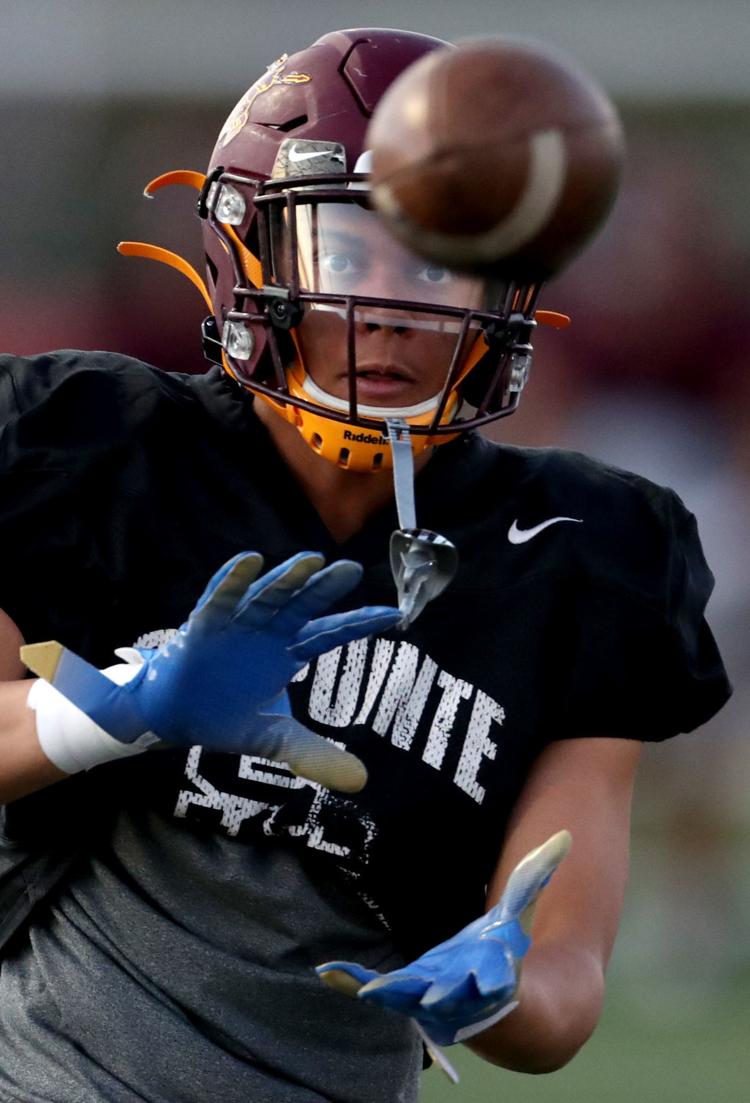 It can't be easy spending your final high school year at a different school, let alone one in a different state. The oldest son of UA head football coach Kevin Sumlin, Jackson — who Bene calls "Summy" — transferred to Salpointe from College Station, Texas. He has since worked his way into the starting lineup as the Lancers' tight end.
This season, the 6-3, 225-pound Sumlin has six catches for 101 yards and three touchdowns.
The younger Sumlin had to learn on the fly, but Bene made the transition smooth for the coach's kid. The two have developed a close relationship in less than a year.
"I'm not exaggerating when I say Coach Bene is like another father figure to me," Sumlin said. "Moving across the country as a senior was hard, but Coach Bene has made that transition super easy. He took me under his wing and is not only a great coach, but a great person. I'll always remember him and never forget everything he has done for me. I have so much love for that man."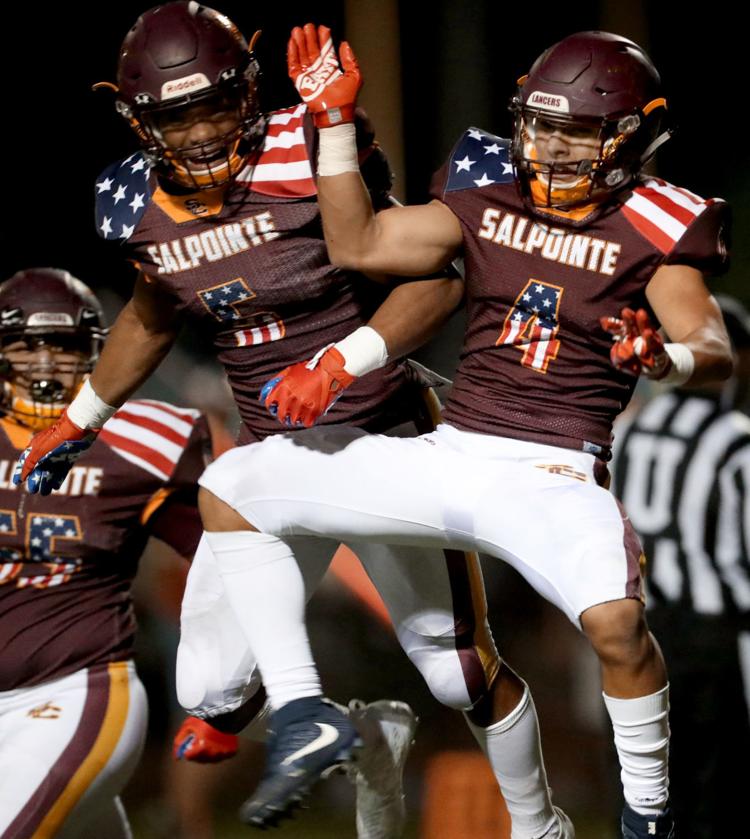 Cordero spent his freshman year at Catalina Foothills before transferring to Salpointe Catholic before the 2018 season.
Cordero serves as the Lancers' complementary running back, behind Robinson. This season, Cordero has 46 carries for 527 yards and nine touchdowns. He's averaging 11.5 yards per carry, but with arguably the greatest running back in Arizona high school football history sharing the same backfield, it's difficult to get noticed. All eyes are on No. 5, but No. 4 is one of the reasons the Lancers have the top rushing attack in Southern Arizona.
"It's always nice working behind a guy like Bijan because iron sharpens iron," Cordero said. "Getting the same reps as him pushes me to be better and it creates a bond between us to go hard."
Cordero's relentless work ethic is what separates him from average players, Bene said.
"David would start for any team in Southern Arizona," Bene said. "Next year, he should get the load of the carries."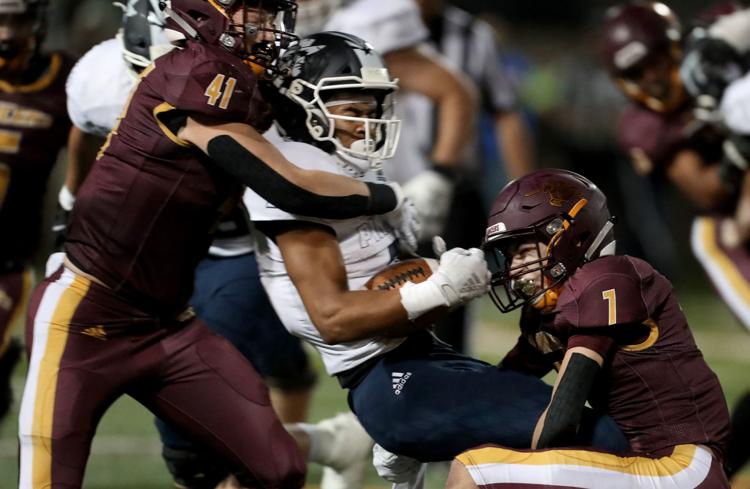 Witthoft played his freshman season at Catalina Foothills, and the Falcons advanced to the Class 4A state championship game before losing to Scottsdale Saguaro. At Salpointe, Witthoft has played in two straight state championship games, losing to the same Saguaro team.
Witthoft, who plays tight end, defensive end and punter, hopes to break through this season. Recently, he received a full-ride scholarship to play at Georgetown. He's one of many players who flocked to Salpointe Catholic and made the most of their opportunity.
"Coach Bene has taught me so much as a player and as a young man. He's really helped me develop as a player," Witthoft said. "What makes him so great is he builds a relationship with all the players and will do anything for us.
"I will always remember him as one of my great mentors. He's been with us through thick and thin and has also helped me develop as a young man and I couldn't thank him enough. There is no other coach I would have rather spent my few years with than him."