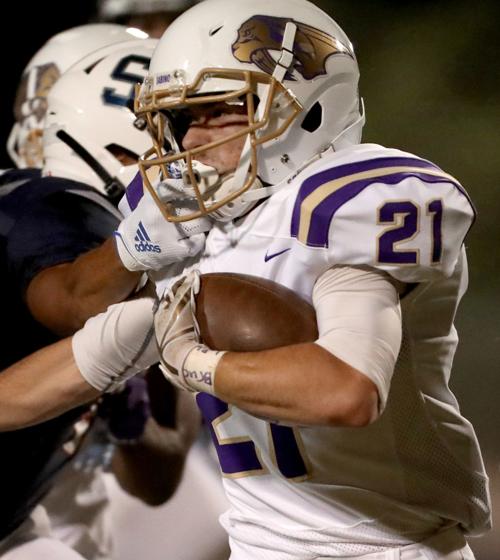 A little less than two weeks ago, Amphi defensive coordinator Gary Sandoval turned to coach Jorge Mendivil and told him, "Just go for it."
It was a risky move, with the ball near midfield and the Panthers clinging to a seven-point lead over Casa Grande Vista Grande, but Sandoval was unwavering.
"They're not going to score," he reassured Mendivil.
The defense backed him up, as Amphi won 7-0, and one week later, the Panthers (2-1) limited Tanque Verde to just one score in a 51-7 victory. Entering this week, facing rival Flowing Wells (0-3), which has scored just seven points this season, Mendivil is pleased with how far his defense has come from a season-opening 52-20 loss to Buckeye.
"They've settled into their positions and roles and have just done a good job of flying to the football and gang tackling," Mendivil said. "We're keeping hands on the offensive linemen to keep our linebackers free to go make plays."
That includes the talented linebacker trio of Isiah Hill, Isaiah Escalante and Nathan Carissimi, who had 10 combined tackles for loss in the first two weeks.
A house of veterans
There's nothing like having experience to start a high school football season.
Pueblo coach Brandon Sanders, who has 23 seniors on his roster, knows this all too well as his Warriors have sprinted out to a 2-0 start, beating Tucson High and Casa Grande. Pueblo has a chance to add to that total this week, hosting Cholla (1-2), which just notched its first win of the season against Vista Grande.
The key will be stopping star running back Russell Adams III, who ran for 202 yards on 20 carries with three touchdowns against Vista Grande, but Sanders thinks his experienced group is up to the task.
"This group has gone through a lot of the wars," Sanders said. "They've seen the Salpointes. When they were freshman we had them play some tough schools. It helped them build a little more camaraderie."
In 2017, Pueblo won eight games. Then, in 2018, it just missed the playoffs, finishing 5-5. Sanders feels this team is different from those two, and it's that team chemistry that makes this group stand out.
"They really have bought in to what we're trying to do as a team," Sanders said. "This is more of a team setting. Everybody is trying to do it for each other. Nobody is worried about their stats or anything else. They're just trying to do it for each other."
Victory at last
Santa Rita ended its 27-game losing streak, which included a forfeit in 2017, with a 48-0 victory at San Carlos. It is the first win under coach Richard Sanchez, who took over before the 2018 season, and who previous won two state football titles at Sunnyside.
He also led the Blue Devils to five straight state wrestling titles in his time there.
Managing the load
Sabino coach Ryan McBrayer never has to worry about running back Andrew Owen wanting the ball.
It's just kind of the way the 5-foot-8, 160-pound back is wired.
"We've got kids that want to play and they aren't going to give up at any time," McBrayer said. "Andrew wants to carry the ball every single time he's out there. So, we've got to manage him and have other guys that can step up.
"We want to get him the ball as much as possible. As long as he's healthy, and fresh, we're going to keep giving it to him."
That can be a difficult balance to strike when facing an imposing front line like the one Sahuaro offered Friday in a 47-13 loss. Cowen carried it 22 times for 62 yards, with Danny McAllister providing the occasional respite.
McBrayer will have to figure out how to divvy up the workload once again this week as the Sabercats travel to Catalina Foothills (1-2), which won its first game under coach Darius Kelly over Marana last week.
Wildcat paying off
Part of starting a freshman quarterback is knowing when to get him a breather, or perhaps just going over the gameplan for a play or two.
Sunnyside's wildcat formation, which includes 6-foot receiver Angel Cano taking a direct snap and bruising his way forward, has provided that breather for freshman Deion Conde. It's also given the Blue Devils a valuable weapon for short-yardage situations. Cano has rushed for 68 yards on 15 carries so far this season while also hauling in a team-high 14 receptions for 157 yards.
Just getting the ball in Cano's hands can be lethal. He had punt returns of 49 and 22 yards in last week's 34-26 win over Rincon/University.