Collection: Sahuarita High School's top 10 football players of all time
A look at the top Sahuarita Mustangs in program history. 
Top Mustangs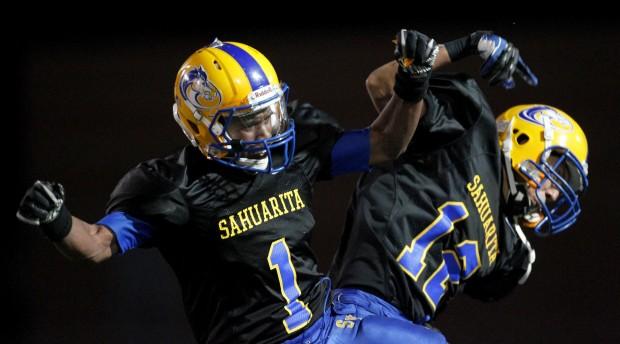 High school football is in full swing and the Star is nearly finished completing its collection of all-time top 10 players from each program around Southern Arizona. Up next: Sahuarita Mustangs
10. Aric Howard, ATH, 2012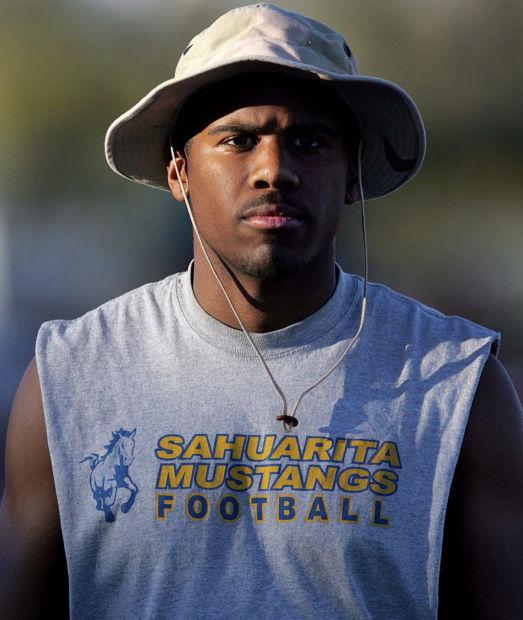 With 15 touchdowns scored four different ways as a junior, Howard was a second-team All-Southern Arizona and first-team All-Division III selection in 2011. A threat to go the distance any time he touched the ball, Howard was a major reason the Mustangs ended the regular season a perfect 10-0, finishing with 26 grabs for 834 yards and 12 scores.
9. Chris Snodgrass, RB, 2012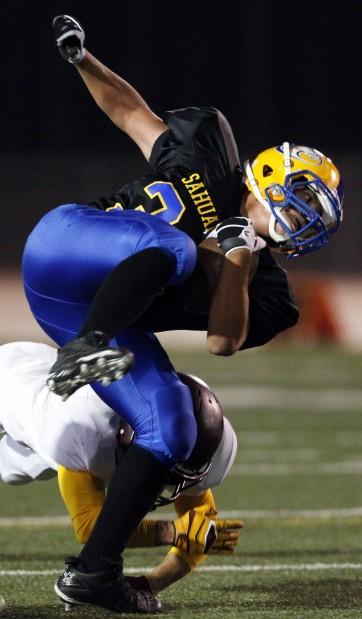 Snodgrass was named second-team All-Southern Arizona as a senior in 2012 after rushing for 1,382 yards and 25 touchdowns on 164 carries. He led the Mustangs to the most wins in school history (10-1) in a single season and a first-round playoff appearance. As a junior Snodgrass was named to the All-Southern Arizona third team with 953 yards rushing and 11 touchdowns.
8. Kelton Smith, WR/LB, 1998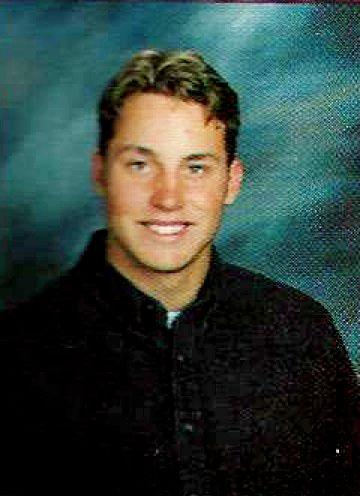 Part of a 9-2 season as a junior, Smith was named a first-team All-Region receiver in 1997, with more than 500 yards recieving and two kick returns for touchdowns. He went on to play two years at Adams State.
7. Ricky Alvarez, QB, 1997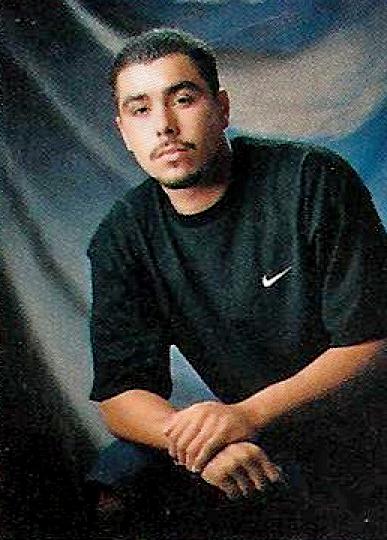 On the short list of best quarterbacks ever at Sahuarita, Alvarez led the Mustangs to their first nine-win season in 1997 and was named the co-offensive player of the year in the conference.
6. Allonte Singfield, ATH, 2008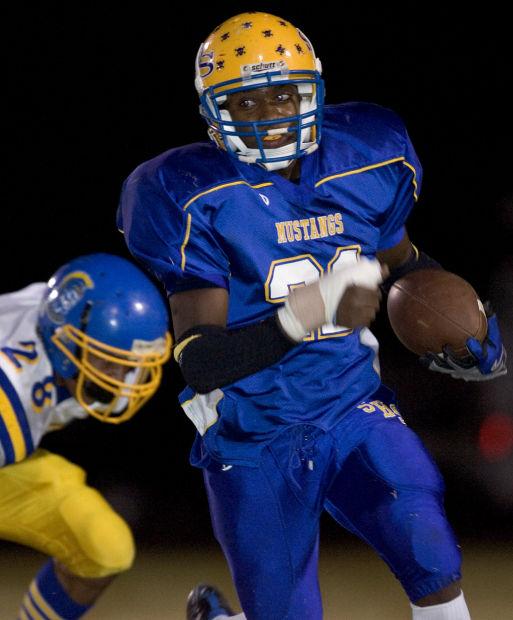 An All-4A honorable mention selection, Singfield earned first-team All-Southern Arizona honors in 2008 after leading the region in rushing with 1,622 yards. He also contributed on defense and returned kicks. Singfield rushed for 205 yards in the Mustangs' 28-13, first-round playoff loss to Scottsdale Notre Dame Prep his senior year.
5. Calvin Jenkins, QB, 2014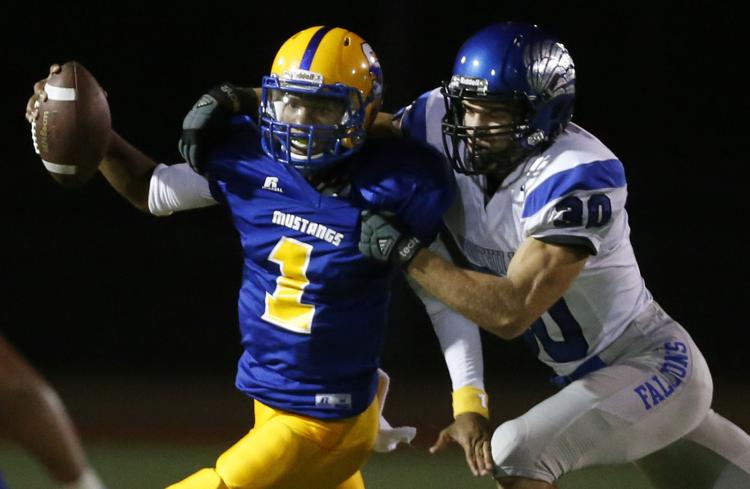 When Jenkins took the field, he was electric. In two years as Sahuarita's starting quarterback, Jenkins went 160 of 271 passing for 2,622 yards and also rushed for 775. A runner-up for Southern Arizona Player of the Year, Jenkins led the Mustangs to the state semifinals to finish the 2014 season with a 21-1 record. Jenkins eventually finished his playing career at Lackawanna Community College in Scranton, Pennsylvania. 
4. Chris Cutler, LB, 1997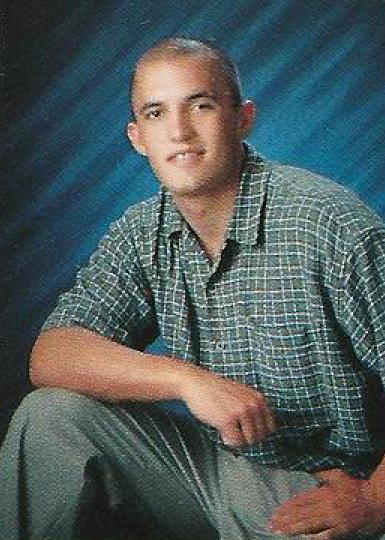 A three-year letterman at linebacker, Cutler earned All-State, All-Region and regional most valuable player honors as a senior in 1997. As a junior he was named second-team All-Conference. In 1999, Cutler walked on at the UA as a defensive lineman.
3. Travis Depper, RB, 2004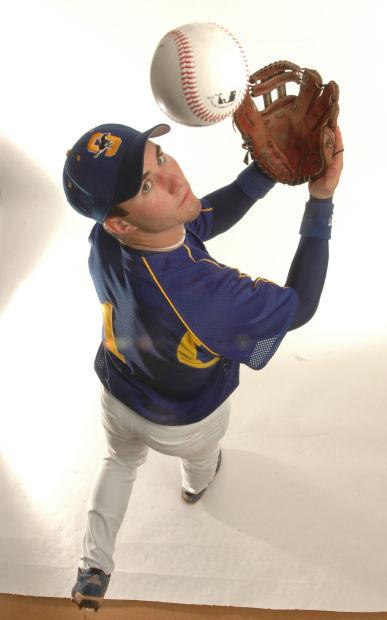 A three-time All-Southern Arizona honorable mention selection, Depper was named to the 3A All-State team after rushing for 1,379 yards and 13 touchdowns as a part of the 2004 Mustang squad that made state playoffs and finished 9-4. Depper, who went on to play running back at Pima, was also a first-team All-Region centerfielder for the state champion baseball team and a two-time state champion in wrestling.
2. Richard Ochoa, OL/DL, 1977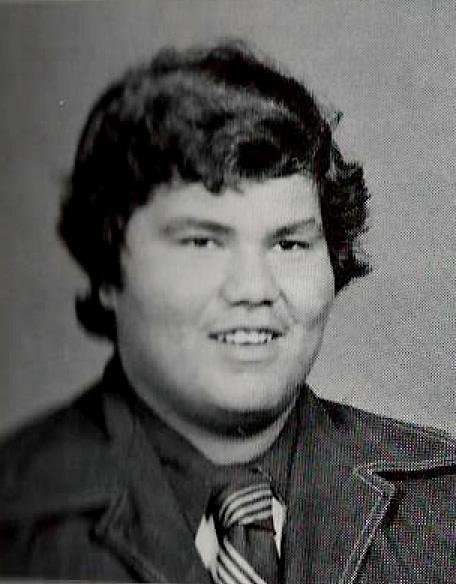 A three-time state champion wrester, Ochoa was also a two-way terror on both sides of the ball as a lineman for the Mustangs in the 1970s.
1. Kyle Day, QB/DB/K, 2005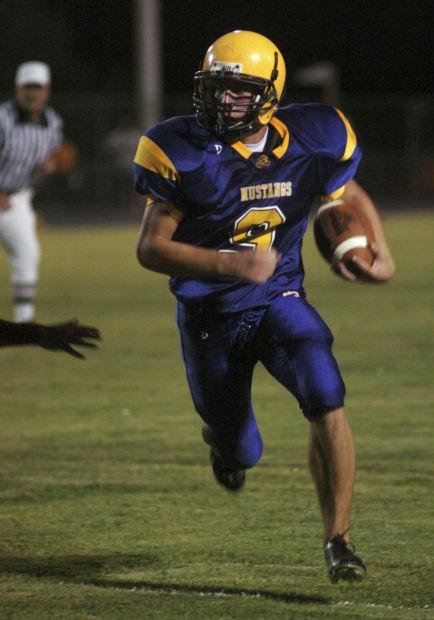 Day was installed into the starting lineup in Week 1 of his sophomore year. A year later, Day was named All-Southern Arizona honorable mention after throwing for more than 2,000 yards and leading the Mustangs to the semifinals and a 9-4 record. Finishing as Sahuarita's second-leading scorer of all time in 2005, the 5-foot-11, 175-pound do-it-all star was once again tabbed for regional honorable mention. A standout quarterback and a stud defensive back, Day might be best remembered for his field goals. He was twice selected as an All-Conference kicker in 2004 and 2005. Day walked on at the UA as a receiver in 2006. He saw action on special teams in two games in 2007 and then lettered in 2009 after playing in 10 games as part of the kick return team as a redshirt junior.