Countdown: Southern Arizona's top 22 high school football players
Here's a look at the area's best as the high school football season nears. 
Keep an eye on these players during the 2019 season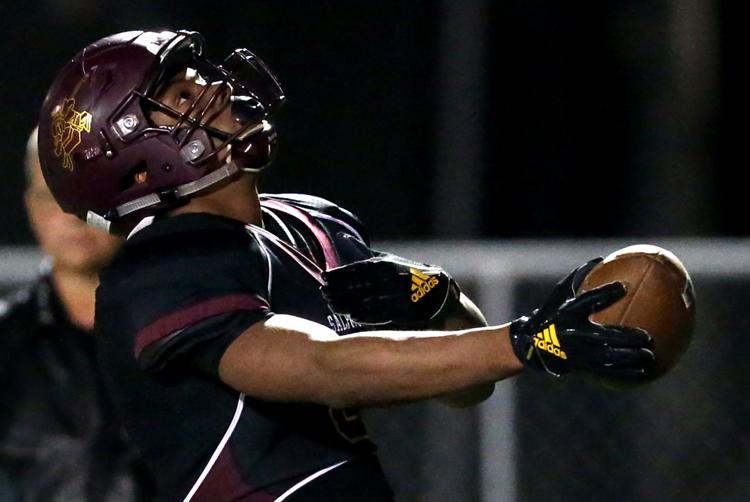 The Star is counting down the 22 best high school football players in Southern Arizona leading up to the Aug. 23 season opener between Canyon del Oro and Flowing Wells. Here's a look at the full list of players. 
(Tie) 22. Dae han Chang, WR/KR, Salpointe Catholic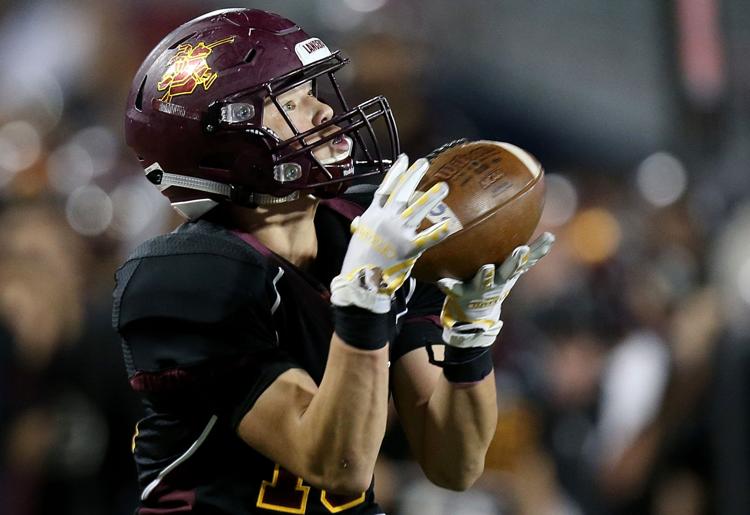 The rundown: Chang is a 5-foot-7-inch, 170-pound senior at Salpointe Catholic.
Who he is: Salpointe Catholic's Mario Padilla graduated, and is now a walk-on at Ole Miss. His replacement at Salpointe is Chang, who steps into the starting role after filling in for the injured Padilla for parts of the 2018 season. Chang finished the season fourth on the team with 743 all-purpose yards behind Padilla, Bijan Robinson and Ohio State commit Lathan Ransom.
"It was good playing under Mario last year and learning from him. A lot of people say we're the same person, on and off the field," Chang said. "He taught me how to be a leader and helped me develop as a player last year."
With Padilla gone, Chang will be given the opportunity to carry the load as a wide receiver and kick returner.
Proof he's good: Chang recorded back-to-back 134-yard games against Tucson High and Sahuaro last season, and had five catches for 77 yards and a touchdown in the state championship loss to Scottsdale Saguaro. Expect even better numbers from Chang in 2019.
He said it: "He's gotta replace Mario for us. He's the guy that can do many things offensively for you: return kicks, he can run the wildcat (offense) if we need to and he's very versatile. We just need to get him the ball because he always does good things when the ball is in his hands. … He showed up big for us in the state championship." — Salpointe Catholic coach Dennis Bene
(Tie) 22. Connor Witthoft, TE/DE/P, Salpointe Catholic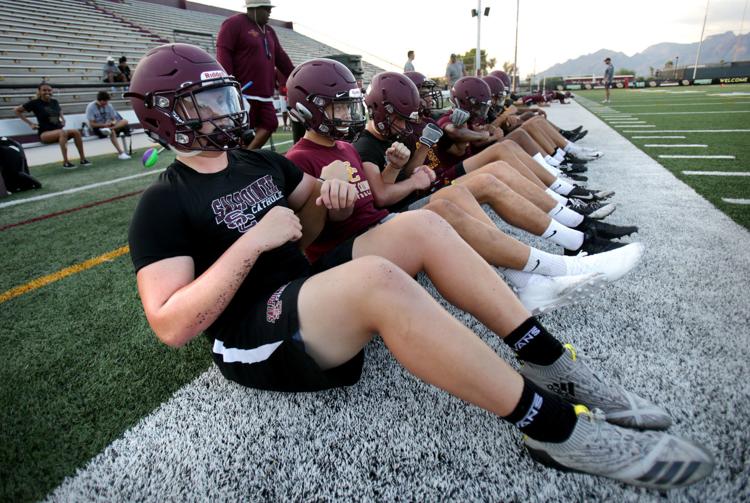 The rundown: Witthoft is a 6-4, 215-pound senior at Salpointe Catholic.
Who he is: Witthoft has played at the varsity level ever since his freshman season, when his Catalina Foothills team advanced to the Class 4A state championship. Witthoft transferred to Salpointe Catholic, where he shared time at tight end with Xavier Farhang last season. Witthoft caught six passes for 42 yards and served as a run-blocker for one of the top rushing attacks in Southern Arizona.
Witthoft, team captain, will start at tight end and defensive end as a senior. He's also the Lancers' starting punter. Witthoft said he's itching for a state title after making three championship games in as many seasons, losing each time to Scottsdale Saguaro.
"I'm gonna try my hardest this season to finally come out on top," he said. "Scottsdale Saguaro added some big guys, but beating them and coming out on top is the main goal. I want to finally win a state championship."
Proof he's good: Witthoft doesn't yet have a Division I offer, but he's received attention from Power 5 schools. He has taken unofficial visits to Oregon State and Northwestern, and has been in contact with San Diego State and San Jose State.
He said it: "It'd be really nice to get him a ring. He's just a great kid, excellent teammate, really coachable and he's extremely important to our team. He's going to play both sides of the ball and be our starting punter, so he's pretty vital to our success. … He added length and size to our front seven, but Connor has lost a little weight and he's more athletic.
"He has more pop this year than he did last year so he's going to be a wonderful addition to our defense." — Bene
21. Christian Estrella, RB/TE, Douglas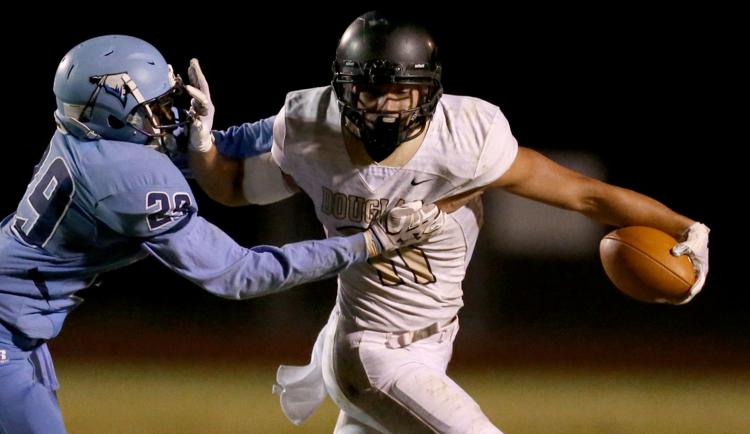 The rundown: Estrella is a 6-foot-3-inch, 215-pound senior at Douglas High School.
Who he is: After winning their first five games of the 2018 season, it seemed the Bulldogs were making a statement — and drastic improvement — from their winless 2017 season. But when they were 6-2, the school self-reported more than 30 violations to the Arizona Interscholastic Association that included players on the team not having proper paperwork after transferring to Douglas. The Bulldogs were forced to forfeit their six wins, but went on to close the season on a two-game winning streak. Now, Estrella wants to put last year behind him. Douglas graduated 20 players from last year's roster, putting Estrella and the seven other seniors in leadership positions.
"Last year doesn't really define us as a team," Estrella said. "We've got a lot new players out here. We've got new coaches, new faces. It's just a different feeling, a different characteristic to this team."
Proof he's good: Estrella has yet to receive any official offers, but has been receiving letters of recommendation from multiple different colleges. Last season, Estrella had a total of 1,164 all-purpose yards in nine games. He had 919 rushing yards on 116 carries, 169 yards on 12 receptions and 76 yards on two interceptions.
He said it: "He's a great athlete. He's got all the raw materials that you want — size, strength, speed. If he puts all that together, he's going to be a dominant force on the field. He is (a leader) and he does by example. He's one of the hardest workers. He's always wanting more and pushes the other guys to want more. He's kind of set the standard. Being in a smaller town, he's definitely a big fish, but the other guys definitely look up to him and kind of want to emulate his game." — Douglas coach Hunter Long
20. Gary Love, RB, Tucson High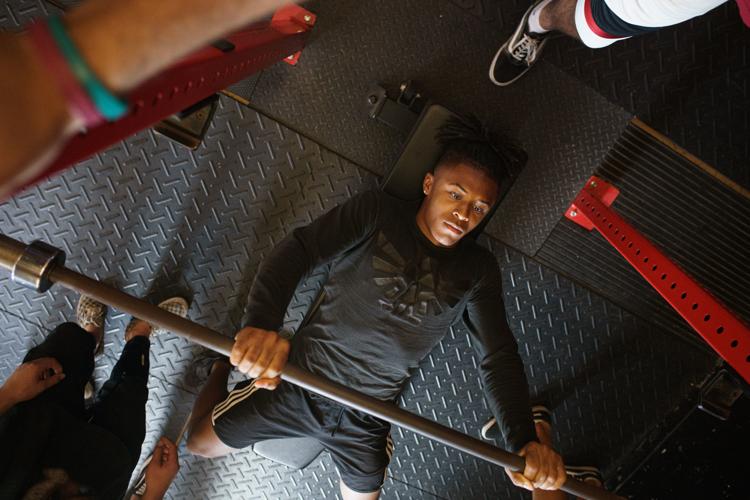 The rundown: Love is a 5-foot-11-inch, 178-pound senior at Tucson High.
Who he is: Although Love will try to leave it all on the field this season, his main priority will be off the field. The senior running back said he messed up on a few of his classes last year, so he will focus on getting straight A's his final two semesters at Tucson. Really, he just wants to make sure he's in the best position to help his teammates.
"I'm going to try to make sure that I can do anything I can for my team, whether it's scoring or putting my body through the ringer — just do it," Love said.
Love said he hopes to continue his football career after high school, like his father did. Gary Love Jr. played for Arizona from 2000-03, so it would be a dream come true for the Tucson High product to also be able to play for the Wildcats.
Because junior college football was eliminated throughout the state, Love is more motivated to perform in the classroom and on the field to be able to get an offer.
"I got to make sure I don't mess up anymore," he said.
Proof he's good: Love more than doubled his numbers in his junior season from the year before. In 2018, Love had 813 rushing yards on 150 carries in 10 games.
He also added 123 yards on six receptions.
He said it: "(He's a) dynamic football player. This is going to be his fourth year with us right now. Just a tremendous work ethic. His play on the field, everyone sees it. We know that going into this year he's going to be one of our main guys that we base our offense around. We're excited to see it progress. Last year, we had a breakout year for him. He's just a tremendous athlete and a tremendous young man. We just want to see him go out on top. He has the ability to break 4,000 this year. We know that his leadership, that's going to be his strong suit going into this year." — Tucson coach Justin Argraves.
19. Jovoni Borbon, QB/S, Sierra Vista Buena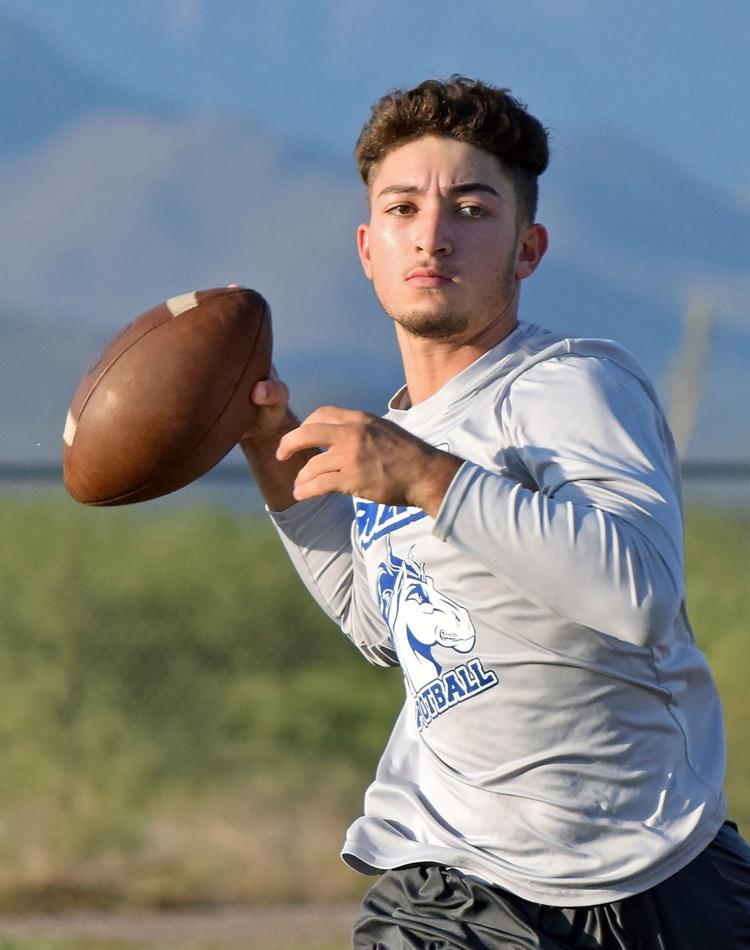 The rundown: Borbon is a 5-foot-10-inch 185-pound senior at Sierra Vista Buena.
Who he is: Borbon will play both sides of the ball this season after previously playing solely quarterback. It's a chance for Borbon to not only help his team but possibly get on colleges' radar.
"We lost our senior safety last year and I'm kind of short for a quarterback, so I want to get (on) more film," Borbon said. "I've been playing safety throughout the 7-on-7s and summer ball, so I've just been starting there."
Borbon is hoping the Colts' strong team chemistry leads to a playoff berth. Borbon has been tight with many of his teammates for the last three years.
"I know them, I know their background, I know their families and stuff like that," Borbon said. "It makes it easier to communicate with them and build and play with them on the field."
Proof he's good: Borbon completed 109 of his 183 passes for 1,655 yards and 12 touchdowns as a junior while throwing eight interceptions. He also rushed 64 times for 121 yards.
Borbon recently received a scholarship offer from Whittier College in California, and has visited Princeton and Northern Arizona over the last few weeks. He's also been talking to a few Division II and III programs.
He said it: "I've known him — I was his third-grade PE teacher — so I've known him forever and I knew he was talented. I knew he had the ability to do great things. And now that he's a senior, I just want to let him have fun. He'll have fun and he'll make plays. And when he's making plays, we're going to keep moving the ball, and when we're moving the ball we're going to score, and when we score that puts us in position to win." – Sierra Vista Buena coach Joe Thomas.
18. Trent Strong, LB, Salpointe Catholic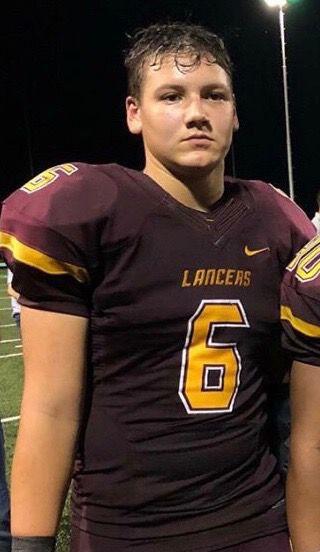 The rundown: Strong is a 6-foot-1-inch, 220-pound senior at Salpointe Catholic.
Who he is: Strong may not have Division I offers like some of his Lancers teammates, but he certainly has a future at the next level. Strong, who is one of Salpointe Catholic's team captains, has received interest from a plethora of Ivy League schools including Princeton, Yale, Brown, Columbia and Cornell.
"As soon as I gained traction in my recruiting at the tail end of my junior year, the thought of playing in the Ivy League really started to blossom," he said. "It's super appealing to me because it's still great football, but you're going to get an excellent degree out of it and take that into the work place. That's what really attracts me about the Ivy League."
University of San Diego has also expressed interest in Strong for the 2020 recruiting class. Strong currently has full-ride scholarship offers to Alderson Broaddus, a Division II university in West Virginia; and Carleton College in Minnesota.
Strong already has the size to play college football next year. Instead of bulking up in the weight room, he has focused on speed and versatility. As a result, Strong should cover the field from sideline to sideline.
"That's something that I worked really hard at over the last couple of years especially this past year with trying to get recruited. I wanted to get faster and make sure that I'm at my peak fitness and making sure that I'm the best player that I can be," he said. "As teams get faster and use more spread offenses, linebackers have to be able to adapt and become speed guys while also being run-stopping guys."
Proof he's good: Strong finished his junior season with 106 tackles and four tackles-for-losses. Only seven players in Southern Arizona had more tackles, and four of them graduated. One of those players coming back is Walden Grove linebacker Rick Avelar, who finished last year with 135 tackles. The other two? Strong's Salpointe teammates Ray Figueroa and Shamon Davis. Strong's personal goal as a senior: 120 tackles or more.
He said it: "I sometimes like to sit back and see which kids accept the leadership role and want to be the catalyst for their team, and Trent's done that on his own. Your teammates will only reciprocate if your actions speak louder than your words. He's a very, very hard worker and extremely bright in the classroom. He's very physical on the football field and he is as good as it gets for us at Salpointe." — Salpointe Catholic coach Dennis Bene
17. Treyson Bourguet, QB, Salpointe Catholic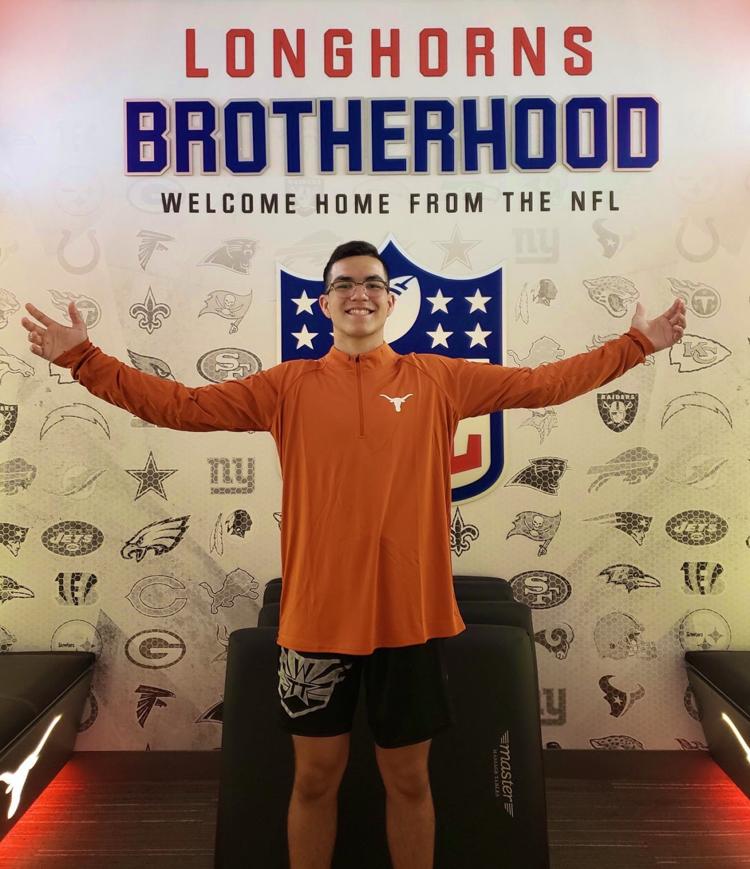 The rundown: Bourguet is a 6-foot-2-inch, 185-pound sophomore at Salpointe Catholic.
Who he is: Bourguet played in three varsity games as a freshman at Marana High School before transferring to Salpointe in the offseason. The experience was much-needed for the younger Bourguet.
"It was nerve-wracking. I never played varsity before, but once I threw my first touchdown, I was like, 'Wow I can do this,'" he said. "Two drives later, I threw my first (interception) so I made sure my head was leveled and I didn't get too big-headed."
Bourguet and his other older brother Coben are the latest additions to a potent Salpointe offense, which also features five-star running back Bijan Robinson, two-way star Lathan Ransom, wide receiver Dae han Chang, guard Bruno Fina and offensive tackle Jonah Miller.
Bourguet is battling 6-3 senior quarterback Jackson Bolin for the starting spot. Salpointe Catholic coach Dennis Bene describes it as a "healthy competition."
"Two talented players at that position will obviously push each other and that's what good teams have," Bene said. "Those two have done that since the summer."
Regardless of whether Bourguet starts under center this year, he has the potential to become one of the top quarterbacks in Arizona for the next three years.
Proof he's good: Bourguet led the Tucson Turf Elite club team to another Pylon 7-on-7 national championship in Atlanta. That was just the first step to what would be a busy summer for Bourguet. He attended the Texas Longhorns football camp in June, and the UA coaching staff, including offensive coordinator Noel Mazzone, scouted the sophomore during throwing drills. Days later, Arizona offered Bourguet a scholarship.
"I was shocked. I couldn't stop smiling and so was my family when they found out," Bourguet said. "U of A is definitely a place I can see playing at for four years. It just feels like home."
Bourguet is one of five Lancers to hold a Power 5 conference offer.
He said it: "(UA) clearly evaluated him and they can see the potential there. For a young quarterback, he has a lot of ability, good size and is very accurate. He throws a catchable football and has a good foundation to build his skill set on. … He just has that 'it' factor that successful quarterbacks need to have." — Bene
16. AJ Skaggs, QB, Sabino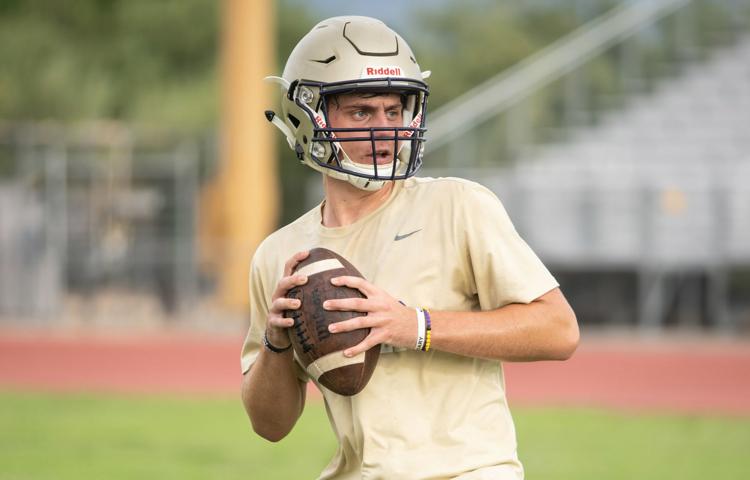 Name: AJ Skaggs
The rundown: Skaggs is a 6-foot-1-inch, 200-pound junior quarterback at Sabino.
Who he is: Skaggs helped orchestrate one of the biggest single-season comebacks in Sabino history in 2018. After starting the 2018 season 0-2, the Sabercats won 10 straight games before falling to Yuma Catholic in a Class 3A state semifinal game. Now, Skaggs has his eyes set on reaching the state title game and possibly getting a ring.
"I'm really happy with where we turned out in the playoffs," Skaggs said. "I feel like we could have gone further, but we definitely will this year."
Skaggs said he hopes to expand his skill set and learn from his senior teammates like Jayson Petty, Diego Armijo and Daniel McAllister. When asked to describe his style of play, Skaggs said he's very calm.
"When there's pressure, it doesn't really get to me," Skaggs said. "I'm in my own head — it's just me and the field. When I'm out there, I forget about everything and I just play."
Proof he's good: As a sophomore, Skaggs completed 118 of 190 passes for 1,624 yards and scored 20 touchdowns; he was intercepted six times. He added 24 rushing yards on 23 carries.
He said it: "He's got a quiet confidence to him, where guys just follow where he's going. He doesn't need to be the 'rah rah' guy and yelling around; he just kind of leads by example. He really steadies the ship when things get out of whack, and that kind of showed when he came in as a sophomore, two games in. We're 0-2, and he just kind of stepped into the role like he belonged, and the rest was history last year, with us going to semifinals and winning 10 games in a row.
"Now we're just looking to acknowledge him from the beginning and realize the potential and talents he had, and we're building our offense around him because of how special a player he is."
— Sabino coach Ryan McBrayer
15. Ray Figueroa, LB, Salpointe Catholic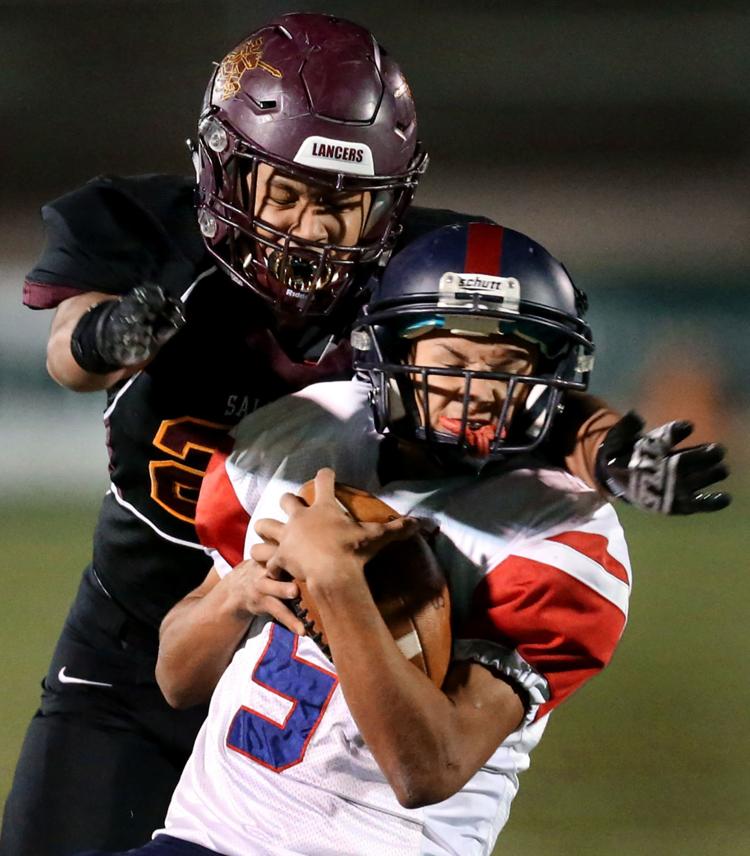 The rundown: Figueroa is a 6-foot, 215-pound senior at Salpointe Catholic.
Who he is: Figueroa may not have scholarship offers like some of his other Salpointe Catholic teammates, but he may just be the most important piece to the Lancers' defense. He stepped into the middle linebacker spot in 2018, replacing Class 4A Kino Region Defensive Player of the Year Chris Aguirre, who had 143 tackles as a senior in 2017.
"The biggest thing that I've learned from Chris Aguirre is to study the other team so that when game time comes, I'm able to know where the ball is going before the play even starts," Figueroa said. "Aguirre has been a big role model on the game I play today, and his ability to go 150% on every play has always inspired me to play at the same level."
Figueroa had 117 tackles and led the Lancers with 16 tackles-for-loss in 2018. Figueroa also served as a pass rusher, finishing with six sacks and 15 quarterback hurries.
Now back as one of Salpointe Catholic's team captains, Figueroa will be paired with linebacker Trent Strong.
The two combined for 223 tackles in 2018. With one more season playing beside each other, Figueroa and Strong are expected to be the pulse of Salpointe Catholic's stout defense.
"Having Ray and Trent inside to anchor our defense, man, I just think good things are ahead for our defense with those guys in the middle," Salpointe Catholic coach Dennis Bene said.
Figueroa and Strong will be joined by Class 4A All-Kino Region linebacker Shamon Davis, who had 115 tackles in 2018.
The three could make up the top linebacker corps in Southern Arizona .
Proof he's good: Figueroa was named to the Class 4A Kino Region All-Defensive First Team in 2018. His 117 tackles ranked fifth in Southern Arizona last season; the only returner who had more is Walden Grove's Rick Avelar.
Figueroa's most impressive stretch during the 2018 season came in the month of September, when he recorded 41 tackles in four games. He set a career-high twice last year with 12 tackles against Glendale Cactus and Casa Grande Vista Grande. In a 41-15 win over the Cobras, Figueroa had six tackles-for-loss.
He said it: "Ray is really physical and runs very well for a 215-pound linebacker. Ray has an intensity that not many kids have. He's a very focused kid and a very hard worker. He just likes to compete. He brings a toughness to our defense that we have to have."
— Bene
14. Evan Lovett, RB, Pusch Ridge Christian
The rundown: Lovett is a 6-foot, 185-pound junior at Pusch Ridge Christian.
Who he is: Coach Jerry Harris said his running back is a special athlete. Harris said Lovett is arguably the team's hardest worker and one of its most humble players — an combination not normally found in talented athletes.
"He's special on the football field, but he's a special kid because of those other attributes," Harris said.
Lovett describes himself as an introvert, preferring to lead by example.
One of his personal goals for the 2019 season is to become a better leader while gaining 2,000 rushing yards.
Lovett's quiet demeanor translates to the way he plays, which led to his breakout sophomore season.
"If I see something in my way, I just try to get by it or through it — whichever is easier," Lovett said. "Just, honestly, push through it."
Proof he's good: Lovett was named to the Class 3A first team as a sophomore. The running back rushed for 1,192 yards on 122 carries while scoring 13 touchdowns. He also caught 10 passes for 204 yards and two scores.
He said it: "He's got a huge amount of upside. He had a breakout year last year – nobody was expecting that. His challenge this year is just really to handle the success and to know that he's going to have a target on his back in every game. And to still be able to overcome that and have the type of production that he did last year.
"He's got a great group of guys around him that are going to help support him in that regard. He's a great team guy as well. Even if his individual accomplishments don't turn out quite as impressive, I know that he's hoping for better team results than we had last year." – Harris
13. Coben Bourguet, WR/S, Salpointe Catholic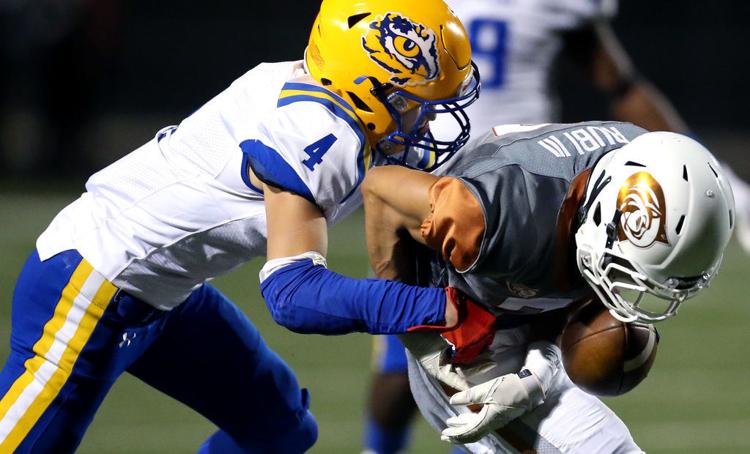 The rundown: Bourguet is a 6-foot-1-inch, 180-pound wide receiver and safety.
Who he is: The Bourguet family has been known for producing quarterbacks. Trenton Bourguet passed for 7,612 yards and 89 touchdowns for the Marana Tigers and is now a freshman walk-on at Arizona State University. Brother Treyson is a sophomore quarterback at Salpointe who already has a scholarship offer from the UA.
Coben Bourguet plays a different position — wide receiver. Growing up, Bourguet was always on the other end of his older brother's touchdown passes. He contributed on the other side of the ball, too. As a junior at Marana, Coben Bourguet rarely left the field.
"I was on defense, offense, special teams — wherever they needed me to play in order to help the team out," he said. "That really helped me improve my all-around skill set."
Coben and Treyson Bourguet transferred to Salpointe during the offseason. Coben Bourguet will have an opportunity to contribute at the two positions he knows best.
"Luckily they were looking for a free safety and a wide receiver, so I fit in perfectly and I'll be going both ways again," he said.
Bourguet will join a lethal offense that includes five-star Texas commit Bijan Robinson and David Cordero at running back, Ohio State commit Lathan Ransom and Dae han Chang at wide receiver, Connor Witthoft at tight end and Washington and Oregon target Jonah Miller and UCLA commit Bruno Fina on the offensive line.
Bourguet said he's especially excited to play with Ransom. The two have known each other since their Pop Warner days.
"It's awesome. When you work with the best every day in practice, it's only going to help me," he said. "We've known each other forever, but finally being on the same high school team, it's nice."
Proof he's good: Bourguet accounted for 557 receiving yards and six touchdowns in 11 games at Marana last year, and finished third on the team in total tackles (53) and interceptions (3) while playing defense.
During the offseason, Bourguet and his Tucson Turf Elite passing league squad won another Pylon 7-on-7 national championship, their second in three years. The Lancers have six players with Tucson Turf Elite ties.
He said it: "Coben is a very quiet, unassuming kid. I never met him until he showed up at Salpointe, because I always heard about Trenton. That's all you heard about, all you read about.
"Coben, he's been a pleasant surprise. I like his demeanor because he's a very quiet and confident kid. He's long and plays both sides of the ball and has a cool demeanor on the field — doesn't panic.
"I like qualities like that in players and he's had a great summer. ... He's just a kid you can depend on. He's dependable, that's the best way to describe him."
— Salpointe coach Dennis Bene
12. Varney Larson, RB/DB/KR, Mountain View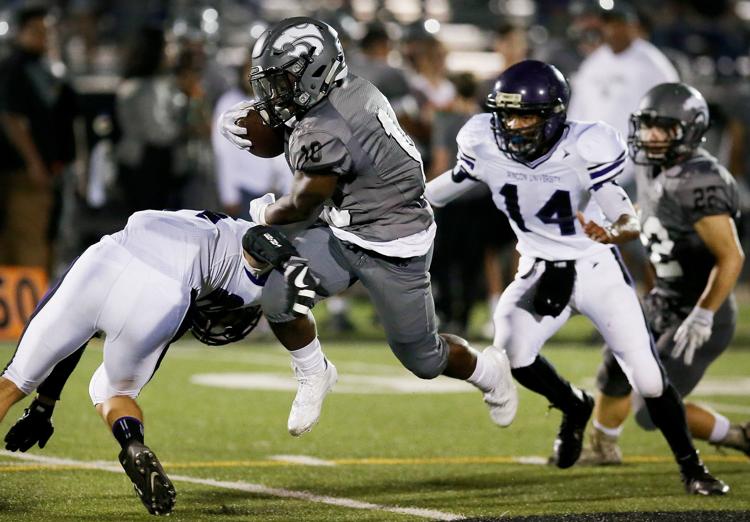 The rundown: Larson is a 5-foot-7-inch, 180-pound senior at Mountain View.
Who he is: Matt Johnson, who is starting his first season at Mountain View, has been coaching for 20 years and said Larson is in the top 2% of athletes he's coached over the years. Johnson said he believes the running back and defensive back could be an all-conference, all-state type of player.
"He's definitely got some quickness and some explosiveness that is rare — very, very rare," Johnson said.
While Larson said he doesn't have any personal goals in mind for his senior season, he's been working hard to get to this point in his career. Now that he's starting his final season at Mountain View, he wants to make sure to work hard to be able to do his part to help the team succeed.
He'd also like to be the first member of his family to receive a college athletic scholarship. Although he hasn't received any offers yet, Varney said he has been talking to a couple of colleges and hopes to find a school to play at soon.
"That would be really important for me," Larson said about accomplishing his goal. "It's a big dream."
Proof he's good: Larson had 387 rushing yards on 42 carries for eight touchdowns and added 390 yards on 28 receptions while scoring three times.
He said it: "He's definitely an explosive player. He's got some amazing abilities. The kids really respect how talented he is and I think we're all excited to see what he can do this year. I mean, it's his senior year – big year. We'll see if he can handle being a leader. That's a question that every senior needs to address. It's one thing to be talented when you're a junior or sophomore, but every senior, when it's their senior year, that role changes." — coach Matt Johnson
11. Harvey Gonzalez, OL, Sunnyside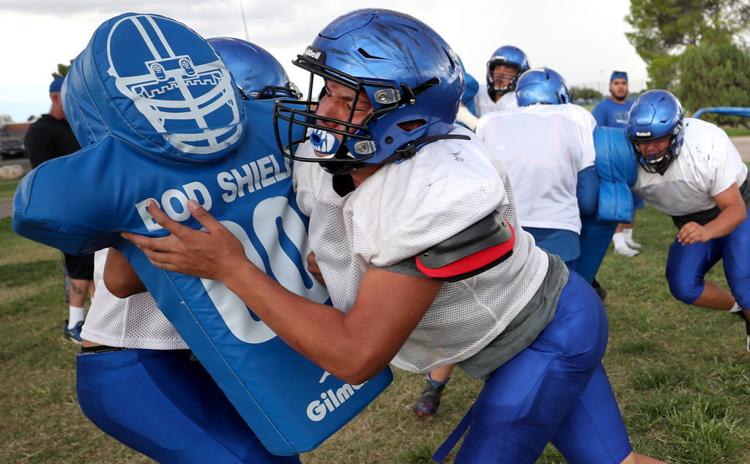 The rundown: Gonzalez is a 6-foot-3-inch, 260-pound senior offensive lineman at Sunnyside.
Who he is: When Gonzalez lines up against a player from an opposing team, he tells himself that's the guy he has to beat. One on one.
"That's just my mentality," Gonzalez said. "Just hit them all and break them."
Gonzalez would like to improve on his footwork and being more aggressive in his final season of high school football. He knows he needs to stay low and finish blocks.
The senior would also like to pass on the torch to the younger players to keep up the tradition of Sunnyside football. Gonzalez said he's been working on his relationships within the team over the summer because he understands how important of a role chemistry can play with the team. If someone needs a ride, he offers a ride. If someone needs a place to stay, he invites them for dinner.
"That's what I've been doing all summer, just spending time with all of them, like my little brother and all of his friends, making them my friends," Gonzalez said. "Now, it's to the point where I look at them, I give them a look and they know it's time to go. In previous years, I really didn't have that type of touch with anybody else. This team is special this year."
Proof he's good: Gonzalez is still waiting on a collegiate offer, and has interest in both the UA and ASU.
Sunnyside coach Glenn Posey said the offensive line struggled at times last season, and Gonzalez also had his own struggles, but the senior has been putting in the work over the offseason to be the best he can be this year.
"He's in much better shape now. He's probably 50 to 60 pounds stronger per lift," Posey said. "All that work that he did to prepare his body has just made him that much more confident and better suited to do his job."
He said it: "He's probably our most experienced football player — been there, done it, seen it, went through it. So, he's been a valuable resource for our kids, but at the same time, he's so starving to have a good season. He's led the way in the weight room and the work ethic and has done a good job of challenging his teammates and holding everyone accountable. He's been a valuable asset for me, as a head football coach. I've been leaning on him and we've had our back-and-forths and he's been great." – Posey
10. Hunter Schlagel, DT/OT, Cienega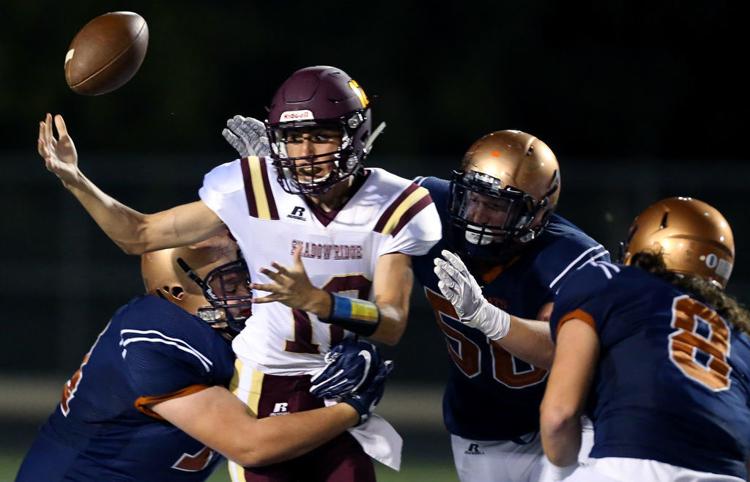 The rundown: Schlagel is a 6-foot-3-inch, 278-pound defensive tackle and offensive lineman.
Who he is: Cienega lost a plethora of talent from a team that went 9-3 a year ago, including a group of skill players that included Class 5A Southern Region Player of the Year Terrell Hayward. However, the Bobcats return with one of the top tackles in Southern Arizona. Schlagel has been a two-year contributor on Cienega's varsity team. His size and feel for the uptempo pace gave him a spot in Cienega's defensive tackle rotation in 2017. Taking over as a two-way starter in 2018, Schlagel registered 29 tackles and no sacks in 12 games. His six tackles-for-loss were third on the team .
"Last year I thought I did pretty good. I was trying to lose a little weight and mainly helped out on the defensive line," Schlagel said.
Now a junior and one of three starters returning to Cienega's defense, "I feel like more people look up to me because of the experience," he said.
Schlagel will play more on offense than he did last season, and now that he's officially an upperclassman, Schlagel has emerged as one of Cienega's team leaders.
"It's about time we see Hunter play a little bit more offense. He's a dominant offensive lineman and we've been kind of playing him on defense mostly, but he'll be a kid that sees both sides of the ball," Cienega coach Pat Nugent said.
"Hunter has never been a vocal leader. He's a quiet kid and a big teddy bear, but he's such an intimidating factor on the field."
Schlagel gained eight pounds during the offseason, and hopes the added bulk — and an uptick in his performance — could help him land college scholarship offers.
Schlagel will have a chance to showcase why he's one of the top interior defensive linemen in Southern Arizona on Sept. 6, when the Bobcats host two-time defending Class 5A state champion Peoria Centennial. Schlagel will match up against one of the top offensive and defensive lines in Arizona.
"My biggest improvement was definitely my strength. I wasn't as strong as I am now so I'm ready to help up front even more this season," Schlagel said. "I'm really looking forward to that Centennial game because going up against their big guys will test my abilities."
Proof he's good: Schlagel made the Class 5A Southern Region All-Defensive first team in 2018, the only underclassman to do so.
He said it: "When he came up as a freshman, he was timid. Now, he's got a nastiness that goes along with his game. … He no longer has that freshman mentality, that sophomore mentality. This is a kid that knows what it takes to be a varsity football player and now he plays with a nastiness that he's not intimidated by anybody. "
— Nugent
9. Alex Lopez, QB, Walden Grove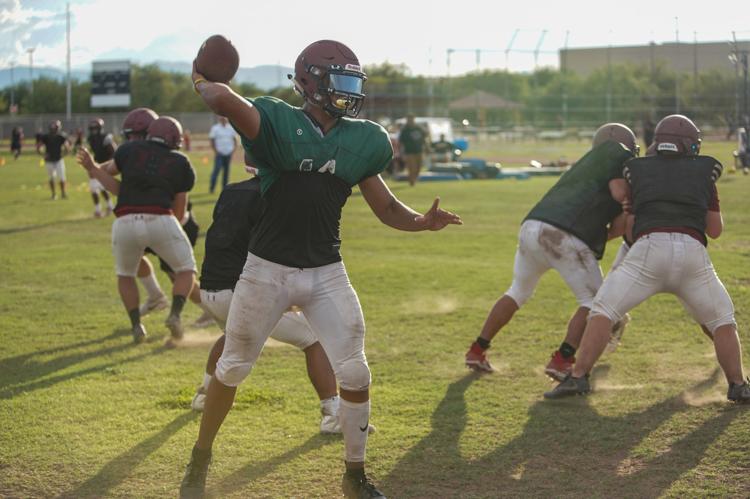 The rundown: Lopez is a 6-foot, 182-pound senior quarterback at Walden Grove.
Who he is: Lopez has one main goal heading into his senior season: leave behind the best legacy he can. The accolades, he said, will come.
"It's not that we're in a small school, here in Sahuarita, but as long as you play hard and good, you'll get recognized wherever you are," Lopez said.
Sure, the quarterback would like to buff up his stats this year, maybe break a few school records and be a top-five passer in the state. But he also wants to help develop the team chemistry.
Lopez said the team chemistry struggled last year, and noticed his team's morale would often disappear following a couple of mistakes.
"This year a lot of seniors are gone, but the young guys are pretty good," Lopez said. "So, we're just building them up, getting them better and ready for this year so we can all play as a team and get some wins."
Proof he's good: Last season, Lopez stepped up as the team's starting quarterback and made the role his own, completing 157 of 269 passes for 2,655 yards and 29 touchdowns in 11 games.
Although Lopez hasn't received a college offer yet, multiple schools — including UTEP, Eastern Washington and Western New Mexico — have taken notice.
"I dream of going to a Power 5 (school), but whatever team wants me, I'll be happy to play there," Lopez said.
He said it: "He's an amazing athlete. Last year he played just quarterback for us, this year he won the appeal with us to get on the field for some defense, too. He's too talented not to. He's a kid who's continuing to work to be a better leader and he's challenging himself. He's excited and really trusting the process and paying attention to the details. I feel like he's grown up a lot in these last two years. It's incredibly impressive for a kid that has, truthfully, only played two years of quarterback." – Walden Grove coach Corey Noble
8. Jordan Lopez, WR/S, Walden Grove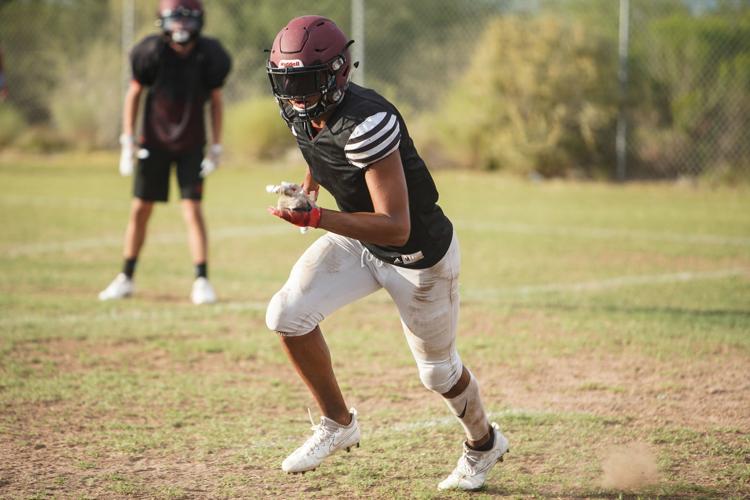 The rundown: Lopez is a 6-foot-1-inch, 205-pound senior wide receiver and free safety at Walden Grove.
Who he is: Lopez is the other half of the twin duo that had a breakout 2018. His fraternal twin, Alex, became the team's starting quarterback last season — and the connection between the pair instantly paid off.
This may be the last season the brothers get to play together.
"I always tell everyone, whatever is best for us, wherever we get the best offer to play college football, that's what we want to do," Lopez said.
But before Alex and Jordan Lopez head off to college, they'll finish their high school careers.
Jordan Lopez said he is going to set the bar high and believes the team has what it takes to go undefeated during the regular season. Walden Grove went 7-4 in 2017, and was 8-3 last season.
"We have a really quality squad," Lopez said. "We have a lot of young guys coming out and producing good stuff."
Proof he's good: Lopez finished his junior season with 1,529 all-purpose yards — 1,230 receiving on 54 catches, 36 rushing yards on five carries and 263 yards from kick returns. He was named to the Class 4A all-conference second team. Lopez has offers from Western New Mexico and a Division III program, and has also been talking to Northern Arizona.
Coach Corey Noble said: "I look forward to his recruitment picking up even more than it has, and I think he's going to be a kid that's going to make a lot of noise — (he's) a kid that's going to be an impact player for a college program."
He said it: "Jordan's a dude. He's that guy, if you're picking someone to play pick-up basketball with, he'd be that guy. If you're looking for just that guy to be an athlete and to be a monster, he's that guy.
"He's an emotional leader for us. He is one of the top kids in our program and on our team. He's one of the top football players I've ever had the pleasure of ever coaching."
— Noble
7. Jayson Petty, TE/DE, Sabino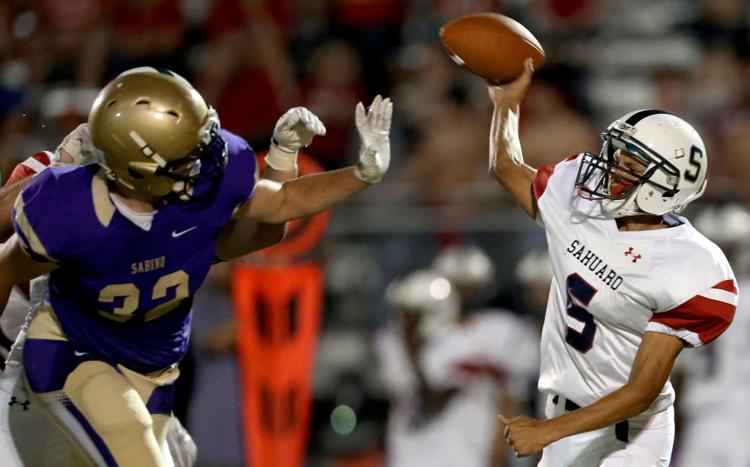 The rundown: Petty is a 6-foot-3-inch, 220-pound senior wide receiver, defensive end and tight end at Sabino.
Who he is: For his final season, Petty has two personal goals in mind to get better: strength and speed. Along with that, Petty would also like to add a state championship to his high school accomplishments.
Last year, Sabino dropped its two games of the season (including the rivalry game against Sahuaro) only to win out over the remainder of the regular season and make a deep run in the Class 3A state playoffs.
The Sabercats ended up losing to Yuma Catholic in the semifinals. This year, Petty thinks the team can go all the way.
Besides chasing a state title, Petty said he would really like to continue building the team chemistry and focus on the friendships his senior season.
"Honestly, just getting all the guys together and making lifelong relationships," Petty said.
Petty believes the team chemistry is already stronger than it has been the previous years he's been at Sabino, and hopes that translates to the field once the season gets underway.
"We're already together and everything's going really well right now," Petty said. "So, I think it's going pretty good."
Proof he's good: As a junior, Petty was named to the 3A All-Conference first team. He finished the year with 554 yards on 42 receptions for 10 touchdowns. Petty also notched 41 tackles (20 solo) and 10 sacks. So far, Petty has one offer, from the University of Idaho, but is still talking with other schools.
He said it: "Petty's been with our varsity program since he was a sophomore. My first year, I ended up calling him up as a sophomore just because he had natural play-making abilities from the time he stepped on campus and he was ready to go. He's just grown into a leader, took things seriously in the weight room, couching up different guys — he likes to play a little bit, but once those pads come on he's as serious as can be. We're glad we have him on our team." – Sabino coach Ryan McBrayer
6. Rick Avelar, LB, Walden Grove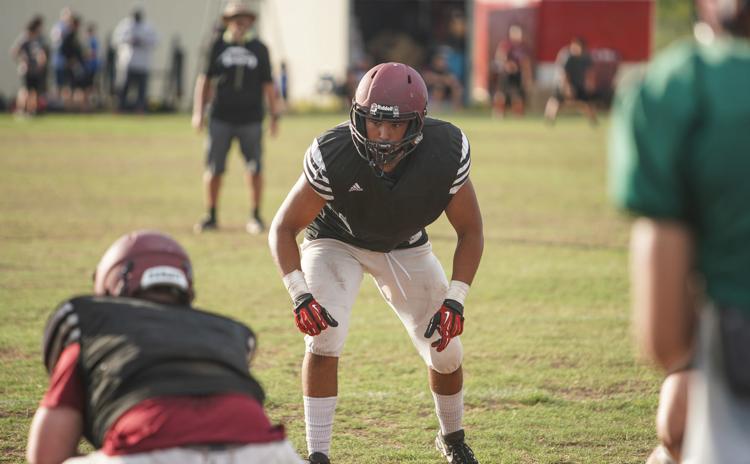 The rundown: Avelar is a 6-foot-1-inch, 215-pound senior middle linebacker at Walden Grove.
Who he is: Avelar's father was the first in the family to go to college on an athletic scholarship, playing football at a junior college. That led to the senior's love of the game at an early age.
Now, Avelar is looking to continue in his father's footsteps and play college football himself.
"It all started with him," Avelar said. "He's pushed us since we were little kids and I grew to love it."
Avelar also has a younger brother he wants to set a good example for — not just by getting an offer to continue his football career, but by working to improve the Walden Grove program.
So far, Avelar said the team has improved over the offseason, getting stronger and bigger, in hopes of improving on its 8-3 2018 season that ended in the first round of the Class 4A state playoffs.
"I'm hoping to leave this program 10 times better so he can come up and hopefully do a lot better than I am," Avelar said.
"I just can't wait to see all of these freshmen, what they do, and just to play more with my cousins (Alex and Jordan Lopez) on the team."
Proof he's good: Avelar is being sought after, so far, by Yale, Columbia, Miami and Utah. Walden Grove coach Corey Noble said he's looking forward to Avelar having a great senior season and having him lead the defense.
Last season, Avelar made 135 tackles.
He said it: "He's the type of kid that you want to have on your team. He's the type of kid that you want to have in your class, you want to have on your team, you want to have in your program. The kids joke around and call him 'Captain America' — he's that kid. He's right out of a 4.0 (GPA), he takes a lot of advanced classes, he's never in trouble, he's always on time and the hardest working kid in the weight room. He does a great job in everything that he does. He's a leader." — Noble
5. Bruno Fina, OL, Salpointe Catholic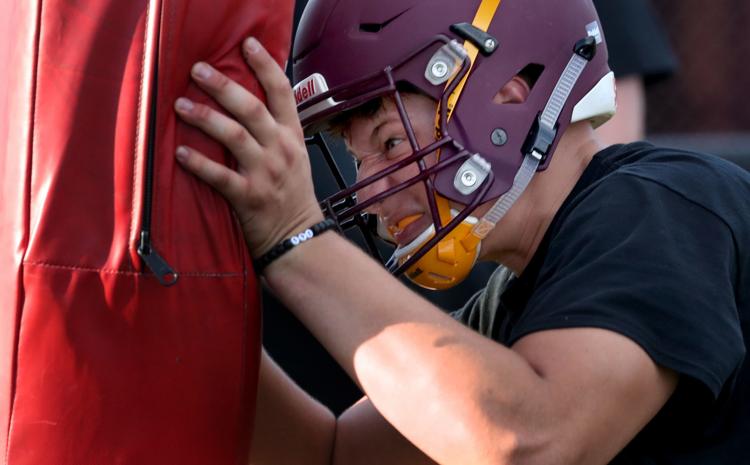 The rundown: Fina is a 6-foot-4-inch, 245-pound offensive lineman for the Lancers.
Who he is: The son of former UA standout and NFL offensive lineman John Fina didn't begin growing into his 6-4 frame until he started lifting weights as a high school freshman.
At first, the UCLA commit grew slowly. Last year, Fina weighed 215 pounds. Now? He's 30 pounds heavier.
"A lot of gaining weight and putting on muscle comes with hormones and development, and I think I was a late-bloomer," said Fina. "I also didn't want to stunt my growth."
Getting bigger has its advantages. Fina has noticed a difference in each block during preseason practice.
"It's a lot easier and I feel more secure with each block," he said.
What's the secret besides turning the weight room into a second home? Eating six — sometimes seven — meals every day. Fina consumes four large eggs with jalapeños and cheese for breakfast. After one of his morning classes, he eats a peanut butter and jelly sandwich and then another one just before lunch period. At lunch, Fina will choose whatever meal is available at the Salpointe cafeteria. Once school is finished, Fina will rummage through his lunch box for any leftover snacks such as string cheese, yogurt and chips as a pre-practice meal. After practice, Fina eats two dinners comprised of beef, potatoes, bread, pasta, eggs or any source of protein.
Fina would like to weigh 255 pounds by the time he graduates in May, and hopes to be in the 300-pound range by the time his college career wraps up.
Fina will enter his final season at Salpointe as the Lancers' starting tackle. He'll be a part of a unit that also features four-star offensive lineman Jonah Miller, who was recently offered full-ride scholarships to play football at Washington and Oregon.
Proof he's good: USC offered Fina a scholarship after he took a visit to Los Angeles in April. UCLA followed suit. In August, Fina committed to the Bruins over Boston College and Yale. He also held offers from UA, ASU, Washington State, Oregon State, Nevada and Brown. Fina is also a standout in the classroom. He holds a 4.01 GPA, is currently enrolled in two advanced placement courses — honors physics and honors pre-calculus — and is taking history of American theologies and Engineering 102, which will be counted as a college credit.
He said it: "He's always been gifted physically. College coaches are looking for people with good feet and hands, and Bruno possesses both qualities. He's a very bright kid and he understands the Xs and Os. … These kids are so far from reaching their potential and their ceiling. There's a lot of growth left for Bruno and a lot of development left for him as an offensive lineman."
— Salpointe Catholic coach Dennis Bene
4. Jonah Miller, OL, Salpointe Catholic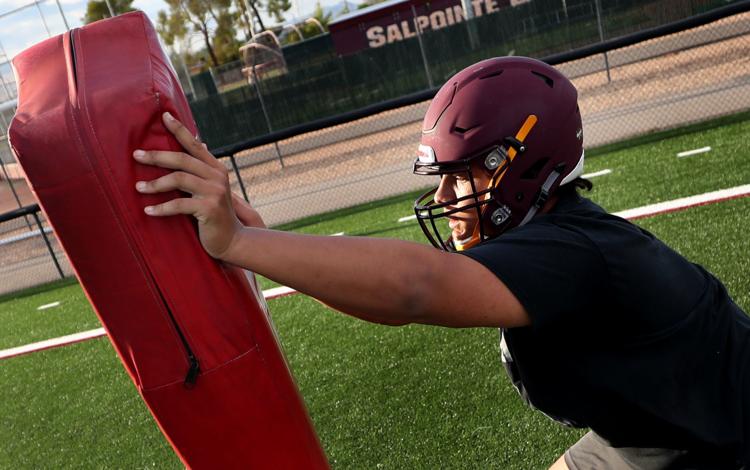 The rundown: Miller is a 6-foot-6-inch, 290-pound offensive lineman
Who he is: Salpointe Catholic's mammoth-sized junior grew another inch taller and packed on 15 pounds following his sophomore season, and returns as one of the most athletic and versatile offensive linemen in Arizona.
Miller always possessed Division I size, even as a freshman. He developed behind Matteo Mele, now at Washington, and Christian Massey before stepping into a significant role as a sophomore in 2018.
Playing behind Mele proved to be an invaluable experience. Miller made the Class 4A All-Kino Region second team last year.
"Guys have to progress and develop at their own pace, but it's motivating when you're next to a guy who is similar in size and athleticism and is getting recruited at the highest level," Salpointe coach Dennie Bene said. "No question, it was motivating for Jonah and he's got his sights set on a Power 5 program to play for in the future."
The Lancers will experiment with Miller at both guard and tackle. His size and mobility can cause major matchup problems — especially with Bijan Robinson, Salpointe's Texas-bound running back, carrying the ball.
"He's a difficult matchup for a high school defensive lineman," Bene said.
Blair Angulo, a recruiting analyst for 247Sports.com, said Miller "repeatedly reaches second level to open running lanes" and is a "top-notch run blocker who seals his gap."
If all goes right, No. 75 for Salpointe Catholic will be an all-state lineman this fall.
Proof he's good: Miller is rated as a four-star prospect and the 29th-best offensive tackle in the 2021 recruiting class by 247Sports.com. Colorado and Arizona State offered him scholarships first, and were followed by the UA in January. Since then, Miller has received offers from USC, Oregon, Washington, Florida, Texas, Missouri, Nebraska, Oklahoma State, Nevada and Washington State.
He said it: "You just don't get guys that big and that athletic. Jonah has an opportunity to be an elite lineman because of his physical abilities. He's going through a huge maturation process right now both physically and mentally. He's had a ton a growth over the last three months and he has a ton of potential. He has a chance to really be special." — Bene
3. Stevie Rocker, RB/S, Canyon del Oro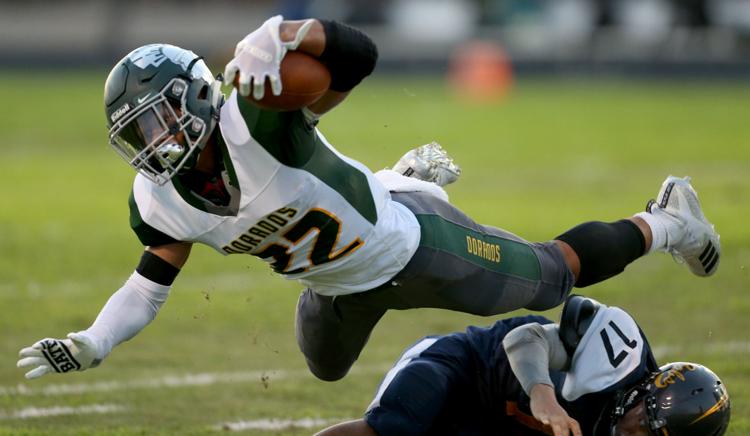 The rundown: Rocker is a 6-foot, 185-pound running back and safety
Who he is: When Rocker was a second-grader growing up in northwest Tucson, Ka'Deem Carey was the superstar running back at Canyon del Oro whom every Tucsonan wanted to see. Carey became the Dorados' starting running back as a sophomore in 2008 and rushed for 898 yards and seven touchdowns.
When Rocker starred as a sophomore, he gained 1,163 yards on 130 carries while scoring 12 touchdowns. He also caught five passes for 192 yards and three scores, a 38.4 yards-per-catch effort that was among the best in Southern Arizona. He also averaged 37.2 yards per punt return and 17.8 yards per kickoff return.
Rocker is on pace to match Carey, who evolved into an All-America running back with the hometown Arizona Wildcats and a third-round NFL draft pick.
"I think one of the reasons why Stevie had a better sophomore season than Ka'Deem is he's just more mature than Ka'Deem was at that age," CDO coach Dustin Peace said. "Ka'Deem was — and still is — just a freakish athlete. But Stevie understood our offense better and was just ready for the job. When Ka'Deem was here as a sophomore, he was splitting carries with another back we had at the time."
Although Rocker is the next star running back at CDO, he doesn't receive the Carey comparisons from his coach.
Peace "sees me in a different way than him," Rocker said. "Plus, he likes to say, 'I'm Stevie, he's Ka'Deem.' We're different people in styles and personalities."
Rocker has high expectations for his junior year, saying he wants to "reach for 2,000 (rushing) yards." The mark hasn't been met since 2009, when — you guessed it — Carey rushed for 2,798 yards.
"I'm expecting to show out more than what I put in last year, and I want to put up bigger numbers," Rocker said.
The first step to a successful season: rehabbing a sprained ankle suffered this week. Rocker could miss the first two or three games of the season. The Dorados begin the season against Flowing Wells on Thursday.
"It's not gonna be the start we wanted or needed," Peace said.
Proof he's good: Rocker is listed as a three-star recruit and the ninth-best Arizona recruit in the Class of 2021, per 247sports.com. Rocker has received scholarship offers from UA, BYU, Cal and Nevada; he recently visited a Wildcats practice clad in Arizona gear. Rocker is closely watching Arizona's running backs and speaking with first-year coach DeMarco Murray. In 2018, Rocker was named to the Class 4A All-Kino Region first team alongside Salpointe Catholic's Bijan Robinson and Sahuaro's Cameron Williams.
He said it: "With our experience that we have up front and his experience as a junior and how athletic he is, for him to have a breakout year, this is going to be huge for not only him and what he can do, but also our program. … It forces teams to do things differently.
"They know they have to score 40 points, because they can only bottle this guy up so much. Having that to our advantage is what's going to be critical and key to our season."
— Peace
2. Lathan Ransom, WR/DB, Salpointe Catholic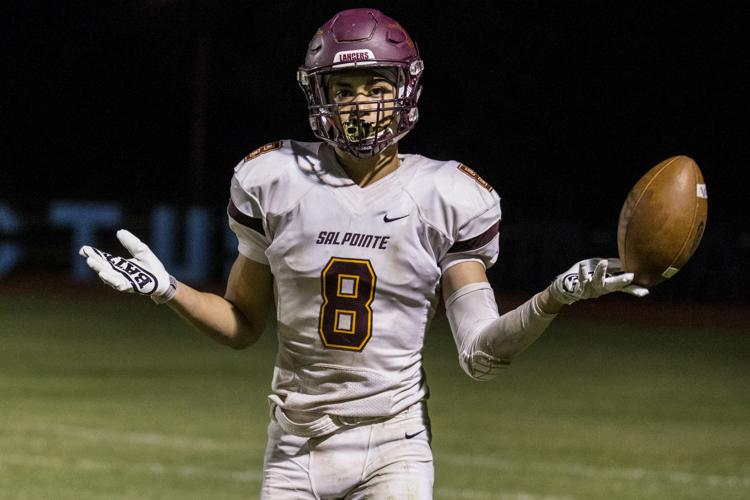 The rundown: Ransom is a 6-foot-2-inch, 195-pound safety, wide receiver and punt returner.
Who he is: It'd be difficult to find another defensive back in Southern Arizona as talented as Ransom. One could argue he's the top defensive back in Arizona, a state that includes some of the best cornerbacks in the nation. Ransom emerged as a two-way star for the Lancers last season, leading the team with 625 receiving yards and finishing third with 1,242 all-purpose yards. On defense, Ransom recorded 82 tackles and led the team with six interceptions that he returned for 138 yards. Ransom was named the Class 4A Kino Region Player of the Year.
Ransom verbally committed to Ohio State in July, a move that will allow him to focus on winning an elusive state championship as a Salpointe senior. He spent time this summer focusing on leadership.
"I wanted to be better at leading our defense and calling plays. I just wanted to be a better role model," Ransom said.
Ransom has added 15 pounds to his frame from last season, and Salpointe Catholic's strength and conditioning coach Carla Garrett deserves some credit for Ransom's physical development. Garrett, a UA alumna, represented Team USA and won silver medals in the 1991 and '93 World Weightlifting Championships.
"Our strength coach is the best strength coach in the nation; I don't care what anyone says," Ransom said. "She taught me how to be more explosive, and now I'm (a) better (kind of) stronger — faster and stronger. Our whole team is stronger and faster this year, and she deserves a lot of credit. She's the toughest person I ever met in my entire life."
Ransom will start at safety and wide receiver and return punts again this season. He's hoping that his final year in Tucson will end with a championship. The Lancers have fallen to Scottsdale Saguaro in back-to-back Class 4A state championships; this year features a new state championship format, which Ransom believes could help Salpointe.
Ransom's expectations for the 2019 season: "Undefeated. State champions. We don't expect nothing less."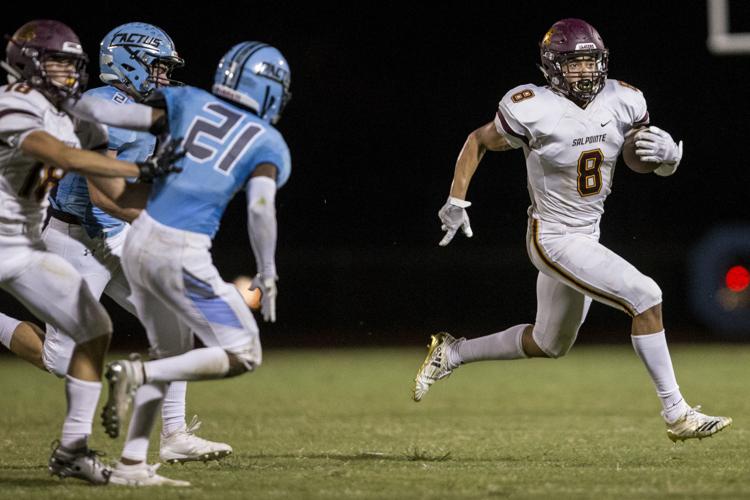 Proof he's good: Ransom is listed as a four-star recruit and the fourth-best safety in the 2020 recruiting class, according to 247Sports.com's rankings.
After a productive sophomore season, Ransom landed scholarship offers from Cal, ASU, UA and Stanford. When Ransom was in Atlanta for a 7-on-7 tournament, he visited Georgia and, after a workout session, received his first Southeastern Conference offer. College football's biggest programs followed: Oklahoma, Texas, LSU, Notre Dame, Alabama, Auburn, Florida, Michigan, Oregon and USC all offered Ransom a scholarship.
He said it: "He's the catalyst to our team. He works so hard, his attitude is outstanding, he loves to compete, and he's just a coach's dream. To his credit, he has worked so hard to earn the scholarship offers and accolades he's received. I'm just proud of his commitment to being an elite player."
— Salpointe Catholic coach Dennis Bene
1. Bijan Robinson, RB, Salpointe Catholic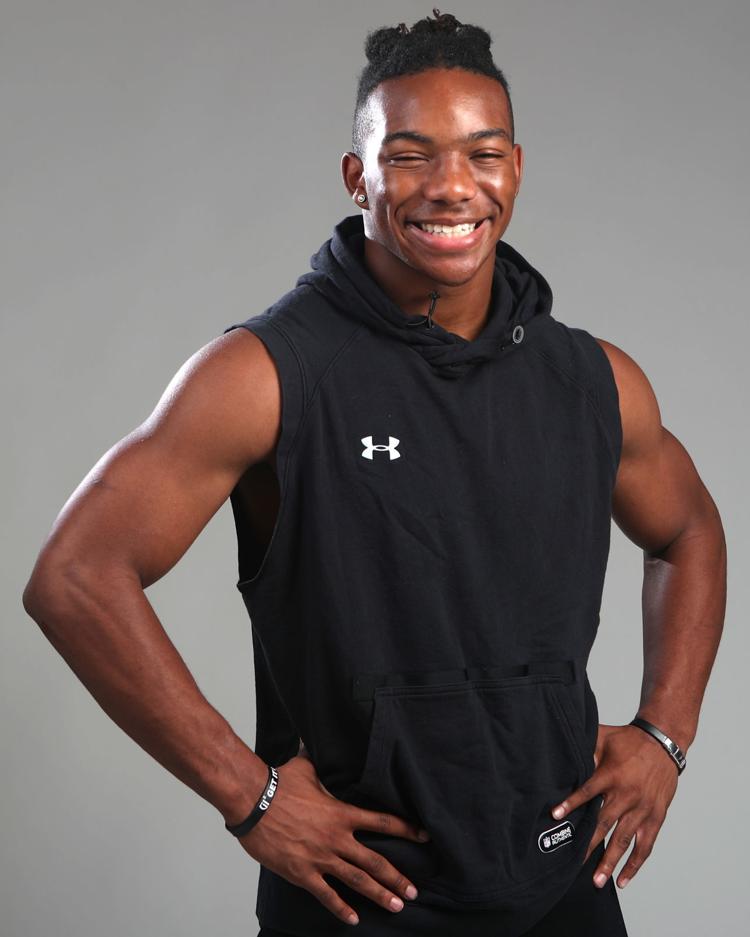 The rundown: Robinson is a 6-foot, 205-pound running back.
Who he is: When discussing Robinson's legacy as a high school football player, the question that is often brought up is could the Salpointe Catholic star be arguably the greatest running back to ever play in Arizona?
"I've seen some great, great (running) backs in the state of Arizona, but no question Bijan deserves to be in that conversation," Lancers coach Dennis Bene said. "We'll see how he finishes off this season, but he is deserving to be in that conversation, he's that special."
The legend of one of the top players in Arizona history began in 2017, when Robinson — then a sophomore — scored a 60-yard touchdown in the second game of the season against Mountain View.
"We never looked back from that point on," Bene said. "It was a great run and you knew right then and there, 'Holy smokes, this kid is special.'"
Since then, Robinson has posted video-game numbers in nearly every game he's played in while also going viral after he hurdled over a Tucson High defender and ran in for a touchdown. Over the last three years, Robinson has rushed for 4,801 yards and 72 touchdowns. One of his most notable performances from last season was his 247-yard and three-touchdown performance on four carries. If you're doing the math, that's 61.8 yards per rush. Against Mesa Dobson last season, Robinson rushed for 301 yards and four touchdowns — in one half.
Robinson verbally committed to the Texas Longhorns earlier this month. He'll leave for the Lone Star State less than a year from now.
"It hasn't settled in yet, but when it does, I hope I find wisdom to keep myself right," he said. "I've been in Tucson my whole life and people think Tucson is a bad city or it's not a fun city for young adults, but being in Tucson gave me so much of everything. I'm going to give this year all I got because this city and school has given me all it's got."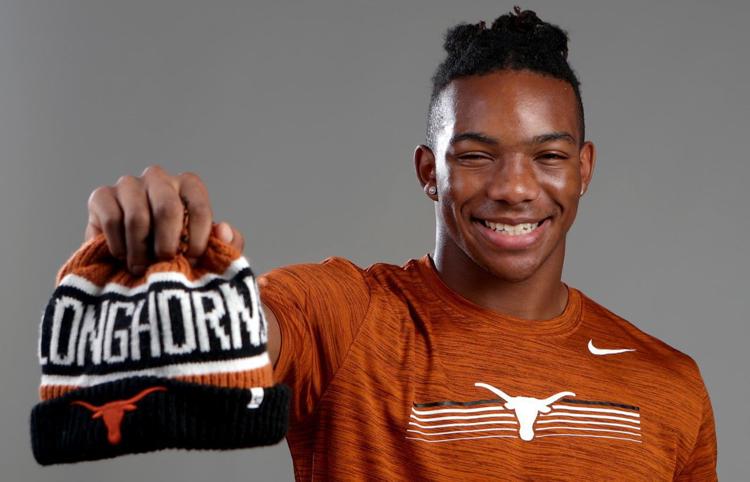 Robinson's goals for this season: rush for 3,000 yards, score 40 touchdowns and win a state championship. Robinson only needs 900 yards to surpass former Canyon del Oro standout Ka'Deem Carey for career yards. If Robinson can reach his season goal, he'll also pass Amphitheater legend Mario Bates who had 2,740 yards in 1990.
However, Robinson wants to be remembered for more than just his productivity between the lines.
"I want people to remember me as more than a football player," he said. "Yes, I've done a lot of great things for football and football has been an outlet for my life, but I want people to remember me as a kid that has a big heart for everyone. Someone that can help you get through problems and just be a great person to you."
Proof he's good: Last year, Robinson was named the Class 4A Kino Region Offensive Player of the Year, but more importantly, he was the winner of the 2018 Ed Doherty Award, an accolade given to the top player in Arizona. Robinson has a chance to become the first player in Arizona state history to win back-to-back Ed Doherty Awards. Robinson is listed as a five-star recruit for the 2020 recruiting class and is ranked the second-best running back on 247sports.com, and the top running back on Rivals.com. Before committing to Texas, Robinson had offers from Ohio State, Alabama, USC, Auburn, LSU, Michigan, Nebraska, Notre Dame, Tennessee, Texas A&M, Washington, UCLA, UA and ASU, among others.
He said it: "He's as fine of a young man as I've ever coached, that's the bottom line. He's very humbled and grounded into his faith and a tremendous teammate. That's one of his best qualities is he's a wonderful teammate and he never makes it about himself. Although he has very high personal goals, he is all about the team. I think that's what makes him so special and so fun to be around. He's a fantastic kid and I'm really blessed to be able to work with him every day." — Bene