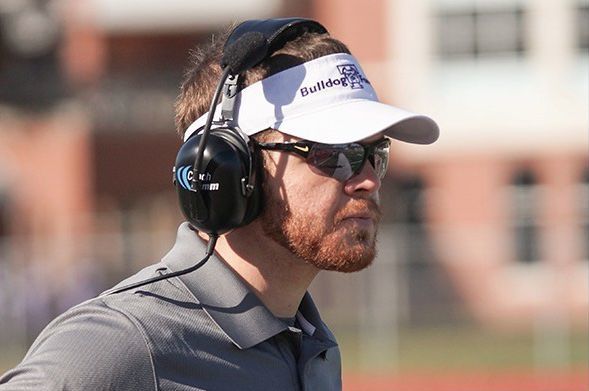 After a dramatic week, Marana High School has found its new football coach.
The Tigers announced Friday that 25-year-old Louie Ramirez, a former graduate assistant assigned to recruiting, offense and special teams at Northern Arizona, was their choice.
The selection of Ramirez, who replaced Andy Litten, came amid some drama in the tight-knit, football-mad community north of Tucson.
Marana officials initially offered the job to Kingman High School's Cam Wierson. However, the selection of a young coach with a losing record was enough to cause a backlash from some parents and at least one standout player. Wierson, a Tucson native and Ironwood Ridge High School graduate, eventually turned down Marana's offer.
"After a full assessment," he said, "I felt like Kingman was in a better place than Marana at this time."
Wierson then took to Facebook to detail his displeasure with what he said went on behind the scenes.
Other social media platforms buzzed with protests — or at least threats of them. Marana quarterback Trenton Bourguet tweeted that his teammates should wear black T-shirts to show their disapproval for the proposed Wierson hire. Bourguet has since removed the tweet, saying that he was not against Wierson's hire specifically but instead wanted somebody who could push Marana to new heights.
Bourguet's father, Toby, a successful youth football coach and Marana assistant, was also considered for the opening. The elder Bourguet spent the 2017 season as a volunteer assistant at Marana; Litten called the plays. Former Arizona Wildcats and Cleveland Browns wide receiver Syndric Steptoe, also a Marana assistant, opted against applying.
In a Facebook post, Wierson called the behind-the-scenes drama a "smear campaign" and "an unfortunate knee-jerk reaction from some passionate and competitive people."
"I understand when a friend or family member doesn't get a job, to share the pain for that individual, and it's hard to not take it personally," he wrote.
Those critical of a Wierson hire cited his 4-26 career record, which was available on MaxPreps.com earlier in the week. Wierson, however, is actually 3-17 in two seasons as a head coach. Though Wierson admits it's not much better, he says the challenges of coaching a program like Kingman's have made him better. It's one of the reasons, he says, he was offered the job at Marana.
"I appreciate the people who took the time to evaluate the situation at Kingman and understand that this is a program that hasn't had a winning season since the '90s," Wierson said. "I have 15 to 16 kids here, that's it, and while it has been a challenge I have always believed in these kids. I've always believed in leaving something better off than when you got it."
The past week split Marana fans and parents. Sarah Whaley, Marana's dean of students and athletic director, called the protests "unfortunate."
"We go into a thorough evaluation process and I think we do a good job, from the parents, students and coaches we have on the committee," Whaley said. "I was disappointed in the reaction from some community members, but I don't think that is representative of the community as a whole."
The Tigers went to the college ranks to find Ramirez, who spent time at Arizona State, Truman State, Tempe Marcos de Niza High School and Gilbert Mesquite High School before joining NAU's staff. Ramirez will teach physical education at Marana while serving as head coach.
"It is an honor and a privilege to be the next head football coach at Marana High School," Ramirez said in a statement released by the Marana Unified School District. "Marana has a rich history, and the program that Coach Litten has built over the past six years has put Marana in a phenomenal position to be an elite powerhouse in Arizona high school football."