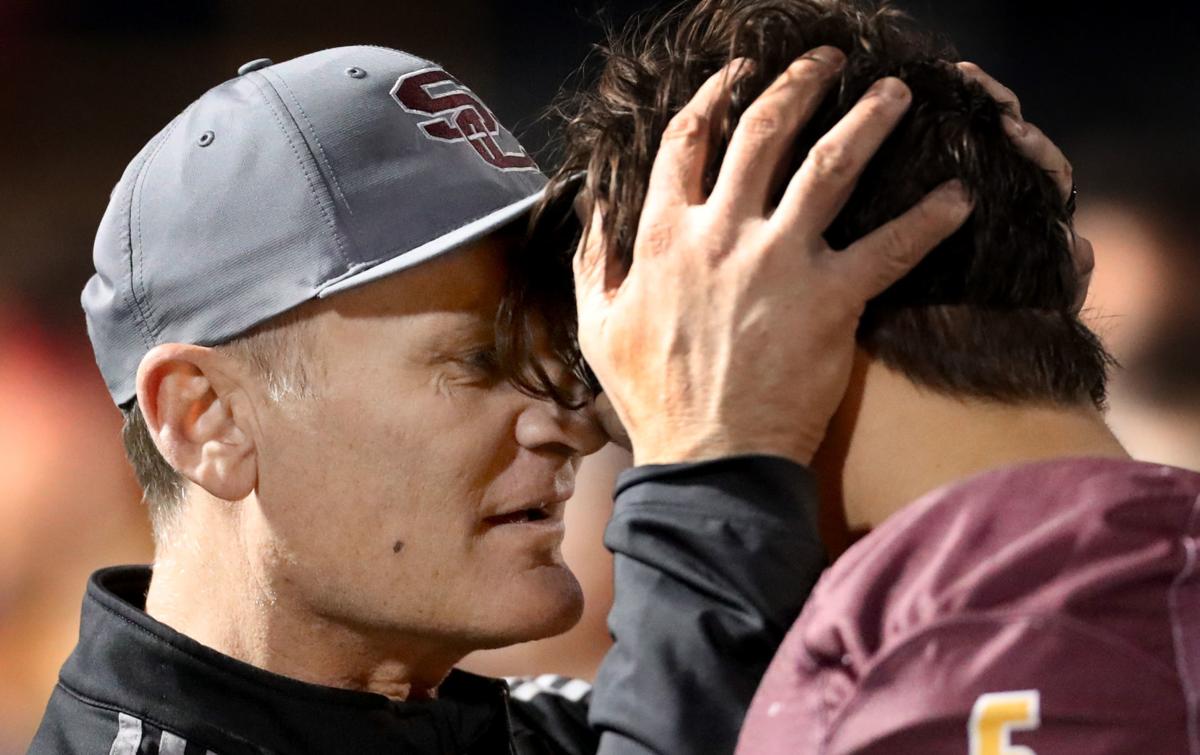 There are 40 teams remaining the Open Division, 3A, 4A, 5A and 6A state playoff brackets, and only four of them are from Tucson. Friday night, Salpointe Catholic, Sabino, Sahuaro and Cienega will try to keep their seasons alive with victories.
The fourth-seeded Lancers will host the first-ever Open Division playoff game against fifth-seeded Phoenix Pinnacle. Sabino, meanwhile, will hit the road to take on Queen Creek American Leadership Academy after upsetting Safford last week. Top-seeded Sahuaro will host Yuma Gila Ridge, while Cienega travels to Scottsdale to clash with Notre Dame Prep.
Who will move on? The Star's Justin Spears previews and predicts the outcome of the four contests involving Tucson teams. Each game is set for a 7 p.m. kickoff on Friday and predicted winners are in ALL CAPS.
---
No. 10 Sabino (8-3) at No. 2 QUEEN CREEK AMERICAN LEADERSHIP ACADEMY (10-1)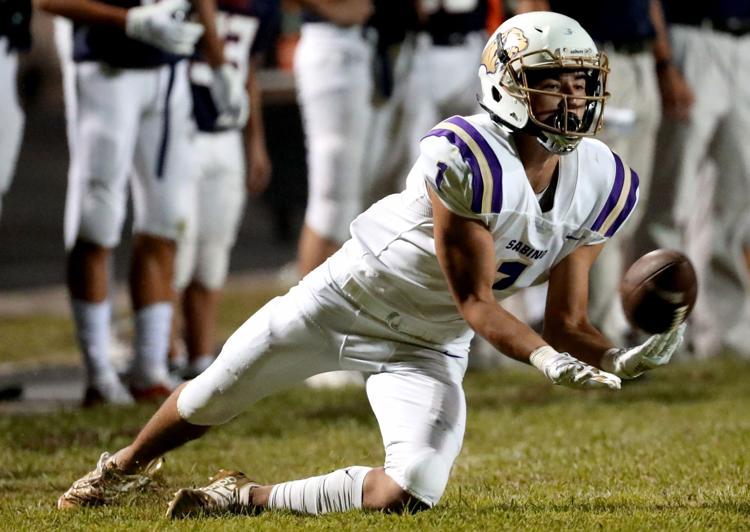 Where: 23908 S. Hawes Road, Queen Creek
What to expect: One week after losing to Safford by three touchdowns in game that decided the 3A South regional championship, the Sabercats beat the same team 30-19. How? Sabino two-way star Diego Armijo stepped up in a major way, catching five passes for 118 yards and two touchdowns. Sabino is going to need another big-time performance from Armijo and others if it hopes to beat a tough ALA team. Senior quarterback Rand Jensen leads ALA with 2,601 passing yards and 40 touchdowns with just seven interceptions. Sophomore running back Aziya Jamison is averaging 11.9 yards per carry and has 18 scored touchdowns. The Pats haven't lost a game at home since last season, and they should win again on Friday. ALA wins 45-34.
---
No. 9 Yuma Gila Ridge (10-1) at No. 1 SAHUARO (9-2)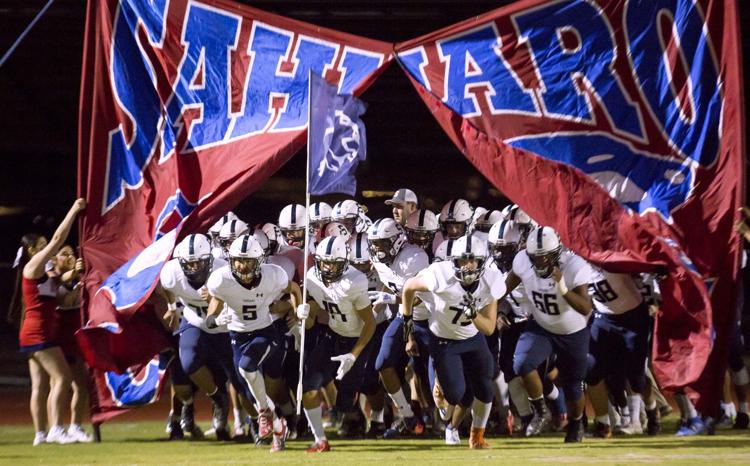 Where: 545 N. Camino Seco
What to expect: Why on earth is Gila Ridge a No. 9 seed when the Hawks have only suffered one loss this season? Well, that one loss was to a 6-4 Yuma Cibola, a team that didn't make the playoffs. Sahuaro enters this contest with hopes of returning to the semifinals for the second straight season. Sahuaro running backs Izaiah Davis, Trevion Watkins and Jamir Gasaway have been a force, combining for 2,768 yards and 34 touchdowns. Sahuaro plays big-boy football and is hitting fifth gear. Expect the Cougars to run away with a 34-13 win.
---
No. 7 Cienega (9-2) at No. 2 SCOTTSDALE NOTRE DAME PREP (10-1)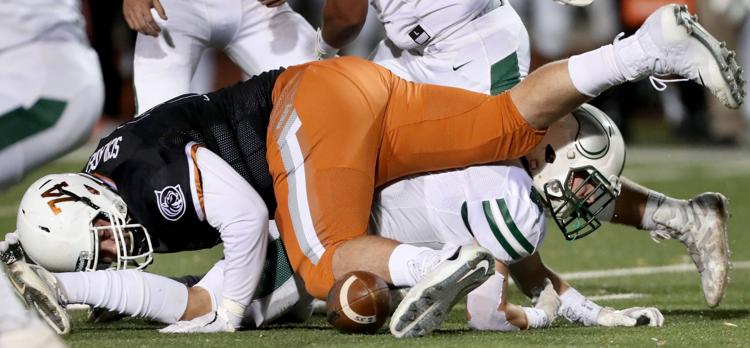 Where: 9701 E. Bell Road, Scottsdale
What to expect: Scottsdale Notre Dame Prep was likely two points away from punching its ticket to the Open Division, but a 35-34 loss in double-overtime kept it out. Cienega's defense has only gotten better throughout the season, giving the Bobcats a real chance Friday. In the Bobcats' first-round win over Phoenix Sunnyslope, junior linebacker Dillon Silva recorded 14 tackles and while safety Sebastian Felix had two interceptions and a sack. Cienega is stacked with juniors this season. Besides Silva and Felix, linebacker Isaiah Webb, quarterback Ryan Swoger, running back Gabe Levy, cornerback Traivian Denetso, running back CJ Flores and defensive tackle Hunter Schlagel. Cienega could be scary-talented next season. This week, though, belongs to Notre Dame, 49-24.
---
No. 5 Pinnacle (8-2) at No. 4 SALPOINTE CATHOLIC (9-0)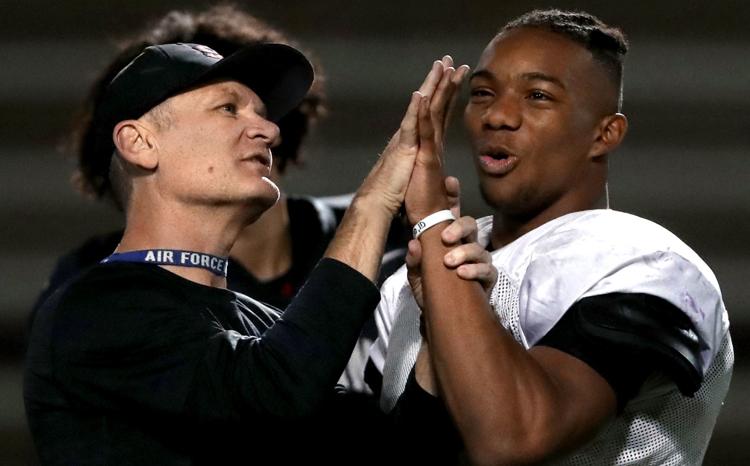 Where: 1545 E. Copper St.
What to expect: Salpointe Catholic will host the Open Division quarterfinals as the No. 4 seed, and could do it again next week with a win and if Scottsdale Chaparral pulls an upset of top-seeded Chandler. Pinnacle is without starting quarterback and Michigan commit J.D. Johnson, who medically retired. His replacement, Devon Dampier, is a freshman — which means offensive tackle and Notre Dame commit Tosh Baker will need to be at his best to protect the inexperienced signal-caller from Salpointe Catholic's defensive line and linebackers. Offensively, Salpointe running back and big-school rushing leader Bijan Robinson is 225 yards away from reaching 7,000 career yards. Only one other running back in Arizona high school football history had accomplished such a feat, which is Northwest Christian's Casey Jahn (7,544) at the 2A level. Expect Robinson to crack 7K, which should provide the Lancers the win. If sophomore quarterback Treyson Bourguet can continue to spread the ball to his favorite targets Lathan Ransom, Dae han Chang, Connor Witthoft and Jackson Sumlin, then the Lancers' offensive attack should suffocate Pinnacle, 35-27.