Friday night's high school football matchups, locations — and predictions
The Star's Justin Spears breaks down all of Friday night's action. 
East-side rivalry game highlights Friday's slate of games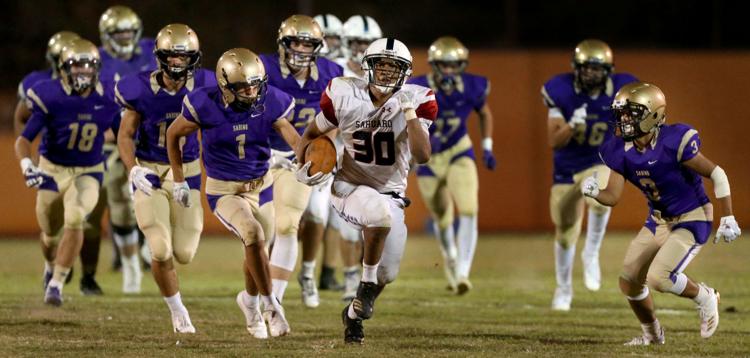 The second week of the high school football is in the books, and the Star's Justin Spears is now 0-2 in his predictions for the game of the week.
Mountain View was selected to beat Ironwood Ridge, but the Nighthawks had other plans in Week Zero. Last Friday, Pueblo took down Tucson High for the first time in 19 years.
This Friday's game of the week is an east-side rivalry between Sahuaro and Sabino. Last season, the Cougars took down the Sabercats 34-7 on the road. Since that loss, Sabino has won 11 out of its last 12 games — with its only loss coming in the playoffs. Sahuaro, meanwhile, looks like a team more than capable of making another playoff run in 2019. This game should be one for the books.
Check out the full schedule of games around town Friday night, including breakdowns and predictions. Games will begin at 7 p.m. and predicted winners are in ALL CAPS.
Phoenix Alhambra (0-2) at TUCSON HIGH (1-1)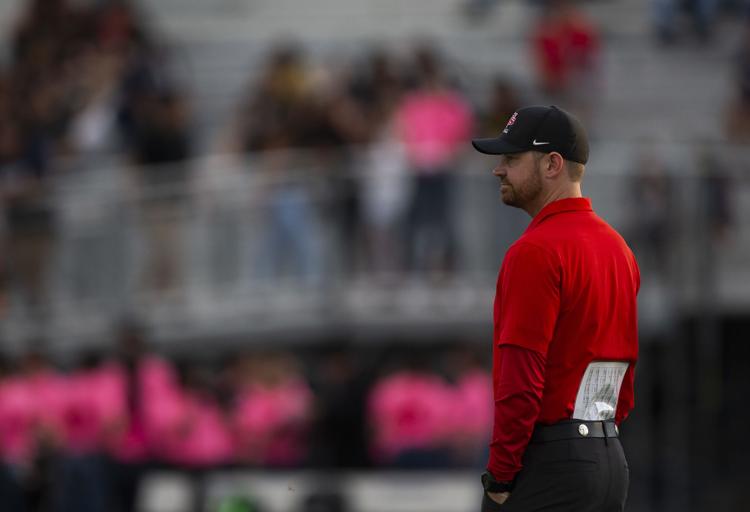 Location: 400 N. Second Ave.
What to expect: The Badgers were punched in the mouth by Pueblo last week, scoring just once. It'd be difficult to find a team more upset about last week than Tucson High, but fortunately for the Badgers, they'll host a Phoenix Alhambra team that hasn't won a game since last Sept. 28. Expect the desperate Badgers to return to their winning ways by a score of 49-6.
Marana (0-2) at CATALINA FOOTHILLS (0-2)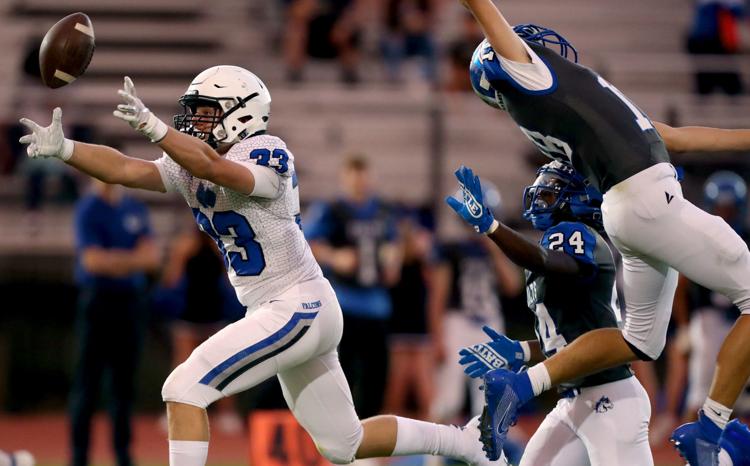 Location: 4300 E. Sunrise Drive
What to expect: The good news? Someone will emerge Friday night with their first win of the season. The bad news? Someone is starting off the season 0-3. Marana has been outscored 113-15, producing minus-three passing yards in the first two games of the season. Catalina Foothills was handled by Sierra Vista Buena in its season opener, but lost to Glendale Cactus 13-0. Darius Kelly should get his first win as Foothills' head coach after beating Marana 42-7.
IRONWOOD RIDGE (1-0) at Goodyear Millennium (1-0)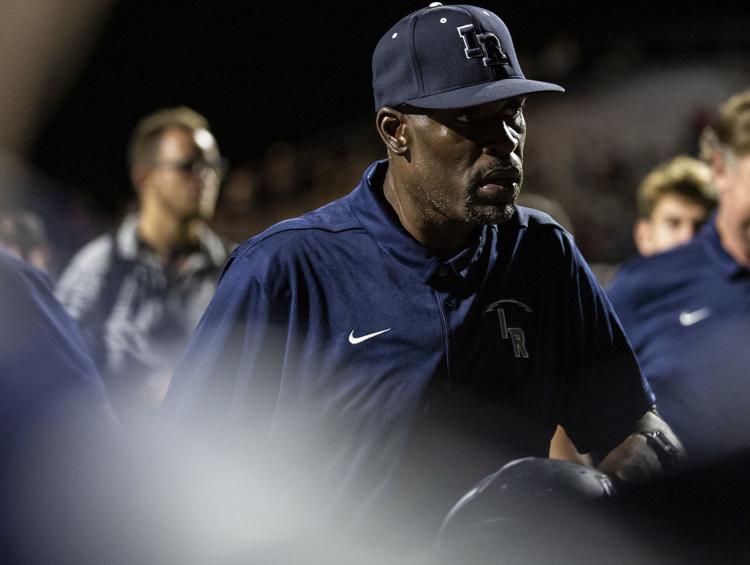 Location: 14802 W. Wigwam Blvd., Goodyear
What to expect: Last year's contest was a 30-27 thriller in favor of the Tigers. Ironwood Ridge should go the distance on the road this week. In a season-opening win over Mountain View, Brandon Barrios amassed 135 rushing yards. If I-Ridge can run the football effectively, the Nighthawks will win in a slugfest. Let's call it 28-23.
Rincon/University (1-0) at SUNNYSIDE (0-2)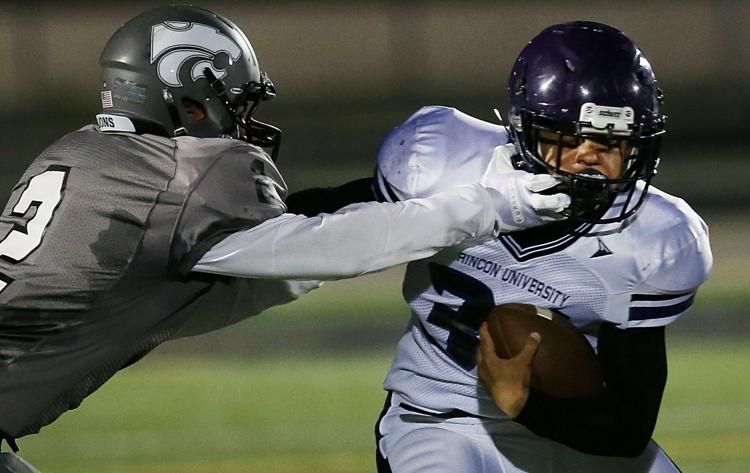 Location:1725 E. Bilby Road
What to expect: Rincon is 1-0 for the first time in seven years, and can improve to 2-0 for the first time in nine seasons with a win on Friday. Sunnyside, a team still looking for its first win of the season, stands in the way. The Blue Devils are at home, so we like them to win; call it 21-8.
CIENEGA (1-0) at Phoenix Sunnyslope (0-1)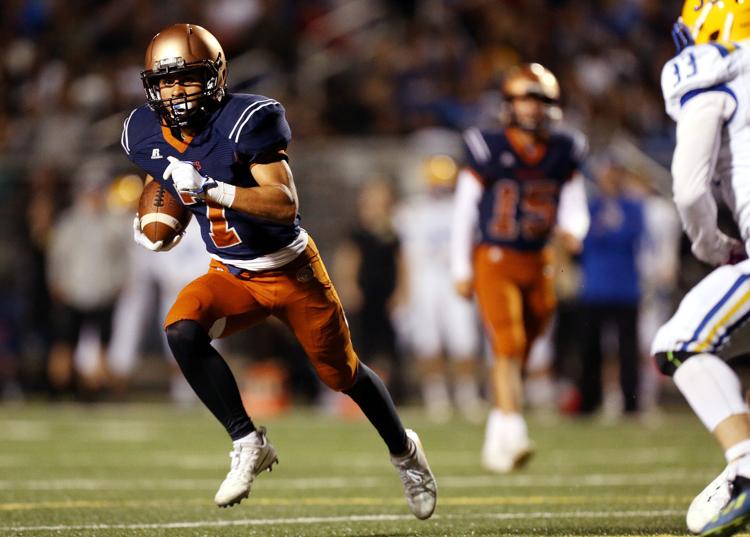 Location:35 W. Dunlap Ave., Phoenix
What to expect: This is a public service announcement: Don't. Overlook. Sunnyslope. Cienega can't afford to look ahead to next week's game against state champion Peoria Centennial. Sunnyslope is no slouch, even though it fell to powerhouse Scottsdale Notre Dame Prep last week. Cienega rolled Cholla 48-7 last week, but committed 14 penalties for 140 yards. If Cienega cleans up its act, the Bobcats should be fine. If not, it could be an uphill battle. The Bobcats should take care of business on the road with a 35-28 win.
Empire (0-1) at DOUGLAS (1-1)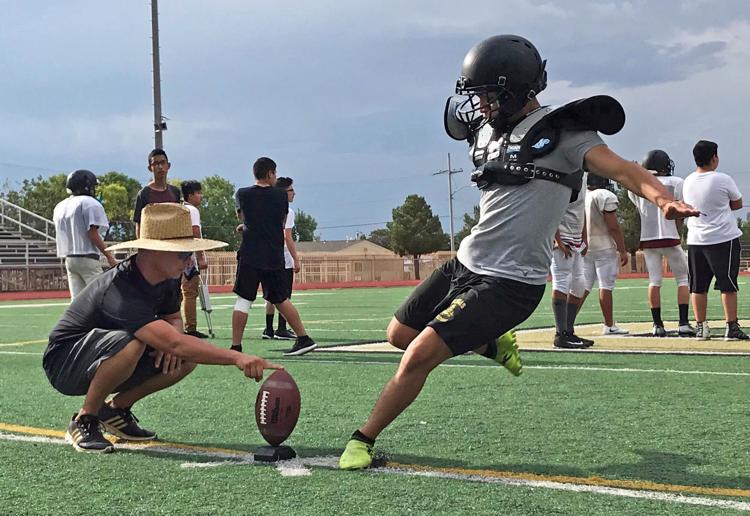 Location: 1500 15th Street, Douglas
What to expect: Both of these teams are eager to turn the page from last week. Douglas fell to Bisbee 36-21 in the battle for The Copper Pick. And Empire lost to Rio Rico for the second season in a row, 44-14. Douglas cruised to a 22-point victory over Empire when the two teams met last year. Expect the same result on Friday. Douglas wins 42-20.
Mountain View (0-1) at GILBERT HIGLEY (0-2)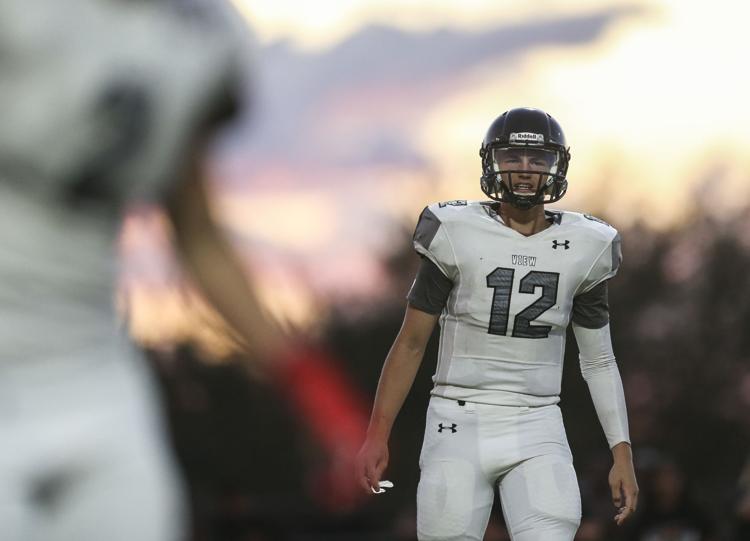 Location: 4068 E. Pecos Drive, Gilbert
What to expect: The Matt Johnson era at Mountain View didn't begin on a positive note, but luckily there's still nine more games to go this season. The Mountain Lions took last week off after losing to Ironwood Ridge in Johnson's return to his old stomping grounds. The X-factors in this game are left tackle Misael Serrano and right tackle Elijah Lefiles, because those two have to protect quarterback Hayden Parson from Gilbert Higley defensive end Jason Harris. Harris, the son of former All-Pac-10 linebacker and Arizona Wildcats standout Sean Harris and brother of UA defensive end Jalen Harris, is one of the state's most enticing prospects. The 6-foot-8-inch, 220-pound edge rusher has offers from the UA, Texas A&M, Oregon, Alabama, UCLA, Auburn, Penn State, USC and Texas, among other schools. Expect Higley to win, 28-13.
Flowing Wells (0-2) at PALM DESERT (1-1)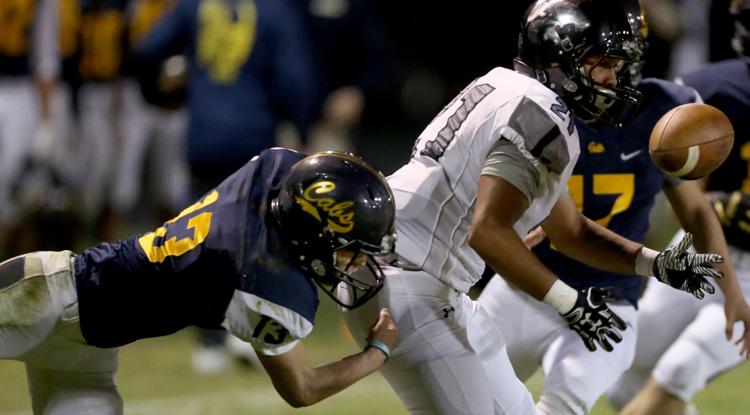 Location: 74910 Aztec Road, Palm Desert, California
What to expect: Flowing Wells is another Southern Arizona team that is struggling to win following the departure of key seniors. The Caballeros have been outscored 115-0 to start the season, and will be challenged Friday against Palm Desert. The Cabs will score — but lose. Call it 63-7 Palm Desert.
CHOLLA (0-2) at Casa Grande Vista Grande (0-2)

Location: 1556 N. Arizola Road, Casa Grande
What to expect: Cholla is led by do-it-all junior Moses Nelson, who rushed eight times for 103 yards and two touchdowns in the season opener against Nogales. Nelson also hauled in three catches for 88 yards and two scores. Last week, senior running back Russell Adams III had 146 yards in a loss to Cienega. If Nelson and Adams come to play, then expect the Chargers to win. Call it 21-13.
Pueblo (1-0) at CASA GRANDE (1-1)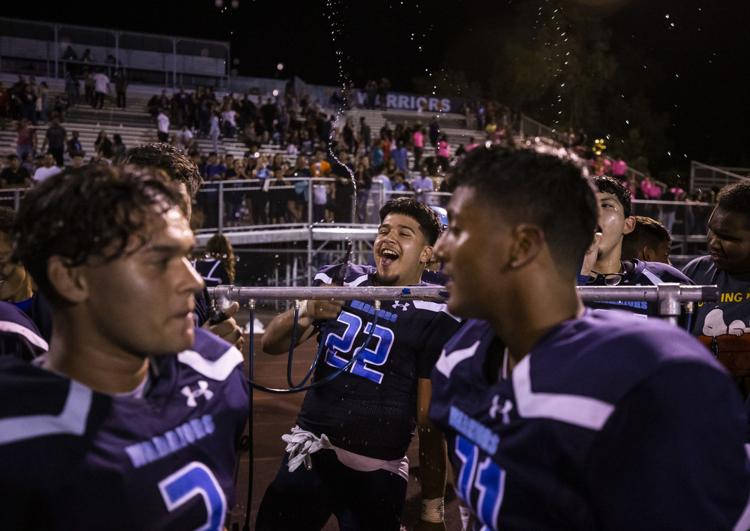 Location:2730 N. Trekell Road, Casa Grande
What to expect: For the second year in a row, Pueblo showed us why we should never pick against them at home. The Warriors newcomers rose to the occasion in the 21-7 win over Tucson High last Friday. Julian Lopez led the Warriors in rushing yards (120) and tackles (8) in their opener. Pueblo will hit the road again Friday, and should struggle at Casa Grande. Expect the Cougars to survive at home, 35-28.
RIO RICO (1-1) at Catalina (0-1)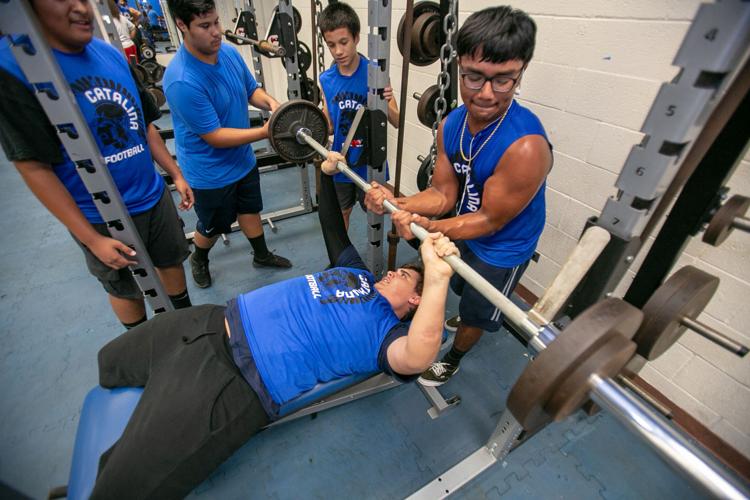 Location: 3645 E. Pima St.
What to expect: The Hawks feasted on Empire at home last week, while the Trojans were blanked 61-0 by Palo Verde. Expect the Hawks to return to the winner's column for another week. Rio Rico comes out on top, 42-14.
Palo Verde (1-1) at SAHUARITA (0-1)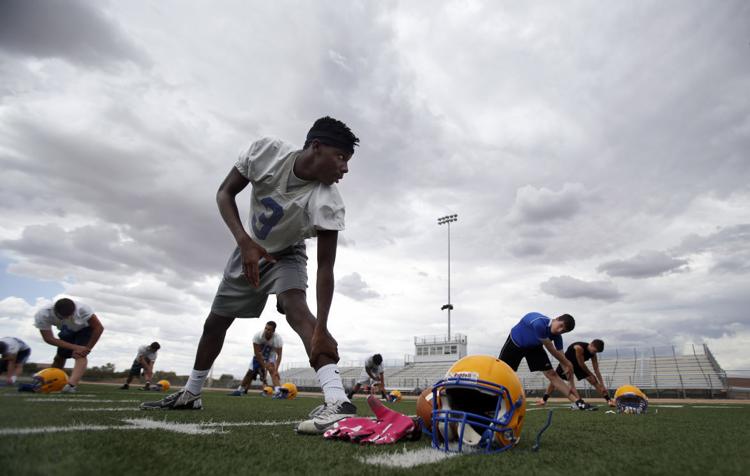 Location: 350 W. Sahuarita Road, Sahuarita
What to expect: Palo Verde head coach Mike Wells won his first career game as the Titans' head coach last week when they routed Catalina 61-0. The Titans aren't going to score 61 points this week, but they'll take another step forward. Sahuarita lost 34-18 to Santa Cruz Valley last week, but should win at home on Friday. Sahuarita wins, 23-14.
AMPHITHEATER (1-1) at Tanque Verde (0-1)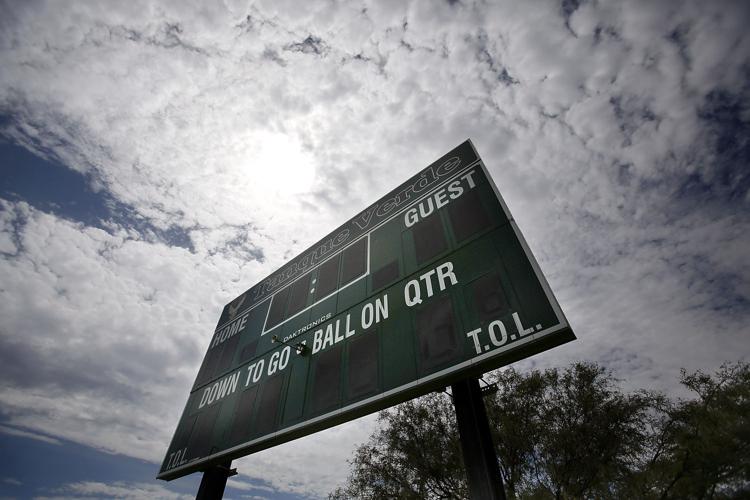 Location: 4201 N. Melpomene Way
What to expect: The Panthers attempted just five passes against the Hawks last year and still managed to win 45-0. With the addition of sophomore running back Kiko Trejo, who is averaging 11.1 yards per carry, Friday night should be another win for Amphi. Panthers win in similar fashion, 49-0.
Pusch Ridge Christian (1-0) at WALDEN GROVE (1-0)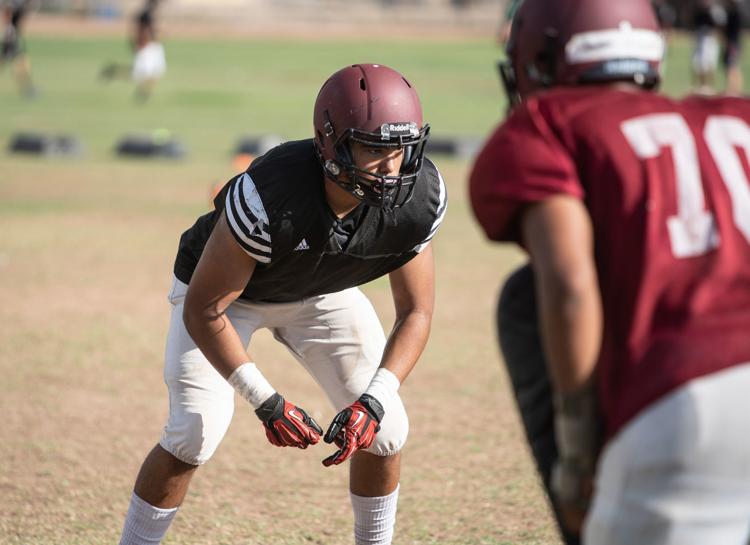 Location: 15510 S. Sahuarita Park Road, Sahuarita
What to expect: If it weren't for Sabino-Sahuaro, this would be the Star's game of the week. In one corner, Pusch Ridge Christian has running back Evan Lovett, who rushed for 128 yards in the season opener. The Lions, under head coach Gary Harris, are known to play power football. In the other corner is a pass-happy Walden Grove offense led by twins Jordan and Alex Lopez. This game is worth the scenic drive to Sahuarita. We like the Red Wolves to win this one, 42-28.
SALPOINTE CATHOLIC (1-0) at Goodyear Desert Edge (2-0)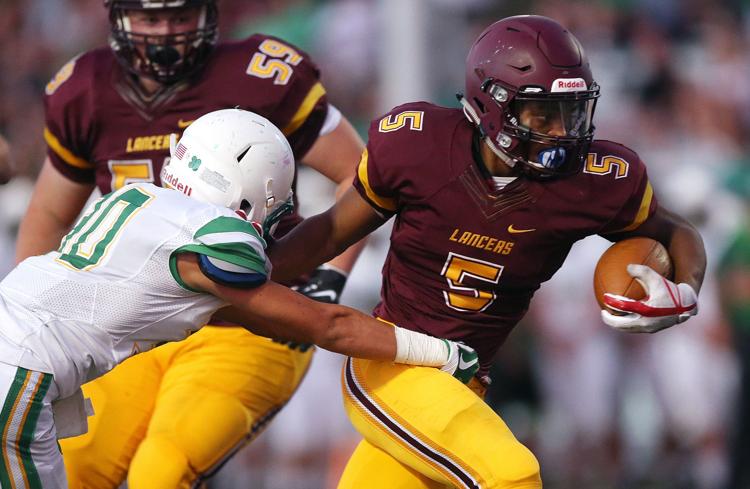 Location: 15778 W. Yuma Road, Goodyear
What to expect: The Lancers waltzed over Mesa Dobson 63-6 in the home opener, but it doesn't get any easier this week. In fact, Friday's game might mark the toughest test the Lancers face all season. Salpointe has the firepower to compete with anybody in the state: Quarterback Jackson Bolin completed 6 of 7 passes for 127 yards last week, while star running back Bijan Robinson rushed eight times for 144 yards and four touchdowns. As long as everyone is healthy, Salpointe Catholic will win. Call it 30-20.
Santa Rita (0-1) at SAN CARLOS (0-1)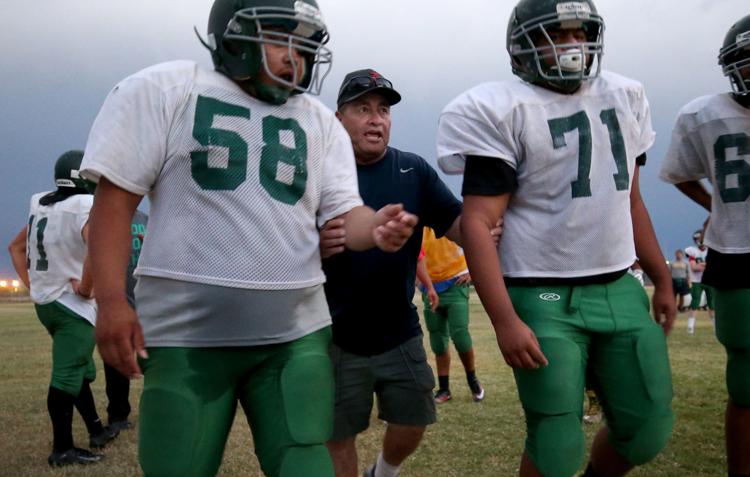 Location: Highway 70 Milepost 270, San Carlos
What to expect: If we started an all-name team, San Carlos would be well-represented. After all, the Braves boast a roster featuring DeAndre Dude, Kenya Starr, Nicholas Nozie, Mack Dewey and Rocky Johnson. The Braves lost their first game of the season, but they host a struggling Santa Rita program this week. Eagles fall on the road, 14-0.
SABINO (1-0) at Sahuaro (2-0)

Location: 545 N. Camino Seco
What to expect: Sahuaro lost a ton of talent from last season, including All-Kino Region two-way star Cameron Williams, who rushed for 205 yards and two touchdowns in a 34-7 thumping of Sabino a year ago. The Cougars do, however, have one of the most underrated running backs in Tucson in senior Izaiah Davis. After a 266-yard performance against Sierra Vista Buena, Davis earned the Star's player of the week honors. Can Sabino's defense corral Davis? And can Sahuaro's defense slow down Sabino quarterback AJ Skaggs? The Sabino-Sahuaro game is one of the most storied rivalries in Southern Arizona, and this contest should be one to remember. We like the Sabercats — and Skaggs — to win in a nail-biter, 27-23.