The Star's Justin Spears breaks down all of Friday's games, with score predictions.
Check back Friday night for live score updates.
Marana-Cienega showdown highlights October weekend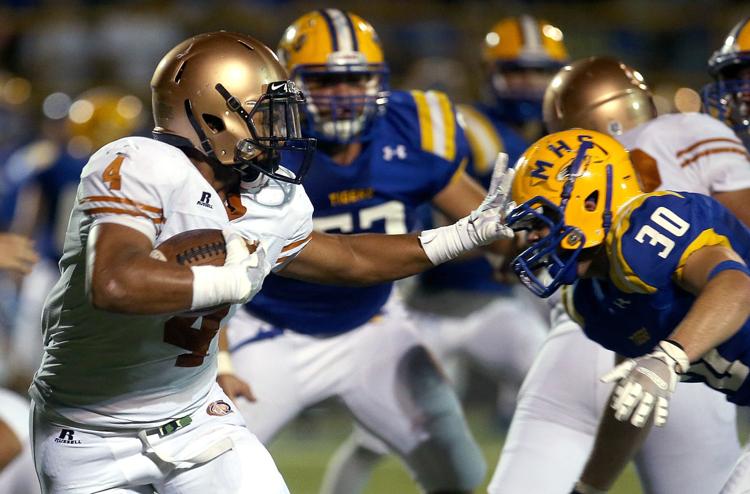 The high school football season is heading into Week 7 and this week's slate has matchups that could perk up some eyebrows.
A Class 5A Southern matchup between Marana and Cienega is our game of the week. Marana is coming off a statement road victory against Ironwood Ridge, while Cienega hasn't lost a home game since 2015.
The Star's Justin Spears previews and predicts the score for each contest. Every game will be a 7 p.m. kickoff on Friday night and predicted winners are in ALL CAPS.
Cienega 44, Marana 28 — Final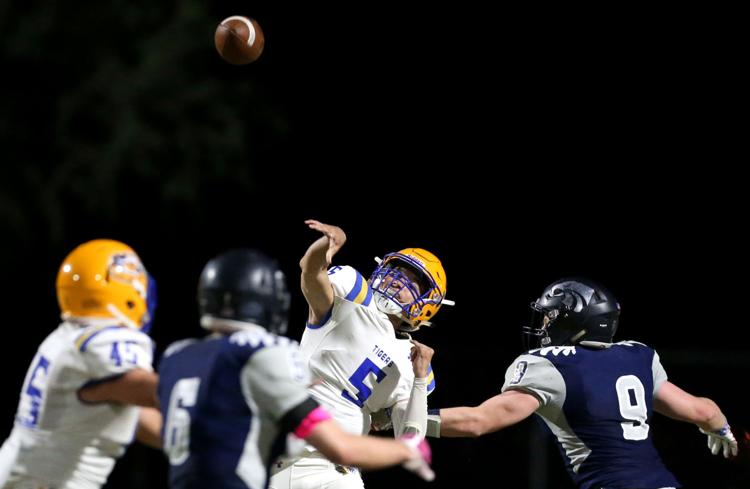 Prediction: Marana (5-2) at CIENEGA (6-1)
Where: 12775 E. Mary Ann Cleveland Way, Vail
Matchup: Marana enters Friday's showdown following a thrilling 20-13 victory on the road against Ironwood Ridge. Marana looks every bit of a team destined for a deep playoff run.Quarterback Trenton Bourguet has been checking off goals as the season progresses, but the one that's bolded is a win over Cienega. The Bobcats knocked Marana out of playoffs in the state quarterfinals last season, so the Tigers are hungry. While it wouldn't be a surprise if Marana wins Friday night, Cienega has too much momentum. We'll take the home team, 42-38.
Phoenix Sandra Day O'Connor 37, Tucson High 0 — Final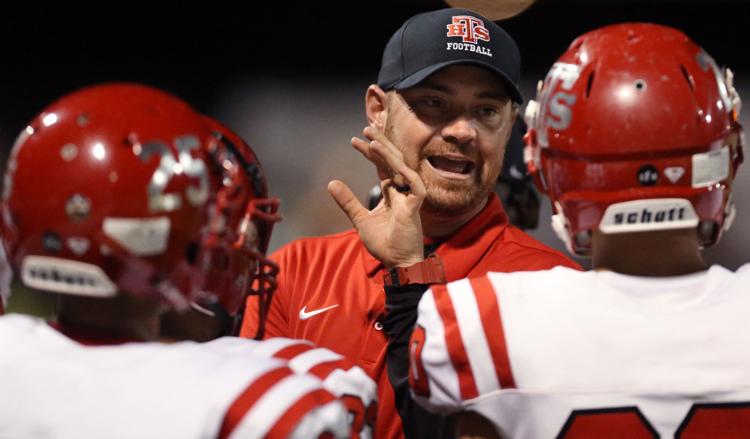 Prediction: Tucson High (5-2) at PHOENIX SANDRA DAY O'CONNOR (2-5)
Where: 25250 N. 35th Ave., Phoenix
Matchup: Don't let O'Connor's record fool you. The Eagles have lost to Chandler Basha, Scottsdale Chaparral, Gilbert Perry and Phoenix Pinnacle — four of the state's best reams. Tucson High, meanwhile, is on a two-game losing skid after getting throttled by Laveen Cesar Chavez 46-14 last week. The Badgers have their work cut out for them this week, and here's guessing they fall short. Call it 35-14.
Salpointe Catholic 49, Canyon del Oro 6 — Final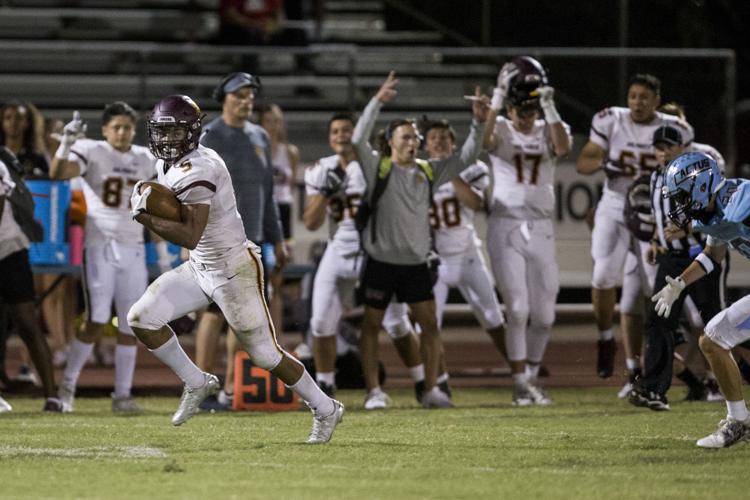 Prediction: SALPOINTE CATHOLIC (7-0) at Canyon del Oro (5-2)
Where: 25 W. Calle Concordia, Oro Valley
Matchup: This one is a matchup between two heavyweight running backs. In one corner, Salpointe Catholic's Bijan Robinson is expected to be arguably the best running back to ever come out of Tucson; in the other corner is CDO sophomore Stevie Rocker, who could be the program's best rusher since Ka'Deem Carey. Robinson rushed for 250 yards and four touchdowns on just nine carries last week. Expect him to run wild against on Friday, even if Lancers teammate Mario Padilla is unable to play. The Lancers hold off CDO, 31-14.
Sabino 23, Pusch Ridge Christian 7 — Final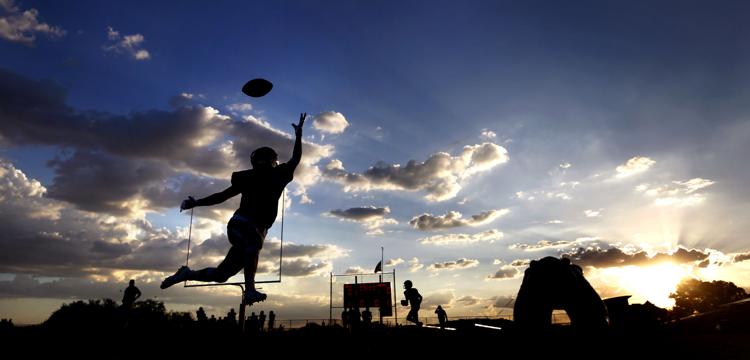 Prediction: Pusch Ridge Christian (4-3) at SABINO (5-2)
Where: 5000 N. Bowes Road
Matchup: Last season, the Lions routed Sabino 44-7. Expect different results in 2018. Sabino has won five straight games, and has only allowed double-digit points once in the last four weeks. This game could determine which team controls its destiny to win the Class 3A South division. This is a tough call, but expect Sabino to avenge its 2017 loss. Call 24-20.
Mountain View 51, Rincon/University 0 — Final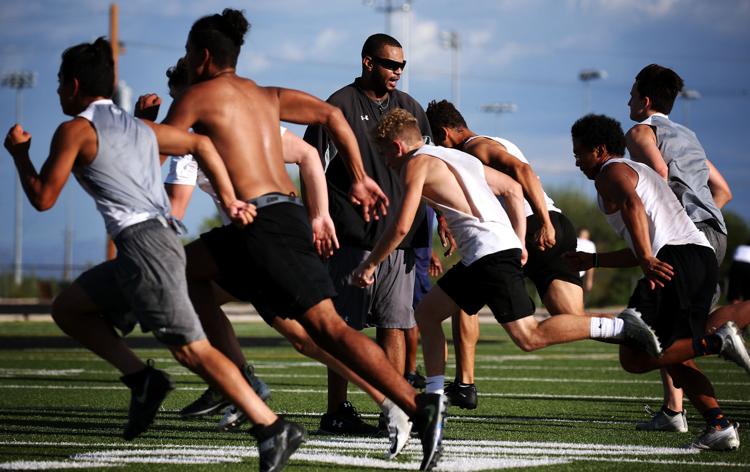 Prediction: Rincon/University (1-6) at MOUNTAIN VIEW (2-5)
Where: 3901 W. Linda Vista Blvd.
Matchup: Mountain View has outscored its opponents 117-6 the last two weeks after starting the season 0-5. The Mountain Lions must keep winning if they hope to sneak into the playoffs, and they'll do so against Friday. Expect Mountain View to win in a blowout, 52-0.
Walden Grove 28, Pueblo 20 — Final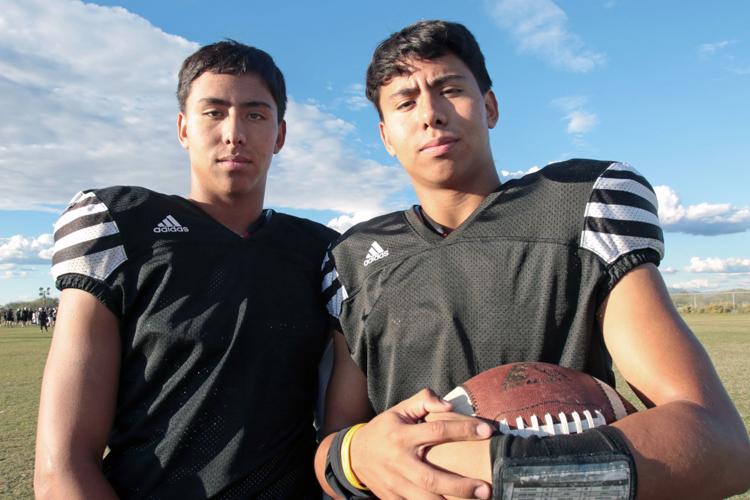 Prediction: Pueblo (3-4) at WALDEN GROVE (5-2)
Where: 15510 S. Sahuarita Park Road, Sahuarita
Matchup: Twins Alex and Jordan Lopez have led Walden Grove to a breakout season. Alex, the Red Wolves' quarterback, has throw for 1,081 yards this season. Jordan has 466 receiving yards, and is another main reason why Walden Grove is steamrolling through the conference slate. Would it be a shocker if Pueblo pulled off the upset on the road? No. But we like Walden Grove at home. On a crisp night in Sahuarita, Walden Grove wins 23-17.
Catalina Foothills 14, Casa Grande 7 — Final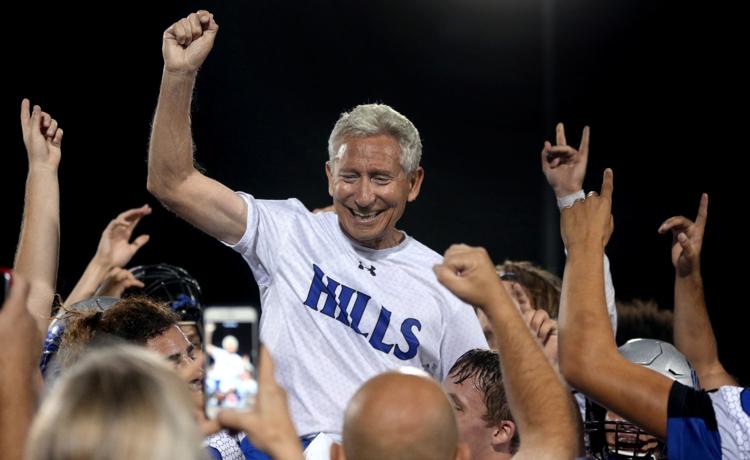 Prediction: Casa Grande (5-2) at CATALINA FOOTHILLS (3-4)
Where: 4300 E. Sunrise Drive
Matchup: Casa Grande scored 28 points in a loss to Salpointe Catholic last week, which was an accomplishment in itself. Meanwhile, Catalina Foothills routed Casa Grande Vista Grande 55-6, with junior quarterback Joaquin Holme completing 3 of 5 passes for 93 yards and a touchdown. Running back Dominic Bynum rushed for 198 yards and two touchdowns on 12 carries, and Isaiah Bae added 137 and two scores. We like the Falcons to pull the upset, 35-33.
Sierra Vista Buena 51, Nogales 7 — Final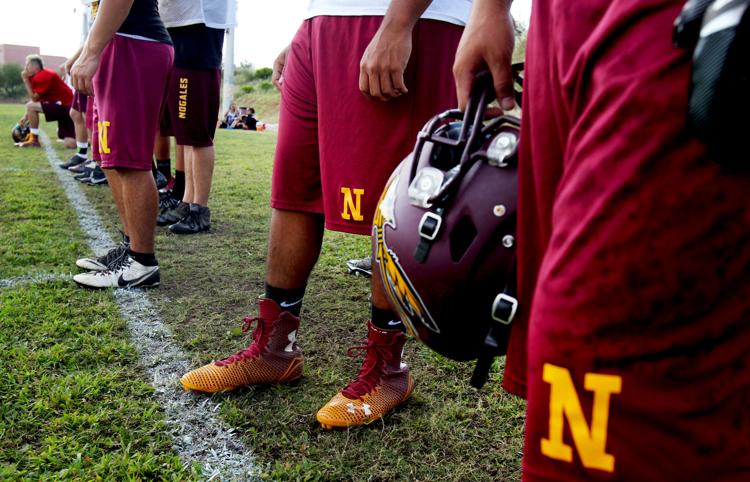 Prediction: Nogales (2-5) at SIERRA VISTA BUENA (4-3)
Where: 5225 Buena School Blvd., Sierra Vista
Matchup: Buena has been one of the few surprises in Southern Arizona largely due to the Jovoni Borbon's production at quarterback. The junior is second in Southern Arizona with 1,308 passing yards; he threw for 284 yards against Cienega last week. If Borbon and him and wide receiver Mandrell Garrick connect immediately, this game could be over at halftime. Call it 49-13.
Douglas 38, Amphitheater 21 — Final
Prediction: DOUGLAS (5-2) at Amphitheater (3-4)
Where: 125 W. Yavapai Road
Matchup: After matching the school's best start since 1981 with a 5-1 record, Douglas was thumped 50-3 by Walden Grove at home. Friday won't be much easier: Amphi has won its last two games. Expect a sneaky-great game here, with Douglas prevailing 28-21. 
Palo Verde 12, Rio Rico 7 — Final
Prediction: PALO VERDE (1-6) at Rio Rico (1-6)
Where: 590 N. Camino Galindo, Rio Rico
Matchup: Both teams have gone over a month without a win, so motivation won't be a factor Friday. This game will be determined by mistakes and penalties. If Palo Verde turns the ball over, it could be a long bus ride back to Tucson. It's a tough call, but we expect the Titans to get it done on the road and win, 21-14.
Tombstone 52, Santa Rita 27 — Final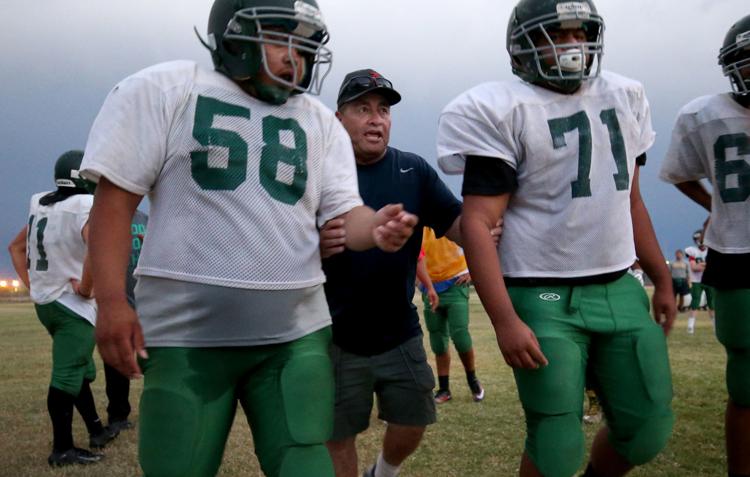 Prediction: TOMBSTONE (4-3) at Santa Rita (0-7)
Where: 3951 S. Pantano Road
Matchup: The Eagles are searching for their first win since September 2016. That won't happen this week. Tombstone wins, 49-13.
Flowing Wells 48, Desert View 0 — Final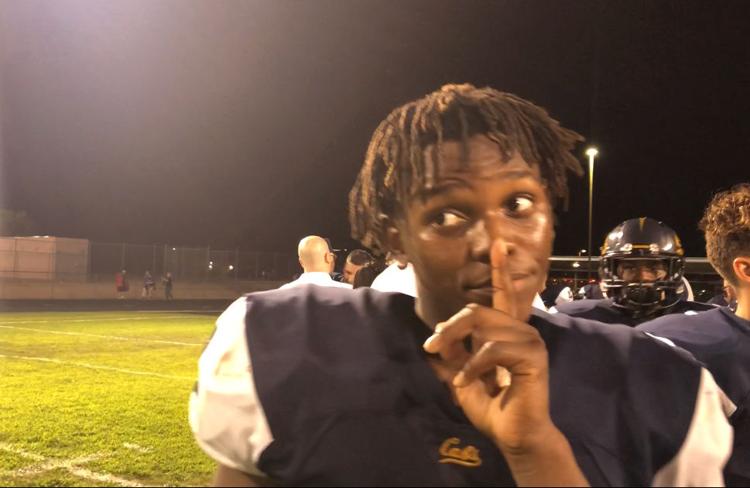 Prediction: Desert View (3-4) at FLOWING WELLS (6-1)
Where: 3725 N. Flowing Wells Road
Matchup: Flowing Wells is, well, flowing. The Caballeros are undefeated against Arizona teams this season, with their only loss against California's Palm Desert. Running back Rashaad Henderson has 1,014 rushing yards and 17 touchdowns on 125 carries this season. Flowing Wells' defense has only allowed 22 total points in its last two games, and should roll again Friday. Call it 56-14. 
Ironwood Ridge 29, Sunnyside 12 — Final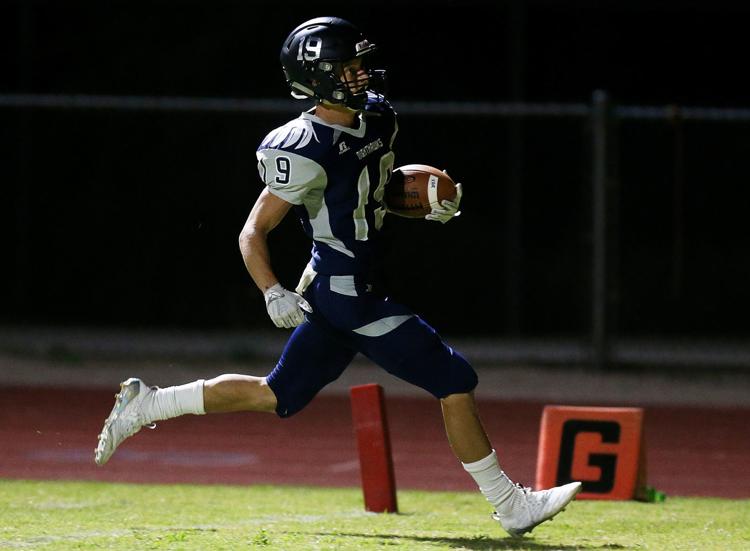 Prediction: IRONWOOD RIDGE (3-4) at Sunnyside (4-3)
Where: 1725 E. Bilby Road
Matchup: Ironwood Ridge has four losses, sure, but three of them have come by one possession. Last week's 20-13 loss to Marana dropped the team to below .500. Now, the Nighthawks will travel south to face Sunnyside. Both teams are 1-1 in regional play, but by the end of Friday night, Ironwood Ridge will have the winning record. Expect the Nighthawks to soar to a 34-7 win.
Sahuarita 34, Catalina 26 — Final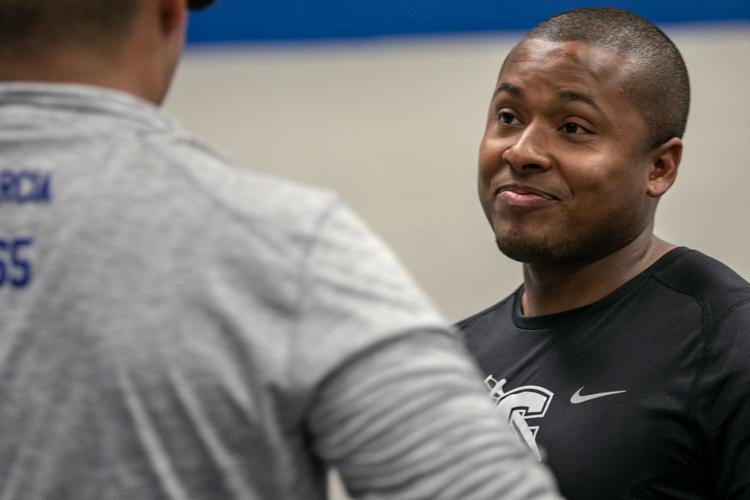 Prediction: SAHUARITA (4-3) at Catalina (1-6)
Where: 3645 E. Pima Street
Matchup: Sahuarita is on a two-game skid, but flashed excellence against Pusch Ridge Christian last week. Senior quarterback Colin Fanning completed 8 of 13 passes for 116 yards and two touchdowns. Expect him to stay hot against a Catalina team that hasn't won since August. Sahuarita wins, 45-21.
Empire 14, Cholla 13 — Final
Prediction: Cholla (0-7) at EMPIRE (2-5)
Where: 10701 E. Mary Ann Cleveland Way, Vail
Matchup: No team in Tucson wants to forget about the last two weeks more than Empire. After losing to Flowing Wells 50-14 at home, the Ravens were blasted 62-0 on the road against Mountain View. Empire has it a little easier this week , facing a Cholla team desperate for a win. The Ravens should win, 35-6.