Friday night's high school football matchups, predictions and score updates
The Star's Justin Spears breaks down all of Friday night's games, and picks winners.
Check back Friday night for live score updates.
October means it's time for region play
The month of September is in the the rear-view mirror, and region play is in full swing. October football will kick off Friday with a northwest-side showdown between Marana and Ironwood Ridge.
The Star's Justin Spears breaks down how each matchup will pan out. The Star's predicted winner is in ALL CAPS:
Marana 20, Ironwood Ridge 13 — final
Prediction: MARANA (4-2) at Ironwood Ridge (3-3)
Where: 2475 W. Naranja Drive
Matchup: Don't let Ironwood Ridge's record fool you. The Nighthawks may be just .500, but their losses have come to three top-notch Phoenix programs — including Peoria Centennial, MaxPreps.com says is the second-best team in Arizona. Marana, meanwhile, is trying to forget about last week's loss to Buena. Bourguet is expected to return, which means the Tigers should hold off the Nighthawks on the road. Expect Marana to prevail, 42-28.
Pusch Ridge Christian 40, Sahuarita 21 — final
Prediction: Sahuarita (4-2) at PUSCH RIDGE CHRISTIAN (3-3)
Where: 9500 N. Oracle Road
Matchup: Pusch Ridge Christian has outscored its opponents 87-3 the last tweo weeks, and is back on track after starting the season 1-3. Sahuarita begins a three-game road stretch after falling to Safford 33-22 at home last week. The Lions have more momentum and should win, 28-20.
Salpointe Catholic 51, Casa Grande 28 — final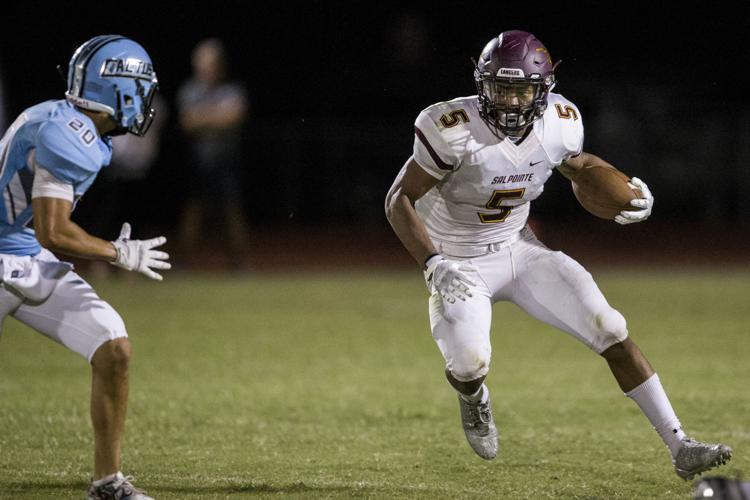 Prediction: SALPOINTE CATHOLIC (6-0) at Casa Grande (5-1)
Where: 2730 N. Trekell Road, Casa Grande
Matchup: No Bijan Robinson, no problem. Even with its running back shelved with an ankle injury, Salpointe Catholic took care of business last week against a talented Sahuaro team. Mario Padilla returned from a groin injury and tacked on a touchdown while Lathan Ransom recorded 133 yards and two touchdowns on five catches. Salpointe's defense was led by sophomore Dawson McHughes, Shamon Davis and Ray Figueroa, who combined to make 36 tackles. Expect the Lancers to cruise with Robinson back in the lineup. Call it 37-21.
Cienega 31, Sierra Vista Buena 14 — final
Prediction: CIENEGA (5-1) at Sierra Vista Buena (4-2)
Where: 5225 Buena School Blvd., Sierra Vista
Matchup: It's a trap! Buena took down Marana 41-28 last week, knocking Tigers quarterback Trenton Bourguet from the game with a concussion in the process. Now, Buena welcomes a Cienega team that is talented across the board. To win, Cienega must try to pressure Buena quarterback Jovoni Borbon, who has thrown for 1,024 yards through six games. Their best chance is with linebacker Zach Mattas, who recorded 10 tackles, three tackles for loss and two sacks last week against Sunnyside. This game will be a close one, but Cienega prevails 40-34.
Catalina Foothills 55, Casa Grande Vista Grande 6 — final
Prediction: Casa Grande Vista Grande (2-5) at CATALINA FOOTHILLS (2-4)
Where: 4300 E. Sunrise Drive
Matchup: This is a must-win game for both teams, because a playoff spot could be on the line. Foothills quarterback Joaquin Holmes looked impressive last week against Canyon del Oro, completing 12 of 16 passes for 142 yards and a touchdown but CDO's pass attack wore down the Falcons. Foothills faces another uphill battle, but should win at home. Call it 27-24.
Safford 54, Catalina 0 — final
Prediction: Catalina (1-5) at SAFFORD (3-3)
Where: 1400 W. 11th Street, Safford
Matchup: Like Sabino, Safford was off to a horrendous start at the beginning of the season but is now on a roll after winning three straight. Catalina on the other hand, not so much. The Trojans are winless in region play while Safford is 1-0. We like Safford, 49-14.
Sahuaro 42, Canyon del Oro 21 — final
Prediction: Canyon del Oro (5-1) at SAHUARO (5-2)
Where: 545 N. Camino Seco
Matchup: Sahuaro has shown its capable of winning a playoff game. Canyon del Oro has been impressive of late, too. The Dorados beat Foothills 33-21 without star running back Stevie Rocker. Rocker's status this week is unknown. CDO could win Friday if its at full-strength, but we'll pick Sahuaro here. Call it 30-21. 
Laveen Cesar Chavez 46, Tucson High 14 — final
Prediction: Laveen Cesar Chavez (4-3) at TUCSON HIGH (5-1)
Where: 400 N. 2nd Ave.
Matchup: The Badgers couldn't have asked for a better time to recharge their batteries after getting humbled by Salpointe Catholic 27-3 two weeks ago. Fresh off a bye week, Tucson High should have no problem against a shaky Cesar Chavez team. Both teams enter this contest 2-0 in league play, but we like the Badgers at home after two weeks of preparation. Let's call it 35-24.
Walden Grove 50, Douglas 3 — final
Prediction: WALDEN GROVE (4-2) at Douglas (5-1)
Where: 1500 15th Street, Douglas
Matchup: Despite getting torn apart 47-0 by Pueblo last week, Douglas is still tied for the best start in school history. The Bulldogs can take another step forward by beating a tough Walden Grove team. The Red Wolves crushed Rio Rico 58-0 last week behind quarterback Alex Lopez's 251-yard, five-touchdown performance. His top target was Jordan Lopez, who averaged 25.2 yards per catch and hauled in two TD catches. Douglas will look better this week, but Walden Grove gets the win. Call it 56-42.
Flowing Wells 64, Rincon/University 8 — final
Prediction: FLOWING WELLS (5-1) at Rincon/University (1-5)
Where: 421 N. Arcadia Blvd.
Matchup: The Caballeros' season is like a snowball: the more they play, the better they get. Raashad Henderson is averaging 131 rushing yards per game, and has scored three touchdowns in the first half of the season. Flowing Wells should have no problem with Rincon. Call it 52-6.
Mountain View 62, Empire 0 — final
Prediction: Empire (2-4) at MOUNTAIN VIEW (1-5)
Where: 3901 W. Linda Vista Blvd.
Matchup: The Mountain Lions got their first win of the season last week against Cholla, and despite Mountain View's horrid record, it's 1-0 in region play. Mountain View rushed for seven touchdowns last week. Empire, meanwhile, is coming off a 50-14 loss to upstart Flowing Wells. Expect the Mountain Lions to keep the momentum going, and win 27-6.
Willcox 50, Santa Rita 14 — final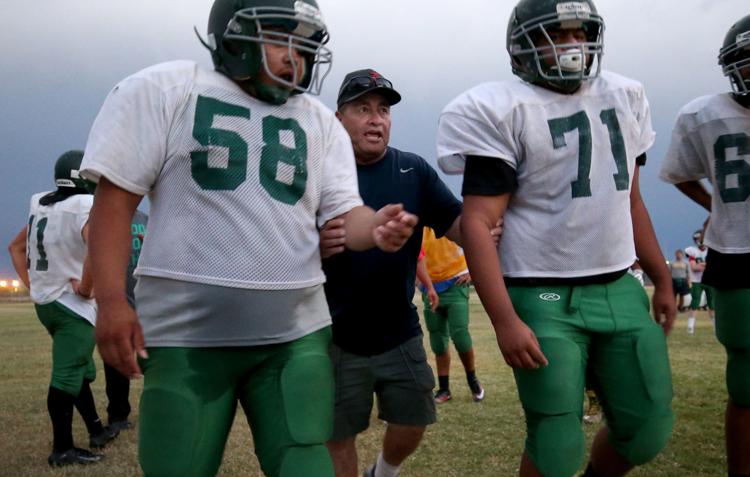 Prediction: Santa Rita (0-6) at WILLCOX (4-2)
Where: 240 N. Bisbee, Willcox
Matchup: It's been a rough year for Richard Sanchez's Eagles. Will Santa Rita get a win this season? It won't happen this week. Willcox wins big, 49-0.
Sabino 50, Tanque Verde 7 — final
Prediction: Tanque Verde (2-4) at SABINO (4-2)
Where: 5000 N. Bowes Road
Matchup: The Sabercats have won four straight games behind the play of sophomore quarterback AJ Skaggs. Two weeks ago, senior running back Jamel Brown ran for 136 yards and a touchdown. Who's it going to be this week? Pick your poison. Expect the Sabercats to grab their fifth consecutive win this week, 56-6.
Pueblo 49, Palo Verde 0 — final
Prediction: PUEBLO (2-4) at Palo Verde (1-5)
Where: 1302 S. Avenida Vega
Matchup: Omar Ibanez celebrated his 18th birthday with two touchdowns and sack in Pueblo's 47-0 over Douglas last week. The Warriors are much better than their record shows, and after handing Douglas its first loss of the season last week, the Warriors are riding high. Expect them to win 52-21 over a Palo Verde team that's lost four straight.
Desert View 35, Cholla 24 — final
Prediction: Cholla (0-6) at DESERT VIEW (2-4)
Where: 4101 E. Valencia Road
Matchup: This game will come down to one player: Desert View sophomore running back Jacob Ramirez. Ramirez has averaged 134 yards per game this season and has scored nine touchdowns. Cholla hasn't shown that it's ready to win a game yet; expect the Jaguars to win, 28-7. 
Sunnyside 30, Nogales 5 — final
Prediction: Nogales (2-4) at SUNNYSIDE (3-3)
Where: 1725 E. Bilby Road
Matchup: Nogales has lost three consecutive games, while Sunnyside has lost two straight. We like Sunnyside, which has a slight edge over Nogales in terms of personnel. Call it 28-7 in favor of the Blue Devils.
Amphitheater 43, Rio Rico 0 — final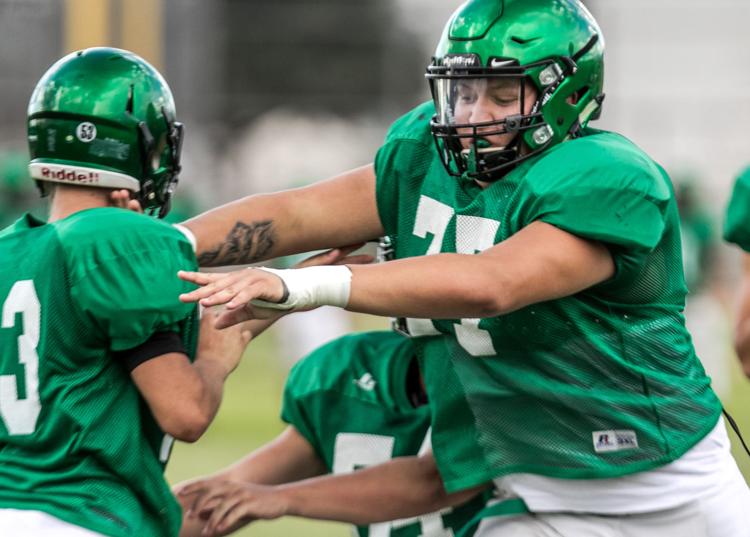 Prediction: AMPHITHEATER (2-4) at Rio Rico (1-5)
Where: 590 N. Camino Galindo, Rio Rico
Matchup: The Panthers got back to the winning side for the second time last week. Rico hasn't looked impressive since its Week 2 win over Empire. Would we be surprised if a hungry Rio Rico wins one at home? Not at all. It's a tough call, but the Panthers should sneak away with a 16-14 win.