Friday's high school football playoff pairings, predictions and score updates
Follow the playoff matchups around Southern Arizona on Friday night.
State playoffs begin Friday with nine games featuring Southern Arizona teams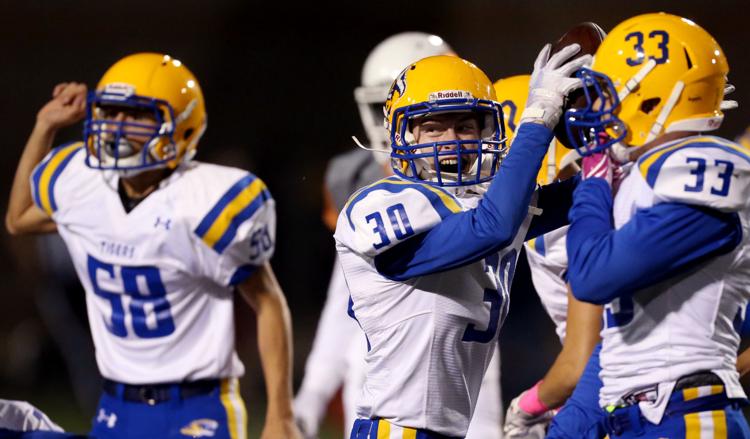 State playoffs begin Friday night, with 10 Southern Arizona teams taking part in nine first-round games. Regular-season records are irrelevant; it's now win or go home.
The Star's game of the week pits No. 8 Cienega against ninth-seeded Marana in the Class 5A bracket. It's the second year in a row these teams are meeting in the playoffs.
The Star's Justin Spears previews and predicts how each Southern Arizona team will fare this week. All games will be played Friday at 7 p.m., and predicted winners are in ALL CAPS.
Stay tuned Friday night for live score updates from all of Southern Arizona's playoff matchups.
Cienega 49, Marana 28 — Final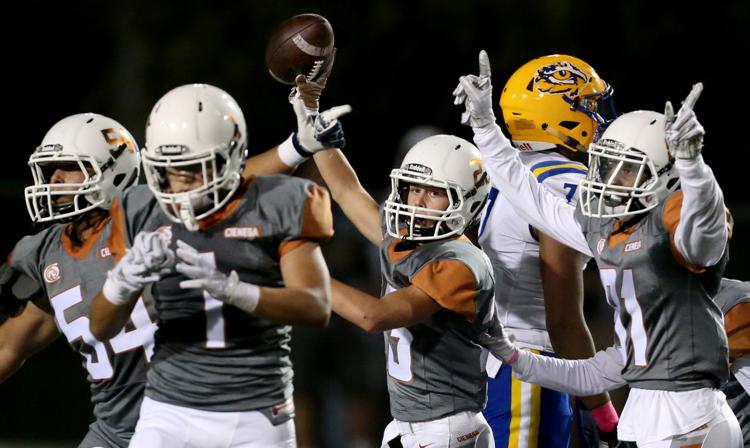 Prediction: No. 9 Marana (7-3) at No. 8 CIENEGA (8-2)
Where: 12775 E. Mary Ann Cleveland Way, Vail
Matchup: Friday marks the fourth contest in two years Marana and Cienega have played each other, with the Bobcats holding a 3-0 advantage. Cienega knocked off the Tigers in the second round of last year's Class 5A bracket, and won 44-28 this season in a game that was closer than the final score indicated. Marana trailed by one possession with over four minutes left in the game. The Bobcats could be in trouble against a hungry Marana team. If quarterback Trenton Bourguet throws for three touchdowns, he will have 88 in his career, which will be a 5A state record. Bourguet hasn't checked beating Cienega off his to-do list, and so it wouldn't be a shocker if he did Friday night. Cienega will counter with Terrell Hayward, who had two receiving touchdowns and a punt return for a score the last time the teams met. This is tough, but history shows Cienega has the upper hand in this rivalry. We like the home team in a nail-biter. Call it 31-28.
Glendale Cactus 37, Canyon del Oro 26 — Final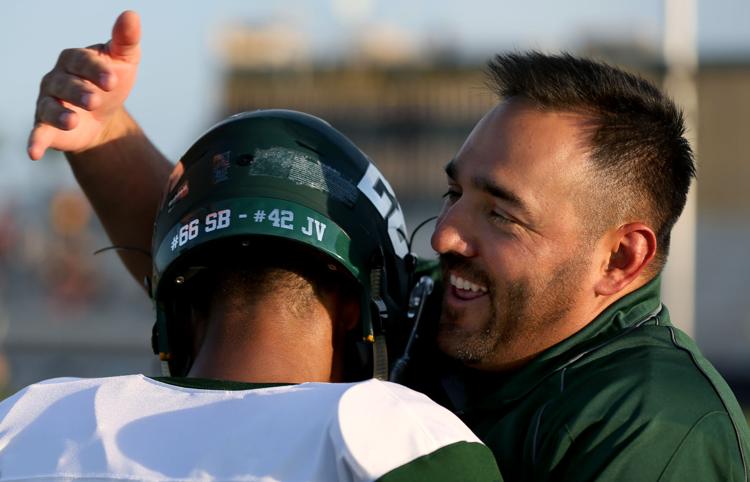 Prediction: No. 10 CANYON DEL ORO (7-3) at No. 7 Glendale Cactus (7-3)
Where: 6330 W. Greenway Road, Glendale
Matchup: CDO is back in the 4A state playoffs after missing out last season, but will have to face a scrappy Cactus team in the first round. Fortunately for the Dorados, quarterback Zach Eidenschink is healthy and does not turn the ball over. He's thrown for 1,668 yards and 18 touchdowns with only two interceptions in 10 games. Sophomore running back Stevie Rocker had 164 yards and two touchdowns last week against Casa Grande. With Rocker healthy and Eidenschink playing his best ball, the Dorados could pull off the road win in Glendale. CDO wins 35-30 to set up a second-round matchup with defending state champion Scottsdale Saguaro.
Salpointe Catholic 56, Apache Junction 7 — Final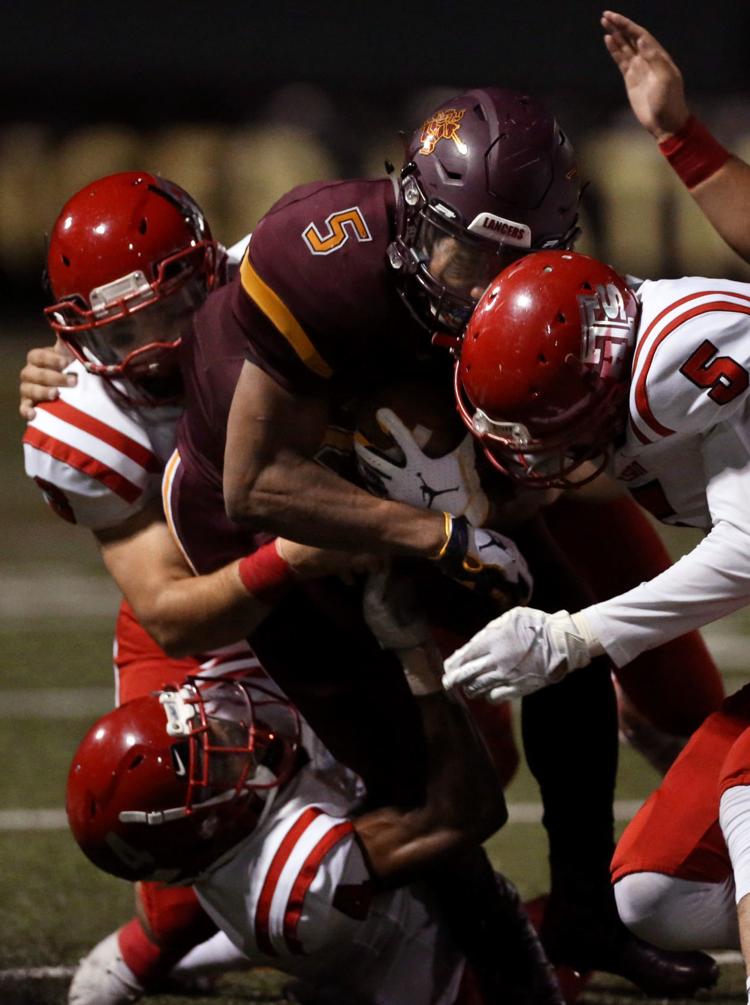 Prediction: No. 16 Apache Junction at No. 1 SALPOINTE CATHOLIC
Where: 1545 E. Copper Street
Matchup: Salpointe finished the regular season with a 10-0 record thanks to a quick-strike offense. Running back Bijan Robinson rushed for 247 yards and three touchdowns on four carries in last week's regular-season finale, and set a school rushing record with 172 yards in the first quarter. Robinson has rushed for 1,682 yards and 23 touchdowns this season, and it doesn't appear he's slowing down with playoffs on the horizon. Robinson should have another video game performance in Friday's Class 4A opener. Call it 49-10.
Goodyear Millennium 58, Flowing Wells 7 — Final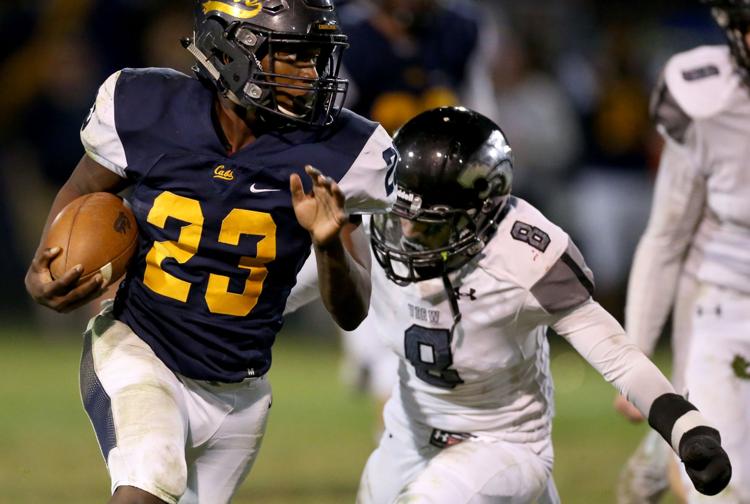 Prediction: No. 11 Flowing Wells at No. 6 GOODYEAR MILLENNIUM
Where: 14802 W. Wigwam Blvd., Goodyear
Matchup: The Caballeros collapsed in their regular season finale against Mountain View, and must hit the road for the 5A playoffs as a result. Flowing Wells running back Rashaad Henderson rushed for 1,366 yards and 23 touchdowns in the regular season, but suffered an arm injury against Mountain View. He told the Star after the game he'll be good to go and healthy for this week, which is a great sign for Flowing Wells. The game is in Goodyear, and so all signs point to Millennium coming out on top. Call it 42-27.
Goodyear Desert Edge 49, Walden Grove 10 — Final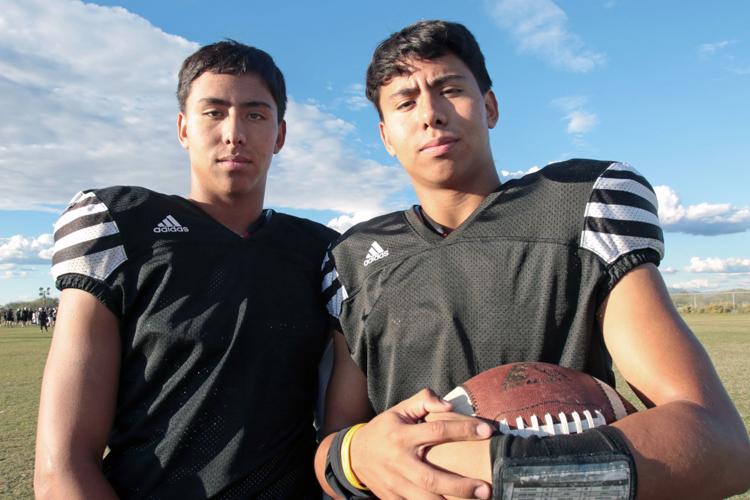 Prediction: No. 14 Walden Grove (7-3) at No. 3 GOODYEAR DESERT EDGE (8-2)
Where: 15778 W. Yuma Rd., Goodyear
Matchup: Walden Grove head coach Corey Noble has led the Red Wolves to a playoff appearance in back-to-back seasons. Twin brothers Jordan and Alex Lopez have been the one-two punch at the quarterback and wide receiver positions. Alex threw for 2,348 yards and 28 touchdowns in the regular season while Jordan finished with 1,109 receiving yards and 12 scores. On defense, junior linebacker Ricky Avelar is averaging 12.8 tackles per game while senior Bradley Capen has 99 on the season. Desert Edge is talented, having taken top-seeded Salpointe Catholic to the wire in a regular-season matchup in Tucson. Walden Grove's offensive line will have to contain 6-foot-3-inch, 285-pound defensive tackle Nassir Sims, who holds collegiate offers from Arizona, Washington State, Colorado, San Diego State and Oregon State. Expect to see the Red Wolves make a deep playoff run … next year. Desert Edge wins 38-21.
Sahuaro 49, Glendale 48 — Final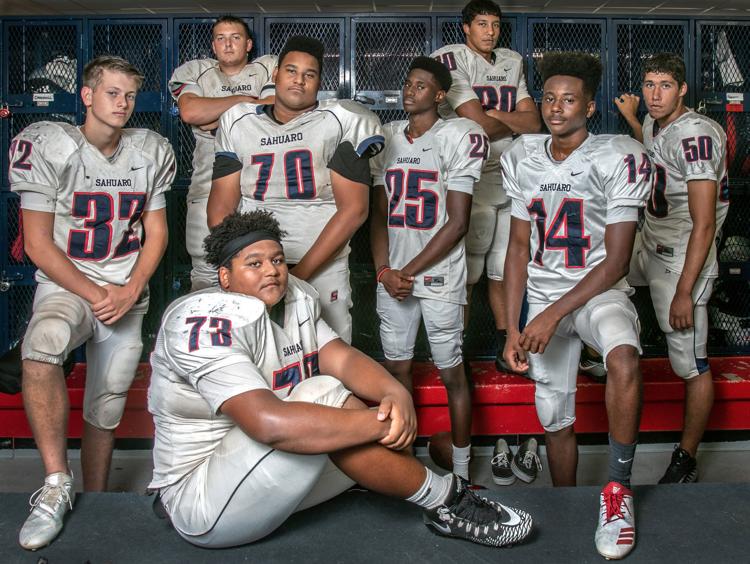 Prediction: No. 12 Glendale (9-1) at No. 5 SAHUARO (8-2)
Where: 545 N. Camino Seco
Matchup: Sahuaro ends its three-year playoff drought, and will host a postseason game for the first time under head coach Scott McKee. Sahuaro has been one of the most improved teams in Tucson this season and has turned some heads into the 4A state playoffs. The key for Sahuaro: stop Glendale running back Kevin Daniels. The 6-foot-2-inch, 225-pound Daniels has 1,733 yards and 32 touchdowns on the season. Sahuaro has a similar back in Cameron Williams, who is 16 yards shy of reaching the 1,000-yard mark on the year. This game is going to be won on the ground, which all starts with the offensive lines. If the Cougars control the line of scrimmage, they'll be golden. If not, it's going to be a fun bus ride home for Glendale. Sahuaro wins in close fashion, 21-20.
Sabino 38, Lakeside Blue Ridge 6 — Final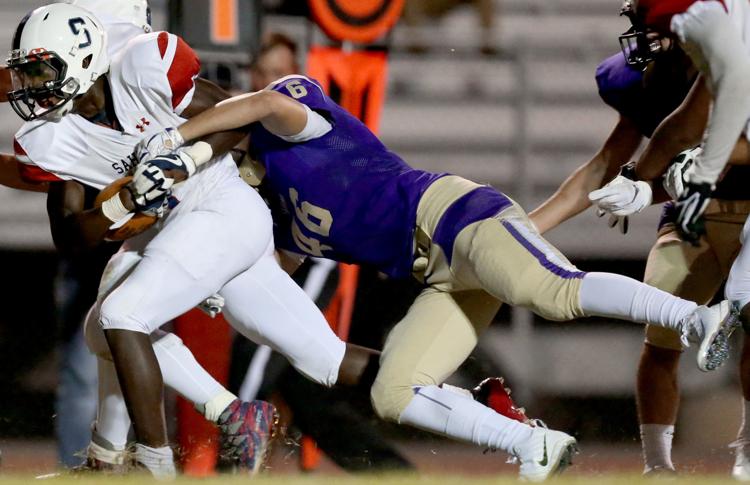 Prediction: No. 11 Lakeside Blue Ridge (6-4) at No. 6 SABINO (8-2)
Where: 5000 N. Bowes Road
Matchup: Outside of Salpointe Catholic, Sabino is arguably the hottest team in Southern Arizona. It wasn't always that way. The Sabercats started 0-2, and coach Ryan McBrayer had a difficult time figuring out who his quarterback was. Senior Jimmy Hamilton, junior Diego Armijo and sophomore AJ Skaggs alternated before the Skaggs was picked as the permanent starter. Sabino has since won eight straight games, including one against Blue Ridge in Lakeside. Skaggs was a perfect 12 of 12 passing for 79 yards and a touchdown. Chances of Skaggs going perfect again are slim to impossible, but the others should pick up the slack at home. Sabercats cruise to a 30-7 win.
Gilbert Higley 47, Ironwood Ridge 21 — Final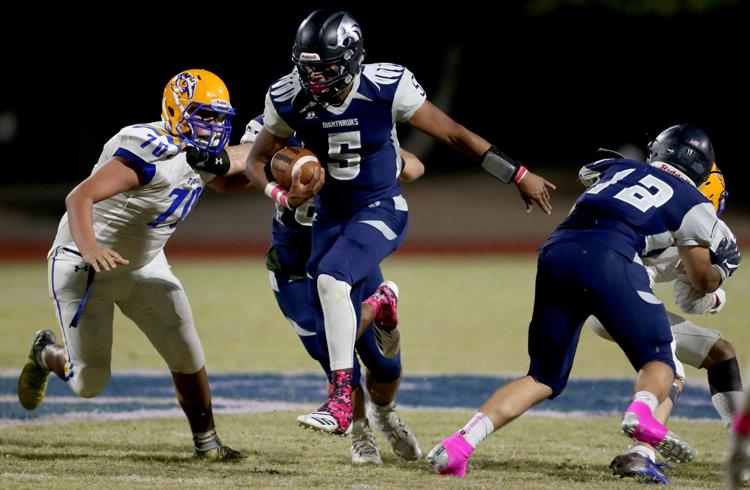 Prediction: No. 12 Ironwood Ridge (6-4) at No. 5 GILBERT HIGLEY (7-3)
Where: 4068 E. Pecos Drive, Gilbert
Matchup: Ironwood Ridge snuck into playoffs after upsetting Cienega on the road in the regular season finale. Kicker Griffin Sauer was the Nighthawks' hero after he nailed a last-second field goal. Ironwood Ridge will try to maintain the road warrior mentality on Friday against a talented Higley squad in the first round of the 5A playoffs. Higley is led by quarterback and Cal commit Spencer Brasch, who has thrown for 2,594 yards and 36 touchdowns this season. His top target is Coleman Owen, who has 1,050 yards and 17 touchdowns this year. Ironwood Ridge running back Nathan Grijalva has been a workhorse all year long, averaging 123.8 yards per game; the senior could be the X factor for Friday night. Twelve-five upsets usually happen in March, not November. We're picking Higley to win, 24-14. 
Page 48, Pusch Ridge Christian 2 — Final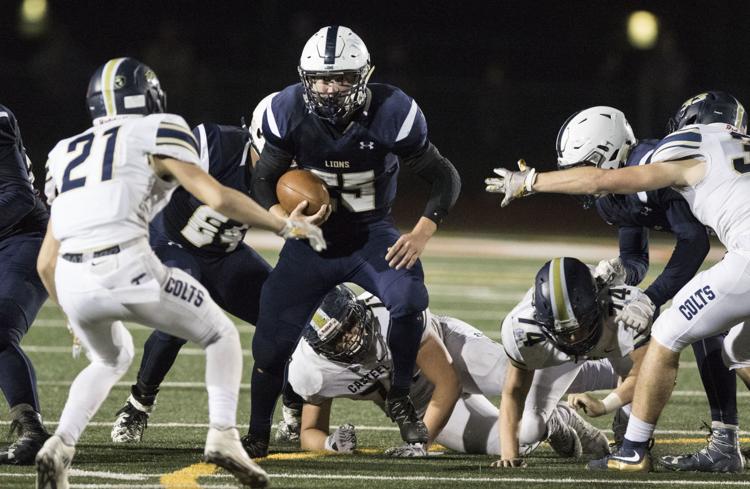 Prediction: No. 13 Pusch Ridge Christian (5-5) at No. 4 PAGE (9-1)
Where: 434 Lake Powell Blvd., Page
Matchup: In the span of a year, Pusch Ridge Christian went from the hunted to the hunters. Last year's Class 3A state runners-up enter this year's playoffs with a .500 record. Anything can happen in the playoffs, thought, and Lions running back Evan Lovett has rushed for 1,104 yards this season. Lovett by himself won't be enough to take down a team that has a high chance of making it to the state championship game. Page wins, 56-21.