Someone pulled me aside at the Reffkin Tennis Center a few years ago and advised me not to "god up" the high school tennis coaches because they were nothing more than "chauffeurs and chaperones."
"The top players all have private instructors," he said.
I remember this every time I flip through Tucson's tennis archives and re-read the histories of state championship coaches Robb Salant, Roland Kotwica, John Condes, Perri Touche, Bill Wright and those dating back more than 50 years. Each has a few shelves of individual tennis trophies.
They're not chaperones or chauffeurs; they're champions.
It popped into my head again last week when Kristie Stevens coached Catalina Foothills' girls tennis team to the state championship. It was the 15th time Stevens has coached the Falcons to the state championship. It was historic.
In more than 100 years of high school sports in Tucson, only one person — Sunnyside wrestling coach Bobby DeBerry — can match Stevens' 15 state title trophies.
This ain't no limo driver.
Stevens grew up in Phoenix, part of a family that owned the Food Giant supermarket business. She and her siblings then forged a reputation as a family of tennis giants.
Her sister, Meredith, a member of the Oklahoma Tennis Hall of Fame, was heavily recruited by Arizona and ultimately became a starter at Arizona State. Her brother, Bryan, was a high school state champion who also became a regular in the Sun Devils' tennis program.
Kristie is modest about her tennis background, but she was ranked in the USTA sectional polls, played college tennis in Southern California and has been a tennis instructor everywhere from San Diego to the Tucson Racquet Club.
It's the type of tennis-centric background that reflects on a state championship coach, but c'mon — 15 state championships over 26 years at Catalina Foothills at a time she became a wife and mother, raised two kids and all the time was nobly employed as a teacher, counselor and, most recently, dean of students and assistant principal at Esperero Canyon Middle School?
So, yes, Kristie Stevens knows what it is to be a chaperone, chauffeur, tennis coach and a lot of other important things.
She describes this journey as "happenstance" and "destiny."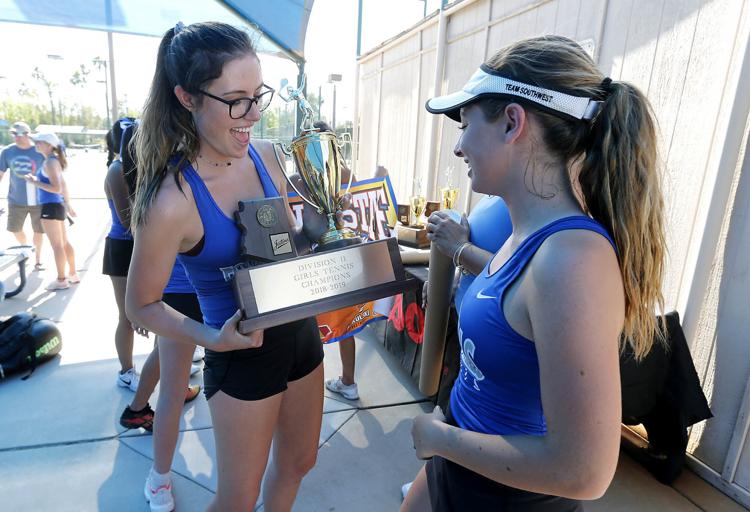 How does any school identify and hire a future 15-time state championship tennis coach?
Stevens was working as a substitute teacher in the Catalina Foothills district in 1992 and stopped at the high school office to ask if the girls tennis team needed volunteers.
"I'd love to help out," she said.
A woman behind the front desk asked if Stevens had an appointment.
Ultimately, Foothills athletic director Bobby Larson introduced himself to Stevens.
"Do you know anything about tennis?" he asked.
In a stroke of good fortune that you can't make up, the PE coach who was due to be the first girls tennis coach in Foothills history had just been fired.
"We don't have a coach," said Larson. "Can you give me two references?"
References? Stevens listed long-time Tucson Racquet Club director of tennis Gary Engelbrecht and UA women's tennis coach Becky Bell.
It took Stevens eight years to win the Falcons' first state championship. Over the next 19 years she produced 14 titles (and three No. 2 finishes) as well as 10 individual state champions, four of them from the remarkable Hala Sufi, 2000-03.
Not bad for someone whose first job in Tucson was working for the genetics department at University Medical Center, hoping she could supplement her income giving tennis lessons at the Racquet Club as time permitted.
"I kind of switched gears," she says with a chuckle.
Now, all these years later, Stevens is switching gears again. After completing requirements for two masters degrees — one for counseling, the second for administrative leadership — she has accepted a job as assistant principal at Ironwood Ridge High School.
She starts in August, which means Stevens has coached her last tennis match at Catalina Foothills.
Leaving Foothills wasn't initially her plan, but when Stevens told CFHS principal Jody Brase she was going to apply to be the school's assistant principal, Brase knew it wouldn't work.
District rules prohibit an assistant principal from being the supervisor of a spouse; Stevens' husband, Mark Stevens, is the Falcons' softball coach, and a good one. He coached Catalina Foothills to the 2016 state championship.
"I'm ready to go," Kristie says. "Coaching is my passion — I love connecting with the kids — but I'm also eager for a new career."
Mark Stevens is so accomplished in his sport that a softball facility at Mehl Park is named after him. It wouldn't be much of a surprise if Catalina Foothills someday names its tennis facility after Kristie.
She leaves the Falcons with no regrets; all six girls who competed in the state championship finals will return for the 2020 season.
If that's not going out on top, what is?