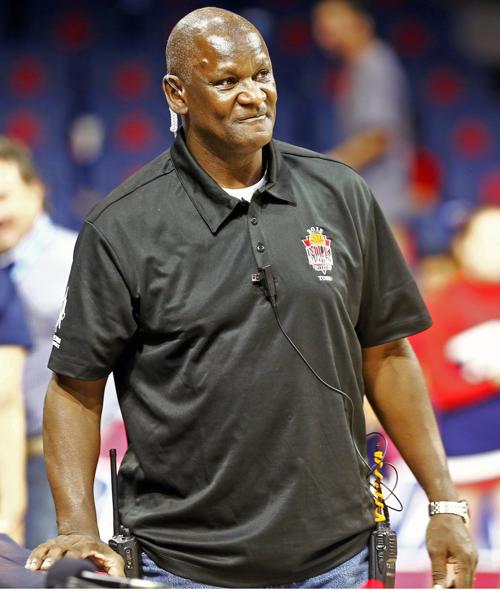 The most powerful man in Tucson sports doesn't drive a company car, doesn't fly first class, doesn't have a chief of staff or an office with a 65-inch TV screen.
Herman House occupies a second-floor office next to the Mary Hines Gymnasium at Catalina High School that has to be, what, 60 years old?
It is the same office that the esteemed Shelia Baize occupied when she was TUSD's Director of Interscholastics for a quarter-century, the athletic director of athletic directors in the state's second-largest school district.
House has a reserved parking place in front of the old school at 3645 E. Pima St., which is the only luxury afforded the man responsible for the athletic operations of TUSD's 10 high schools and 24 middle schools.
It is a big job and Herman House is a big man, maybe 6 feet 5 inches tall, a former basketball player for the Division III Aurora University Spartans on the outskirts of Chicago. It is one of four towns he has called home in a journey that began as the son of a sharecropper in Holy Springs, Mississippi.
In 1995, House started at the bottom as a teacher and Catalina's junior varsity basketball coach. Over the last 25 years, he not only became TUSD's athletic director, but also president of the mighty Arizona Interscholastic Association, which oversees 271 high schools in everything from compliance and officiating to scheduling and eligibility to student equity and racial inclusion.
"It's a huge, huge job, it's almost mind-boggling," he says, not in an attempt to reflect on his own importance, but rather the importance of the position. "There's so much to do here. You could write a book about it."
House does not plan to write a book when he retires at the end of the school year. TUSD officials asked him to stay another year but you can imagine how much time he has missed with his wife, Elaine, and his three sons, Ryan, Vincent and Eric, the last of whom graduated with a doctorate degree from the University of Arizona last week.
"Tucson has been a great place to raise our children, and moving here from (Riverside, California) was the best move I've ever made," says House, who served as Tucson High's athletic director for 10 years, assistant principal for five, and capped his career by being inducted into the AIA athletic director's Hall of Fame.
Twenty years ago, when House was the new guy among accomplished Southern Arizona athletic directors such as Sunnyside's Gene Repola and Salpointe Catholic's Carl Brunenkant, he made an immediate impact.
"You could tell Herman was a go-getter," says Repola. "He had those great leadership skills."
When he became TUSD's athletic director, Harris got the endorsement of Baize, who knew the workload, acumen and diplomacy required to work with 10 high schools, more than 5,000 student-athletes and the vast AIA empire wasn't for a weakling.
"I supported his hiring," says Baize. "He is a person of integrity, he follows the rules, works hard and saw the big picture. Most important to me, Herman embraces the importance of sportsmanship and has a love for the kids."
A man of Herman House's influence doesn't just step into the job and establish character and responsibility as he goes. He built and developed those variables as a younger man.
When he played basketball for the Aurora Spartans in the mid-1970s, House absorbed the ethics of his coach, Jack Augustine.
"The NCAA didn't allow dunking when I played, but one night before the referees stepped onto the court, my teammates and I put on a dunking show for the fans," he remembers. "I thought it was fun and harmless."
But when Augustine learned his players had been dunking, he went to the referees and admitted to the violation. Aurora was assessed two technical fouls and ultimately lost a close game.
"It was a lesson I've taken with me forever," says House. "We broke the rules. We paid the price. My coach was a great believer in integrity and honor, and I've tried to carry his example with me at all times."
After earning his education degree, House sought adventure. A friend from Chicago was living in Southern California, deployed in the Air Force. He told House he could live in his apartment for a week — but only for a week —at which time he would have to find a job and support himself.
If you think it's pressure to rule on an athlete's eligibility issue at, say, Palo Verde High School, imagine what it was like for 22-year-old House to find a way to get a job and support himself in his first week in Los Angeles.
"It was an adventure, it was exciting," he says now. "I liked the feeling of being responsible."
He is a self-made man, and then some.
In 1999, House hired Will Kreamer as Tucson High's football coach. Working in partnership with House, Kreamer was influenced to move to administration; he later became the athletic director at Sabino, Ironwood Ridge and at Tucson High.
"Herman's absolutely the best," says Kreamer.
"He and I had many conversations about decision-making and one of the things that stayed with me that I got from him is, as an administrator, if you ever have difficulty making a decision, do what's best for the kids. "
You can imagine that making those decisions does not — did not — make House a popular figure.
As TUSD's interscholastics director, House has been at the front of issues such as declaring Sabino High School's 2018 state baseball championship invalid. In the age of open enrollment, transfers, club sports and non-traditional high school coaches — that is, those who aren't schoolteachers — House had to be willing to make the toughest decisions of his career in an occupation with hundreds of moving parts.
His successor is sure to encounter similar difficulties.
"I don't have problems making those decisions," House says. "I know people will criticize me, and I understand people are going to be angry and frustrated. There are so many eligibility issues; they almost never end.
"But I knew that and accepted that when I took the job. I always have done my best trying to do the right thing, and when you do that you should be able to sleep at night."
Contact sports columnist Greg Hansen at 520-573-4362 or ghansen@tucson.com. On Twitter: @ghansen711