It started in late October, and every few days for the next three weeks, Lauren Green texted her Tucson Rattlers basketball coach, Chris Klassen.
"You're coming, right?"
"Yes, Lauren."
"You put it on your calendar, right?"
"Yes, Lauren. I'll be there."
At practice on the Sunday before National College Signing Day on Nov. 8, she asked him in person: "You remember Wednesday, right?"
"I'm going to be there," he assured her. "I wouldn't miss it."
"It's been a long road for a lot of these girls," the coach said while leaning against a wall in the Cienega High School Gym, watching as Lauren signed her letter of intent to play basketball for Long Beach State. "The hard work and dedication, this is what it's all about."
Green was one of just two Tucson girls — her Tucson Rattlers teammate Audrey Nicholson from Catalina Foothills High School was the other — to sign for major college scholarships. Nicholson has committed to play for Boston University.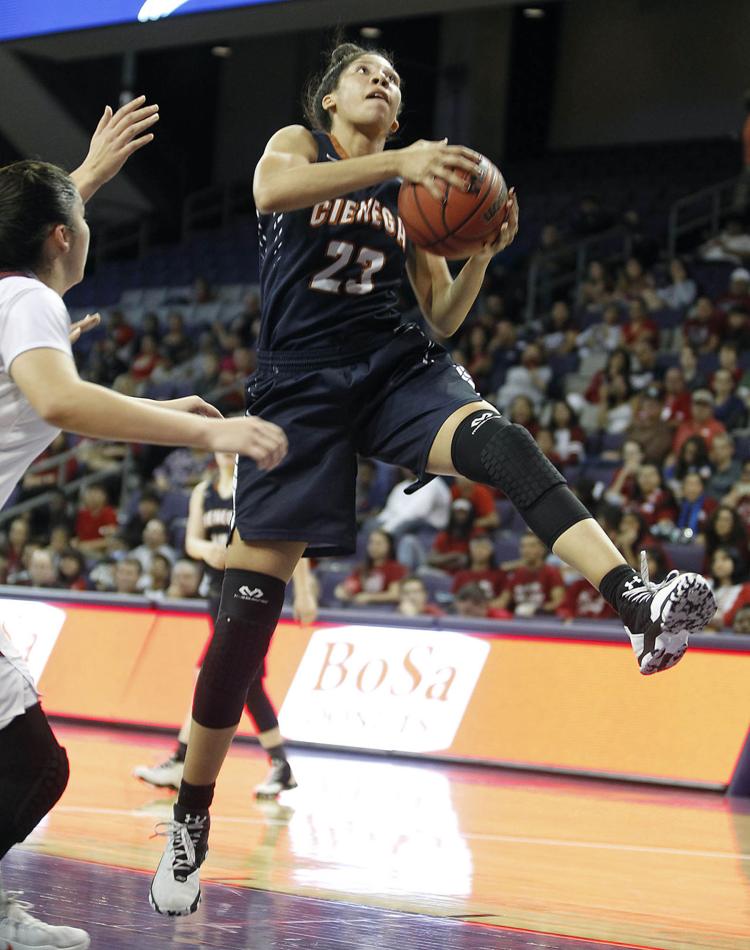 The two are among 27 Arizona girls basketball players heading to Division I colleges in the fall, the largest crop of local in-state talent since 2013. The University of Arizona signed Phoenix Arcadia High School standout Bryce Nixon to a class considered the best in program history and among the nation's top 10.
It's a sign that when it comes to girls basketball, Arizona, long behind neighboring Nevada and California in the number of girls competing at the elite level, is starting to catch up.
"We're still light years away, but it gets bigger and bigger each year and this year by far is the biggest that we had," said Klassen, a Pima College assistant who started the Rattlers with just eight girls and one under-13 team in 2008. Last season, which ended in late September, he had 50 girls and five teams, including a new Rising Stars team that competes in local tournaments.
The Rattlers are one of a handful of girls basketball clubs in Tucson, including U15 and U14 teams affiliated with the Phoenix-based Arizona Elite.
Klassen started his team for the middle school girls he coached at Booth-Fickett K-8 Magnet School. They played in the local YMCA league, then expanded to AAU tournaments in Phoenix. In 2010, when his Booth-Fickett girls were entering high school, Klassen created a U15 team and began entering tournaments in California and Las Vegas, where college coaches could get a look at the girls. One of Klassen's early stars was Palo Verde High School's Darian Saunders, who played for Missouri after graduating in 2012.
More than 40 Rattlers alumni have landed college scholarships.
Green was the only basketball player among the five Cienega girls signing scholarship letters Nov. 8. Two of her classmates inked softball scholarships, just as Lauren's sister had in 2015. Kayla Green is a pitcher for New Mexico State, and had it not been for sibling rivalry, Lauren might have followed in Kayla's footsteps. But in sixth grade, Lauren hit the hardwood.
"I always wanted my kids to be active so that they would have something to do," said her mother, Rochelle.
"When Lauren decided she wanted to change, I just wanted her to be active."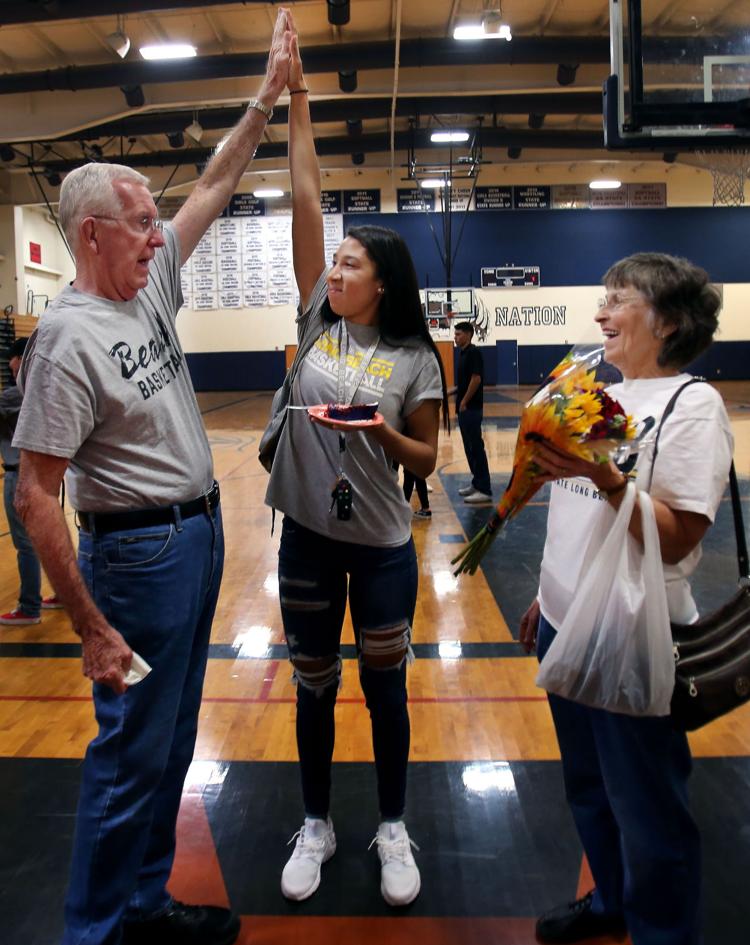 At 5 feet 9 inches, give or take an inch, Green was the tallest girl on her sixth-grade team at Rincon Vista Middle School, even if that was pretty much all she brought to the game.
"I didn't know anything about basketball. I couldn't dribble without taking two steps," she recalled. "I was just kind of doing whatever. It was kind of rough at first because I didn't know."
Green's father, Darryle, took her to the neighborhood schoolyard to shoot baskets after school. She also started watching a lot of basketball on TV and began to put the game together in her head.
Just as things were starting to make sense on the court, Lauren suffered a devastating personal blow. In the summer after sixth grade, her dad died of an aneurysm on his aortic artery. He was 50 years old.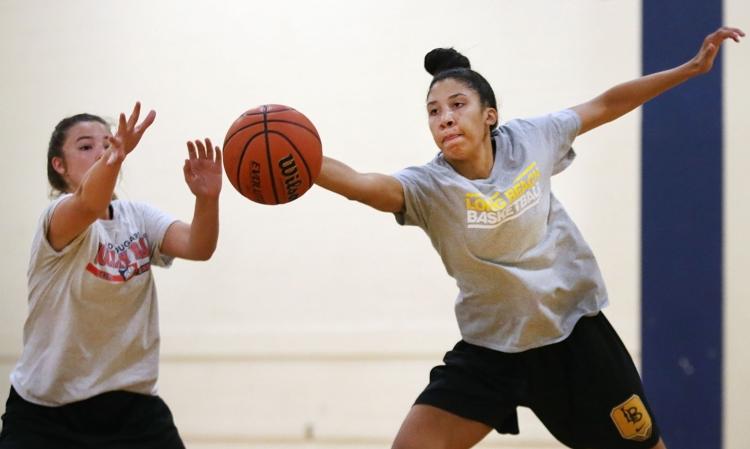 "He never had the opportunity to watch her grow as a basketball player, and I think he would be really proud," Rochelle said.
By seventh grade, Lauren was dribbling more and her height, inching each year to her current 6-foot stature, made her a natural post; towering above the other kids, she easily lobbed in basket after basket.
But it was her natural athleticism that caught Paul Reed's attention.
"She was raw but very athletic," said the former Cienega coach. "You saw a lot of potential in her."
Reed invited Lauren to work out with his high school girls, a group that included Destiny Richardson and Treyanna Clay — the last Cienega players to land major-college scholarships.
"I was just that little seventh-grader that's just learning how to play basketball. I would do some of the drills with the high school girls so it gave me motivation because I wasn't as good as them. I would work harder to be as good as them," she said.
Lauren made Cienega's varsity team as a freshman, but by then Reed had left Tucson to become an assistant coach at Long Beach State.
The summer after her freshman year, she joined the Tucson Rattlers.
Lauren started on Klassen's U15 Red Team, but by the next summer was bumped up to the U17 Black Team, which played tournaments as far away as Chicago and Atlanta.
With each tournament, Klassen saw Lauren's game come together. Her footwork was steadier, her ballhandling more precise and her shooting more daring; she started getting out from under the basket and taking perimeter shots, and she started using her size on the defensive end.
College coaches started calling Klassen and then Lauren.
"I didn't know what to say because I was so nervous," Lauren recalled.
"We had it on speaker phone, so the coach would ask her the question and she would look at me. There was this delay in her answering," said Rochelle, who had learned from Kayla's experience how to navigate the college recruiting process: Prepare a highlight video, reach out to college coaches and invite them to tournaments and follow up with the nervous conversations when they called.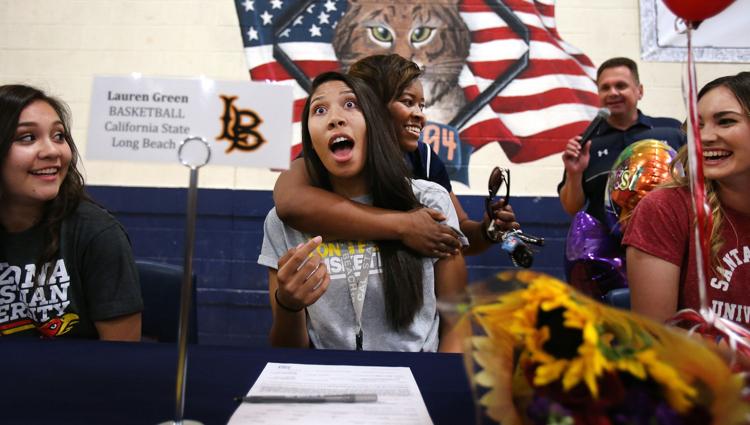 By March, Lauren had become pretty good at those calls. More than 20 schools, including the UA, Boston University, Princeton, UC San Diego and Cal Poly, showed interest. Of those, four — Long Beach State, Cal State Bakersfield, Grand Canyon and New Mexico State — offered scholarships.
Lauren resisted the offer to join Kayla in Las Cruces.
"I didn't want to live in my sister's footsteps, which is why I stopped softball and played something else," she said.
Lauren decided on Long Beach last spring, but the offer was pulled when 49ers coach Jody Wynn, with Reed in tow, left for Washington in April. Long Beach hired Jeff Cammon, who said he needed little convincing to take another look at Lauren. He sent his staff to a tournament in Las Vegas in early July and saw her play himself a week later at the Nike Tournament of Champions in Chicago.
Lauren had an impressive run in Chicago, averaging seven points and six rebounds a game.
"Everything was falling into place," Klassen said.
At the end of July, the team went to Atlanta for another Nike Tournament of Champions showcase. In the first game against the Tennessee Shock Elite, Lauren was on a roll.
"I think she had like eight points, 12 boards and was the most dynamic player on the floor," Klassen said.
And then she came down with a rebound, landing on another player's foot.
The diagnosis: a severe ankle sprain that cost Green the rest of the tournament.
Green spent the rest of the summer and early fall recovering. She was cleared to play around her 18th birthday in October, just in time for her senior season at Cienega. She averages 10 points, 8.6 rebounds and a handful of blocks per game.
"Right now, I think she's in a state of mind where she's trying to win," Cienega coach Deja Mack said. "She's very athletic. She's just ready to win."
Winning for Lauren means working hard. Rarely does a day go by that she doesn't touch a basketball.
"I know I have potential. I know I'm good right now, but I could be a lot better than I am," she said "Looking at girls that play in college, I know I'm not at that level, but I want to be at that level so that when I got to Long Beach I can be somebody that they can rely on in pressure situations. If they need me, they know I can do it."
Contact reporter Cathalena E. Burch at cburch@tucson.com or 573-4642. On Twitter @Starburch