Editor's note: The Star is counting down the top football players in Southern Arizona in the weeks leading up to the season. Today: Sabino quarterback AJ Skaggs.
The rundown: Skaggs is a 6-foot-1-inch, 200-pound junior quarterback at Sabino.
Who he is: Skaggs helped orchestrate one of the biggest single-season comebacks in Sabino history in 2018. After starting the 2018 season 0-2, the Sabercats won 10 straight games before falling to Yuma Catholic in a Class 3A state semifinal game. Now, Skaggs has his eyes set on reaching the state title game and possibly getting a ring.
"I'm really happy with where we turned out in the playoffs," Skaggs said. "I feel like we could have gone further, but we definitely will this year."
Skaggs said he hopes to expand his skill set and learn from his senior teammates like Jayson Petty, Diego Armijo and Daniel McAllister. When asked to describe his style of play, Skaggs said he's very calm.
"When there's pressure, it doesn't really get to me," Skaggs said. "I'm in my own head — it's just me and the field. When I'm out there, I forget about everything and I just play."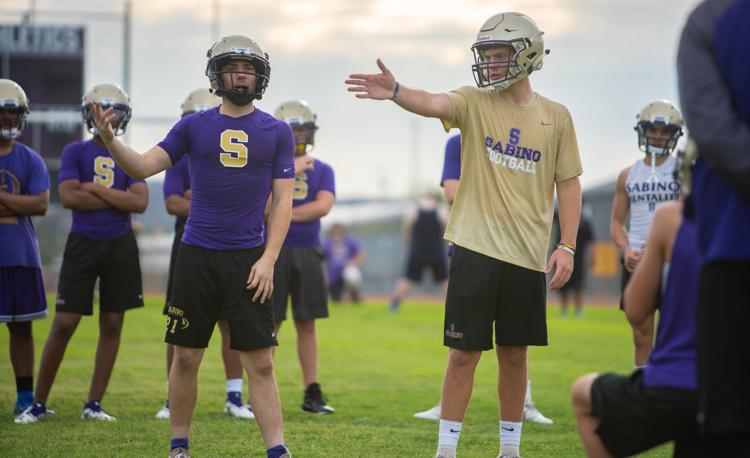 Proof he's good: As a sophomore, Skaggs completed 118 of 190 passes for 1,624 yards and scored 20 touchdowns; he was intercepted six times. He added 24 rushing yards on 23 carries.
He said it: "He's got a quiet confidence to him, where guys just follow where he's going. He doesn't need to be the 'rah rah' guy and yelling around; he just kind of leads by example. He really steadies the ship when things get out of whack, and that kind of showed when he came in as a sophomore, two games in. We're 0-2, and he just kind of stepped into the role like he belonged, and the rest was history last year, with us going to semifinals and winning 10 games in a row.
"Now we're just looking to acknowledge him from the beginning and realize the potential and talents he had, and we're building our offense around him because of how special a player he is."
— Sabino coach Ryan McBrayer