The Star is counting down the top football players in Southern Arizona in the weeks leading up to the season.
Today: Salpointe Catholic senior Coben Bourguet.
The rundown: Bourguet is a 6-foot-1-inch, 180-pound wide receiver and safety.
Who he is: The Bourguet family has been known for producing quarterbacks. Trenton Bourguet passed for 7,612 yards and 89 touchdowns for the Marana Tigers and is now a freshman walk-on at Arizona State University. Brother Treyson is a sophomore quarterback at Salpointe who already has a scholarship offer from the UA.
Coben Bourguet plays a different position — wide receiver. Growing up, Bourguet was always on the other end of his older brother's touchdown passes. He contributed on the other side of the ball, too. As a junior at Marana, Coben Bourguet rarely left the field.
"I was on defense, offense, special teams — wherever they needed me to play in order to help the team out," he said. "That really helped me improve my all-around skill set."
Coben and Treyson Bourguet transferred to Salpointe during the offseason. Coben Bourguet will have an opportunity to contribute at the two positions he knows best.
"Luckily they were looking for a free safety and a wide receiver, so I fit in perfectly and I'll be going both ways again," he said.
Bourguet will join a lethal offense that includes five-star Texas commit Bijan Robinson and David Cordero at running back, Ohio State commit Lathan Ransom and Dae han Chang at wide receiver, Connor Witthoft at tight end and Washington and Oregon target Jonah Miller and UCLA commit Bruno Fina on the offensive line.
Bourguet said he's especially excited to play with Ransom. The two have known each other since their Pop Warner days.
"It's awesome. When you work with the best every day in practice, it's only going to help me," he said. "We've known each other forever, but finally being on the same high school team, it's nice."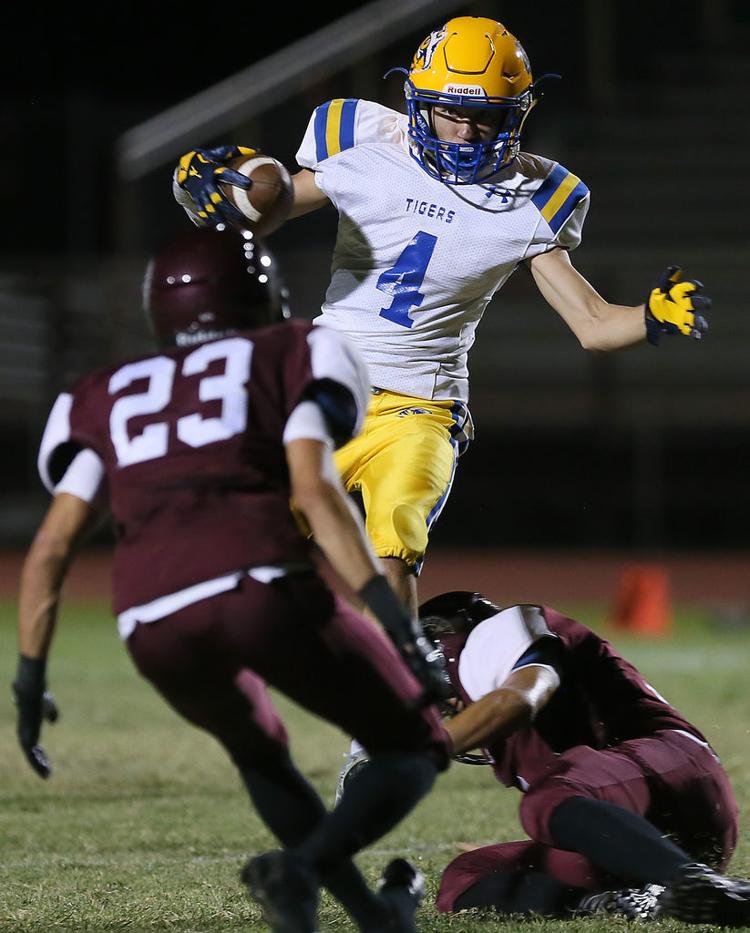 Proof he's good: Bourguet accounted for 557 receiving yards and six touchdowns in 11 games at Marana last year, and finished third on the team in total tackles (53) and interceptions (3) while playing defense.
During the offseason, Bourguet and his Tucson Turf Elite passing league squad won another Pylon 7-on-7 national championship, their second in three years. The Lancers have six players with Tucson Turf Elite ties.
He said it: "Coben is a very quiet, unassuming kid. I never met him until he showed up at Salpointe, because I always heard about Trenton. That's all you heard about, all you read about.
"Coben, he's been a pleasant surprise. I like his demeanor because he's a very quiet and confident kid. He's long and plays both sides of the ball and has a cool demeanor on the field — doesn't panic.
"I like qualities like that in players and he's had a great summer. ... He's just a kid you can depend on. He's dependable, that's the best way to describe him."
— Salpointe coach Dennis Bene