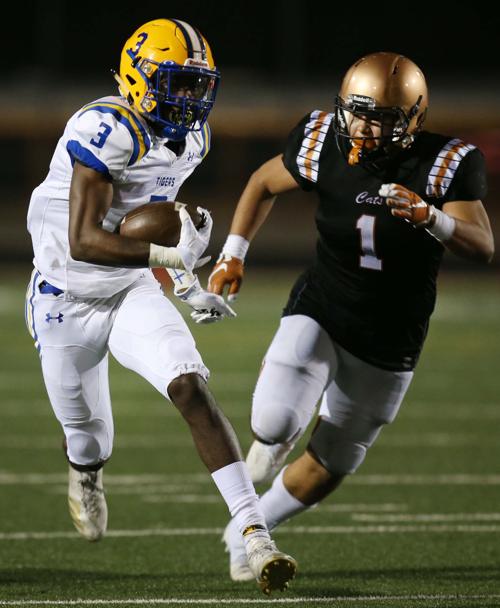 Over the next three weeks, the Star is counting down Southern Arizona's top 22 football players. Up today: No. 15, Cienega linebacker Diego Rivas.
The rundown: Rivas is a 5-foot-11-inch, 210-pound  linebacker at Cienega High School. 
Who he is: The biggest question mark for the Bobcats this season is how will the defensive line shape up after losing all of its starters to graduation while senior Zach Mattas moved to outside linebacker. In 2017, the defensive line were the anchors up front for the linebackers, which includes Rivas. Plus, linebackers such as Dylan Hoose and two-way standout Steven Harshman are gone after graduating. Now? Rivas will have to be more active as one of Cienega's leaders on defense and is expected to be one of the Bobcats' best players on the field.
Rivas grew up dreaming of becoming just like Daniel Gonzales, the ex-Bobcats linebacker who went on to play for Navy. Gonzales totaled 139 tackles as a senior at Cienega, and eventually became the team captain in college.
"That man is a monster. He works his butt off, on and off the field. He actually came and spoke to my class when I was a freshman and ever since that day, he just motivates me," Rivas said. "When I was a little kid in those stands watching him play, I always wanted to wear No. 22."
If Rivas can add to last season's numbers and do what Gonzales did as a senior, advancing to the state title game, the Bobcats should in good shape.
Proof he's good: As a junior, Rivas tied with Harshman for the most tackles (73) on the team. Cienega coach Pat Nugent expects Rivas to play carefree and with more confidence now that he's has starting experience under his belt. Rivas also shedded some weight from last season, which should only help his versatility. Rivas received interest from the Montana; he took an unofficial visit to the campus in April.
He said it: "In our 3-3-5 defense, he's that physical linebacker. We want the linebackers to be the best players on the field and they have to make the tackles. He's one of those kids now where after playing 13 games on the field last year, he understands it. Now he's loose and free so he's able to make those key plays for us a little bit more. He's a great personality and a hard-working kid that we're very fortunate to have." — Nugent