High school football: Week 9 matchups and predictions
Only two more weeks left until the end of the high school football regular season and while many teams were essentially eliminated from playoff contention, some are playing for seeding. The next two weeks could determine who gets home-field advantage so a loss could mean a road trip to Phoenix at the start of the bracket.  
This week's game-of-the-week is Salpointe Catholic hitting the road to battle Catalina Foothills. Winner of this game clinches the 4A Kino Region championship. 
All games will be played on Oct. 20 at 7 p.m. and predicted winners are in ALL CAPS. 
Arizona Daily Star record: 109-24
SALPOINTE CATHOLIC (7-1) at Catalina Foothills (6-2)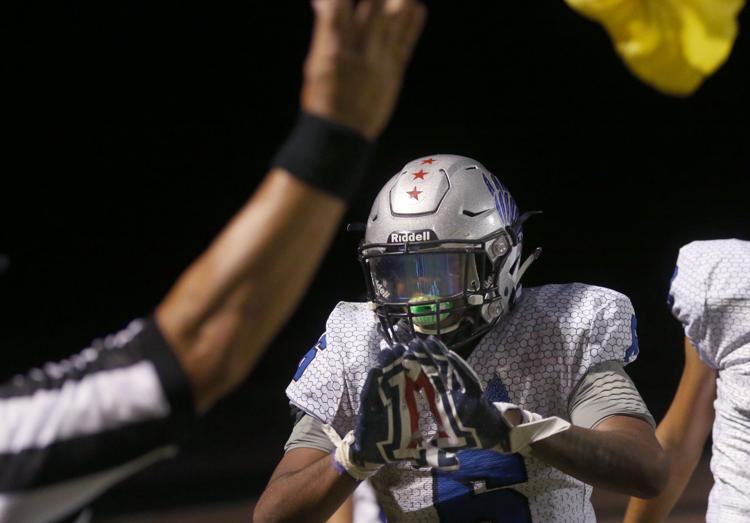 Where: 4300 E. Sunrise Dr.
Winner: The Lancers are undefeated this season when sophomore running back Bijan Robinson is in the lineup, so expect this one to be an uphill battle for Catalina Foothills. Robinson had 50 yards on six carries last week against Nogales, the latest step in his return from an ankle injury. Senior Ruben Morales had most of the carries while Mario Padilla led the Lancers with 101 yards. Expect Foothills' defense to keep it close at first, and for Salpointe Catholic to wear the Falcons down later. Lancers win it 38-20.   
AMPHITHEATER (2-6) at Rio Rico (1-7)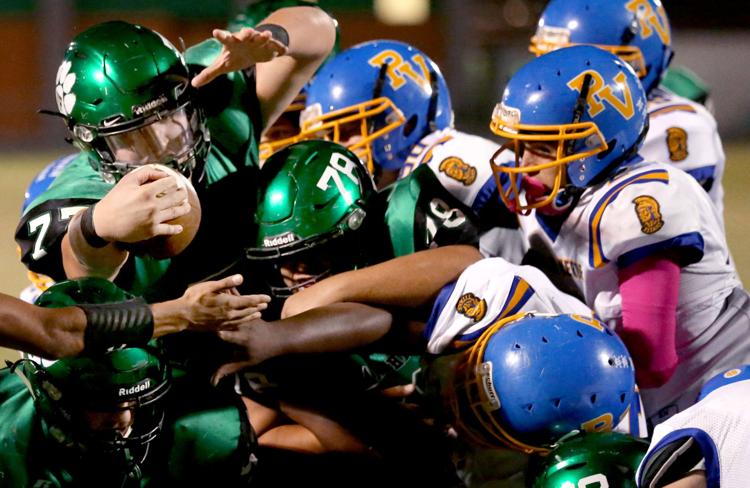 Where: 590 N. Camino Galindo, Rio Rico
Winner: The Panthers are on a roll right now. After starting the season 0-6 and averaging less than three points per game, Amphitheater has won back-to-back games. UA commit David Watson did what every offensive lineman dreams of last week against Palo Verde, lining up in the backfield on the goal line and ran for a big-man touchdown. Rio Rico hasn't won a game since Sept. 1. It'll be close, but Amphitheater should take this 21-14. 
CANYON DEL ORO (4-4) at Nogales (2-6)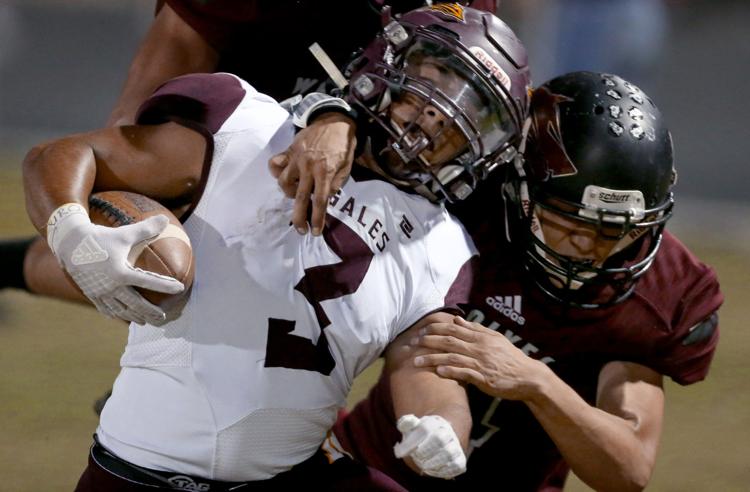 Where: 1950 Apache Blvd., Nogales
Winner: The Dorados got out of their three-game funk with a trouble-free win over Walden Grove last week. CDO senior running back Elijah Carey gained 206 yards on 23 carries with five touchdowns. This is a must-win game for the Dorados, who draw Salpointe Catholic next week. Nogales has struggled defending the run all season, so expect Carey to run wild. CDO needs luck on its side if it wants to make playoffs, but a 47-10 win on the road would be a step in the right direction. 
Desert View (3-5) at MARANA (6-2)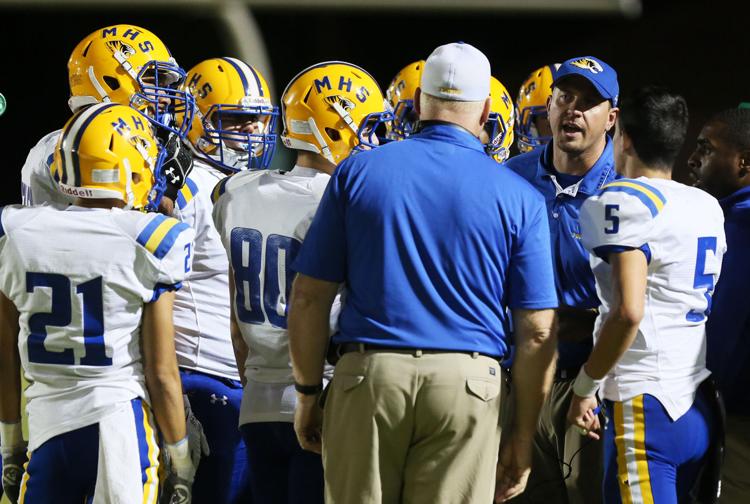 Where: 12000 W. Emigh Road, Marana
Winner: Marana quarterback Trenton Bourguet has thrown for 2,170  yards and 29 touchdowns this season, making him the No. 6 passer in Arizona and No. 2 in Tucson behind Cholla's Jordan Porter. Desert View has struggled to score this season, so expect a 56-7 blowout win for Marana. 
Douglas (0-8) at SABINO (6-2)
Where: 5000 N. Bowes Road
Winner: Sabino had a confidence-boosting win over Sahuarita after getting blown out by Pusch Ridge Christian the week before. If there was anyone that needed to bounce back from the loss, it was Isaiah Smotherman. Smotherman fumbled in the first quarter against Pusch Ridge, and the Lions put up 38 unanswered points. Smotherman bounced back with 171 yards on 12 carries last week, and expect him to do the same against a winless Douglas team. Sabino wins 49-0. 
Flowing Wells (2-6) at WALDEN GROVE (5-3)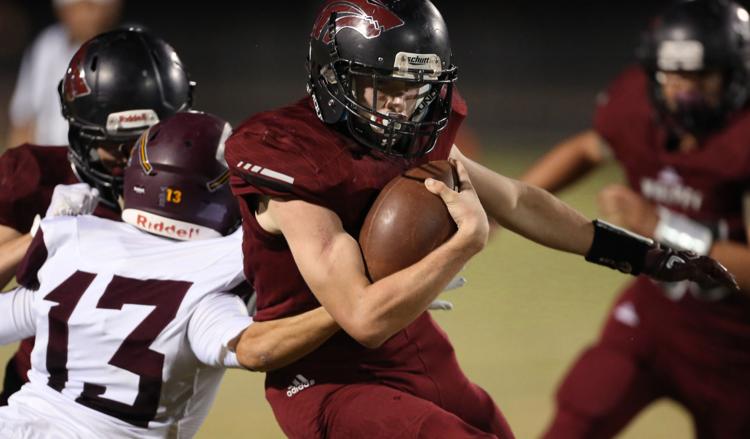 Where: 15510 S. Sahuarita Park Road, Sahuarita
Winner: Walden Grove returns home after dropping two straight on the road to Salpointe Catholic and Canyon del Oro. This game will be closer than the experts think. The Red Wolves have a senior night game against Catalina Foothills next week, and they're playing a Flowing Wells team that has their backs against the wall. If Walden Grove overlooks Flowing Wells and is focused more on next week, the Caballeros will take them down to the wire. Which Walden Grove team will we see Friday night? Red Wolves take it 35-14. 
Ironwood Ridge (6-2) at CIENEGA (8-0)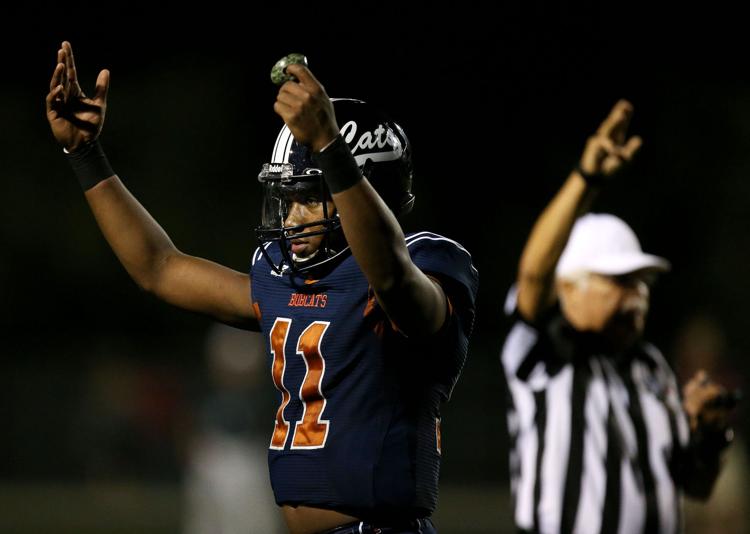 Where: 12775 E. Mary Ann Cleveland Way, Vail
Winner: Ironwood Ridge took down Tucson High by running right at the Badgers. And when the Nighthawks get running — and rolling — it's tough to stop them. Running back Nick Brahler finished the game with 194 yards. Cienega trailed at halftime last week against Sierra Vista Buena. It's the end of the season, the Bobcats are attempting to be the only 5A team from Southern Arizona to finish the year undefeated. The Nighthawks should keep it competitive in the first half, but with one of their best defensive backs in Noah Pallanes out with a neck injury, who's going to cover Terrell Hayward? Bobcats win 35-20. 
MOUNTAIN VIEW (7-1) at Sierra Vista Buena (4-4)
Where: 5225 Buena School Blvd., Sierra Vista
Winner: If Cienega could provide any team advice this week, it's telling Mountain View to don't sleep on the Buena Colts. If Buena can lead Cienega — one of the best teams in Arizona — after one half of play, then it can easily give Mountain View fits.  This Mountain Lions' defense will carry them throughout the playoffs. Even if Buena hits Mountain View right away, the Mountains Lions are still winning. Call it 34-7. 
PUEBLO (6-2) at Palo Verde (3-6)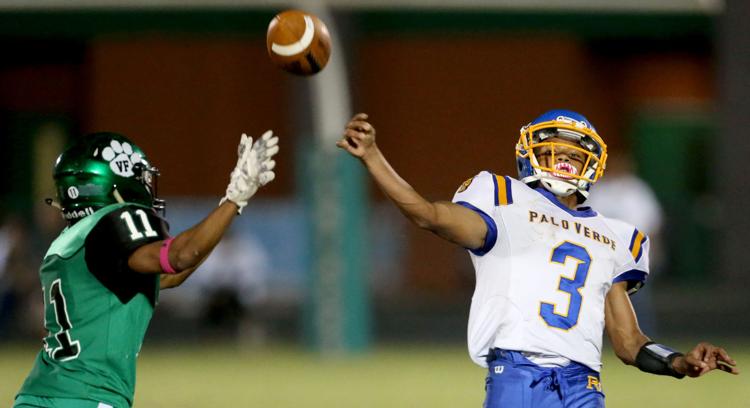 Where: 1302 S. Avenida Vega
Winner: Palo Verde went the brutal route and decided to have its bye week on the last week of the season. Things won't be easy Friday night: coach Brandon Sanders has Pueblo heading into the right direction. Expect the Warriors to spoil Palo Verde's senior night, 48-12. 
PUSCH RIDGE CHRISTIAN (8-0) at Catalina (5-3)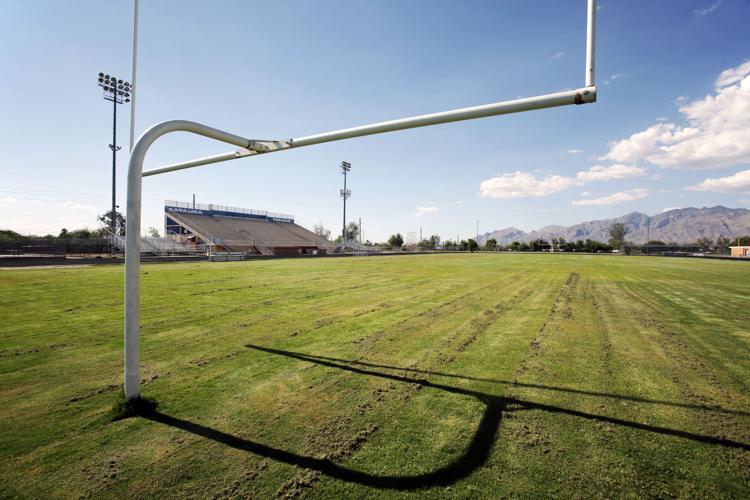 Where: 3645 E. Pima Street
Winner: Pusch Ridge Christian is a freight train right now, but don't forget about Catalina. The Trojans could make the playoffs, one year after finishing 0-10. If that's the case, give Joseph Butler the Coach of the Year award immediately. The Trojans lost to Sabino 42-0 and Pusch Ridge Christian kicked around the Sabercats, so we'll give this one to Pusch Ridge. Lions win 52-17.   
Rincon/University (3-5) at TUCSON HIGH (3-5)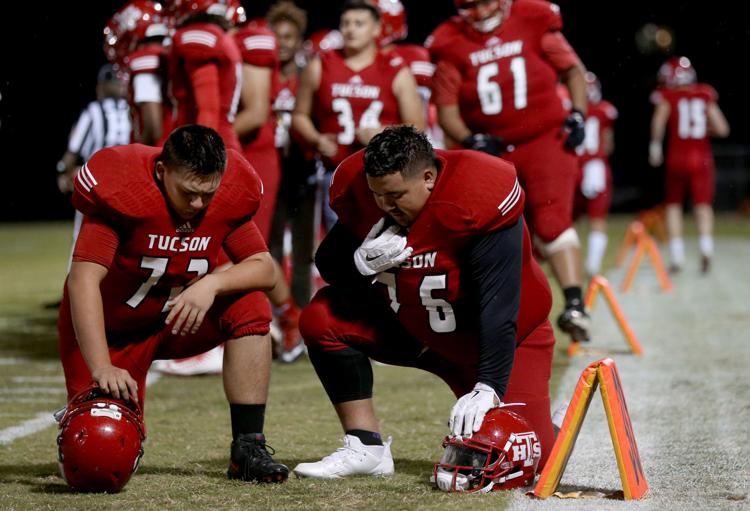 Where: 2500 E. Ajo Way
Winner: The Badgers are out of playoff contention and that's solely because of a difficult schedule. Fortunately for Tucson High, it finishes the season with two home games. The Rangers have vastly improved this season, but Tucson High's size will be too much to handle. Badgers win 37-20. 
SAHUARITA (2-6) at Santa Rita (0-7)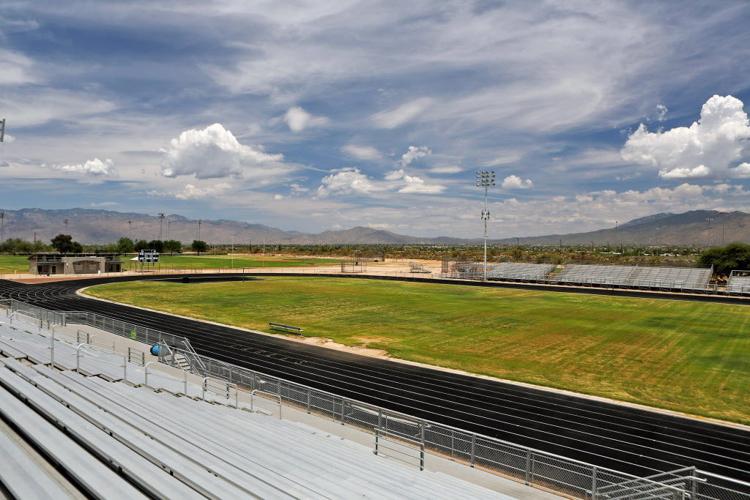 Where: 3951 S. Pantano Road
Winner: The Mustangs have dropped two straight to Sabino and Tanque Verde, and will hit the road to face a Santa Rita team that's aching for a win. The Eagles haven't scored more than 12 points in a game all season long, and they won't again on Friday. Sahuarita rolls, 45-6. 
San Tan Valley Poston Butte (4-4) at CHOLLA (4-4)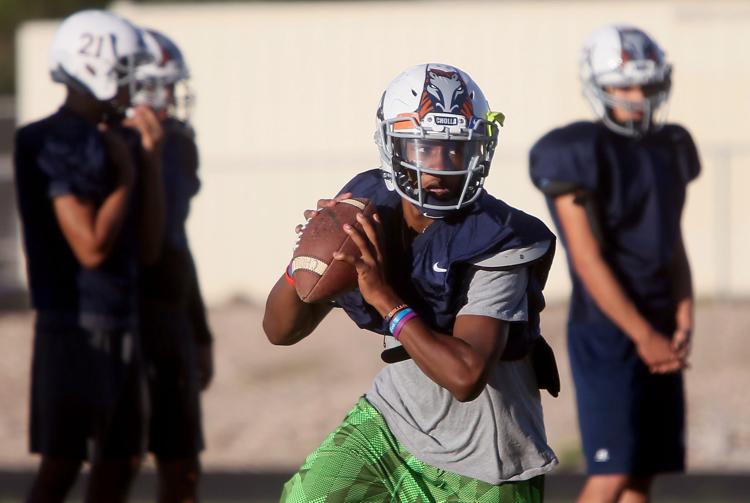 Where: 2001 W. Starr Pass Blvd.
Winner: If it wasn't for Salpointe Catholic-Catalina Foothills, this matchup would've been the game to watch this week. Cholla quarterback Jordan Porter is the No. 1 senior passer in Arizona with 2,285 yards and 21 touchdowns.  Both teams are scratching for playoffs, but Porter at home should equal a win for Cholla. Let's call it 49-38.
Sunnyside at (2-6) at SAHUARO (3-5)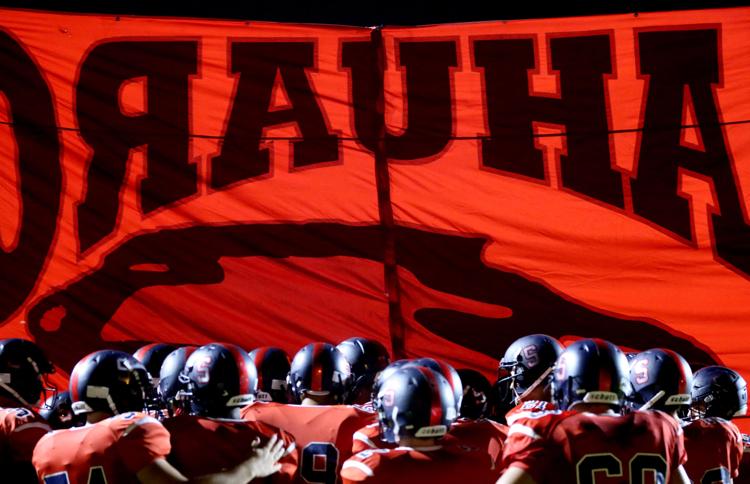 Where: 545 N. Camino Seco
Winner: Just when Sahuaro was starting to win, its difficult back half of the schedule hit. The final three games for the Cougars are a coach's nightmare: Cienega, Mountain View and Ironwood Ridge. But a senior night game against a rebuilding Sunnyside program should be a break. The Cougars should take this 31-18. 
Tanque Verde (2-7) at EMPIRE (5-3)
Where: 10701 E. Mary Ann Cleveland Way, Vail
Winner: Tanque Verde has a much easier opponent this week, but that's only because the Hawks played Pusch Ridge Christian. Empire has won two consecutive games and senior running back Q Washington was a key contributor to that stretch. Against Santa Rita last week, Washington finished with 111 yards on three carries for two touchdowns and quarterback Alex Verdugo completed  8 of 11 passes for 174 yards and four touchdowns. The Ravens are clicking and they'll maintain the winning vibes Friday night with a 49-7 win.