It's baaaaack: This week's high school football matchups, locations and predictions
The high school football season begins Thursday night, and while not every program in Southern Arizona is scheduled to play, the "Week Zero" slate is loaded with big games.
Happy new (football) year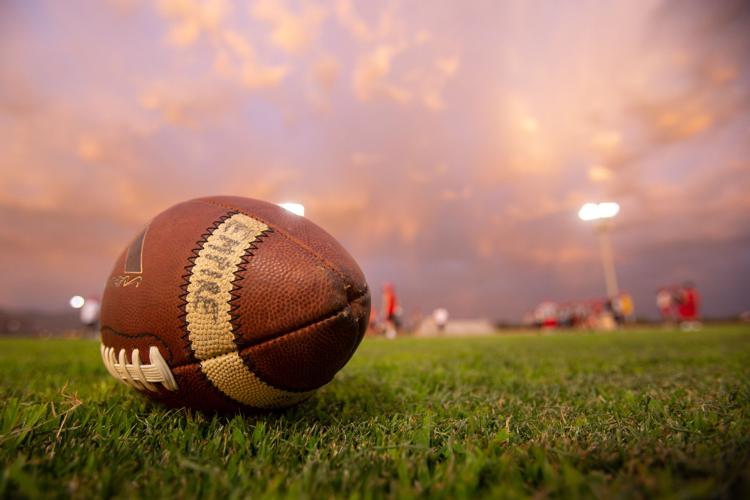 The high school football season begins Thursday night, and while not every program in Southern Arizona is scheduled to play, the "Week Zero" slate is loaded with big games.
Thursday's opener between Ironwood Ridge and Mountain View and Friday's matchup between Flowing Wells and Canyon del Oro are the Star's first two games of the week. The Star's Justin Spears breaks out the crystal ball to predict how each matchup will shape up.
Ironwood Ridge-Mountain View is Thursday night, and the rest are scheduled for Friday. All records are from last season. The Star's predicted winner is in ALL CAPS. All games start at 7 p.m.
Ironwood Ridge (8-4) at MOUNTAIN VIEW (7-4)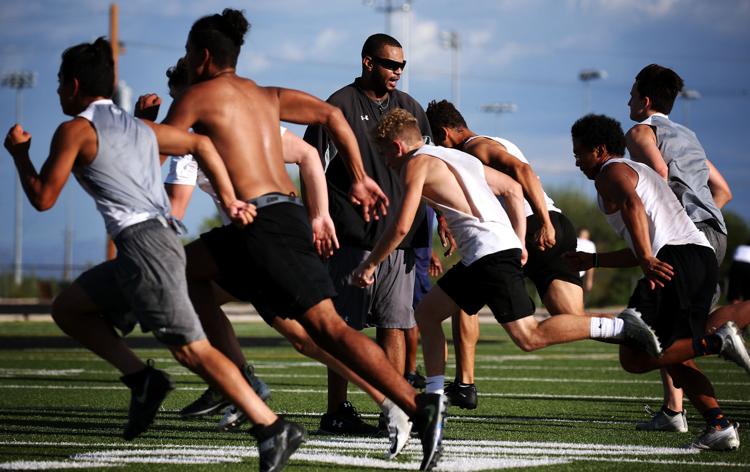 Where: 3901 W. Linda Vista Blvd., Marana
What to expect: This matchup would've been the game of the week even if it was played on Friday. That's not a knock on the other teams, but it goes to show that this game is the best in town this week. Mountain View won last year's game 28-23 after outscoring I-Ridge 14-9 in the second. Mountain View has arguably the best linebacker duo in Southern Arizona with Calib McRae and Aaron Logsdon; the duo combined for 144 tackles last season. The Nighthawks lost both Heath Beemiller and Nick Brahler to graduation, which leaves Nathan Grijalva as Ironwood Ridge's top option on offense. Mountain View's defense will be stout once again, and in season openers, usually the better defense comes out on top. Ironwood Ridge will compete, but Mountain View should win this one 27-24.
CANYON DEL ORO (4-6) at Flowing Wells (3-7)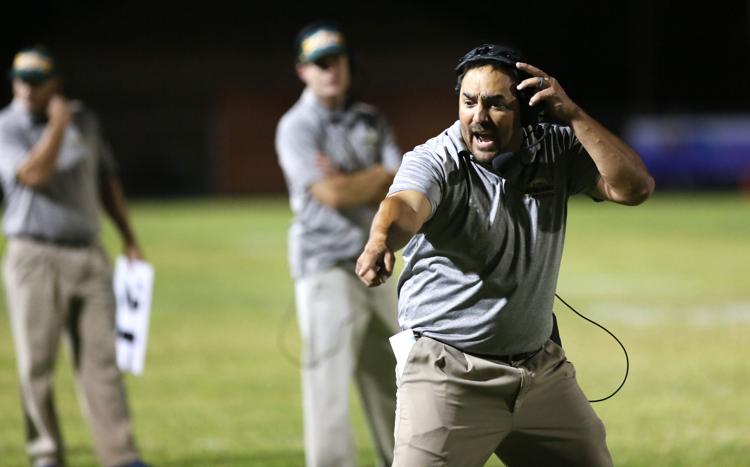 Where: 3725 N. Flowing Wells Road
What to expect: Elijah Carey was a one-man wrecking crew for CDO last season, rushing for 1,795 yards and 15 touchdowns. Ka'Deem Carey's little brother is gone, which leaves head coach Dustin Peace searching for his next offensive playmaker. Perhaps a quarterback? Senior Zach Eidenschink averaged 110.6 passing yards per game in 2017. With Carey out of the picture, expect Eidenschink to show off his arm more. And expect the Dorados to take care of business on the road, 38-20.
TUCSON HIGH (4-6) at Phoenix Maryvale (1-9)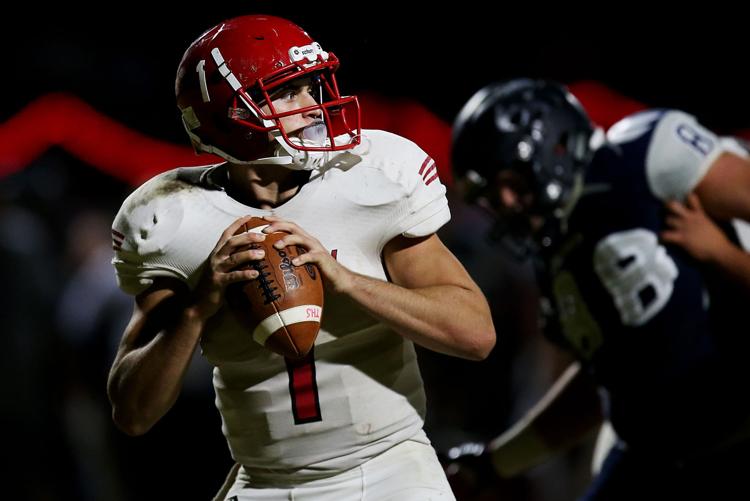 Where: 3415 N. 59th Ave., Phoenix
What to expect: Tucson High lost two of its last four games in 2017 and missed the playoffs. Their 2018 season should start off on a happier note. Senior quarterback Jesus Montano leads the Badgers against a Maryvale team that won just one game a year ago. The Badgers won't rout Maryvale, but they'll cruise to a 30-7 win.
CATALINA FOOTHILLS (6-5) at Sierra Vista Buena (6-4)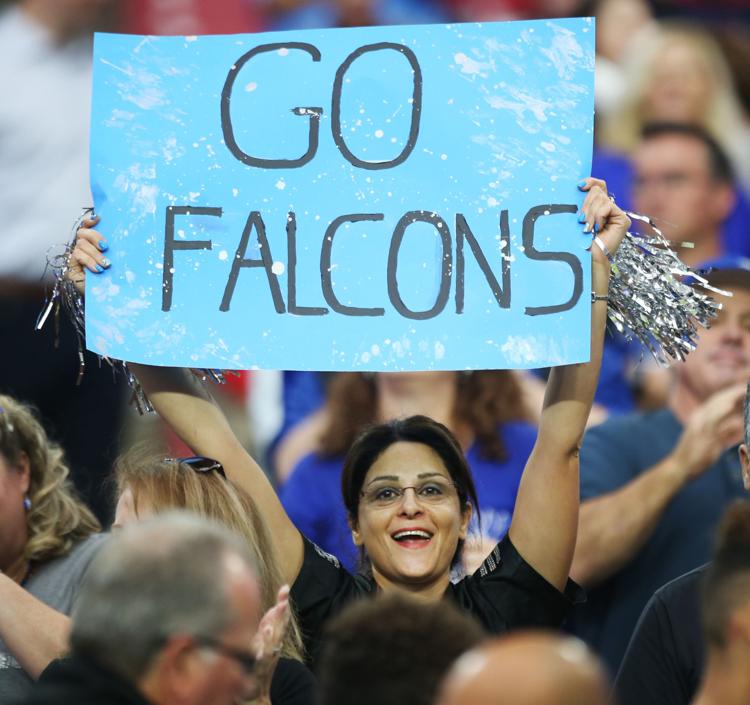 Where: 5225 E. Buena School Blvd., Sierra Vista
What to expect: Catalina Foothills has a workhorse on its defense in Bobby Heitzinger, who led the team with 109 tackles in 2017. He and the Falcons defense will have their hands full against Buena quarterback Jovani Borbon. Last season, Borbon threw for 1,335 yards and 12 touchdowns, but also coughed up 12 interceptions. He's a gunslinger and isn't afraid to take risks in the pocket. Catalina Foothills' defense should scrap up a few stops and maybe even a turnover to get a win. Let's call it 42-30.
MARANA (9-3) at Scottsdale Horizon (7-4)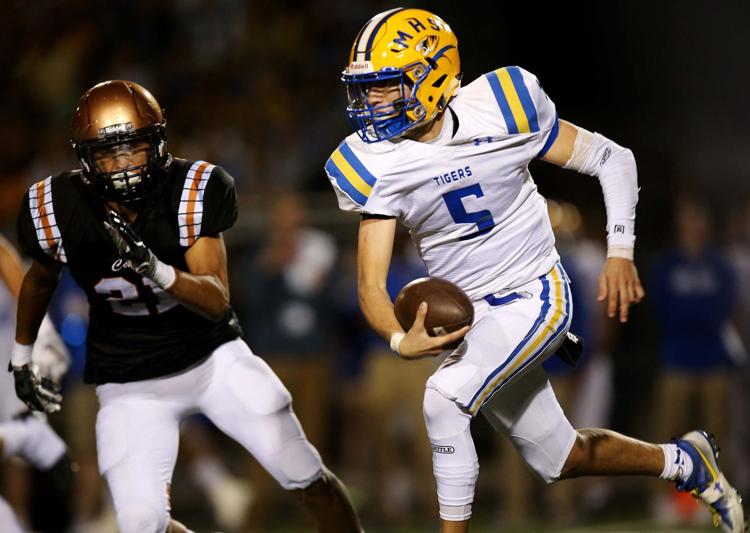 Where: 5601 E. Greenway Road, Scottsdale
What to expect: Marana started last season off with a bang, playing Cienega in a high-scoring game that it eventually lost 57-50.Now, Tigers quarterback Trenton Bourguet will battle Isaac Enriquez in Friday's opener. Bourguet threw for 2,984 yards last year while Enriquez threw for 977. However, Horizon two-way player Nash Griffin led the team with 93 tackles last season and was the top Husky in rushing yards. Bourguet and the Tigers are on a mission this season, and Friday's opener could be the first step to something special. Marana rolls 49-13.
Cholla (4-6) at NOGALES (3-7)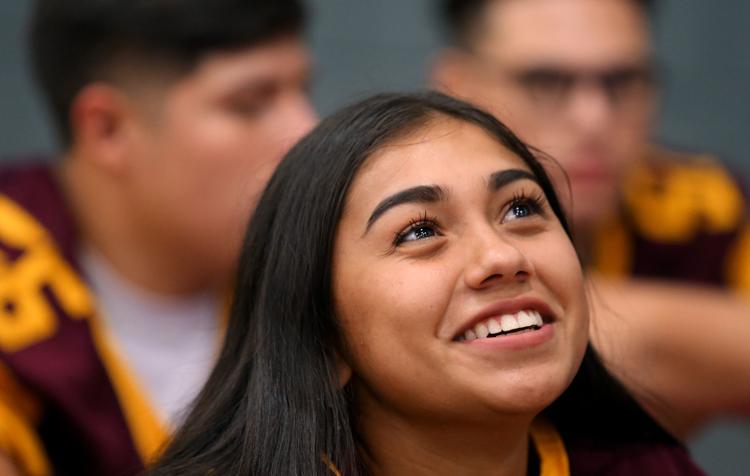 Where: 1905 N. Apache Blvd., Nogales
What to expect: Cholla loses star quarterback Jordan Porter, a dual threat who threw for 3,002 yards and rushed for 1,727 in his senior season. To replace him, the Chargers will turn to sophomore quarterback Carlos Marquez. Nogales will have a first of its own: kicker Maile Vasquez will become the first female to play in an Apaches varsity game. Expect Vasquez to set the tone by hitting a late field goal, and expect Nogales to win 16-13. 
RINCON/UNIVERSITY (3-7) at Phoenix Sierra Linda (0-10)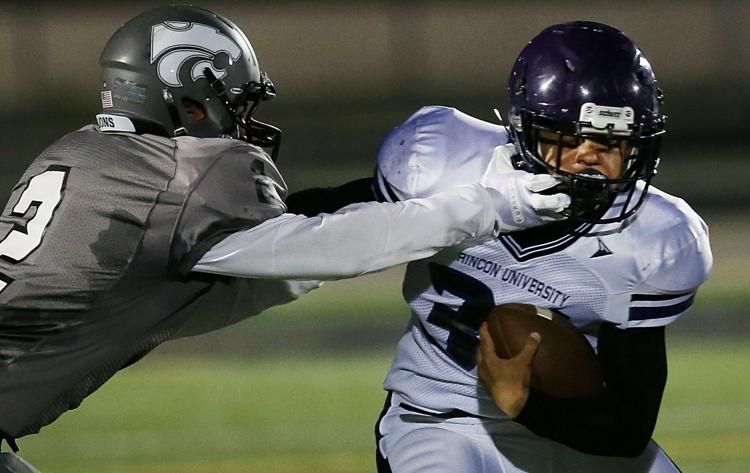 Where: 3434 S. 67th Ave., Phoenix
What to expect: Rincon/University is another local team that could return from Phoenix with a win Friday night. The season opener marks the debut of Mike Strack as the Rangers' head coach. Strack, who replaces Cody House, is the is the grandson of former UA athletic director Dave Strack. Rincon will take on a Sierra Linda team that scored just six points the entire 2017 season. The feweest amount of points Sierra Linda gave up in a game last season was 54. In other words, Rincon would have to play its worst game in a few years to lose this one. Expect the Rangers to take care of business, 42-0.
GILBERT CAMPO VERDE (7-4) at Sunnyside (3-7)
Where: 1725 E. Bilby Road
What to expect: Sunnyside head coach Roy Lopez sits at 96 career wins, putting him four away from a coaching milestone. It may take a while to get there. Campo Verde's Matt Leazier is one of the state's better running backs. If the Blue Devils can stop him, they'll have a chance. But we like Campo Verde, 27-7. 
Amphitheater (2-8) at BUCKEYE (8-4)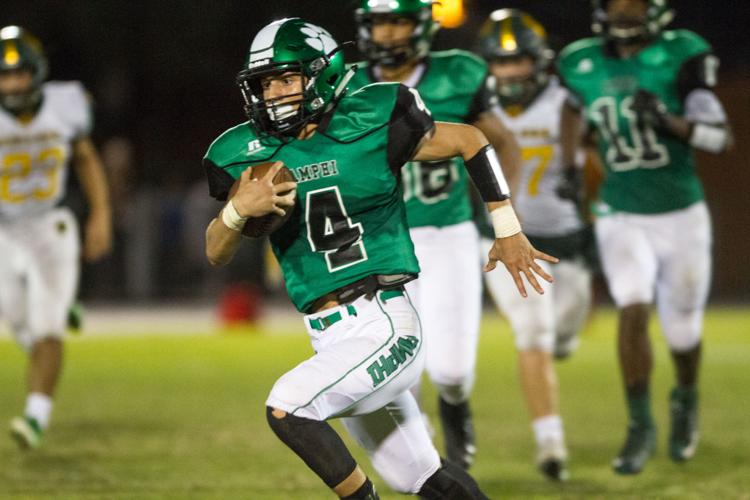 Where: 902 E. Eason Ave., Buckeye
What to expect: Amphi found a spark last season, beating Douglas and Palo Verde back to back after starting the season 0-6. The Panthers will face a Buckeye team that made the state quarterfinals last season. Expect Buckeye — and quarterback Angel Macedo — to lay it on in the second half and win at home: Buckeye 47, Amphi 13.
CASA GRANDE (4-6) at Palo Verde (3-7)
Where: 1302 S. Avenida Vega
What to expect: DeVante Bates was Palo Verde's do-it-all guy on offense last season. Now that he's gone, coach Laurence Ruhf needs an answer on offense. Casa Grande returns its starting quarterback and top wide receiver from a year ago. That established connection will be tough to contain. The Titans could have a better year in 2018, but they won't start off the win. Casa Grande takes this one 21-7.
PUSCH RIDGE CHRISTIAN (13-1) at Rio Rico (3-7)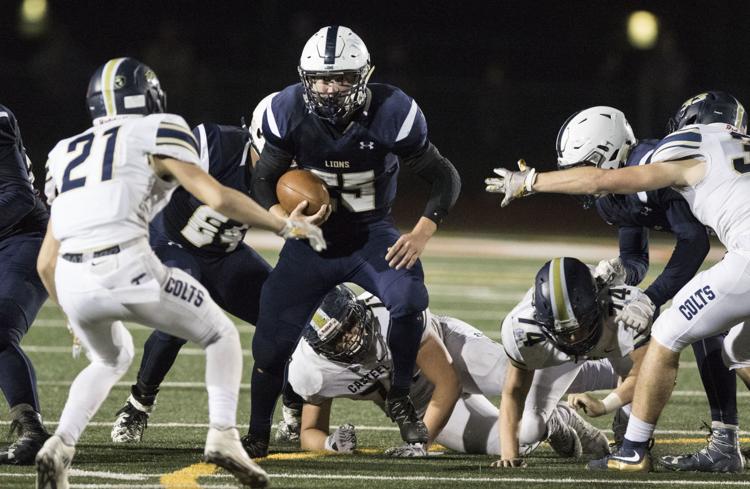 Where: 590 N. Camino Galindo, Rio Rico
What to expect:  The Lions were one quarter away from winning a state championship in 2017, but fell to Casteel 35-28. Star quarterback Christian Fetsis ran for 1,181 yards in Jerry Harris' triple-option offense, and safety Mitch Maas contributed 119 tackles. Both players have since graduated, leaving glaring holes on both sides of the ball as the Lions open the 2018 season. Pusch Ridge will turn to senior quarterback Jonathan Stanton for the season opener on the road. And while a trip to Rio Rico has a "trap game" feel, the Lions will win it 31-17. 
Casa Grande Vista Grande (0-10) at SAHUARO (4-6)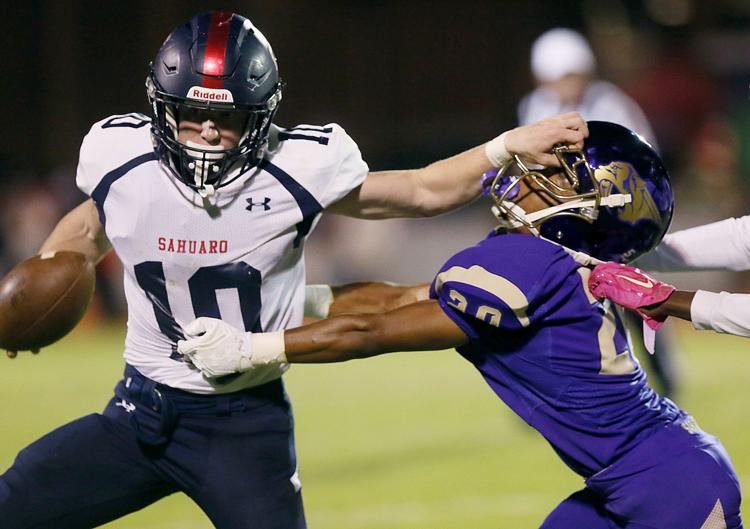 Where: 545 N. Camino Seco
What to expect: Izaiah Grigsby will take over as Sahuaro's starting quarterback. Pair him with Amir Hunter-Huggins and Trayvion White-Austin, and the Cougars could be in for a big season. Vista Grande hasn't won a game in its last 15 attempts, and don't expect that to change on Friday. The Cougars cruise, 43-10.
DOUGLAS (0-10) at Tanque Verde (2-8)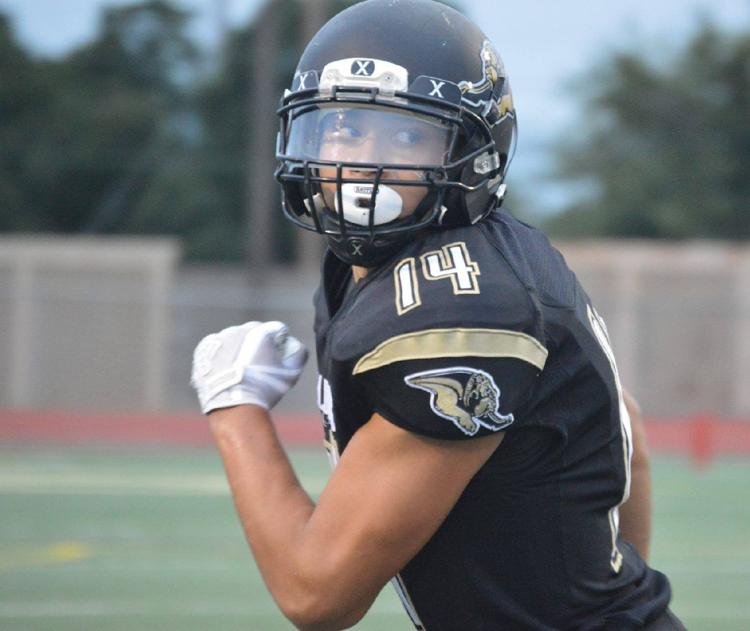 Where: 4201 N. Melpomene Way
What to expect: Douglas hasn't won a game since the 2016 season finale against Rio Rico, but the Bulldogs have one of the top players in Southern Arizona in tight end Christian Estrella, who averaged nearly 13 yards per catch as a sophomore. Traveling 90 minutes for a season opener isn't ideal, but Douglas should pull out a close one. Douglas 7, Tanque Verde 6.
SANTA CRUZ VALLEY (12-1) at Sahuarita (4-6)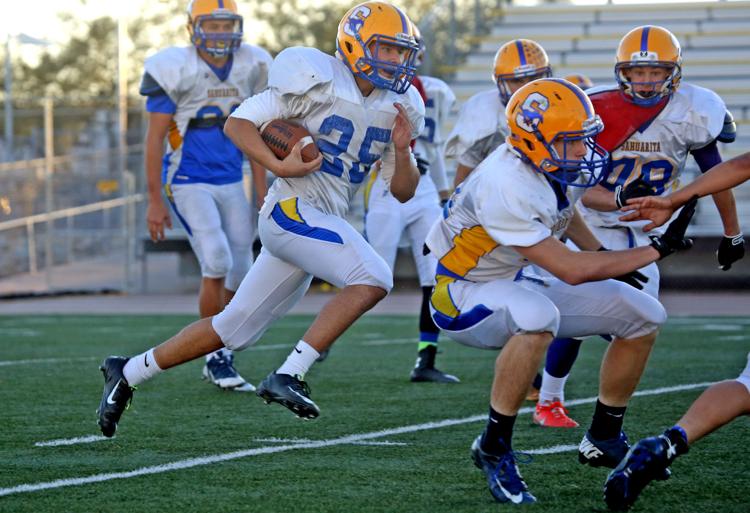 Where: 350 W. Sahuarita Road, Sahuarita
What to expect:  The Mustangs ended the 2017  season on a high note, beating Catalina 42-40 and thwarting the Trojans' chances of making the playoffs. Sahuarita returns its leading rusher in Michael Molio'o; expect him to have a prominent role all season. Santa Cruz Valley counters with a tough defense led by linebacker Joel Salazar, who led the team with 84 tackles last season on the way to a berth in the Class 2A state title game. Expect the visitors to beat the Mustangs, 35-12. 
Want more? Here are 22 players to watch this season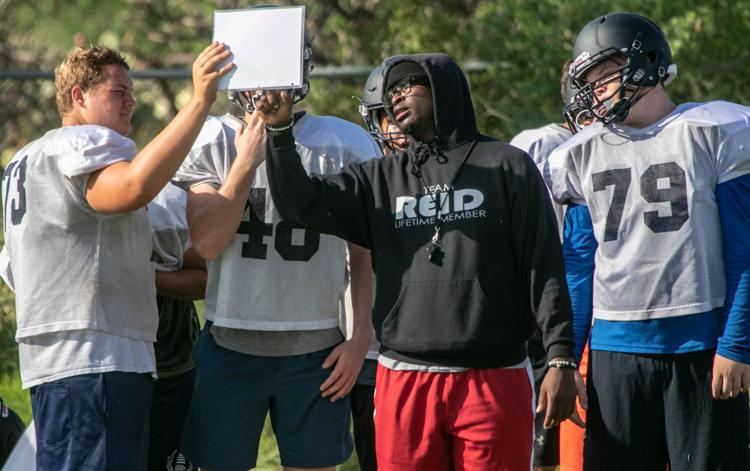 Here are 22 players to watch this season: 
Countdown: Southern Arizona's top 22 high school football players
Countdown: Southern Arizona's top 22 high school football players
Here's a look at the area's best as the high school season opener nears. 
Counting down Tucson's best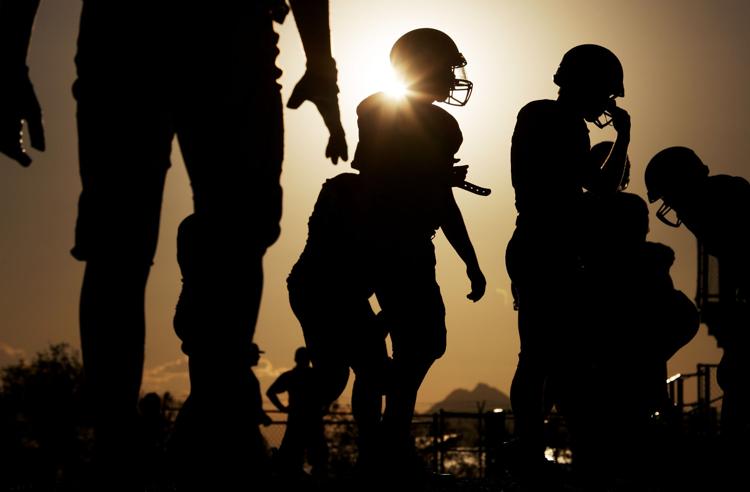 The Star is counting down the 22 best high school football players in Southern Arizona leading up to the Aug. 16 season opener between Ironwood Ridge and Mountain View. Here's a look at the full list of players. 
No. 22: Christian Estrella, Douglas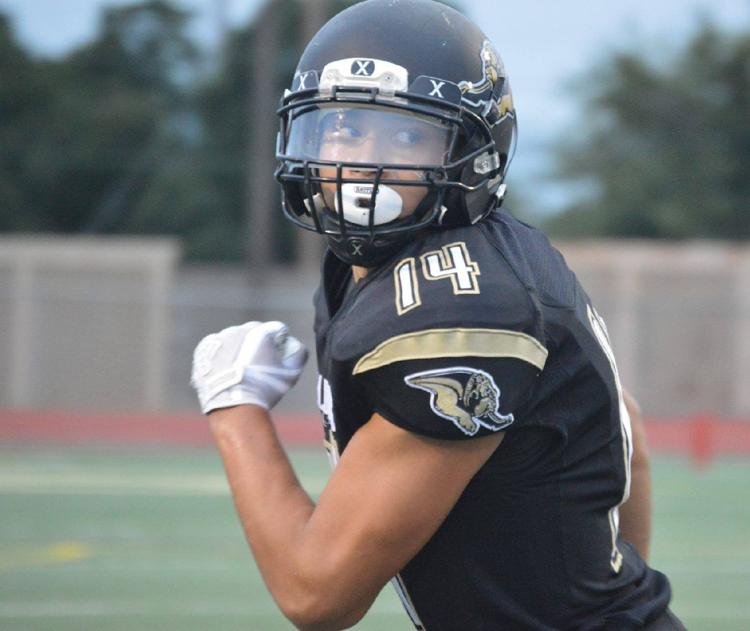 Name: Christian Estrella
The rundown: Estrella is a 6-foot-4-inch, 220-pound junior at Douglas High School.
Who he is: Douglas has yet to name team captains, but coach James Fitzgerald is fairly certain Estrella will be picked by his peers. Estrella is a versatile player, capable of lining up in the backfield and splitting out wide. Defensively, he can line up as defensive end or outside linebacker. The junior said he'd like to break the school's records for both rushing yards and receiving yards as a junior. Asked about his style of play, Estrella was direct: "Very aggressively," he said. He said Bulldogs fans can look forward to "a lot of aggressiveness and a lot of hitting" this season.
Proof he's good: Colleges began noticing Estrella following his sophomore season. Last season, Estrella notched a total of 1,112 yards in 10 games. He rushed for 731 yards on 138 carries and 381 yards on 30 receptions. He also had 18 return yards.
He said it: "He's a fine young man. I think he's going to be the first Division I football player from Douglas High School in the past 10, 11 years, I believe — as long as he continues to work hard. Some schools have already started to call and contact him. I think his recruiting is really going to take off after his junior season." — Fitzgerald
No. 21: Diego Armijo, Sabino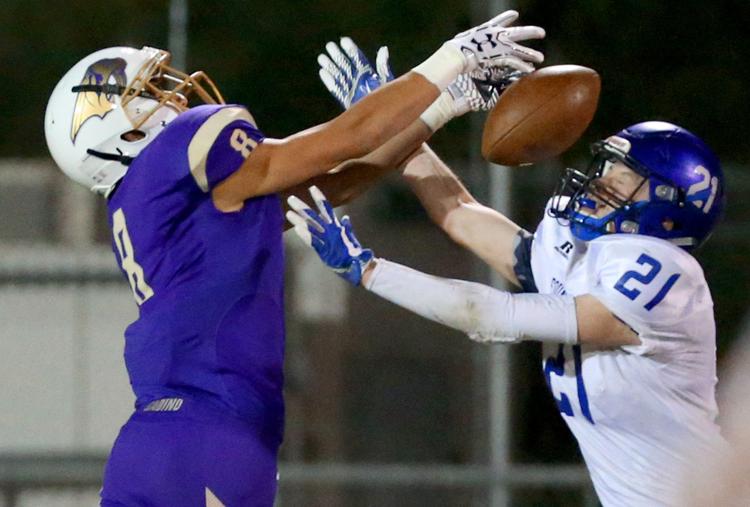 Name: Diego Armijo
The rundown: Armijo is a 6-foot-2, 175-pound junior at Sabino.
Who he is: The Sabercats lost a plethora of weapons on both sides of the ball from 2017, including Isaiah Smotherman, Alex Bell, Bennet Nottingham and Luke Moran. Armijo will likely be one of the players head coach Ryan McBrayer relies on this season to make plays.
Last season as a sophomore, Armijo played half the year on junior varsity as a quarterback and started behind center for the Sabercats. But on varsity, he played defensive back. Armijo recorded 19 tackles as a free safety, but tackling isn't his bread and butter. Armijo led the Sabercats in interceptions with six while the second leader only had two.
Not only is Armijo a ballhawk, he's also lethal with the ball after interceptions. He averaged 37.8 yards per return in 2017, bringing balls back a total 227 yards. Off the field, Armijo is a soft-spoken athlete, but on the field, he's a different person. McBrayer told the Star that Armijo is constantly reading coverages as a student of the game and competes at the highest level.
Proof he's good: While Armijo will be one of Sabino's best defenders, McBrayer plans on utilizing him just about everywhere. Senior quarterback James Hamilton, replacing Bell, is penciled in as the starter and Armijo will be his backup, including for certain packages that include a mobile quarterback.
Armijo compared his skillset to that of former Heisman Trophy winner Lamar Jackson. McBrayer said he's been seeing similarities to Drew Dixon, a former Sabercat that graduated in 2017 and is currently a receiver at UA.
One of the reasons Sabino was successful with Dixon was because his positions would change every week. Game planning against the Sabercats gave opposing coaches headaches, and Armijo has the potential to be Dixon 2.0. Considering McBrayer didn't coach Dixon in high school, comparing his current player to a Sabino legend is a bold and worthy compliment.
He said it: "We're putting more and more on his plate. He'll play free safety, he'll play quarterback, he'll play receiver, he'll play pretty much every position because he's an athlete. He's a Swiss army knife. … We're just trying to bring out that Drew-Dixon-dog mentality out of Diego when he's on the field." — McBrayer
No. 20: Thomas Webb Jr., Cienega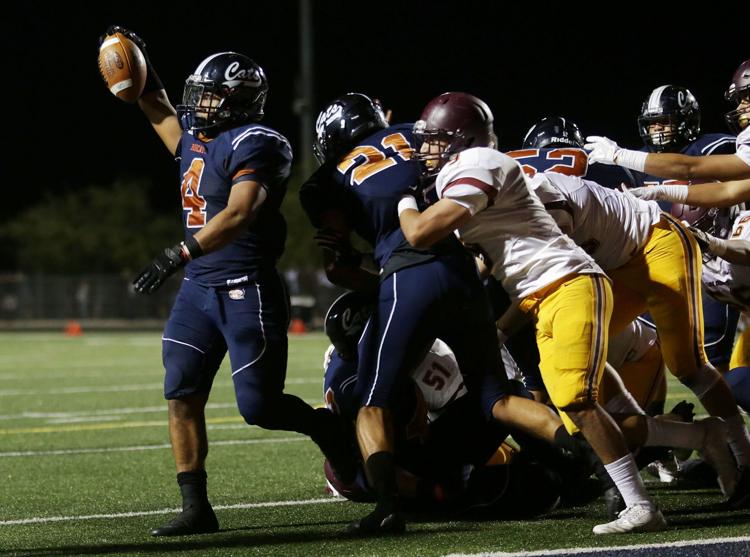 Name: Thomas Webb Jr.
The rundown: Webb is a 5-foot-11, 195-pound senior.
Who he is: Webb's body isn't the prototypical safety frame. Instead of being lengthy, Webb is stout and built like a linebacker, but he's one of Cienega's returning playmakers and is expected start on both sides of the ball.
Webb played safety and running back as a junior, but did most of his damage on defense. He rushed for 212 yards and eight touchdowns on 37 carries in his first season as a running back.
As a safety, Webb averaged 4.2 tackles per game and led the Bobcats in interceptions with four picks as Cienega went 12-1 in 2017 en route to the No. 1 seed in the 5A state playoffs.
Cienega lost playmakers Jamarye Joiner, Nathan Amico, Steven Harshman, Daunte Boudy and Jerry White, leaving a gap in Cienega's production on both sides of the ball. Head coach Pat Nugent plans to rely on Webb not only at safety and running back, but also at quarterback. With Joiner now at UA, the Bobcats are missing 3,595 yards of total offense and while Luis Morales steps in as the new starter, his style leans toward pocket passer more than a dual-threat quarterback. Webb was a quarterback his first two years at Cienega, but Nugent thought an athlete of his caliber should be on the field rather than sitting as Joiner's backup last season.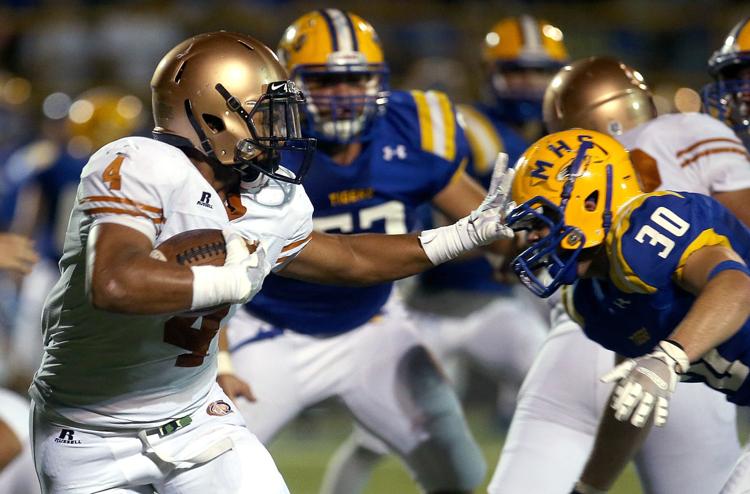 Proof he's good: Webb is one of the faces of a senior class that has never lost a regular season game at Cienega. His freshman team? Undefeated. The junior varsity team? Undefeated. Last year on varsity? The Bobcats didn't lose until their semifinal matchup with Scottsdale Notre Dame Prep.
Webb is a winner as well as the rest of his senior teammates, but being one of the few individuals that stands out shows the player and athlete he is, now entering his last go-around. A two-year starter and a two-way player for one of the top teams in Southern Arizona? Webb is the goods.
He said it: "It was the (Salpointe Catholic) game last year when he figured it all out. He got better and better as a team leader and, physically, started to dominate on the defensive side of the ball. We thought he was going to be a quarterback in this program, but with Jamarye, we wanted to get him on the field so we had him run the ball. As a tailback, he took those running skills at quarterback and carried it over as a tailback and really had a great year for us. … But just a tremendous athlete with a great work ethic and one of our killers in the weight room that just goes after it all the time." — Nugent
No. 19 Hunter Schlagel, Cienega
Name: Hunter Schlagel
The rundown: Schlagel is a 6-foot-3, 270-pound sophomore at Cienega High School.
Who he is: Very few Cienega underclassmen — yet alone freshmen — climb their way up to a prominent role on the varsity team. Schlagel not only appeared in 12 games on the varsity squad in 2017, but he frequently rotated in for the Bobcats during the latter part of the season as a defensive tackle. Schlagel left the Bobcats' state semifinal game against Scottsdale Notre Dame Prep with an ankle injury, but is healthy and hungry for another season.
Schlagel is still learning the finer points of his position as a sophomore, but he's penciled in as Cienega's starting left tackle. Coach Pat Nugent also has plans to utilize Schlagel as a defensive tackle. S
chlagel has the size and build to be a Pac-12 caliber lineman, but the one part of his game that he worked on the most is footwork. He has worked all summer to improve his foot speed for when he pairs up against quicker defensive ends.
Schlagel's biggest test will come in Week 3, when Cienega travels to Peoria to battle defending state champion  Centennial. 
Proof he's good: The last Cienega lineman to play significant snaps as a freshman on varsity was Bryce Fontana, a former two-way standout now entering his second season at Scottsdale Community College. Before Fontana? Not a single Bobcat started on the offensive or defensive line as a freshman.
Some of the best players in program that have gone on to play Division I football started their varsity careers as either a sophomore or a junior. Schlagel started his varsity career the fall after he left middle school.
He said it: "We didn't expect anything out of him last year and he was really good. He's gotten leaner, he's gotten more athletic and stronger. Hunter Schlagel is going to be a kid around Tucson for the next three years and he's going to have a big name in this town, because he is going to be a really good football player. We didn't play him too much on offense last year; he was more of a defensive player, but he will be a two-way player for us this year. He will be hard to keep off the field and he's going to be a dominant force down the road." — Nugent
No. 18: Julio Carino, Pueblo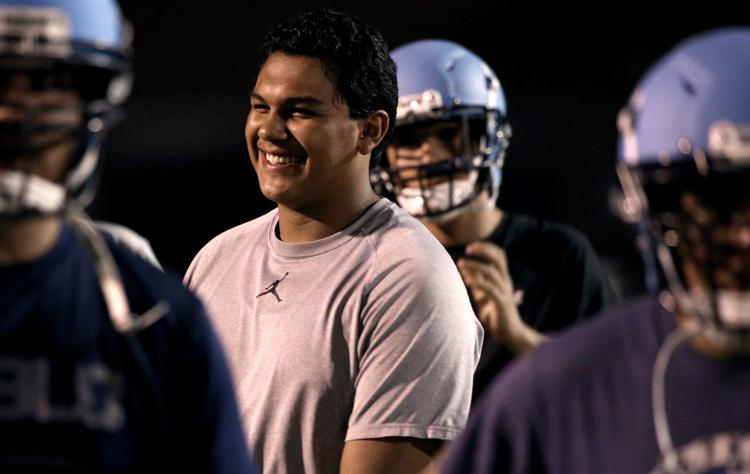 Name: Julio Carino
The rundown: Carino is a 5-foot-10-inch, 210-pound senior middle linebacker at Pueblo High School.
Who he is: Carino, a three-year returner, said he's been getting stronger and faster during the offseason to prepare for his final high school season. Pueblo coach Brandon Sanders said he's expecting big things from the senior; it's one of the reasons why Carino will play middle linebacker.
Sanders said Carino will serve as the team's Ray Lewis because "he'll be the guy going sideline to sideline. I think (fans) will see a lot more flashes of that defense."
Carino has played some offense in the past, and may return to that side of the ball if the Warriors need him.
Carino hopes he and Pueblo can advance further in the postseason this season. Last year, Salpointe Catholic eliminated the Warriors in the first round of the 4A playoffs. Pueblo should have tough competition this year, but Carino said he's looking forward to the season.
"We have a lot of hard teams on there, but I'm ready for a challenge," he said.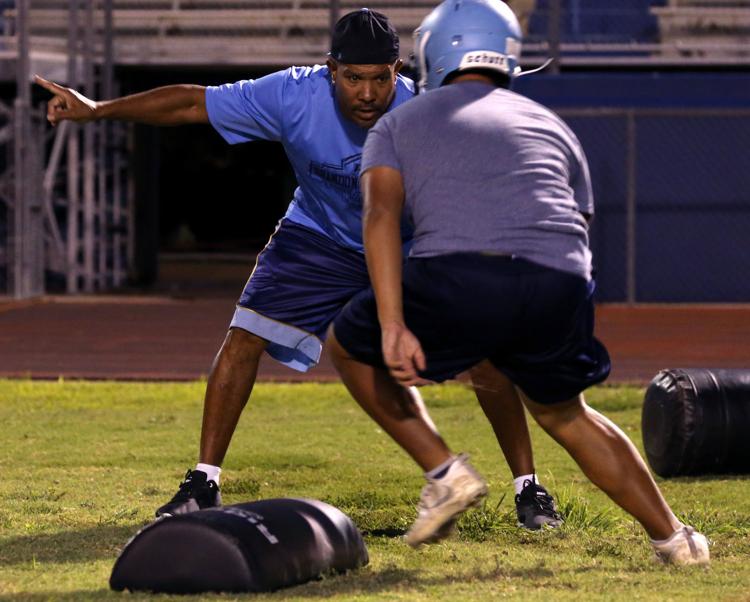 Proof he's good: Carino led the team last season in tackles (61) and had the third-most sacks (five for 20 yards) as a junior. Last year's numbers are a slight drop from Carino's sophomore season, when he finished with 72 solo tackles and 43 assisted tackles over 10 games.
Carino should bring a different level of confidence this year as a three-year starter, Sanders said. There aren't too many offenses Carino hasn't seen, and he has a great understanding of Pueblo's defense and where he needs to be on the field.
He said it: "Julio brings work ethic. He's been our hardest working player since, I'd say, he was a freshman. He didn't play that much as a freshman on varsity, he played more on JV, but you talk about someone who is 100 percent all in, you talk about a guy who takes care of himself, talk about a guy who does anything extra — he's going to go above and beyond whatever you ask. He's always been that way." — Sanders
No. 17: TJ Cephers, Marana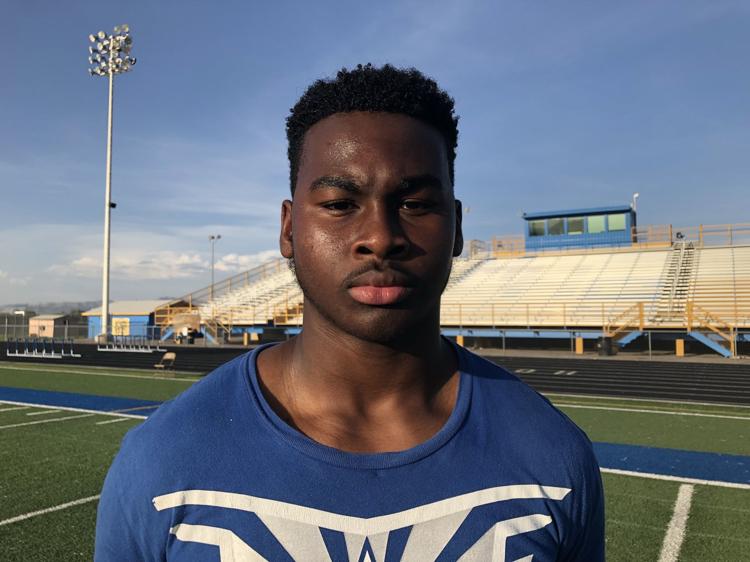 Name: TJ Cephers
The rundown: Cephers is a 6-foot-1-inch, 210-pound linebacker at Marana High School.
Who he is: Marana is known for its up-tempo spread offense, but Cephers is one of the Tigers' leaders as a senior linebacker. Cephers has the height of a Division I linebacker and is built like a tank. Over the last two seasons, Cephers played linebacker in a 4-2-5 defensive scheme and made plays running sideline to sideline, but don't let that fool you. When it comes time for a stop on the goal line or short-yardage situations, Cephers is around to bull-rush and make plays.
First-year head coach Louie Ramirez said he fell into the perfect situation accepting the job at Marana because of the athletes on rosters.
That begins with Cephers. The linebacker grew up in both Tucson and Colorado, but opted to remain in the Old Pueblo for his high school football career. He models his style of play after former All-Pro linebacker Ray Lewis.
Proof he's good: Cephers has been a starter on Marana's defense since he was a sophomore. As a sophomore, Cephers ranked second on the team with 98 tackles. In 2017, Cephers led Marana with 111 total tackles. How did it compare to other defenders on the team? Cephers had 34 more tackles than the middle linebacker. Marana defensive coordinator Vince Amey, a former UA assistant, said he's most impressed with Cephers' football IQ. He's "another coach on the field," Amey said.
Cephers will line up at middle linebacker more this season.
He said it: "He is the leader of this defense. We're going to rely on him a lot this year. He's had over 100 tackles the last two seasons and his knowledge, passion and love for the game while being a tenacious defender and relentless competitor is going to take us a long way. He rallies guys, and the younger guys look up to him tremendously. We have a special group of kids on this team, and TJ is one of them, and we'll rely on him a tremendous amount this season." — Ramirez
No. 16: Omar Ibanez, Pueblo
Name: Omar Ibanez
The rundown: Ibanez is a 6-foot-1-inch, 215-pound fullback and linebacker at Pueblo High School.
Who he is: Ibanez is a three-year varsity player with his sights set on playing collegiately. Ibanez said he'd like the Warriors to go further than the first round of the state playoffs after falling to Salpointe Catholic in last year's postseason.
Pueblo coach Brandon Sanders said Ibanez, who is one of the team's better fullbacks, is very intelligent when it comes to the game.
Proof he's good: Defensively, Ibanez piled up 35 solo tackles and 17 tackle assists last season while adding four sacks and returning two fumble recoveries for 83 yards . Offensively, Ibanez racked up 698 yards on 96 carries.
After scoring six touchdowns his sophomore year — one on a fumble recovery — Ibanez contributed nine touchdowns and three conversions last season. All nine touchdowns came on rushing plays.
Sanders said he's going to look for Ibanez to be more physical this year at blocking and running the ball; the coach expects the incoming senior to beef up his stats.
"As far as trying to block and running the ball, he's going to be even more physical this year than he's been, probably since his freshman year," Sanders said. "He just has that knack where he knows he only plays 10 games and he wants to push it."
He said it: "Omar brings, one, his intelligence; two, his commitment; and three, he brings that strength. He brings that strength in our offense and our defense, I believe. The other thing, when you look at him as a student-athlete … he just has that leadership on and off the field. And he's a good person. He's not a nasty guy. He's one of those guys that, if you talk about sportsmanship, someone that you can point at and say this is the guy you want to bring home to your mom. That's him." — Sanders
No. 15: Diego Rivas, Cienega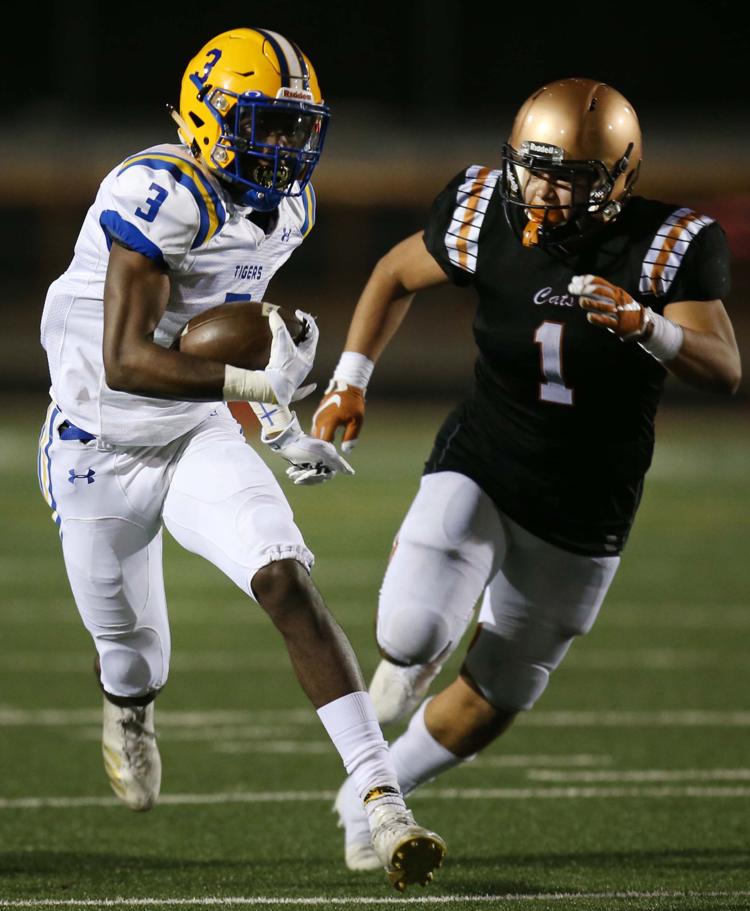 Name: Diego Rivas
The rundown: Rivas is a 5-foot-11-inch, 210-pound  linebacker at Cienega High School. 
Who he is: The biggest question mark for the Bobcats this season is how will the defensive line shape up after losing all of its starters to graduation while senior Zach Mattas moved to outside linebacker. In 2017, the defensive line were the anchors up front for the linebackers, which includes Rivas. Plus, linebackers such as Dylan Hoose and two-way standout Steven Harshman are gone after graduating. Now? Rivas will have to be more active as one of Cienega's leaders on defense and is expected to be one of the Bobcats' best players on the field.
Rivas grew up dreaming of becoming just like Daniel Gonzales, the ex-Bobcats linebacker who went on to play for Navy. Gonzales totaled 139 tackles as a senior at Cienega, and eventually became the team captain in college.
"That man is a monster. He works his butt off, on and off the field. He actually came and spoke to my class when I was a freshman and ever since that day, he just motivates me," Rivas said. "When I was a little kid in those stands watching him play, I always wanted to wear No. 22."
If Rivas can add to last season's numbers and do what Gonzales did as a senior, advancing to the state title game, the Bobcats should in good shape.
Proof he's good: As a junior, Rivas tied with Harshman for the most tackles (73) on the team. Cienega coach Pat Nugent expects Rivas to play carefree and with more confidence now that he's has starting experience under his belt. Rivas also shedded some weight from last season, which should only help his versatility. Rivas received interest from the Montana; he took an unofficial visit to the campus in April.
He said it: "In our 3-3-5 defense, he's that physical linebacker. We want the linebackers to be the best players on the field and they have to make the tackles. He's one of those kids now where after playing 13 games on the field last year, he understands it. Now he's loose and free so he's able to make those key plays for us a little bit more. He's a great personality and a hard-working kid that we're very fortunate to have." — Nugent
No. 14: Ruben Rivera, Pueblo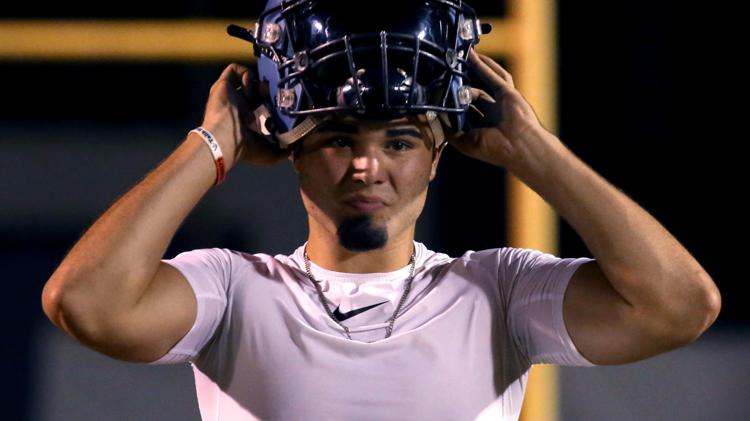 Name: Ruben Rivera
The rundown: Rivera is a 6-foot-1-inch, 195-pound athlete at Pueblo High School.
Who he is: Rivera is coming back for his fourth season on the varsity. He'll contribute on both sides of the ball and on special teams. Rivera has been going to the weight room often this summer to get stronger and more physical; he has also worked on improving his speed.
Last year, Rivera served as the team's top rusher and receiver, leading the team with 1,705 all-purpose yards. Rivera wants to finish his senior season with at least 2,000 yards. When asked what fans can expect this season from him, Rivera said: "A lot of excitement. I'm trying to have a fun season."
Proof he's good: Rivera didn't play his entire freshman season on the varsity, but has drastically improved his stats since then. In the 29 varsity games spread over three seasons, Rivera has accumulated 2,421 rushing yards, 297 receiving yards, 448 yards on kick returns and 137 yards on punt returns for a total of 2,743 all-purpose yards. He also scored 22 rushing touchdowns, one touchdown on a reception and two touchdowns on fumble returns. Last season, Rivera added to his repertoire and started kicking. He hit 17 of 19 extra points and managed to finish with the third-most solo tackles on defense with 48.
Pueblo coach Brandon Sanders said he and the team will depend on Rivera this season. Rivera said he wants to help his team as much as he can to be successful. "I just try to be the best teammate I can," Rivera said. "The overall goal is to win the game."
He said it: "Ruben, he's our all-around our best player. You talk about a guy that runs the ball, catches the ball, throws the ball, kicks the ball, be a linebacker, be a safety, be whatever we need — he's done it. He's been our punter, he's been our kicker. He's a special kind of player when you talk about size and the speed he brings." — Sanders
No. 13: Nathan Grijalva, Ironwood Ridge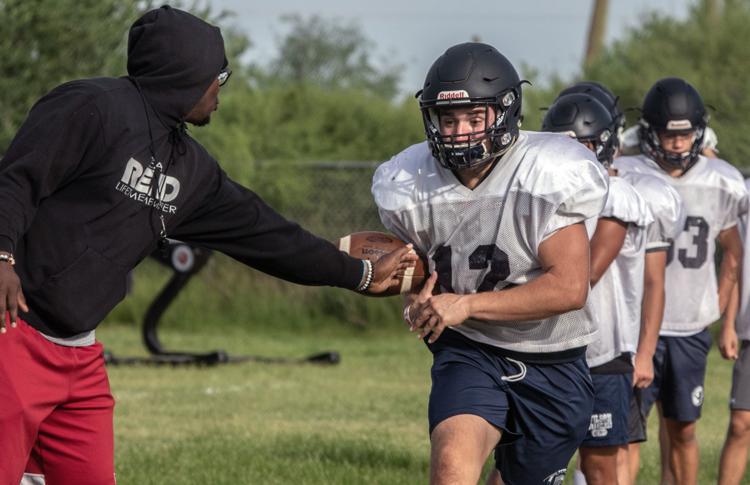 Name: Nathan Grijalva
The rundown: Grijalva is a 6-foot, 205-pound senior running back at Ironwood Ridge High School.
Who he is: Grijalva is a three-year running back for the Nighthawks. The incoming senior credits his former teammates from when he played as a sophomore — like Nick Brahler — for helping him develop into the team's go-to runner throughout the years. "They just taught me everything I know," Grijalva said. "I'm just trying to continue the legacy."
Head coach Matt Johnson focuses heavily on the running game, and this year is no different. So Grijalva will undoubtedly be a key player for the Nighthawks.
"He's just a real smart player. He's going to take what the defense gives him, he's not going to miss an assignment," Johnson said. "He always does a nice job of getting to where he needs to be and getting the job done."
Grijalva said he hopes to gain 1,000 yards as a senior and lead the Nighthawks deep into the state playoffs. He'd like to land a collegiate offer by the end of the season.
Proof he's good: Ever since joining varsity his sophomore year, Grijalva has become a steady contributor to Ironwood Ridge's offense. In his first year, Grijalva played in all 11 games and racked up 214 yards on 38 carries and 70 receiving yards on four receptions while scoring four total touchdowns.
Grijalva nearly doubled his stats as a junior, finishing with 508 total yards — 418 rushing yards on 71 carries and 90 receiving yards on 15 receptions. Grijalva scored seven touchdowns— all on rushing plays. Johnson is expecting Grijalva to put up big numbers this year. "I think Nathan, he's a strong leader, right attitude," the coach said. "Obviously, the skill players are always dependent on the line.
"So, I see now he works hard and we'll just see how the line comes along. I'm sure he'll deliver if we give him room to run."
He said it: "Just being in his third year in varsity, he's got definitely a great work ethic combined with his calm. He's always got a drive to improve, but it's never a panic.
"So, that's kind of the nice thing about having a kid that's been around — he's poised. I'd say poised is the one word that he adds (to the team)." — Johnson
No. 12: Caden Wechsler, Sabino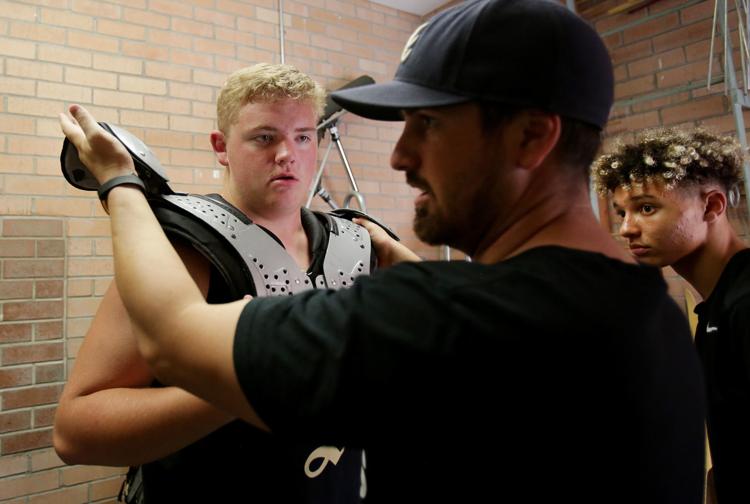 Name: Caden Wechsler
The rundown: Wechsler is a 6-foot-4-inch, 275-pound senior lineman at Sabino High School.
Who he is: It's Wechsler's last go-around at Sabino, and the senior is penciled in to start both ways for the Sabercats. He contributed to Sabino's 2017 playoff run from both the defensive tackle and offensive tackle spots.
Over the summer, Wechsler focused on learning techniques and footwork to become a better offensive tackle, which is the position head coach Ryan McBrayer believes he will play in college.
Wechsler has received college interest from Northern Arizona and Black Hills State, a Division II program in South Dakota.
Wechsler, however, prefers defensive tackle, in part because he could force all of his weight forward and use his size to make plays in the backfield. He's opening up more to the offensive line, considering it will likely prepare him for the next level.
Wechsler says the toughest challenge for him this year will be the "mind game" as he adjusts from playing offense to defense on any given play.
His enormous, college-ready frame automatically makes him a force to be reckoned with. On the defensive side of the ball, he will still have the same role as Sabino's top player in the front seven.
A handful of colleges around the country have shown interest in No. 79, which is the same number Wechsler's dad wore in high school in Michigan. Wechsler says he hopes to win a state championship this season so he could have a ring with No. 79 engraved into it, just like his dad.
Proof he's good: Wechsler finished the 2017 season with 28 solo tackles. His stature alone will make him a space-eater on the defensive line for the Sabercats.
He said it: "He's grown tremendously as a player. He is a person who came from Michigan with what we'll call limited technique ability, but (in) the three years here he has really bought into the program, the weightlifting program (and) learned about the finer details of what it takes to be a good football player. He's always had the natural size and strength; we just kind of had to bring out that technique and teach him how to be a good football player. I think he's gearing up to have a great senior season, the sky's the limit for him on what he's going to be able to do this year." — McBrayer
No. 11: Jose Lugo, Catalina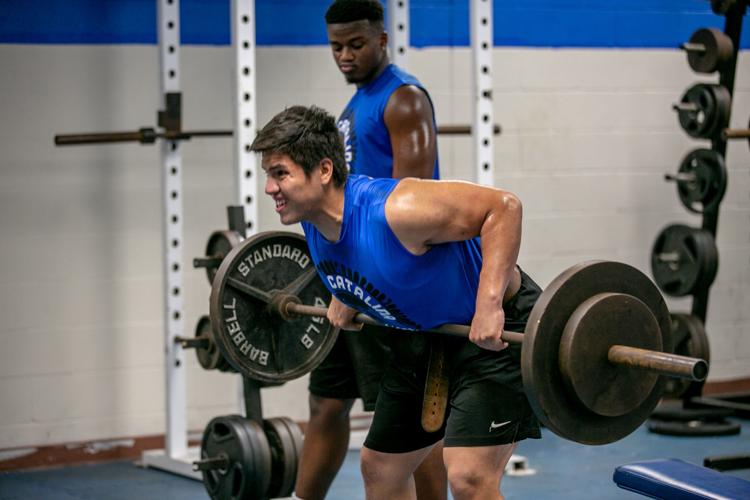 Name: Jose Lugo
The rundown: Lugo is a 6-foot-4-inch, 252-pound tight end and defensive end at Catalina High School.
Who he is: Lugo is a three-year varsity starter and returning team captain. The incoming senior said his previous time on the varsity team has helped him prepare for the season.
"It's helped me a lot because a lot of kids don't start their freshman year and when they go to varsity their sophomore or junior year, they don't have the chance and time to get prepared," Lugo said. "For me, it was easy."
Catalina coach Chris Barlow said Lugo a great leader both on and off the field. Lugo is a main reason why the Trojans went 5-5 a year ago, a vast improvement over the previous season.
Catalina went a combined 4-36 from 2013-16 and was winless in Lugo's sophomore season.
"He's kind of just a nose-to-the-grindstone kind of thing," Barlow said. "He's not really a talker; he just kind of puts that work in. A lead-by-example kind of guy."
Lugo keeps up good grades and has a good rapport with teachers and staff.
"He just has that positive persona and I think kid feed off of that where they see this guy is getting a lot of attention, he's doing all the right things," Barlow said.
"I see him somewhere playing four years."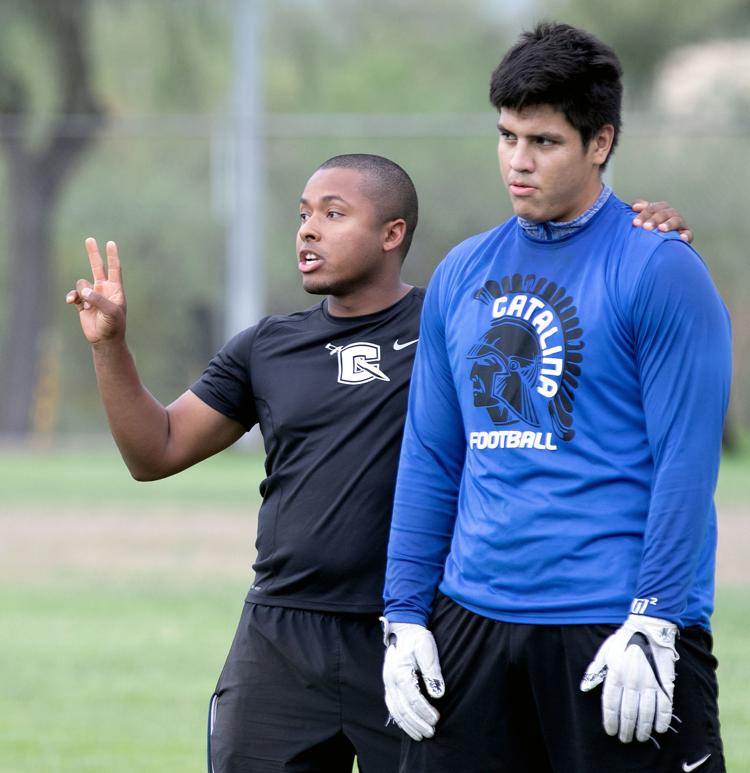 Proof he's good: Lugo helped on both sides of the ball. In nine games, he racked up 72 tackles — 23 of them solo — to go with 15 sacks. Lugo also caught 18 passes for 93 yards.
Lugo said he's been working on his speed and strength. Barlow said he's expecting Lugo's skill set to drastically improve this season.
When asked what fans can expect from him this season, Lugo said: "A lot of sacks, that's what they're going to see. A lot of tackles — I'm going to try to be on all of them. And hustle, dedication especially, and (commitment) to my team."
He said it: "I just think his understanding of the game have increased tremendously. From the camps he's gone to in California, Northern Arizona and things like that. I think he'll have more explosive plays, he'll be more involved stopping the run game, as well as passing. He's nonstop. In the weight room, he's lifting the whole building. And out here he's running as hard as any of our fast-skilled guys. He's tireless, he's motivated. The recognition he's gotten so far has been extra motivation for him to take it to another level." — Barlow
No. 10: Jonah Miller, Salpointe Catholic
Name: Jonah Miller
The rundown: Miller is a 6-foot-5-inch, 275-pound sophomore offensive lineman at Salpointe Catholic.
Who he is: Miller, the brother of former Sahuaro quarterback Josh Miller, might be the state's most underrated offensive lineman. Already possessing Division I size, Miller should grow into an elite tackle over the next three seasons.
Miller spent his freshman year backing up Matteo Mele, now at Washington, and 6-5, 270-pound senior Christian Massey.
Playing behind both players allowed Miller to learn what it takes to be an effective offensive tackle. Agility, aggression, hand technique and balance are all quality traits for an offensive lineman, and Mele set a great example of that last season, Miller said.
"He inspired me because of how he got on the field and just mauled people," Miller said. "He didn't care who you were, it was him against you and he was going to win."
The Lancers advanced to the Class 4A state title game last season, where they fell to a young but loaded Scottsdale Saguaro team. Miller said the loss was extra disappointing given that the game was played at Arizona Stadium, mere miles from Salpointe's campus.
"What makes me the most hungry — it's kind of a small detail — was when we walked in, we went into the visitor's locker room in our own city," Miller said. "That's when I knew we gotta beat these guys."
Miller and the Lancers will have to wait until the playoffs if they want another crack at Saguaro.
Proof he's good: Although Miller has never started a varsity game at Salpointe Catholic, he's already received interest from the Arizona Wildcats. The UA hasn't officially offered Miller a scholarship yet, but the Lancers lineman was one of the few class of 2021 recruits to attend the Wildcats' spring game in April.
He said it: "I expect him to step in and compete at a high level. Physically, he's very gifted, but he's still young. He gained a lot of experience last year, which is extremely valuable for any player. … We didn't have to worry about (Mele), because he picked up things very quickly and I expect the same from Jonah." — Salpointe Catholic coach Dennis Bene
No. 9: Kody McPherson, Empire
Name: Kody McPherson
The rundown: McPherson is a 6-foot-1-inch, 250-pound senior lineman at Empire High School.
Who he is: McPherson made the varsity team as a freshman, earned a starting job by the end of the season and became a full-time fixture in the offensive line the following year. He wasn't alone: McPherson is one of about eight players who also got their start freshman year and became key players their second season at Empire.
McPherson said having the same group of guys play alongside him every year has created a brotherhood.
"Everything we do, we do 100 percent all the time," McPherson said. "We're unbreakable."
The sense of family on the gridiron is important to McPherson, who wants to make his teammates proud of him as a senior.
"The seven that I came up with, I want to end with them," McPherson said. "I don't want any injuries. I just want to make it to the playoffs and be a family and just end that way — end the way we started."
Proof he's good: As an offensive lineman, McPherson doesn't have many counting stats to boost his resume, but Empire broke the school record for rushing yards last season. Coach W.T. Jeffries said the numbers were a result of stellar play by the offensive line.
McPherson has also contributed on defense, registering 12 total tackles over the last two seasons.
McPherson spent some time this summer emailing colleges, and it's paid off. University of La Verne and Ripon College have been in communication with the Empire athlete. Although both are Division III programs, McPherson said he hopes to eventually play at a Division I school.
"If I can't play Division I in the beginning, I plan on transferring in two years to D-I football — I think I can pay at that level," McPherson said. "I've never been the tallest or the biggest, but I feel I can play D-I. I have that motor. I have heart — you can't teach heart."
He said it: "He's the only returning starting offensive lineman from last year. It's a lot of pressure on him, leadership-wise. I think he can handle it — we'll find out. We've got a good young group and he's the leader of that group. If we aren't able to run the ball, the offensive line is the lifeblood, so he's going to have to be one of the heartbeats, for sure.
"My expectations are for him to be the best player that he can be. Work hard. But the biggest thing for Kody, I expect him to be a good teammate and raise all the players around him. If he's not successful in doing that, then to me he hasn't had a successful year. So, I expect him to take that rule and he needs to raise and elevate the offensive line in particular." — Jeffries
No. 8: Zach Mattas, Cienega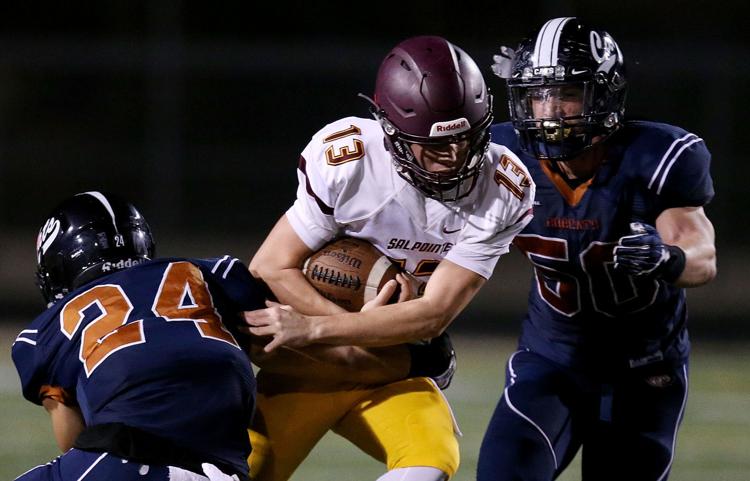 Name: Zach Mattas
The rundown: Mattas is a 6-foot-2-inch, 215-pound defensive end/linebacker at Cienega High School.
Who he is: Mattas anchored Cienega's defensive line as a junior and is expected to play an even larger role this season with many of the Bobcats' starting front seven — including Dante Boudy, Nathan Amico, Steven Harshman and Carter Clarke — gone.
Mattas will play with his hand off the turf as a linebacker while mixing in as a defensive end in Cienega's 3-3-5 scheme.
"Will that hurt us a little bit? Yeah, it's tough to move your best defensive player back, but I think that allows Zach to make more plays throughout the field. He was limited to what he could do on the d-line, so now I think he'll make more plays for us," Cienega coach Pat Nugent said.
Mattas said he's happy with the move back to linebacker.
"I'm faster than a lot of the linemen and I just have more power going at a faster speed," he said.
Mattas added boxing to his training regimen to enhance hand speed and technique when rushing the quarterback. Mattas said training as a boxer has added to his cardiovascular health and helped him develop shoulder strength without lifting weights.
Nugent said his star defensive player could have a similar role to All-Pro linebacker Von Miller of the Denver Broncos. Like Miller, Matas will alternate between defensive end and outside linebacker.
Proof he's good: Mattas is arguably Cienega's best athlete. He runs the 40-yard dash in 4.8 seconds, bench presses 375 pounds, split-jerks 310 pounds and squats 500 pounds.
Mattas' frame alone makes him a college-ready prospect, but his performance on the field makes him a standout player. Mattas led Cienega's team with 13 tackles-for-loss last season and finished second in solo tackles (47) and sacks (2). Expect his numbers to improve as a senior.
He said it: "He's so strong, physical and just a nasty kid. He had an unbelievable (junior) year on the defensive line whether he played defensive end or nose guard. He may put his hand down and get to the quarterback a little bit and I still see him leading our team in sacks. He's a linebacker, but he'll be coming off the edge for us." — Nugent
No. 7: Calib McRae, Mountain View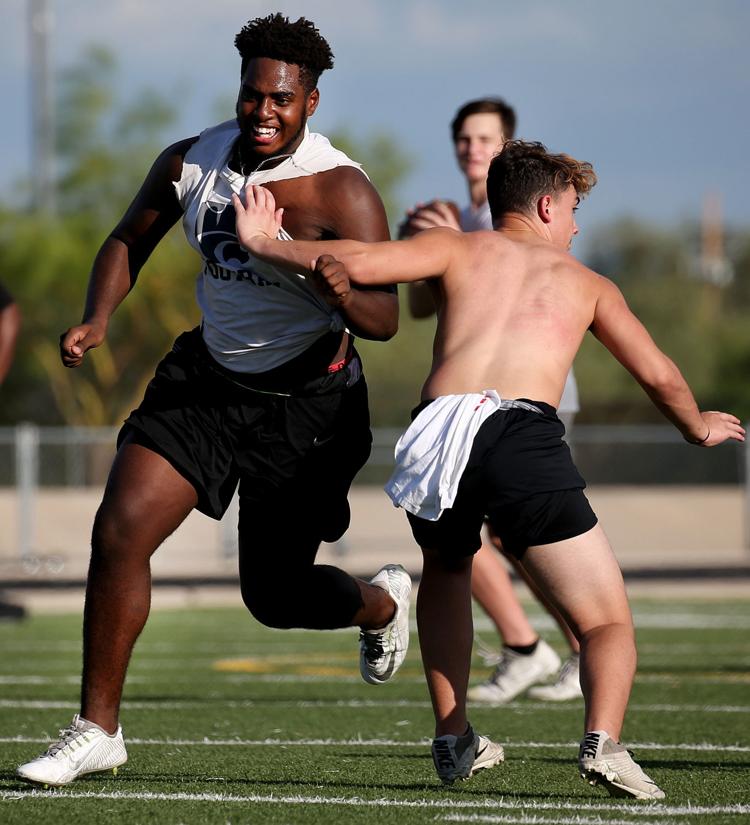 Name: Calib McRae
The rundown: McRae is a 6-foot-1-inch, 227-pound senior at Mountain View High School.
Who he is: Sure, other players have started on varsity at some point during their freshman year. But McRae has been a varsity starter since the very first game of his freshman season as middle linebacker. Coach — and father — Clarence "Bam" McRae said an experienced athlete becomes more efficient at the game and, while Calib has always been a physical player, he's matured over the years.
"Over the last two years, you've just seen this growth of just understanding what opponents are trying to do to him, and put himself in a better position," Clarence McRae said.
Clarence said Calib is a hard-nosed player who plays every play like it's his last, and enjoys and respects the game.
"I've gone through a lot, different teams, I've seen a lot of things," Calib said.
"I've experienced what to do, how to handle different situations and I'm more mature as a player."
Proof he's good: In his junior season alone, McRae registered 90 total tackles — 37 of them solo. He also had three sacks, forced three fumbles, blocked a field goal and had one interception.
Coach McRae said he believes Calib could become the school's career tackle leader by the end of his senior season.
"On defense, I'm a very aggressive, nasty player," Calib said. "A 'don't let anybody get nothing on me' type of player."
McRae's production on the field has helped the senior get noticed by colleges. Calib said he's talked to multiple colleges, including New Mexico State, UTEP, Air Force, New Mexico, Arizona and Arizona State. Clarence McRae said his goal for his son is for Calib to play to the best of his abilities and focus on the little things to make sure to make the most of each play.
"He's trying to definitely finish up his grades and, when that time comes to make a decision, I think he's going to sit down and focus on that, but right now he's going to focus on his teammates and play the game," Clarence said.
He said it: "I always say that when you coach your own kid, a lot of times, it gives you that opportunity to spend that time with him.
"I'm grateful to have been able to be around him the last four years and watch him grow as a player, but also watch him off the field, develop as a young man and understand what responsibilities are and definitely learn how to treat his teammates with respect.
"And always put others before him. Just being around him every day and watching him develop has been a special time. He's a great football player, a great young man and I definitely love him." — Clarence McRae
No. 6: Mario Padilla, Salpointe Catholic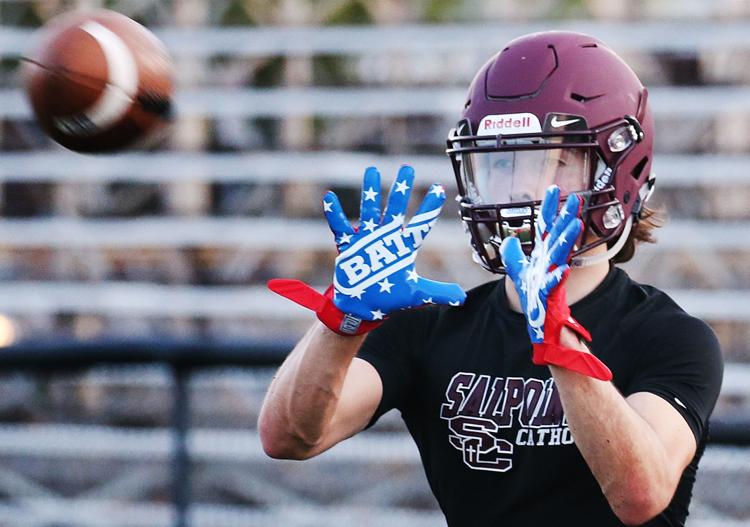 Name: Mario Padilla
The rundown: Padilla is a 5-foot-9, 175-pound senior at Salpointe Catholic.
Who he is: No player on Salpointe's roster has more experience on the varsity level than Padilla. Not even junior standouts Bijan Robinson and Lathan Ransom, who combined have scholarship offers from Alabama, Georgia, Washington, USC, Nebraska and Oklahoma.
Padilla is arguably Salpointe Catholic's most valuable player, and gets the job done at multiple positions: running back, slot receiver, defensive back and punter. Entering his third year as the starter, Padilla's journey at the varsity level still leaves him speechless.
"It's been fantastic and there's just not any words to describe it," Padilla said.
With Ransom playing primarily defense and Robinson strictly focusing on playing running back, Padilla is expected to be Dennis Bene's utility player and rarely come off the field.
As a sophomore in 2016, Padilla led the Lancers in rushing with 1,427 yards and 18 touchdowns while averaging 7.8 yards per carry. As a receiver, he finished third on the team with 211 yards that year. With special teams yards added, he led the team in 2016 with 2,051. The second-highest player on the team in that category finished with 757 yards.
Last season, Padilla was out for four games recovering from a knee injury, but still helped Salpointe reach the Class 4A state championship against Scottsdale Saguaro. Another year older and healthier bodes well for Padilla and the Lancer offense.
Proof he's good: Despite missing the first month of the Lancers' schedule, Padilla still finished second on the team in all-purpose yards with 1,188. Padilla missed four games and was one of two Lancers to finish with more than 1,000 yards, joining Robinson.
Padilla also wrapped up his last year with Tucson Turf Elite, a nationally ranked 7-on-7 team based in the Old Pueblo, and was one of the star players that lifted the team to a Pylon national championship at the new Mercedes-Benz Stadium in Atlanta.
Padilla played a prominent role as a slot receiver and won his second national title in a row at the 7-on-7 level. The year prior, Tucson Turf Elite won the Pylon national championship at AT&T Stadium in Arlington, Texas.
He said it: "Last year, Mario played his best football towards end of the season especially in playoffs. And that carried over, because this has been the best spring he's ever had. He's practicing harder than I've ever seen him practice and has a focus, has intensity and finishes all of the drills and reps. He acts like a senior and plays like a senior. And he commands our team.
"To be honest, there may be guys that are bigger and more athletic, but it would be hard to press an all-around better football player in Southern Arizona than Mario. That guy can do it all." — Bene
No. 5: Jordan Morgan, Marana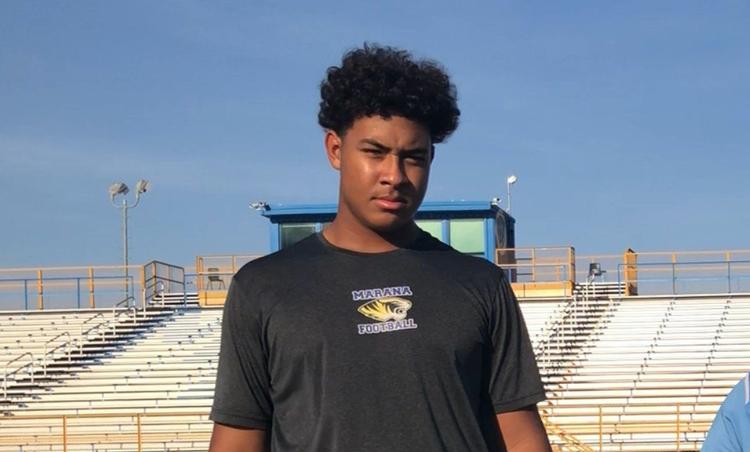 Name: Jordan Morgan
The rundown: Morgan is a 6-foot-5, 270-pound senior at Marana.
Who he is: For any defensive end that plays against the Marana Tigers this season and matches up against their right tackle, good luck.
Morgan has been one of the best kept secrets in Tucson until he verbally committed to play for the Arizona Wildcats in June. He also received interest from Northern Arizona.
Why would a player of Morgan's caliber go unnoticed throughout his junior season into his final year?
According to Marana defensive coordinator and former University of Arizona line coach Vince Amey, "Twitter."
Social media platforms have created a new dimension in recruiting. It's a simpler avenue of exposure, especially for athletes who never received college interest early on.
And Morgan "doesn't even want to be" on Twitter. Morgan shied away from social media, which could have affected his recruitment and lack of Division I offers.
But first-year head coach Louie Ramirez can appreciate the non-millennial-esque mindset of his right tackle.
On the field, Morgan will protect arguably the best quarterback in Southern Arizona in Marana's Trenton Bourguet, who threw for 2,984 yards last season and is hoping to put the exclamation point on an impeccable career.
The Tigers open their 2018 season with a game at Scottsdale Horizon on Aug. 17.
Proof he's good: It's not just Morgan's stature that's imposing, but what he can do athletically.
In the weight room, Morgan is power cleaning more than 300 pounds, bench pressing more than 300 pounds and squatting more than 500 pounds, according to Ramirez.
Of course, there is always room for improvement and Morgan is a student of the game. He is constantly watching film, whether it's his own or whatever is on the television.
Morgan never had a favorite football player during his childhood years, but he would always study offensive linemen.
"Whenever I watch NFL games or college games, I always watch the line and just scout out how I can do better," Morgan said.
Plus, he's the only prospect on the Star's top 22 countdown that has currently already committed to a Division I school.
He said it: "It's surprising — shocking — that no one knew about Jordan before I got here. One of the most athletic and biggest lineman that myself and the coaching staff has seen.
"He's just a freak, he really is.
"He's going to be a workhorse for us. … He's an animal and U of A is going to get a hometown hero.
"He's soft spoken and very low key but when it's time to work, he's a different animal." — Ramirez
No. 4: Lathan Ransom, Salpointe Catholic
Name: Lathan Ransom
The rundown: Ransom is a 6-foot-1-inch, 195-pound junior at Salpointe Catholic.
Who he is: Ransom is Southern Arizona's top safety, and one of the Class of 2020's fast-rising recruits. He shuttled between wide receiver, cornerback and safety last season but is expected to focus on defense as a junior.
Ransom is a three-star prospect who is ranked as the nation's 17th-best safety in the 2020 class by 247Sports.com. Ransom finished with 48 tackles as a sophomore; he also led the Lancers with five interceptions.
"I can do a little bit of everything," Ransom said. "I'm very versatile; I like hitting and covering too."
Ransom's grew up idolizing "Legion of Boom" members Kam Chancellor and Earl Thomas of the Seattle Seahawks. He said he tries to replicate their intensity and nastiness on the field.
Salpointe Catholic head coach Dennis Bene said Ransom will focus primarily on defense this season. Transfer Josh Hart from Mountain View will take over many of Ransom's reps at receiver.
However, Bene licks his chops at the idea of having Bijan Robinson, Mario Padilla, Hart and Ransom on the field at the same time.
Proof he's good: Cal special teams coach Charlie Ragle, a former UA assistant, offered Ransom his first Division I scholarship. Things have snowballed since then: Arizona, Arizona State, Stanford, Washington, Utah, Indiana and Nebraska have since followed suit. 
Georgia offered Ransom a scholarship in June. 
Ransom was in Atlanta in June for the Pylon 7-on-7 national tournament as Tucson Turf Elite's safety. Georgia's coaching staff invited him to campus in nearby Athens. 
"Right after some drills, they offered me on the spot," Ransom said.
He said it: "Lathan can play corner, he can play safety. Those guys are very, very valuable assets to any great defense. Physically, he's really tremendous and I look for things like maturity and work ethic, and their ability to practice with certain intensity. One of the things I like about our team is that our most talented guys are the best practice players. You don't always see that. … On both sides of the ball, he did a really great job for us and now he's a totally different guy. His confidence is through the roof and physically, he's much thicker and stronger, and plays with a higher energy. Those are the type of things that set him apart from non-Division I guys." — Bene
No. 3: Terrell Hayward, Cienega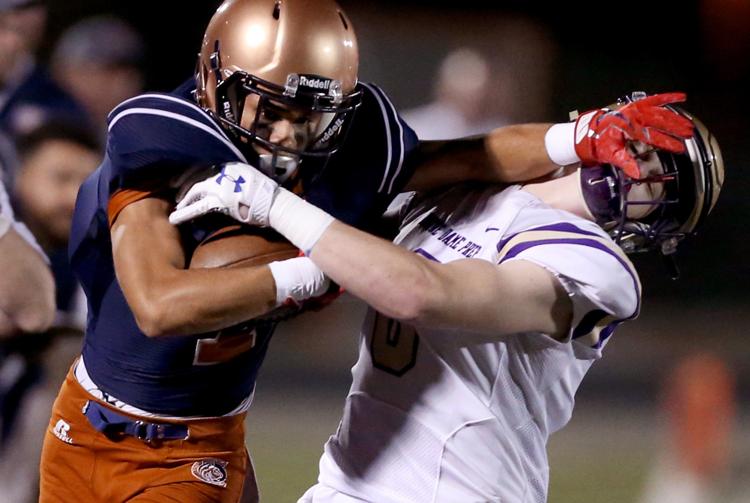 Name: Terrell Hayward
The rundown: Hayward is a 5-foot-10, 160-pound senior at Cienega.
Who he is: Hayward is Pat Nugent's Swiss army knife and the ultimate renaissance man. Last season, Hayward played both running back and wide receiver and was Jamarye Joiner's top target with 1,021 receiving yards and 12 touchdowns.
With Joiner now taking snaps at UA, the Bobcats lose nearly 4,000 yards of offense from a season ago. After starting for the Bobcats the previous two seasons, Hayward should be the voice of the locker room.
"I was a big contributor last year and now it's just time to up my game off the field and be the one that people look up to," Hayward said.
Hayward caught two interceptions as a cornerback in 2017. Nugent compared Hayward's junior season on defense to former New York Jets star Darrelle Revis. When Hayward was on defense, quarterbacks turned their cheek and looked the other way.
In order to get the most out of Cienega's best player, Nugent moved Hayward to safety, a decision he was ecstatic about.
"I'm going to kind of be like a centerfielder out there and use my speed to get from sideline to sideline," Hayward said. "I feel like going into this year, I have to be a bigger contributor on defense instead of locking down just one side."
Hayward produces on all levels of the game, including special teams. He averaged 46.2 yards per kick return last season. He'll be on the field at all times for Cienega as the Bobcats look for a deep playoff run for the third straight season.
Proof he's good: Hayward has seen interest from Division I colleges including Arizona and Wyoming, but neither school has yet to offer a scholarship. Hayward currently holds offers from Air Force, South Dakota State, New Mexico, New Mexico State, Fordham and UC Davis.
Hayward took an unofficial visit to San Jose State in June and attended the Stanford football camp.
He said it: "He's just gotten better each year. When you talk about growth for Terrell, I just don't know how much growing he can do. We call him a superstar. He's done everything that we've asked him to do whether it's cornerback, safety, running the ball, catching the ball, returns. I've been around a long time and he's one of the top kids that I've ever had. He had such a tremendous year as a junior, I can't even imagine what he's going to do as a senior. … If the kid was three inches taller, every school in the nation would be recruiting him. That's the type of player that he is." — Nugent
No. 2: Bijan Robinson, Salpointe Catholic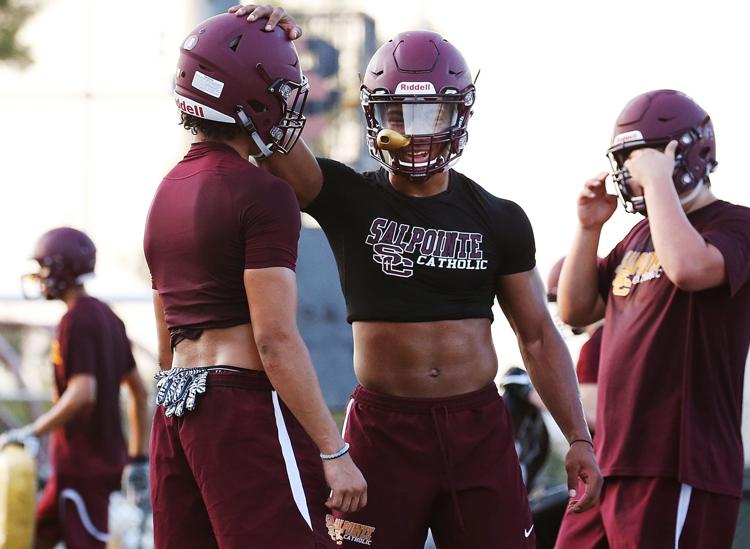 Name: Bijan Robinson
The rundown: Robinson is a 6-foot, 200-pound junior at Salpointe Catholic.
Who he is: Robinson is arguably the best running back to grace the Tucson scene since Ka'Deem Carey. By the time he's done, Robinson may have left a bigger stamp on the city than the former All-American.
Robinson admired Reggie Bush as a boy, and so it's only fitting that he wears No. 5 for the Lancers.
"Reggie Bush is the biggest inspiration to me and that's kind of why I came here and it's been a blessing ever since," Robinson said.
Robinson made the varsity team as a freshman, and flashed his potential as a versatile sophomore. He rushed for 2,023 yards while averaging 10.7 yards per carry and scoring 26 touchdowns. With Robinson leading the way, the Lancers went 12-2. They fell short to Scottsdale Saguaro in the class 4A state championship game.
Robinson even went viral. He cleanly hurdled a Tucson High defender when the Lancers and Badgers played at Kino North Stadium.
Robinson added muscle and focused on speed and agility in the offseason, with hopes of carrying the Lancers back to the state championship.
Proof he's good: 247Sports.com ranks Robinson a four-star recruit and the sixth-best running back in the 2020 class. Robinson holds scholarship offers from Arizona, ASU, USC, Utah, Washington, Alabama, LSU, Oklahoma, Nebraska and Michigan.
He said it: "He looks like an elite Division I running back. He's growing taller and gained good weight, and is very strong. It's been a great process watching him mature. He's ready. He's accepted the challenge and responsibilities that comes with being an elite player. He needs to touch the ball more and he's going to take on that workhorse role on our offense. He's our No. 1 option. He's very difficult to cover and tackle in space. … College coaches love his explosiveness because in two or three steps, he's already at top speed." — Salpointe Catholic coach Dennis Bene
No. 1: Trenton Bourguet, Marana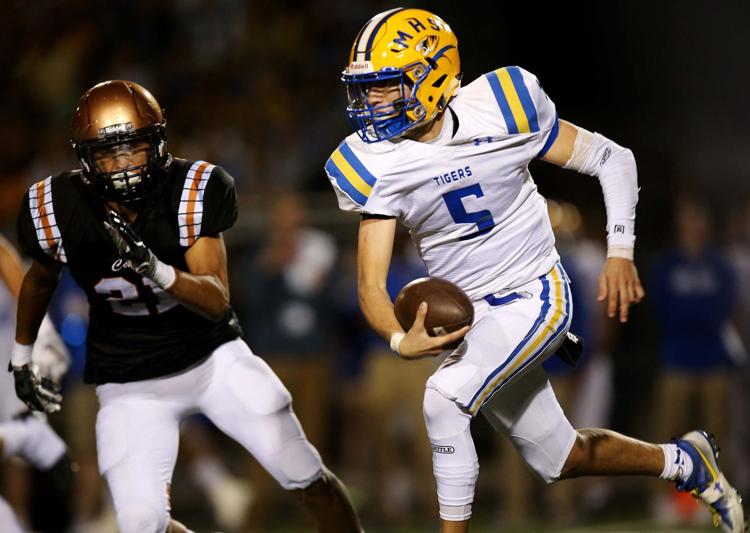 Name: Trenton Bourguet
The rundown: Bourguet is a 6-foot, 160-pound senior at Marana High School.
Who he is: Bourguet had a breakthrough junior season, throwing for 2,984 yards and 38 touchdowns as Marana established itself as one of Southern Arizona's top teams. Bourguet averaged 20.7 yards per throw and 249 yards per game, and finished in the top 10 in the state in touchdowns, passing yards, yards per game and completion percentage. As a sophomore in 2016, Bourguet threw for 1,397 and 15 touchdowns as the Tigers went 9-3.
Bourguet has set a high standard for his senior season: He wants to throw for more than 3,500 yards while leading Marana to its first state championship since 1969.
"This year I want to make sure that we go out on top and change the culture not just for our class, but the people behind us," he said. "I'm excited to see this place in about five or six years," he said.
Bourguet's senior season will be extra special: His brothers, Coben and Treyson, are the Tigers' backup quarterbacks.
"I'm excited because it's my last year, and I get to spend it with them," he said. "It's nice to know that the future is bright at Marana and we're not even close to peaking. We'll keep rising."
Proof he's good: Bourguet's high school numbers are impressive. So is his record for Tucson Turf Elite, a local 7-on-7 powerhouse. Bourguet is 135-8 since he began quarterbacking the team as a seventh-grader. He defeated some of the nation's best high school quarterbacks, including USC's J.T. Daniels twice, Oregon's Tyler Shough and top 2019 prospect Spencer Rattler.
First-year head coach Louie Ramirez, a former graduate assistant at Arizona State, compares Bourguet to Sun Devils starter Manny Wilkins. Both quarterbacks have athleticism to spare and a knowledge of the game.
He said it: "The kid is unbelievably smart. It's a testament to his football knowledge, his leadership and athletic abilities that just screams. There's not a lot of kids like him. He's an offensive coach for us on the field. He does a tremendous job of rallying guys and making sure they're line up correctly and just understanding the game of football. The sky is the limit for him, it really is. … I think in high school football, your best athletes never leave the field and I relayed that message to him and he said 'Sign me up, Coach. Whatever you need.' When you have kids like that who are just unselfish and willing to run through a brick wall for their school and their team, it just shows a lot." — Ramirez