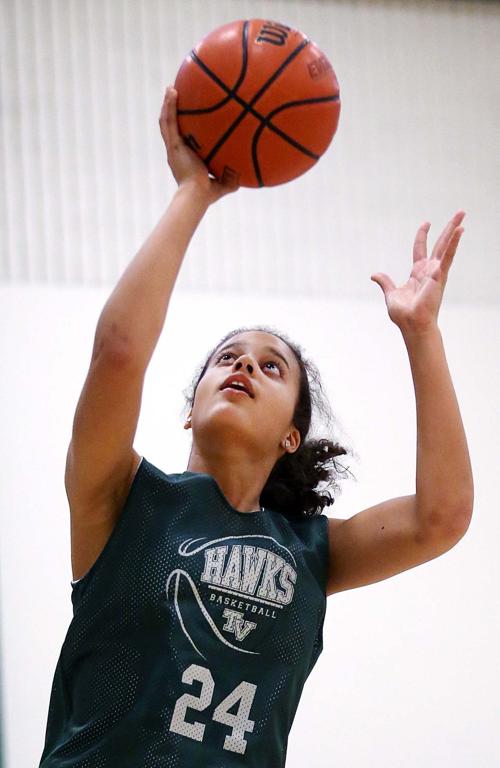 Kiya Dorroh played a lot of different sports and activities as a child, but fell in love with basketball after joining her older sister at a practice.
It didn't take long for others to notice.
"Probably about fifth grade … she had been training with her older sister and it was one of those things where she had a good game with YMCA and we're thinking 'we might have something here,'" Kiya's father, Sherard, said. "And then she started growing like crazy and her skill set stayed, so we're thinking 'OK, we might do something.'"
Dorroh, 15, received her first Division I scholarship offer — to Texas-Rio Grande Valley — as a sixth grader.
Tanque Verde High School's 6-foot-1-inch freshman, now holds offers from national powerhouse Tennessee as well as Arizona, Arizona State, Cal, USC, Washington and Washington State.
Dorroh is averaging 15 points, 5.8 rebounds, 3.4 steals and 1.6 assists in 17 games.
She scored 14 points in last week's 50-39 win over rival Sabino at home.
"My main goal is to make it to the WNBA and be successful," Dorroh said. "So I'll do whatever it takes, and I have amazing people to help me get there."
The decision to put Tucson's best women's basketball prospect at a Class 3A school with an enrollment of around 600 students was, the Dorrohs said, fairly easy.
Dorroh's older sister, Brianna Pitre, starred at Sabino and now plays at UTRGV — the same school that offered Kiya when she was in sixth grade. The Dorrohs watched the Sabercats cycle through coaching changes before deciding to send Kiya to Tanque Verde. The Hawks had a breakthrough 2017 season, going 23-5 and earning the No. 14 seed in the Class 3A state playoffs. Tanque Verde lost to Chinle in the second round.
While it's not uncommon for the Hawks to have a freshman on the varsity squad, Sherard Dorroh said he's still amazed by his daughter's success.
"It's always a surprise because you never know how it's going to be," he said. "We were very grateful that she made the team as a freshman."
Kiya Dorroh primarily plays guard, but can be moved to any position if needed. Conditioning was initially a concern because of Dorroh's age, but "she can go the whole game," Tanque Verde coach Michael Edwards said.
"And when you're considered one of the better players on the team, you shouldn't have to come out," he said. "She's done a real good job of getting better with her conditioning, eating habits, physicality, working out, the running aspect."
Dorroh and her family say they haven't thought too much about college. There's time — three more years — for that.
"The expectation for her is to just get better and just go out there and become the best player that she can be," Sherard Dorroh said. "If she's able to be fortunate to play college basketball — great. We want to make sure that she gets the best education. That's the most important thing."