Marana had Friday night's matchup against Gilbert Williams Field circled on its calendar ever since the schedule was released, because the Tigers wanted to prove that they can go toe-to-toe with any team in the state.
Williams Field's size and depth wore down Marana in the second half, however, and the Blackhawks powered their way to a 33-14 win over the Tigers. The loss was the first of the season for Marana, which fell to 1-4.
"Williams Field is a phenomenal football club and this was a playoff game," Marana coach Louie Ramirez said. "We just got beat up front. Their defensive line got after our guys. They were running circles around them and we gotta fix some things."
Marana's offensive line boasts Jordan Morgan, who received a scholarship offer from USC earlier Friday. Despite that, Williams Field's defensive line forced Tigers quarterback Trenton Bourguet to make quick throws and check down throughout the game. Marana's offense struggled to find a rhythm and went three-and-out on the first possession, and Williams Field's Noa Pola-Gates, an Arizona Wildcats target for 2019, hauled in a 58-yard touchdown pass to take an early lead.
Bourguet was intercepted on his next drive, but the Tigers defense forced a fumble and Williams Field stopped Marana from moving the ball. The Blackhawks made it 12-0 when Kendrix Lurry scored the first of his three touchdowns.
"I can't turn over the ball like that in the second drive of the game. That's a huge momentum-changer right there," Bourguet said. "I don't know why, but I think we have some karma or something on us this year. We just come out super slow and then pick it up in the second quarter."
Marana's offesne caught fire in the second quarter, and Bourguet found T.J. Cephers for a six-yard touchdown and threw another score to Demetrio Grijalva. The Tigers went into the halftime break up 14-12.
However, the second quarter was the only offensive production the Tigers had on the night. Williams Field scored 21 unanswered points in the second half.
Marana lost the battle, but Ramirez was optimistic about his team moving forward and told his team afterwards that this could potentially be a future playoff opponent.
"Our guys shouldn't hang their hats on this one," Ramirez said. "They can hang with anybody in 5A."
The Tigers have a bye week, and then return to face Sierra Vista Buena on Sept. 28.
"I'm excited to go into this bye week 4-1. Nobody would've thought we would've came out this hot with a new coach and a young team. But you know, we're going to take it from here on out and it's win or go home pretty much now to prove that we belong in the top 16 in state, get in the playoffs and make the long run that I know we can have," Bourguet said.
Watch postgame videos here:
Marana head coach Louie Ramirez is optimistic about his team despite falling to Williams Field 33-19. "Our guys shouldn't hang their hats on this one. ... This was a playoff game. ... They can hang with anybody in 5A." #WFvsMAR #AZHSFB pic.twitter.com/zAWkBCSHSF

— High School Sports (@HSTucson) September 15, 2018
Centennial-Ironwood Ridge game highlights high school slate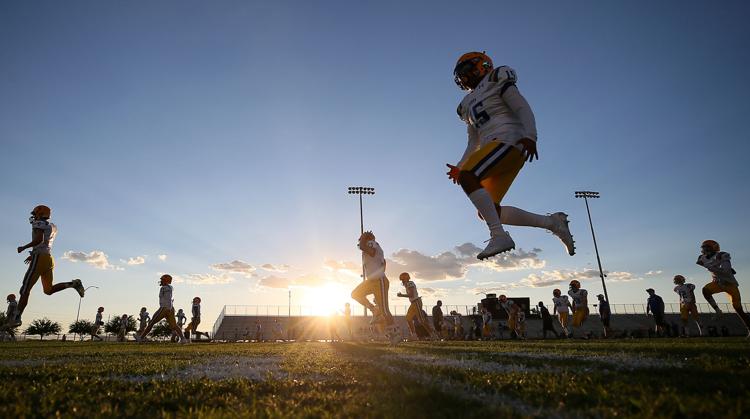 The high school football season is approaching the halfway mark, and several teams across Southern Arizona are gearing up for another exhilarating week.
This week's games are highlighted by defending Class 5A state champion Peoria Centennial's visit to Ironwood Ridge. It'll be Phoenix-area power versus Tucson power.
The Star's Justin Spears breaks down each matchup on Friday and predicts how each game will shape up. Each contest will start at 7 p.m. and predicted winners will be in ALL CAPS.
Peoria Centennial 55, Ironwood Ridge 7 — final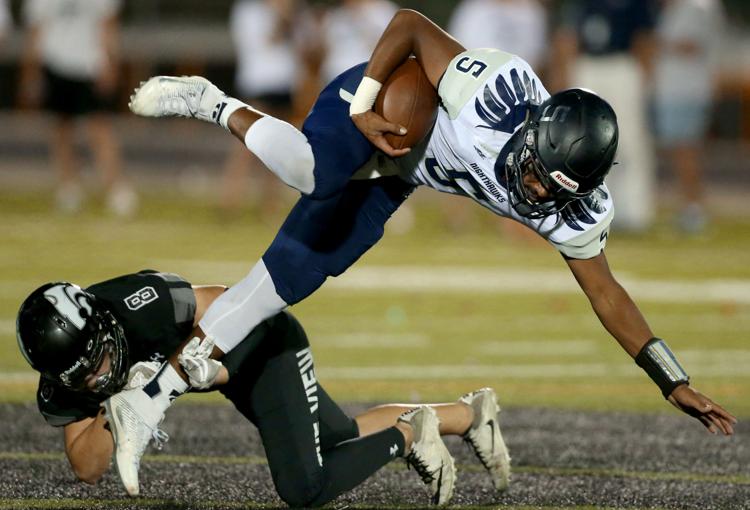 Prediction: PEORIA CENTENNIAL (3-0) at Ironwood Ridge (1-2)
Where: 2475 W. Naranja Drive
Matchup: Ironwood Ridge struggled in back-to-back games against Phoenix opponents, and guess who it plays this week? You guessed it, another Phoenix team. Maybe the best Phoenix team. Centennial has won three state championships in the last four seasons, and the Coyotes show no sign of slowing anytime soon. Ironwood Ridge needs more production offensively if it hopes to pull the upset. Nighthawks quarterback Octavio Audry-Cobos completed just 4 of 8 passes for 54 yards in last week's 17-13 loss to Gilbert Campo Verde, though he also rushed for 119 of them. Expect I-Ridge to give the Coyotes a scare in the first half but fade late, and Centennial wins 49-23.
Tucson High 19, Mountain View 14 — final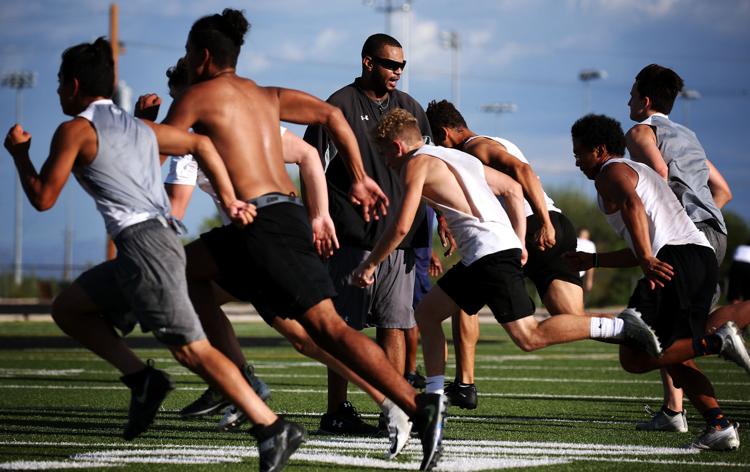 Prediction: Mountain View (0-3) at TUCSON HIGH (4-0)
Where: 400 N. 2nd Ave.
Matchup: Mountain View is off to its worst start in nine seasons, the rest of one of the most brutal schedules in Southern Arizona. Games against Ironwood Ridge, Gilbert Higley and Queen Creek Casteel are about as brutal as it gets. Things won't get any easier Friday, when the Mountain Lions take on Tucson High. While Jesus Montano and Gary Love have carried the Badgers' offense, it's their defense that's been the most impressive this season. Tucson High's has allowed just 18 points in four games. Senior linebacker Marcus Latimer is averaging nine tackles per game. Expect Latimer to step up in what will be Tucson High's biggest test of the season. The Badgers win 34-30. 
Sierra Vista Buena 27, Desert View 8 — final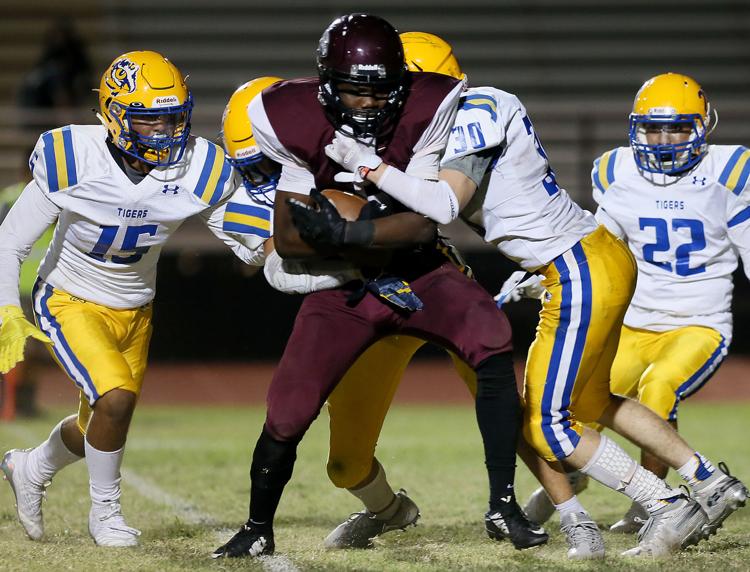 Prediction: Desert View (1-2) at SIERRA VISTA BUENA (2-1)
Where: 5225 Buena School Blvd., Sierra Vista
Matchup: Buena has strung together wins against Sahuaro and Empire since falling to Catalina Foothills. Quarterback Jovoni Borbon is averaging just over 171 passing yards per game, though he has just three touchdowns in that span. Desert View faced a gunslinger quarterback last week in Trenton Bourguet and it didn't end well. Expect the same results this week. Colts roll 27-13.
Cienega 56, Rincon/University 15 — final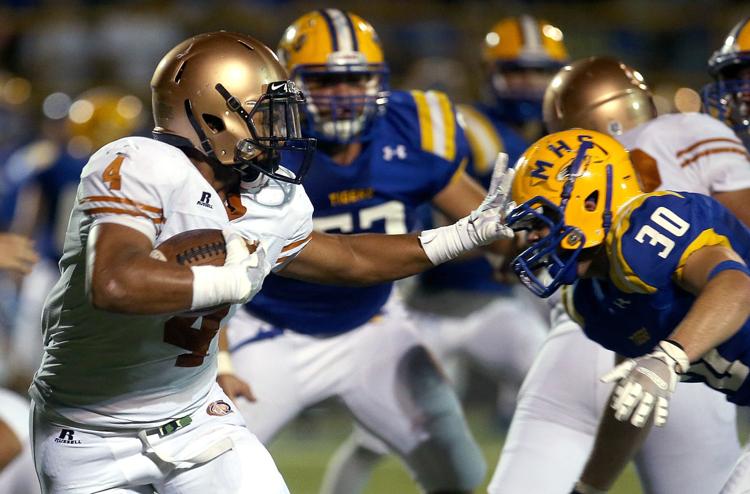 Prediction: Rincon/University (0-3) at CIENEGA (2-1)
Where: 12775 E. Mary Ann Cleveland Way, Vail
Matchup: Cienega suffered its first regular-season loss since 2015 last week against Peoria Centennial. Fortunately, the Bobcats return home to play a Rincon team that hasn't won yet this season. Expect the home team to roll 56-0. 
Gilbert Williams Field 33, Marana 14 — final
Prediction: Gilbert Williams Field (3-1) at MARANA (4-0)
Where: 12000 W. Emigh Road, Marana
Matchup: The last time Marana faced Williams Field, the Tigers were bounced 41-14 in the second round of the playoffs. The Tigers have Friday night's game circled on their calendars. Expect Marana to rely on senior quarterback Trenton Bourguet, who ranks seventh in the state with 1,031 passing yards and is on pace to set several program and division records. A win against Williams Field would make the Tigers a state title contender. Expect them to win 35-28.
Sunnyside 21, Pueblo 14 — final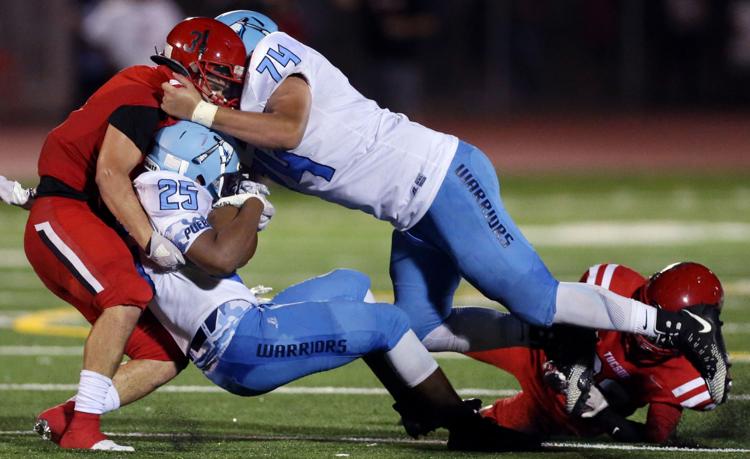 Prediction: SUNNYSIDE (2-1) at Pueblo (1-2)
Where: 3500 S. 12th Ave.
Matchup: The southside matchup is a tale of two teams. The Warriors got their first win last week against a struggling Cholla team. Sunnyside, meanwhile, has outscored its opponents 76-19 in the previous two weeks and are one victory away from matching last season's win total. Expect the Blue Devils to do it, topping Pueblo 14-7.
Sahuaro 47, Cholla 0 — final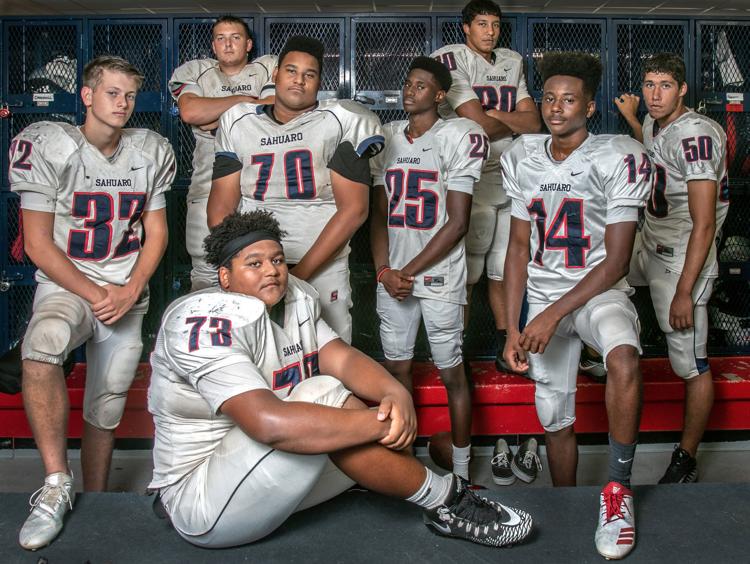 Prediction: Cholla (0-4) at SAHUARO (3-1)
Where: 545 N. Camino Seco
Matchup: The Cougars are legit, especially after handling Tempe Marcos de Niza 42-13 last week. The Chargers won't likely have an answer for Sahuaro running back Cameron Williams, who has scored eight touchdowns in four games. The Cougars will bounce the Chargers 42-0.
Salpointe Catholic 41, Glendale Cactus 15 — final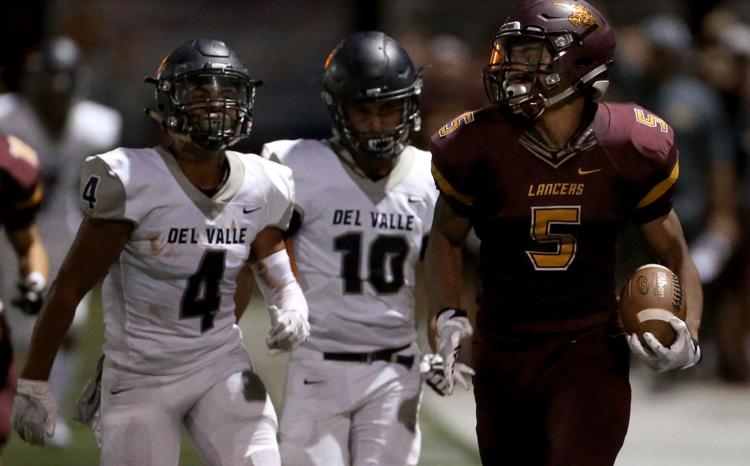 Prediction: SALPOINTE CATHOLIC (3-0) at Glendale Cactus (3-0)
Where: 6330 W. Greenway Road, Glendale
Matchup: Salpointe Catholic two-way standout Mario Padilla injured his groin last week, and didn't play in the second half of the Lancers' win over El Paso Del Valle. Even if he's limited Friday against Cactus, the Lancers should be OK. Bijan Robinson is still around: The running back rushed for 276 yards last week and is averaging 254.7 per game, which is the fourth-best total in Arizona. Can Cactus slow Robinson and Salpointe down? The chances are slim. Expect Salpointe Catholic to beats another Phoenix team, 49-28.
BONUS HSFB GIF! @SCLancerFB's Bijan Robinson untouched 77 yards to the house against Del Villa. pic.twitter.com/iECGWAnBRc

— Kelly Presnell (@KellyPresnell) September 12, 2018
Casa Grande 70, Rio Rico 7 — final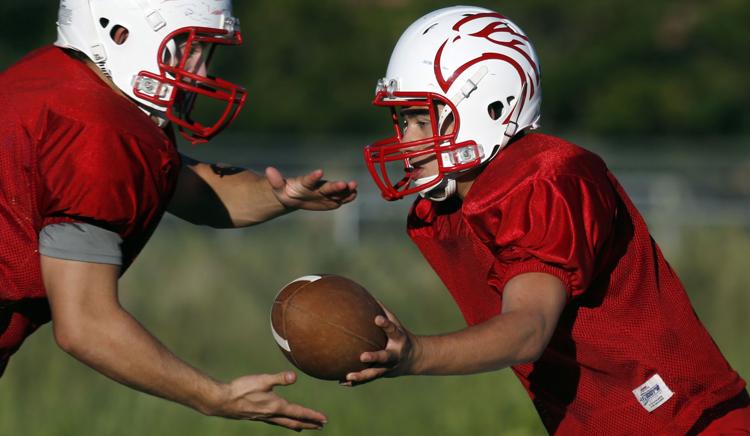 Prediction: Rio Rico (1-3) at CASA GRANDE (3-1)
Where: 2730 N. Trekell Road, Casa Grande
Matchup: Rio Rico is fresh off a blowout loss to Nogales and against a Casa Grande team that had a disappointing finish at Walden Grove, this should be over by the end of the third quarter. Casa Grande wins 31-7.
Snowflake 21, Pusch Ridge Christian 7 — final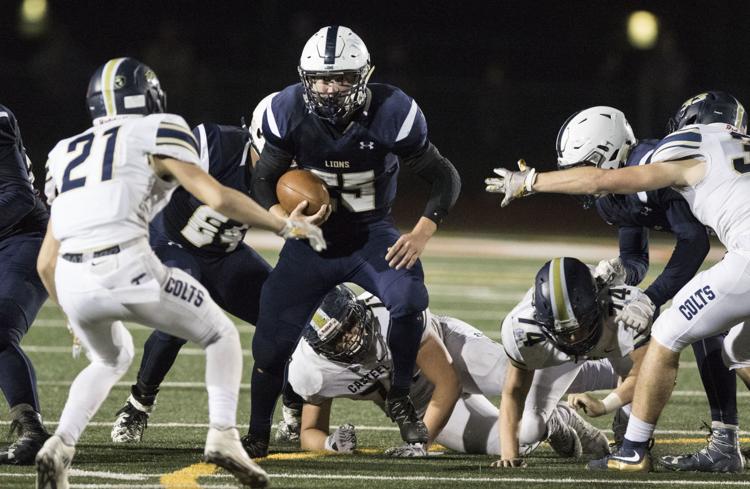 Prediction: SNOWFLAKE (3-1) at Pusch Ridge Christian (1-2)
Where: 9500 N. Oracle Road
Matchup: Pusch Ridge Christian is 0-2 at home this season, and we wouldn't be surprised if the Lions bounced back after losing to CDO 33-7 last week. Snowflake's only loss this season came to Queen Creek Benjamin Franklin. Expect Snowflake to escape with a 21-13 win.
Flowing Wells 50, Paradise Valley 43 — final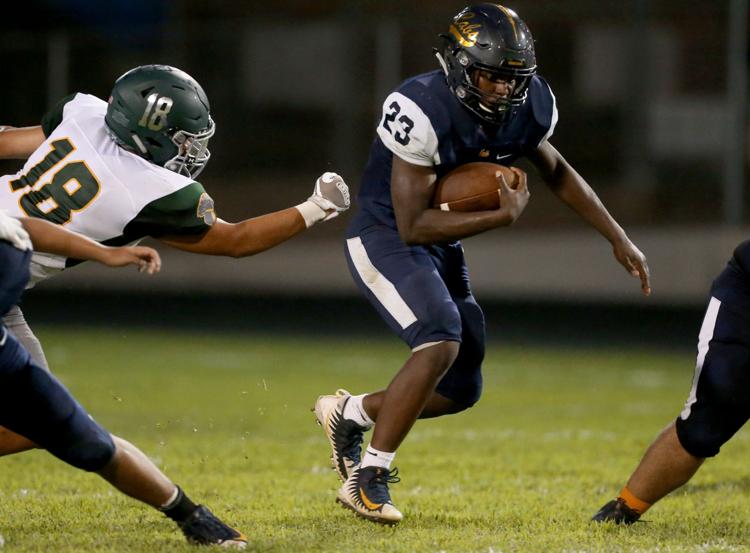 Prediction: Paradise Valley (3-0) at FLOWING WELLS (3-1)
Where: 3725 N. Flowing Wells Road
Matchup: Flowing Wells got its season back on track with last week's 40-12 win over Amphi. Now, the Caballeros will now face an undefeated Paradise Valley squad led by quarterback Ben Finley, who has thrown for 719 yards in three games. Flowing Wells running back Raashad Henderson has been one of the breakout backs in Southern Arizona. Last week, he exploded for 162 yards and three touchdowns. Flowing Wells will be in another close matchup, but we learned in the first week to not pick against the Caballeros in close games. Henderson hauls the Cabs to a 27-20 win.
Sabino 14, Lakeside Blue Ridge 7 — final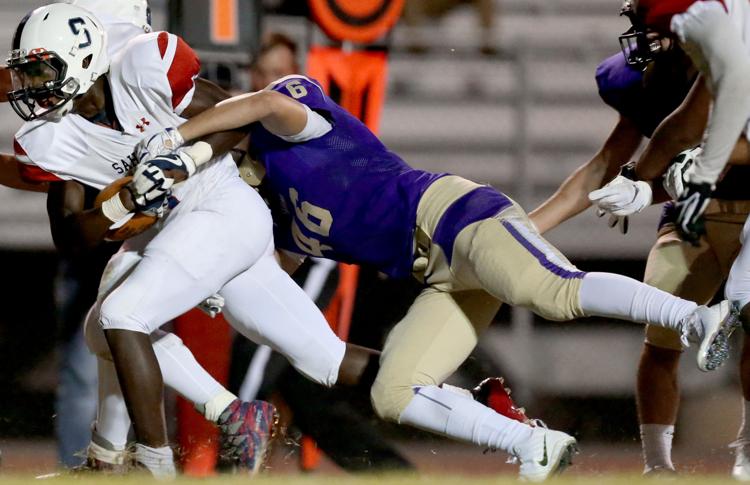 Prediction: SABINO (1-2) at  Lakeside Blue Ridge (2-2)
Where: 1200 W. White Mountain Blvd., Lakeside
Matchup: No team in Southern Arizona wanted to forget about its first two games of the season more than Sabino. The Sabercats finally picked up their first win last week against Catalina Foothills. The Sabercats utilized yet another quarterback in sophomore AJ Skaggs, who completed 12 of 14 passes for 147 yards and two touchdowns. If Skaggs repeats last week's performance, Sabino should win 27-13.
Walden Grove 49, Nogales 0 — final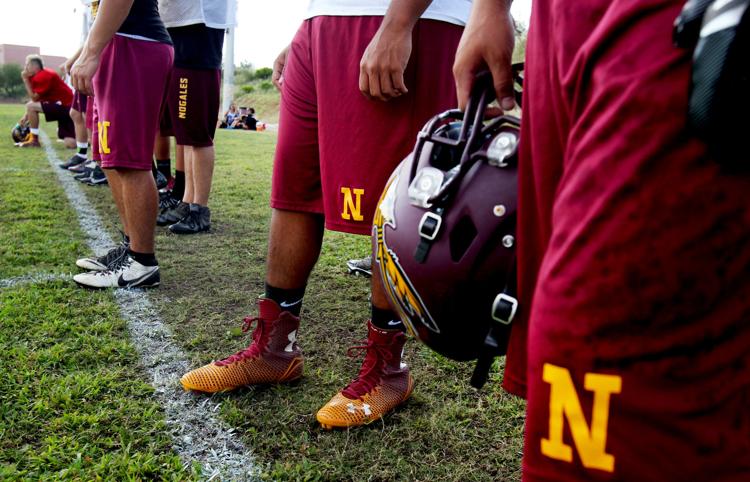 Prediction: Nogales (2-1) at WALDEN GROVE (2-1)
Where: 15510 S. Sahuarita Park Road, Sahuarita
Matchup: Walden Grove had a statement victory over undefeated Casa Grande last week. In the previous week, the Red Wolves beat Class 3A powerhouse Pusch Ridge Christian for the first time in school history. Coach  Corey Noble is gaining some traction with this Walden Grove team, and expect another win this week. Let's call it 35-23.
Canyon del Oro 46, Amphitheater 0 — final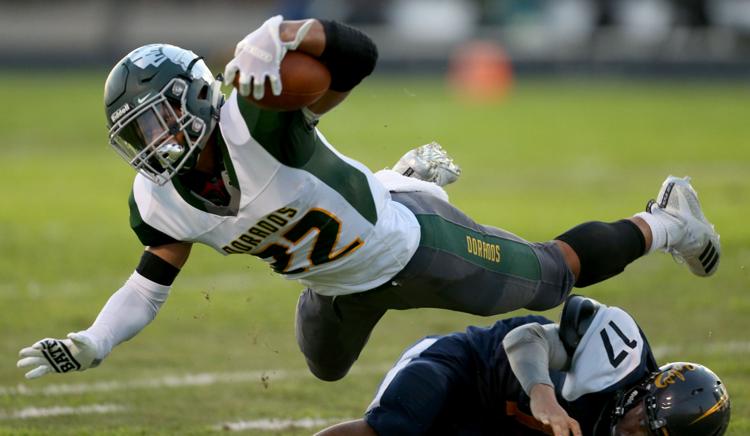 Prediction: Amphitheater (1-3) at CANYON DEL ORO (2-1)
Where: 25 W. Calle Concordia, Oro Valley
Matchup: The Dorados are going to win for one reason: Stevie Rocker. The sophomore rushed for 213 yards on 15 carries last week against Pusch Ridge Christian, and is averaging 203.7 yards per game. We wouldn't be surprised if he ran for 300 yards this week. Expect CDO to roll 56-14.
Empire 55, Palo Verde 12 — final
Prediction: Empire (0-3) at PALO VERDE (1-2)
Where: 1302 S. Avenida Vega
Matchup: The Ravens are itching for a win, but don't expect that to happen this week. Palo Verde wins on a last-minute field goal, 13-11.
Payson 71, Catalina 51 — final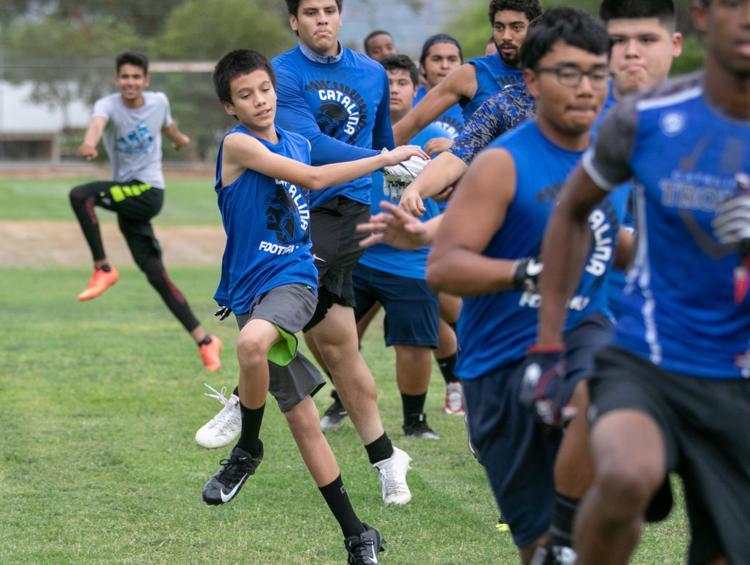 Prediction: Catalina (1-2) at PAYSON (1-2)
Where: 301 S. McLane Road, Payson
Matchup: Expect the Trojans to try to run past Payson as they hit the road for a far-flung nonconference game. Leon Hayes is averaging exactly 100 rushing yards per game, and he's scored three touchdowns so far this season. Payson's defense has allowed 19 total points over the last two weeks combined. Expect the home team to prevail in a low-scoring contest. Call it 17-13.
Miami 6, Santa Rita 3 — final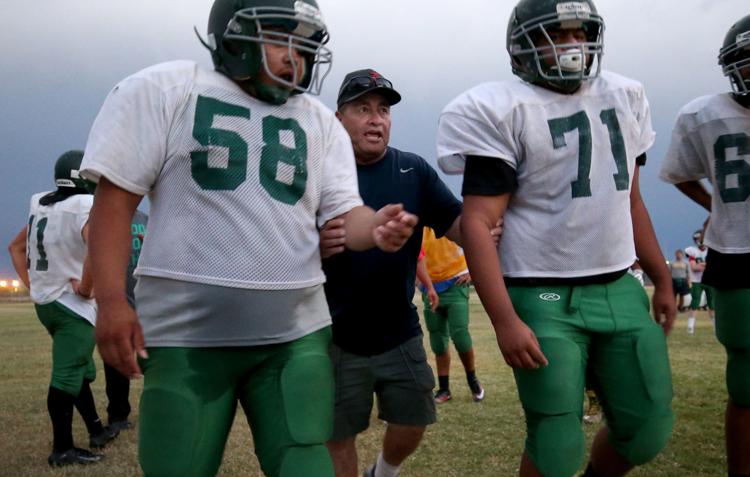 Prediction: MIAMI (1-2) at Santa Rita (0-3)
Where: 3951 S. Pantano Road
Matchup: Richard Sanchez and Santa Rita have been outscored by their opponents 138-6. The Eagles won't get shut out Friday. Miami wins 21-7.
Winslow 0, Tanque Verde 0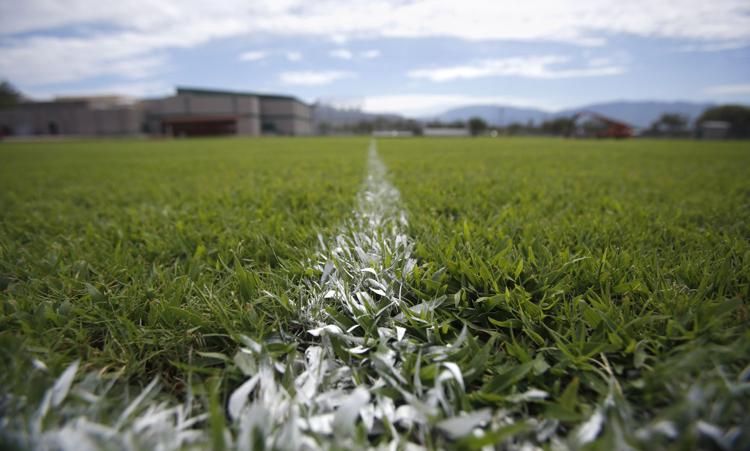 Prediction: WINSLOW (2-2) at Tanque Verde (1-2)
Where: 4201 N. Melpomene Way
Matchup: Tanque Verde won last week for the first time in 11-plus months. They'll play Winslow tough on Friday, but expect the out-of-town visitors to win 21-20.