Sammy Rosthenhausler IV loped around the Pueblo High School track Thursday afternoon, flanked on each side by black-clad teammates. His workout gear — neon-colored running shorts featuring cartoons of tacos, sombreros and cacti — practically popped.
The 16-year-old sophomore is the only member of his school's four-person boys cross country team to qualify for Saturday's state championships after he finished second with a time of 17 minutes 30 seconds earlier this month at sectionals in Rio Rico.
It's Rosthenhausler's second state meet in as many years: He finished 34th as a freshman in 2018.
"He's very passionate and he's constantly working," said Miguel Sandoval, Pueblo's athletic director and one of the Warriors' track and field coaches. "He's always in the weight room or practicing or doing something."
In many ways, sports success comes naturally to Rosthenhausler. He is a member of a Southern Arizona legacy family when it comes to baseball and softball, the great-grandson of namesake Francisco Samuel "Sammy" Rosthenhausler, who died in 2017 at the age of 96.
The Rosthenhausler patriarch played baseball and softball well into his golden years. Sammy Sr. had five sons, and his brother also had several children, with most of future generation playing baseball. Roughly 12 Rosthenhausler children played college baseball and softball, with several finding success after high school: Nico Rosthenhausler played for Oklahoma State and Ryan Rosthenhausler at Southern Illinois. Another Rosthenhausler, Ray, was taken in the first round of the MLB draft.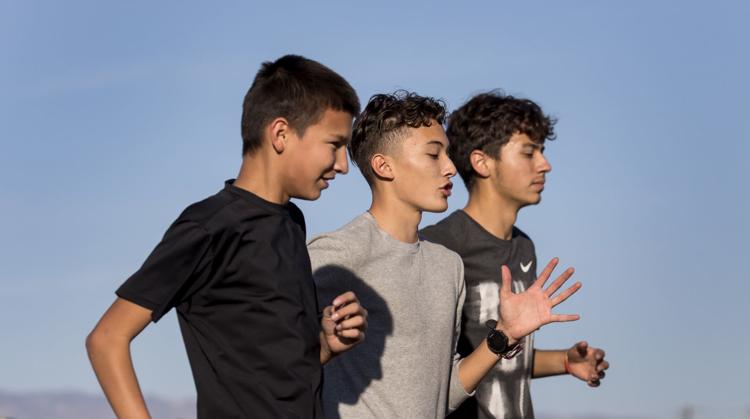 "I come from a baseball family, and it's kind of like The Rosthenhausler Way to hope that our kid plays college or pro baseball," said Frank "Sammy" Rosthenhausler, Sammy's father and the principal at Pueblo. "For my grandfather, baseball was a way to make additional money in a time where money was nearly non-existent."
Sammy Sr. played baseball for teams across the state into his 50s, then switched to softball, which he played until he was 81.
"He would often lift weights and run stadiums on the Pueblo campus into his 60s," Frank Rosthenhausler said. "He would do stadiums and run the track, the same one used by Sammy, my son."
Frank Rosthenhausler said that Sammy Sr.'s dream for his children and grandchildren was for them to attend college, an opportunity he never had.
"It was all he ever asked. It was the Rosthenhausler way of ridding ourselves of poverty," Frank Rostehnhausler said. "We used our athletic ability to pay for college and begin a new generation of Rosthenhauslers who were financially stable."
While baseball and softball had been the way out for generations past, Sammy has bucked the trend and branched out on his own.
"Sammy just took to a different sport," Frank Rosthenhausler said. "Although he played baseball, he fell in love with track and cross country."
Sammy played baseball for Sunnyside Little League before he discovered running five years ago and quickly excelled, his father said, adding that cross country came more naturally to the his son than baseball.
It was lonely work. Pueblo's cross country team has just four boys and two girls, meaning Rosthenhausler trained mostly on his own. Morning jogs and summer workouts became a regular part of his routine.
"A lot of it was just on him," Frank Rosthenhausler said. "Having a goal and not making excuses for having a small team or an incomplete team or non-competitive team. A big credit to him is that he was going to take it upon himself, and he did."
Frank Rosthenhausler played baseball at Sunnyside High School, earning a scholarship to Cochise College and eventually transferring to a Division II college in New Mexico. Compared to baseball and softball, cross country is a different animal. The rush of competition — and the stress of watching — was the same, Frank Rosthenhausler said.
"As a dad, it's absolutely nerve-wracking right before the race and during the race," Frank said. "I played in big games as an athlete, and I was never as nervous and watching he or my other kids."
While kids are fast at a middle school level, it's nothing compared to the competition in high school, Sammy Rosthenhausler said after practice Thursday.
"I like the feeling of always working. In baseball, I would stand around and wait a lot," Sammy said. "With this, I'm constantly moving."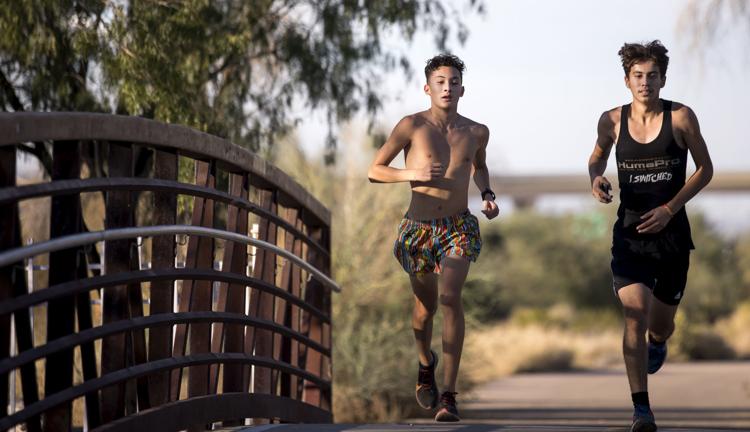 Even though Sammy was always the fastest player on his little league teams, he said that his teammates were surprised when he told them he was leaving the game.
"They wouldn't have though I'd be a runner, but when they saw me again in high school, they understood," Sammy said.
The reaction from the Rosthenhausler side of his family was more than just surprise.
"My dad's side was kind of disappointed, because baseball runs in the family," Sammy said, adding that his younger brother now plays baseball.
Next fall, Sammy will have some competition on the track: His younger sister, Zoey, plans to join the team as a freshman. But while his sister might be younger, she's been running longer, Sammy said.
"Sammy really came alive this season, now that he's gotten a taste of what the big dogs do," said Pueblo cross country coach Kyle Shreeve, who also coaches track and field in the spring. Sammy also competes in track in the one and two-mile events, but could also compete for the Warriors' track team this spring in the 400-meter, 800-meter and relay events.
Shreeve was sporting a newly shaved head Thursday. The team shaved it in honor of Sammy's qualification for the state championship.
Sammy has a strength in drive that's not the norm when it comes to young athletes, said Miguel Sandoval, Pueblo's athletic director and one of the school's track and field coaches.
"Knowing him for the last two years, he's really dedicated to cross country. He commits his time and works out year-round," Sandoval said.
Both Sammy and his father are committed to his success in the sport, which falls in line with the family's deep bloodlines in athletics, Sandoval said.
Unlike some young athletes, Sammy Rosthenhausler doesn't see sports as the key to his future. Sammy's eying Stanford for college, though he admits he'll "have to work really hard to get there."
And while Stanford has a quality track and cross country program, that's not why it's on Sammy Rosthenhausler radar. When it comes to selecting a college, he said he's all about choosing the best in terms of academics.
"I'd rather focus on what's going to get me furthest in life," he said.