Calen McFarland grew up hearing stories from his father and uncles about their high school glory days, when they played football at Sabino High School.
They inspired McFarland to play the sport. He played Pop Warner and participated in Sabino's football camps. Even now, McFarland has a bunch of old, cut-up Sabercats shirts in his drawers.
The only hiccup: McFarland is a junior at Sahuaro and second-year varsity player for the Cougars.
"Yeah, I used to go to all the (Sabino) games when I was a kid and I played as a (Tucson) Cowboy at McDonald Park," McFarland said. "I did all of that. But I play for Sahuaro because my friends were here."
And on Friday, McFarland and the Cougars will play at Sabino in the east-side rivalry.
McFarland said his family was a little iffy about letting him attend Sahuaro instead of Sabino. That doesn't make him immune from the occasional teasing from his father.
But it's nothing McFarland can't handle.
"He'll support me no matter what," McFarland said.
Sahuaro coach Scott McKee has the same story. McKee's father, Larry, used to be Sahuaro's principal and thought his son could benefit from going to a different school.
So Scott McKee went to Sabino and played for the Sabercats from 1993 to 1997.
"I loved my time there, but I'm a Sahuaro Cougar and these are my guys," McKee said. "I'm fortunate to have some good coaches helping us with really good kids. We just want to go and represent the best type of football we can play."
The majority of McKee's staff played at Sabino, which gives them a unique perspective heading into Friday night's rivalry game.
"It's special because of the history of who's played in the game before," McKee said. "How good the coaches were that coached it before. And that those two schools, from the '70s until current, were always two of the top programs in the state and that game is a showpiece of this side of town."
Sabino is 5-1 against Sahuaro since 2012. Last year, the Sabercats routed the Cougars 41-13.
Sahuaro has started the 2018 season 1-1 and is coming off a 16-15 loss to Sierra Vista Buena last week. Sabino opened its season last week against Casa Grande, and lost 21-6.
McKee said the team is still trying to find its rhythm this season.
"We've got to do a better job of improving on the details, do a better job of improving on the small things that make a big difference," McKee said. "But we have great young men here and we have great coaches."
As far as Friday's game, McFarland is expecting a very physical matchup.
"I'm expecting a battle," McFarland said. "I'm expecting a lot of things to go our way and so we can pull out a victory."
---
Teams hope weather cooperates this week
Most high school football games played in Southern Arizona last Friday night were washed out by monsoon storms, which forced several games to be postponed until the following day — and, in one case, until Monday.
The Friday night lights are back on — fingers crossed — and this week's slate of games shouldn't disappoint. Our game of the week will the most storied rivalry on the east side of town: Sabino versus Sahuaro.
The Star's Justin Spears breaks down each game and predicts how this week's matchups will shake out. Each contest is scheduled for Friday at 7 p.m. and predicted winners are in ALL CAPS.
Sahuaro 34, Sabino 7 — final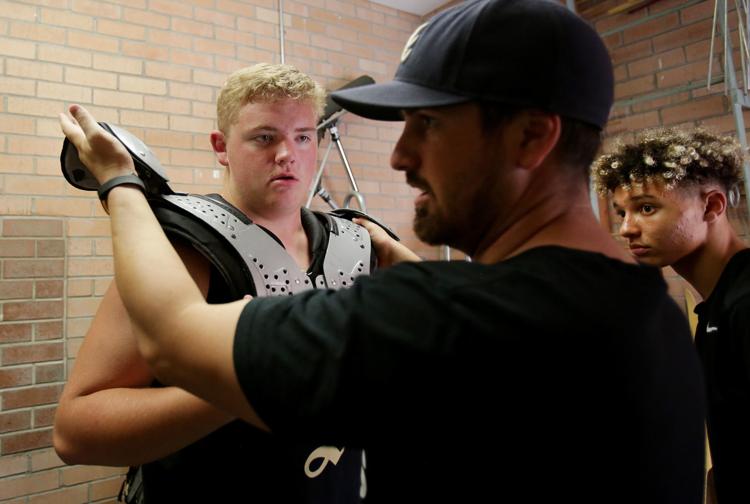 Prediction: Sahuaro (1-1) at SABINO (0-1)
Where: 5000 N. Bowes Road
Matchup: No team in Southern Arizona wants to forget about last week more than Sabino, who lost to Casa Grande 21-6 on the road. The Sabercats started Diego Armijo at quarterback, and the converted safety completed 17 of 27 passes for 160 yards and one touchdown while throwing four interceptions. Sabino has won four rivalry games in a row, and — assuming Armijo can avoid turnovers — expect it to become five. Sabino wins at home, 23-14.
Salpointe Catholic 28, Desert Edge 21 — final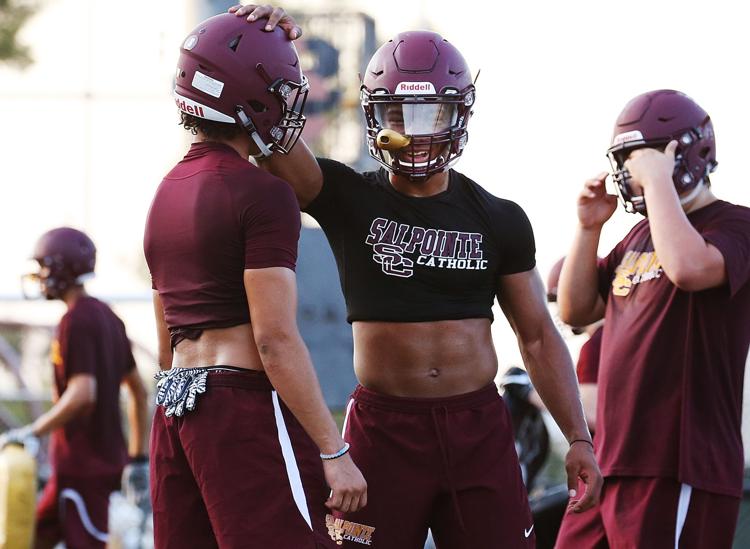 Prediction: Goodyear Desert Edge (2-0) at SALPOINTE CATHOLIC (1-0)
Where: 1545 E. Copper St.
Matchup: Salpointe beat Mesa Dobson 56-7 last week in a game that was called off at halftime because of lightning. Lancers running back Bijan Robinson finished with 301 rushing yards and four touchdowns … in one half. Robinson's backfield mate, Mario Padilla, added three touchdowns. Salpointe already looks the part of a state championship contender. The Lancers return home Friday to play a Desert Edge team that shut out Moon Valley last week. Salpointe Catholic will face better competition this week, but will get the W at home. Call it 45-20.
Tucson High 55, Alhambra 0 — final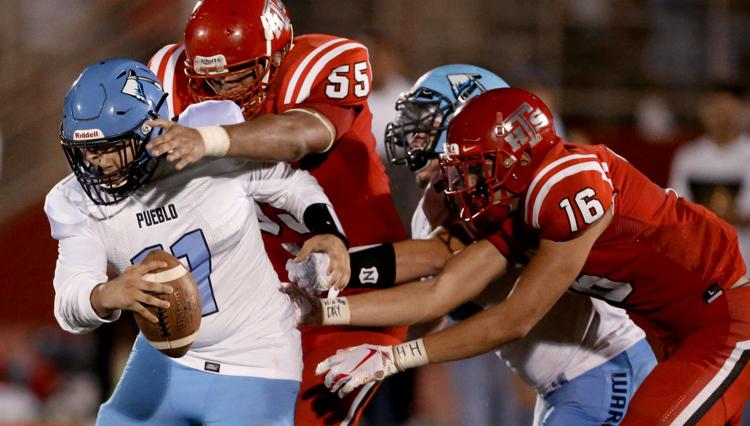 Prediction: TUCSON HIGH (2-0) at Phoenix Alhambra (1-1)
Where: 3839 W. Camelback Road, Phoenix
Matchup: Tucson High, handled Pueblo last week, showing the high school football world that it means business. Tucson High running back Gary Love rushed for 117 yards and a touchdown on 18 carries, one week after recording 131 yards on eight carries. The Badgers now face a tough matchup on the road; expect a happy bus ride home. Tucson High gets the win, 34-13.
Cienega 35, Sunnyslope 7 — final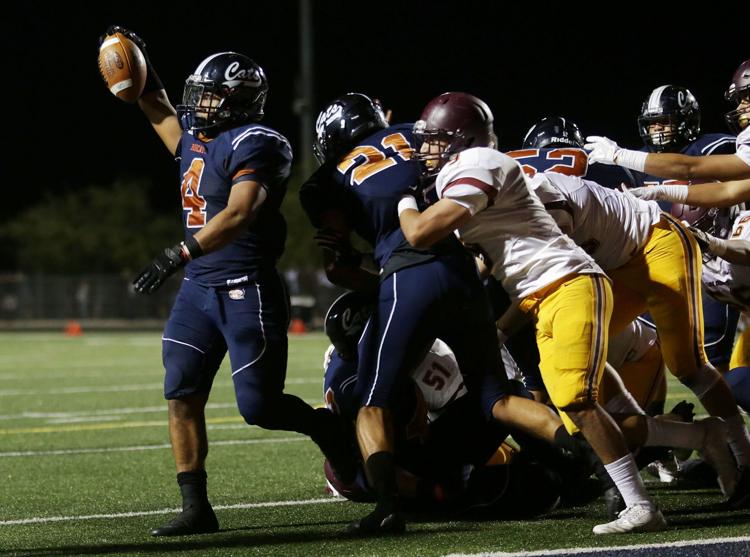 Game: Phoenix Sunnyslope (0-1) at CIENEGA (1-0)
Prediction: 12775 E. Mary Ann Cleveland Way, Vail
Matchup: No Jamarye Joiner, no problem for Cienega. New starter Luis Morales completed both passes he attempted for 55 yards and a touchdown in last week's romp over Cholla. Cienega's starting offense played a grand total of 14 plays before the unit was taken out. The Bobcats may have the element of surprise Friday night, in part because there's so little film of their first unit. Sunnyslope is no pushover; the team comes in hungry for a win after falling to Scottsdale Notre Dame Prep 41-27 last week. This game should be one of the better matchups around town. As long Cienega has Mr. Do-it-all in Terrell Hayward, it's one of the teams to beat in town. Call it 49-28 Cienega in the Bobcats' home opener.
Palm Desert 9, Flowing Wells 7 — final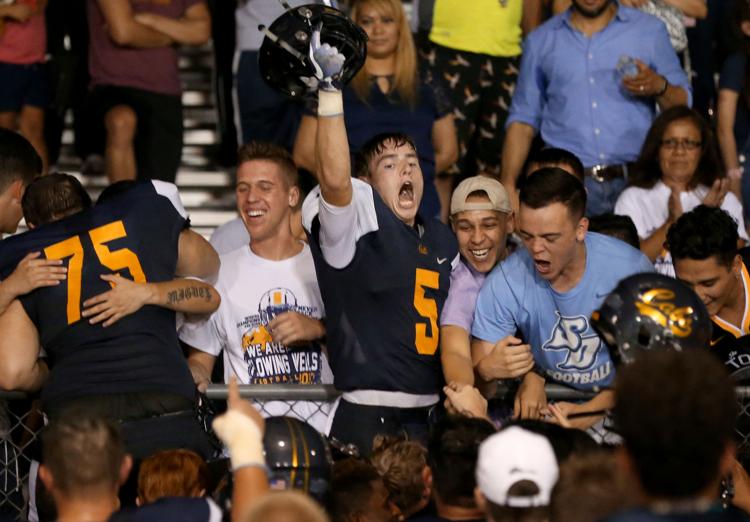 Prediction: PALM DESERT (CALIF.) (2-0) at Flowing Wells (2-0)
Where: 3725 N. Flowing Wells Road
Matchup: Flowing Wells has strung together back-to-back one-point victories to start the 2018 season. The Caballeros are led by two-way player Raashad Henderson who's now rushed for 243 yards in two games. If he he finds a rhythm early, it could be another win for Flowing Wells. Palm Desert is also undefeated heading into this game; quarterback Carter Stokes is averaging 187.5 passing yards per game and has yet to throw an interception. Expect the boys from California to escape Arizona with a 45-28 win.
Millennium 30, Ironwood Ridge 27 — final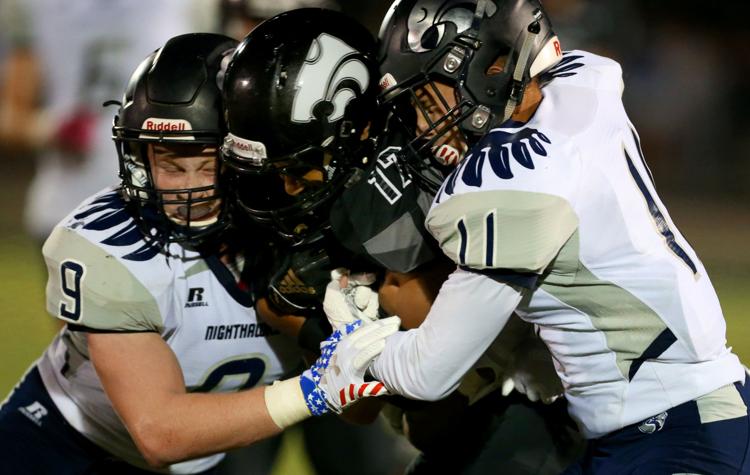 Prediction: Goodyear Millennium (1-0) at IRONWOOD RIDGE (1-0)
Where: 2475 W. Naranja Drive
Matchup: The Nighthawks return to the field following a bye week. A matchup against a solid Millennium team should make for one of the best games in town. I-Ridge is led offensively by running back Nathan Grijalva, who ran for 122 yards against a stout Mountain View front seven two weeks ago. Quarterback Octavio Audrey-Cobos looked good in their first win as well. Those three should keep Ironwood Ridge in the game — and if the Nighthawks capitalize on turnovers like they did against Mountain View, they'll win. Call it 27-14.
Marana 35, Catalina Foothills 20 — final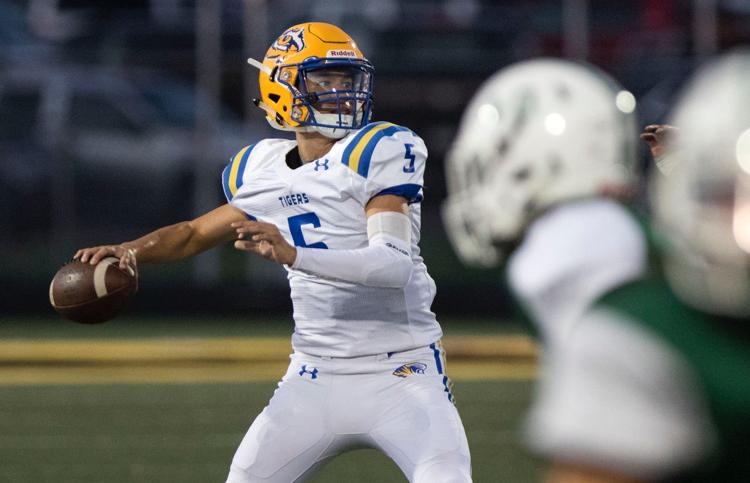 Prediction: Catalina Foothills (1-1) at MARANA (2-0)
Where: 12000 W. Emigh Road, Marana
Matchup: This game has a passing-the-torch vibe to it. Marana first-year head coach Louie Ramirez is one of the new faces expected to have a prosperous career. In the other corner, stands Jeff Scurran, a three-time state champion and arguably the most recognizable name in Southern Arizona high school football history. Scurran's team is going to need to improve defensive if it hopes for an upset. Foothills gave up 240 passing yards and four touchdowns last week against Glendale Cactus. Quarterback Trenton Bourguet and Marana's high-powered offense is even better. Over two games, Bourguet has thrown for 513 yards and completed 73 percent of his passes. If the Falcons can't figure it out defensively, the Tigers will cruise to a 56-20 win.
Higley 39, Mountain View 14 — final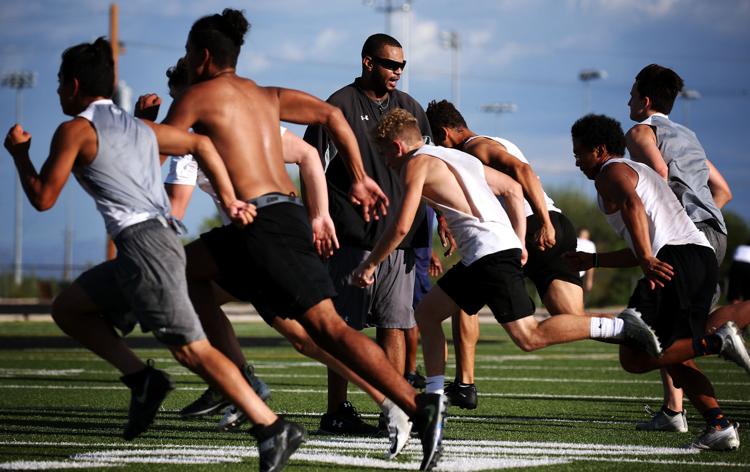 Prediction: GILBERT HIGLEY (2-0) at Mountain View (0-1)
Where: 3901 W. Linda Vista Blvd.
Matchup: Mountain View's season opener against Ironwood Ridge didn't go according to plan, but the Mountain Lions had a bye week and return with clear minds. Bam McRae and company could be in trouble again this week, though: Higley quarterback (and Cal commit) Spencer Brasch has thrown for 686 yards, 12 touchdowns and zero interceptions in two games. Brasch's top target, Coleman Owen, is averaging 24.8 yards per catch. Higley wins 50-28.
Canyon del Oro 55, Apache Junction 26 — final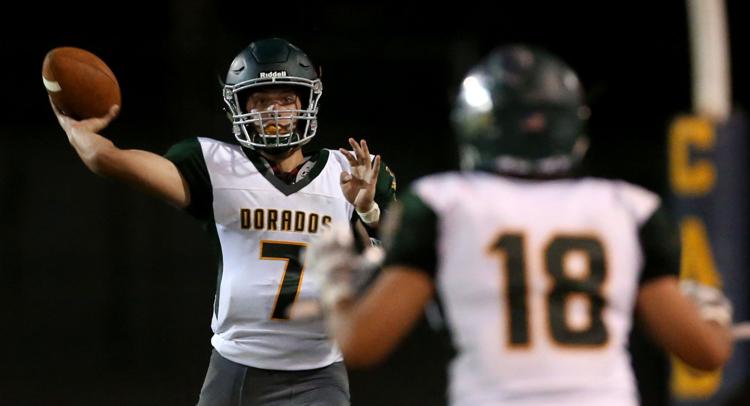 Prediction: CANYON DEL ORO (0-1) at Apache Junction (1-1)
Where: 2525 S. Ironwood Drive, Apache Junction
Matchup: The Dorados' game against Prescott was postponed until Sept. 21 due to weather. While they wait, CDO will take on an Apache Junction team that's the definition of a touch matchup. According to MaxPreps.com, CDO is ranked 96th in the state while Apache Junction is 97th. CDO can win if sophomore running back Stevie Rocker finds his way to rush for more than 150 yards. Rocker rushed for 173 yards and three touchdowns against Flowing Wells two weeks ago, but CDO's inability to convert two-point conversions and extra points ultimately cost it the game. Rocker should put up numbers on Friday night, but how will quarterback Zach Eidenschink fare after completing 47 percent of his passes against Flowing Wells. If Eidenschink can command the offense similar and if Rocker does his thing, CDO will get its first win of the season. Expect a 30-28 win.
Sahuarita 42, Palo Verde 7 — final
Prediction: Sahuarita (1-0) at PALO VERDE (1-1)
Where: 1302 S. Avenida Vega
Matchup: Palo Verde bounced back last week, beating Catalina after getting blanked at home in the season opener. Dual-threat quarterback Jequarious Hale was the team's leading rusher and also threw for 103 yards. If he can repeat last week's performance, the Titans can pull off a win. Call it 27-21.
Casa Grande 26, Pueblo 12 — final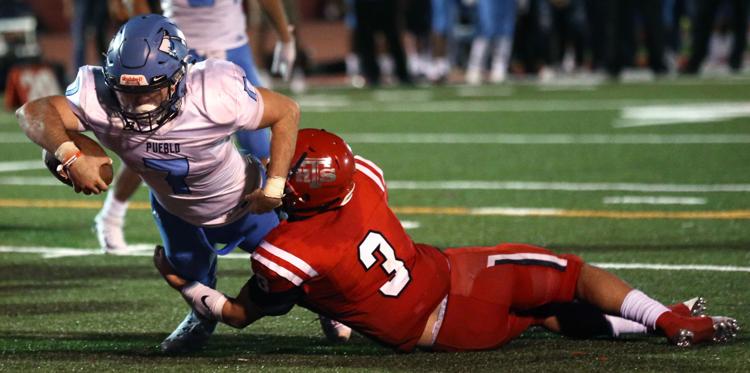 Prediction: Casa Grande (2-0) at PUEBLO (0-1)
Where: 3500 S. 12th Ave.
Matchup: Pueblo fell to Tucson High 30-12 last week. To get on track against Casa Grande, the Warriors need to get to the quarterback. Casa Grande's QB, Angel Flores, is a freshman. If Pueblo defenders Ruben Rivera, Julio Carino and Omar Ibanez can corral Flores, the Warriors should win. Otherwise, Pueblo could be in for a disappointing evening. Tough call, but Pueblo squeaks by 20-17.
Walden Grove 21, Pusch Ridge Christian 0 — final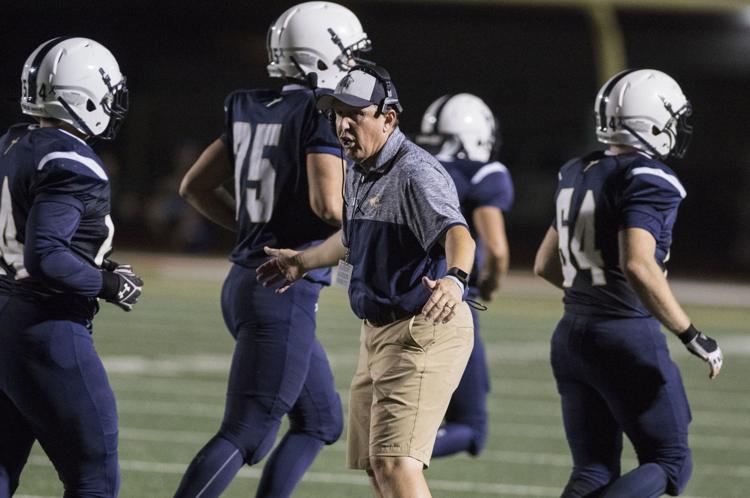 Prediction: Walden Grove (0-1) at PUSCH RIDGE CHRISTIAN (1-0)
Where: 500 N. Oracle Road
Matchup: Just when you think Pusch Ridge Christian could have a down season, the Lions find a way to press on. Pusch Ridge routed Rio Rico 48-12 two weeks ago, rushing 46 times while attempting just five passes. Running back Ryan Garcia rushed for 154 yards on 21 carries while Jonathan Stanton completed three attempts for 81 yards and a touchdown. The Lions haven't lost a home game in four years, and it'll stay that way after Pusch Ridge Christian wins 38-13.
Catalina 30, Rio Rico 25 — final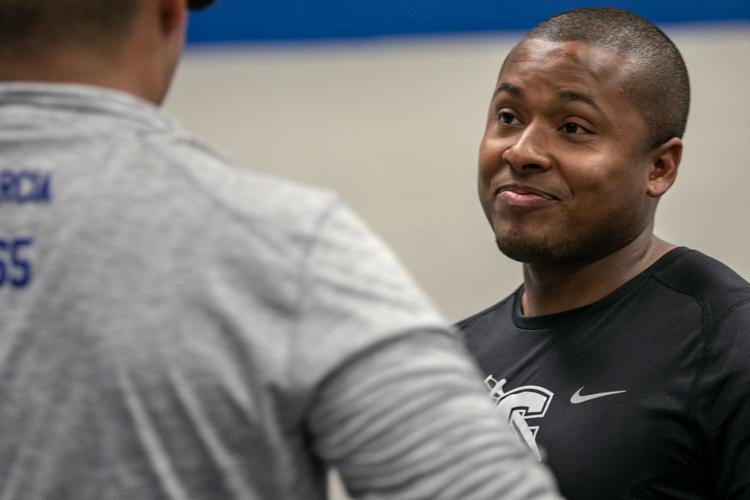 Prediction: Catalina (0-1) at RIO RICO (1-1)
Where: 590 N. Camino Galindo, Rio Rico
Matchup: Both head coaches were teammates at Cienega in 2007. Catalina's Chris Barlow was a junior wide receiver and defensive back while Rio Rico's Zach Davila was one of the most highly touted offensive linemen in Arizona. Now, the former teammates will faec off for the first time. Rio Rico is fresh off a 14-13 win against Empire, while Catalina fell 28-6 to Palo Verde last week. The Hawks have momentum and are playing at home? Fuhgetaboutit. Davila gets the upper hand and Rio Rico holds off Catalina 17-7.
Douglas 42, Empire 26 — final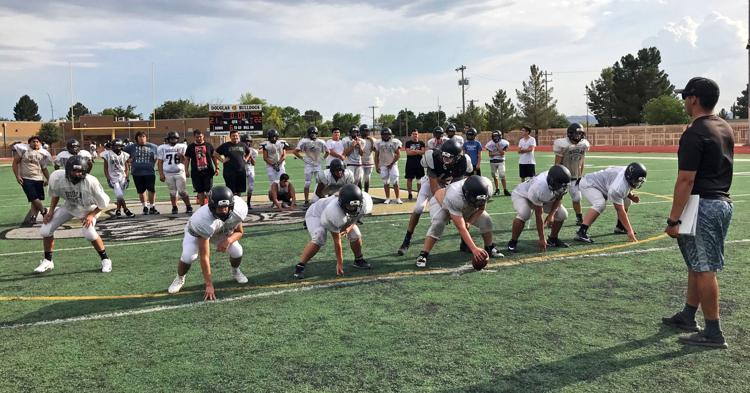 Prediction: DOUGLAS (2-0) at Empire (0-1)
Where: 10701 E. Mary Ann Cleveland Way
Matchup: Don't look now, but Douglas is off to its best start since 2011, when the Bulldogs went 2-1. Friday night will be Douglas' biggest test yet. Empire lost to Rio Rico by point at home last week. Empire's bright spot was running back Wyatt Jeffries, who ran for 112 yards and a touchdown on 15 carries. This is anyone's game, but we like the Bulldogs. Expect a 21-10 win.
Sunnyside 56, Rincon/University 6 — final
Prediction: SUNNYSIDE (1-1) at Rincon/University (0-1)
Where: 421 N. Arcadia Blvd.
Matchup: Sunnyside is another team with a short week. When these two teams met last season, Sunnyside scraped a 7-6 victory at Rincon. In 2018? Expect another close game. The Blue Devils will keep the train rolling and win 14-12.
Vista Grande 28, Cholla 14 — final

Prediction: CASA GRANDE VISTA GRANDE (1-1) at Cholla (0-2)
Where: 2001 W. Starr Pass Blvd.
Matchup: The Chargers were shorthanded last week after dealing with injuries and absences across the board, and Cienega clobbered the Chargers 58-0. Cholla is experiencing life without star Jordan Porter, who led Southern Arizona in passing last season with 3,002 yards. How bad is it? The Chargers were down to their fourth-string quarterback last week. Cholla needs consistency at that position if they want to win games. IT won't happen this week. Vista Grande should, 23-7.
Desert View 21, Nogales 13 — final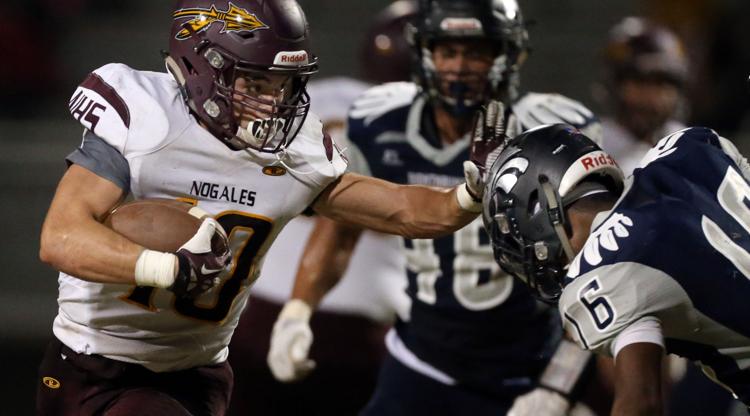 Predictions: DESERT VIEW (0-1) at Nogales (1-0)
Where: 1950 Apache Blvd., Nogales
Matchup: Desert View to Sunnyside 20-13 last week in a game that was moved to Monday (!) because of Friday night's monsoon rains. The Jaguars have a quick turnaround — only three days — to prepare for their game against Nogales, while the Apaches are coming off a bye week. Desert View has a date at home with Marana next week, so as long as the Jaguars don't overlook this Nogales team, they should be fine. After a tough one against Sunnyside, Desert View bounces back with a 21-7 win on the road.
Amphitheater 45, Tanque Verde 0 — final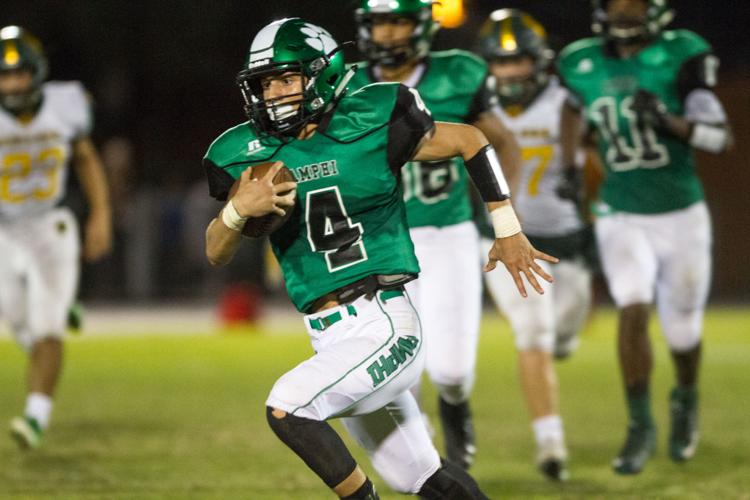 Prediction: Tanque Verde (0-1) at AMPHITHEATER (0-2)
Where: 125 W. Yavapai Road
Matchup: Both teams are looking for its first win since October 2017. The game will be close, but we'll take the home team. Amphi wins 13-0.
San Carlos 18, Santa Rita 6 — final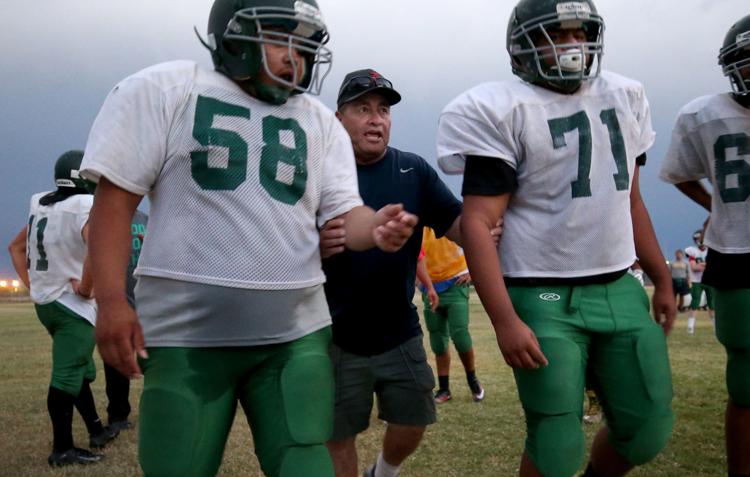 Predictions: SAN CARLOS (0-1) at Santa Rita (0-1)
Where: 3951 S. Pantano Road
Matchup: First-year head coach Richard Sanchez suffered the worst loss of his career last week, when the Eagles were blanked 66-0 by Morenci. Things should only get better this week, when the Eagles play their first home game of the season against a San Carlos team that lost a shootout to Tombstone last week. San Carlos has proven that it can score. And while we'd never count out a Sanchez-coached team, the Eagles are facing a major rebuilding effort. San Carlos rolls, 49-7.