Last week's Class 4A state playoff game between fifth-seeded Sahuaro and No. 12 Glendale was a nail-bitter.
Glendale scored on a 51-yard rushing touchdown with four minutes left in the game, but wasn't able to connect on a two-point conversion that would have given it the lead.
Instead, Sahuaro recovered the onside kick, ran out the clock and logged its first playoff win since 1999.
The Cougars will host No. 13 Chandler Seton Catholic in Friday's quarterfinals.
"It was an exciting game," Sahuaro coach Scott McKee said. "It went back and forth and we were happy and successfully fortunate to win that football game."
Seton Catholic (8-3) upset No. 4 Peoria 54-49 last week. McKee said the Cougars (9-2) will have their work cut out Friday, but he's confident in his team and coaching staff.
Sahuaro ran early and often last week, finishing with 392 rushing yards on 54 carries. Quarterback Izaiah Grigsby attempted just three passes and completed one of them.
Seton Catholic is led by senior quarterback Vincent Wallace, who has thrown for 2,387 yards and 25 touchdowns this season. He put up 388 yards and a score in last week's playoff upset.
"We're just going to try to execute and play the best that we can play," McKee said. "They're a very good team, good quarterback, good receivers, and it's been a very good program for a lot of years."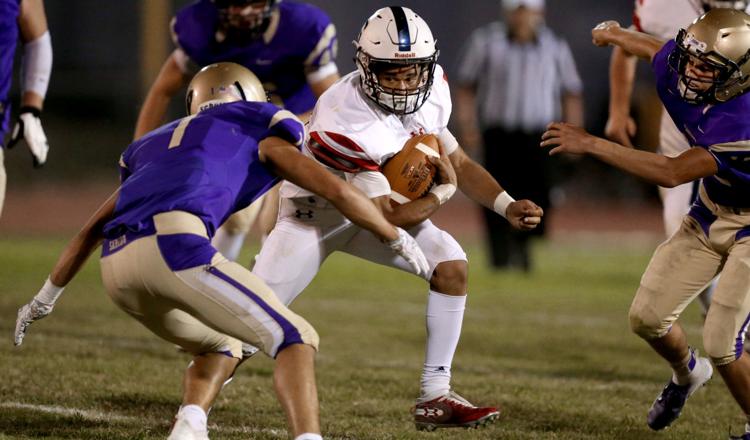 Senior tight end Chase Pope admitted to thinking Sahuaro would come up short last week, but relied on muscle memory when things got close. The team put in too much preparation and practice, he said, to lose in the first round.
Pope said he doesn't think the team needs to change anything to get ready for Seton Catholic.
"This Friday, I'm just looking forward to getting another 'W,' getting another win," Pope said.
Senior lineman Justin Scott credited the team's 20-person senior class for the turnaround.
It also helped that the Cougars earned a high seed in the Class 4A bracket, allowing them to host the first-round game. Scott said the home-field advantage helped them edge out Glendale; hopefully, he said, the team can do it again Friday.
The Sentinels finished the regular season on a two-game losing streak before their first-round upset.
Sahuaro senior Jakob Goerke said he's expecting a good game.
"I don't know about a close game, but I expect a good fight from them," Goerke said. "I'm expecting them to throw the ball around and for us to just make plays."