After allowing an early touchdown, the Sahuaro defense put the clamps on Sabino on Friday night.
The Cougars' offense got the job done as well, and Sahuaro won the east-side rivalry game for the first time in four years, 34-7.
Sabino's opening drive came to an end sooner than it would have liked thanks to an interception by Sahuaro's Damion Wright, which the Cougars then converted into a touchdown.
The Sabercats responded on the next drive and were able to score on a keeper by Jimmy Hamilton to tie the game early, but that was the last time Sabino entered the end zone.
"I thought our kids came out and executed," Sahuaro coach Scott McKee said. "We gave up some bells and whistles, but we got great offense outside and those kids were really unselfish."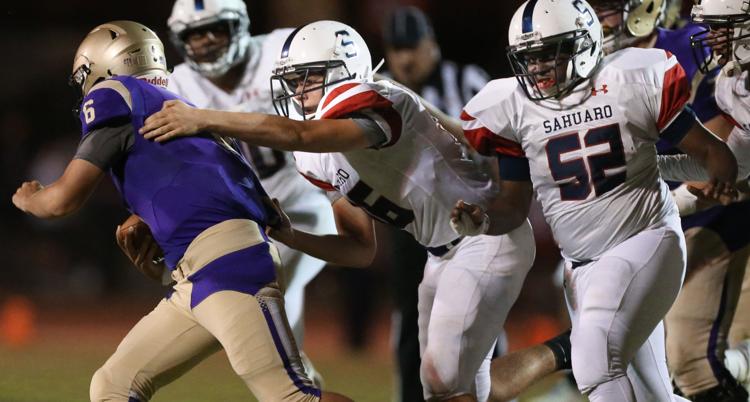 After having a lineman go down with an injury on a defensive play early in the game, McKee said he knew he had to switch things up. So, he decided to give senior Cameron Williams a bigger role.
Williams can run the ball, but is usually not used as much in the offense because of his strength on the defensive line. But McKee knew he needed a way to break through the Sabercats' defense.
And that's where Williams came in as a running back.
"Today we had to horse up," McKee said. "We lost a guy early in a game, and he had to go play. And he did it."
Williams was detrimental in keeping drives alive and scored twice for the Cougars — the second on a 59-yard rush — and added a two-point conversion.
The senior said he believes this was one of his better games yet.
"I couldn't thank my line enough," Williams said. "They gave a very good effort and I just put it on the line after seeing my teammate go down."
The other Cougar touchdowns came from Izaiah Davi, Abrien Painter and Izaiah Grigsby.
Although Sahuaro scored with ease from the start, the Cougars had plenty of flags called against them. As did Sabino.
The rivalry game got heated with multiple unsportsmanship and holding calls.
"I didn't really try to get into as much," Williams said. "That's what rivalries are — they just talk crap to each other. But I can't get into that. There were too many penalties going on."
Along with penalties, Sabino struggled with bad snaps and keeping the ball. The Sabercats gave up two interceptions and weren't able to recover one of their bad snaps.
Sabino coach Ryan McBrayer said Sahuaro was a great team. They were tough up front and didn't have to pass the ball, instead they focused on the running game.
At the end of the night, the Sabercats suffered from too many little mistakes.
"We have to catch snaps, we have to catch balls, we got to push the same drives," McBrayer said. "A lot of penalties holding penalties that were called tonight. It's going to be hard to beat good teams like this if you shoot yourself in the foot."
The Cougars (2-1) next play in Tempe against Marcos de Niza and the Sabercats (0-2) host Catalina Foothills, both on Friday.
McBrayer said he hopes the team can turn it around soon.
"There's only one choice, I think," McBrayer said. "You either move forward or you don't.
"Hopefully we have guys in that locker room that can move forward."
---