A secret started coming out of the high school basketball camps earlier this month, and Salpointe Catholic coach Jim Reynolds didn't really want to hear it.
His Lancers just might be the best in Class 4A next season. Or maybe any other division.
With a blend of experience, basketball pedigree and the sort of athleticism that can mitigate a lack of height, the Lancers won the PrimeTime tournament in Gilbert on June 15. Then they went 3-1 last weekend while playing in one of the more competitive brackets in the Section 7 event at Phoenix, which featured top teams from around the West.
The only Section 7 game the Lancers lost, to Riverside (Calif.) Poly last Saturday evening, was one they were forced to play just five hours after beating California's St. John Bosco. Salpointe also easily beat California's Heritage Christian (77-60) and Gilbert (80-51).
After all that, it wasn't a stretch to imagine where this team could go. Like to the 4A state championship game.
"Well, people say that," Reynolds said. "But we're not going to drink the Kool-Aid, so to speak. It's a long way to go. Anything can happen. But we are playing well."
A longtime high school coach and teacher in Ohio whose son, Ryan, is UA's director of basketball operations, Jim Reynolds qualified the optimism by noting that the Lancers' ceiling might be lower.
That is, they're loaded with returning seniors, led by guard Evan Nelson, but might not have as much room to grow.
"When you're experienced, you have to work really hard at getting better," Reynolds said. "Whereas some of these other teams will get better with time."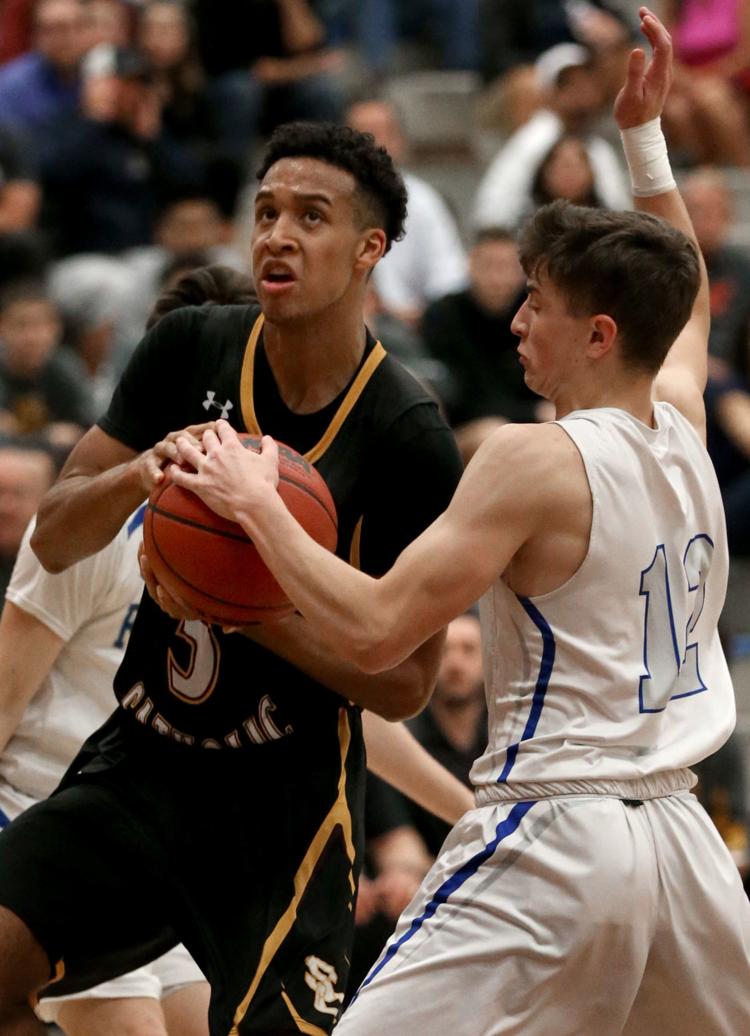 The Lancers' other potential weakness is size. Having lost 6-5 forward Majok Deng from last season's 4A semifinalists, the Lancers are now going with five guards at times.
The 6-foot-1 Nelson says he's OK with that. After all, they beat a much taller St. John Bosco team 54-43 last Saturday.
"Facing bigger teams like this one, it's just tough on the boards as far as trying to get rebounds, but it just makes us have to engage more, box out," Nelson said after the St. John Bosco game. "I actually think it works to our advantage, because we get to run out, we get to make reads and stuff. Slower guys who really can't guard us, we get to go by them."
They also have the craftiness and basketball IQ to make it happen.
Some of that comes from their bloodstreams: Among the Lancers' best players are Braden Miller, the son of UA coach Sean Miller; Jordan Gainey, the son of UA assistant coach Justin Gainey; and Grant Weitman, the grandson of UA basketball booster and former high school coach Paul Weitman, and son of Neil Weitman, a former all-city Salpointe football player who is in the school's sports hall of fame.
Last season's 4A quarterfinals was just one example of how that know-how can play out. In their 83-55 smashing of Mesquite, the Lancers put the 6-3 Weitman on Mesquite's leading scorer, 6-foot-7 Edin Smjecanin, and then trapped him incessantly whenever he received the ball.
Smjecanin finished with eight points on 4-of-11 shooting.
"Just having those guys play as long as they have and being coaches' sons, I think it helps a lot obviously," Nelson said. "Braden and Jordan are around basketball all the time, and me as well, and Grant is just a high IQ guy."
So high, that Reynolds says Weitman had 108 assists to just 15 turnovers last season, an amazing 7.2-1 assist turnover ratio.
All together, Salpointe has four players — Miller, Gainey, Weitman and Jake Cioe — who could wind up playing low-level Division I, Division II, Division III or NAIA in college, Reynolds says. Then there's Nelson, a growing target of mid-major and some high major programs.
Nelson is scheduled to visit Rice this weekend, and says he's planning to visit Harvard and UC Santa Barbara in August, with others likely to be scheduled. He said he's also drawn interest from Nevada and San Diego State, with time to attract further attention during the open evaluation weekend in July, when Nelson will play in the Atlanta Under Armour event for Powerhouse Hoops.
With guys like that, coaching sometimes gets a little bit easier on the floor … even if the expectations make it a little harder off it.
"These guys are smart and they know what we want to do," Reynolds said. "You know, the huddles are always kind of interesting. It's not like we have to scream and yell at anybody to do something. When you tell them there's not something we're doing pretty well, they're usually pretty good at (fixing) it."
"They're all guys who really know how to play. They know their strengths and weaknesses. And they're all improving immensely."