Long after the bleachers cleared and the players have exited the field at Ed Doherty Stadium, a group of 50 or 60 people anxiously wait for their opportunity to meet with Bijan Robinson.
Some are children barely old enough to throw a football. Others are old enough to remember the days when Ka'Deem Carey, Mario Bates and Michael Bates used to terrorize opposing defenses.
Robinson, Salpointe Catholic's senior running back, happily meets with each person. He poses for pictures and signs autographs, something that has become a weekly occurrence for the star of the undefeated Lancers (10-0).
"It started from how I was raised," Robinson said. "(When) people come up to you, always be respectful and never act big-headed or cocky. I feel like signing autographs or taking pictures with people makes them happy. They don't always get to see that for just an everyday person in Tucson, so just me being here and being able to give them that joy is something I enjoy."
Robinson's mingling came after last week's 48-10 win over Phoenix Pinnacle in the Open Division quarterfinals. Robinson rushed for 142 yards and a touchdown, and caught an 86-yard touchdown pass as well.
The game was tougher than what Salpointe was used to in the regular season, when it cruised through its schedule. Things will get even tougher on Saturday, when the Lancers take on top-seeded Chandler at Chandler High School. The game kicks off at 6 p.m.
Last week's game "showed that we kind of have to work a little harder," Robinson said, "but once we start getting it going and get our groove on, we start playing our football."
Chandler (11-0) is the three-time defending Class 6A state champions, and MaxPreps.com lists the Wolves as the nation's 17th-ranked team. Chandler has not lost to an in-state team in the last two years. Robinson knows that Chandler's depth and cohesiveness make them difficult to play.
"They play good team ball," he said. "They have a lot of spectacular players who play really well together. They're disciplined, know their assignments and what they have to do. For us, we just have to read off them and try to capitalize."
Salpointe continues to improve and evolve, especially on offense.
Sophomore Treyson Bourguet took over as the starting quarterback in Week 8 and immediately took off.
The Marana High School transfer has completed 75% of his passes since taking over, tallying 11 touchdowns while throwing only one interception. He threw for 243 yards and four touchdowns last week.
Bourguet's emergence has taken some of the heat off Robinson and opened up the offense for players like Lathan Ransom and Connor Witthoft to have bigger roles in the passing game.
"He came in right away and knew everything he had to do to make this offense successful," Robinson said of Bourguet.
"It was smooth, like we were with him since we all were freshmen. When he gets going, we all can see what he can do and the talent he has."
Win or lose on Saturday, this year's Lancers have proven themselves as one the best teams to ever come out of Tucson — a fitting end to the career of both Robinson and Lancers head coach Dennis Bene, who has announced plans to retire.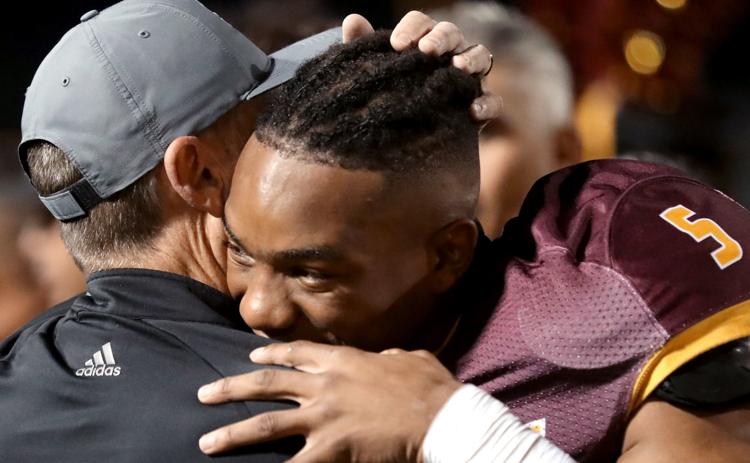 Robinson broke Arizona's big-school (Class 4A, 5A and 6A) career rushing record this season while also becoming the first running back to rush for over 2,000 yards in three different seasons. No player in state history has scored more touchdowns.
Bene will retire with the third-most wins in Tucson high school history. Bene has won one state title; a victory in the first-ever Open Division tournament would cap a legendary career.
"With him retiring, we're trying to work extra hard to go out and win it," Robinson said. "We have to win for him, for Salpointe. For all the seniors on the team and all of the coaches on the team who might be in their last year as well, I feel like we have to win this championship."