Top 10s of Southern Arizona high school football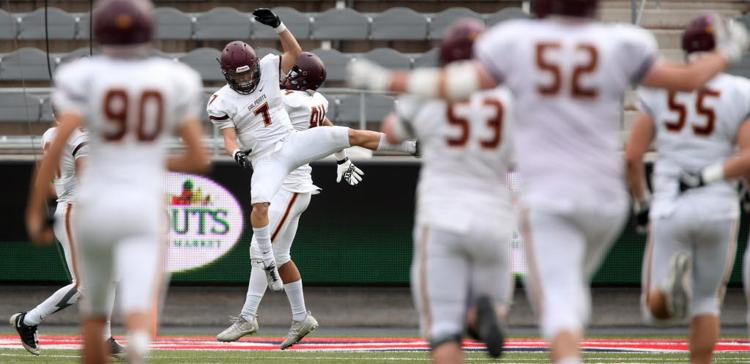 No Southern Arizona school was able to grab a state championship this year, but that doesn't mean there wasn't a fair share of standout athletes throughout the 2017 season. Here's a look at the top 10 in statistical categories, including passing, rushing, receiving, tackles and interceptions. 
All statistics are from MaxPreps. Offensive stats are categorized by yards, and defensive stats go by total tackles and number of interceptions. 
Passing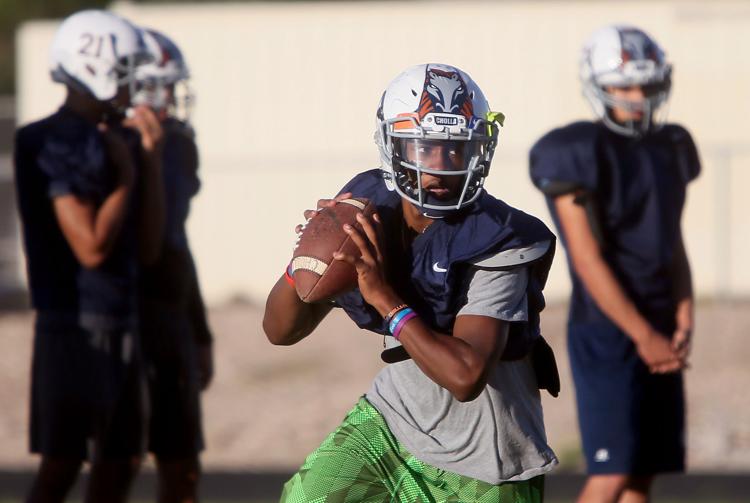 1. Jordan Porter, senior, Cholla
3,002 yards, 216-353 comp/att, 27 touchdowns, 16 interceptions, 95.1 QB rating
2. Trenton Bourguet, junior, Marana
2,984 yards, 144-233 comp/att, 38 touchdowns, 11 interceptions, 125.6 QB rating
3. Alex Bell, senior, Sabino
2,428 yards, 147-240 comp/att, 36 touchdowns, 2 interceptions, 131.4 QB rating
4. Jamarye Joiner, senior, Cienega
2,196 yards, 124-216 comp/att, 26 touchdowns, 7 interceptions, 118.4 QB Rating
5. Heath Beemiller, senior, Ironwood Ridge
1,678 yards, 126-206 com/att, 19 touchdowns, 6 interceptions, 105.6 QB rating
6. Nick Flores, senior, Walden Grove
1,459 yards, 85-180 comp/att, 14 touchdowns, 8 interceptions, 82.6 QB rating
7. Josue Tapia, senior, Nogales
1,365 yards, 125-238 comp/att, 11 touchdowns, 17 interceptions, 55.2 QB rating
8. Malik Martin, junior, Catalina
1,351 yards, 68-167 comp/att, 11 touchdowns, 7 interceptions, 74.2 QB rating
9. Jovoni Borbon, sophomore, Buena Sierra Vista
1,335 yards, 83-167 comp/att, 12 touchdowns, 8 interceptions, 80.8 QB rating
10. Christian Fetsis, senior, Pusch Ridge Christian
1,296 yards, 55-92 comp/att, 16 touchdowns, 3 interceptions, 130.0 QB rating
Honorable mention: Chris Kowalcek, senior, Catalins Foothills
1,253 yards, 70-113 comp/att, 8 touchdowns, 2 interceptions, 116.1 QB rating
Rushing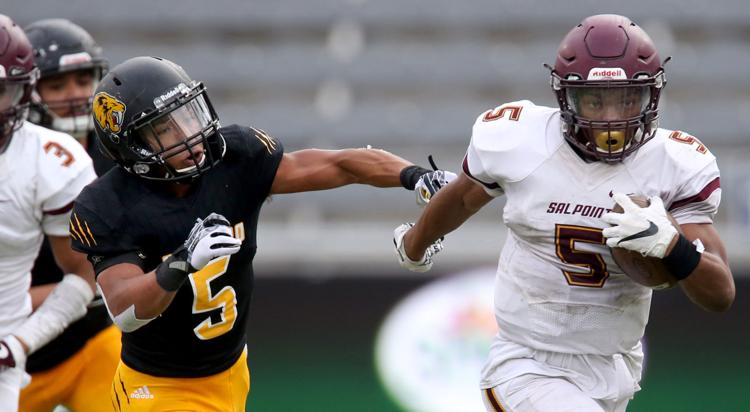 1. Bijan Robinson, sophomore, Salpointe Catholic
2,023 yards, 10.7 yds/carry, 65 long, 26 touchdowns, 3 fumbles
2. Nick Brahler, senior, Ironwood Ridge
1,910 yards, 8.0 yds/carry, 60 long, 21 touchdowns
3. Elijah Carey, senior, Canyon del Oro
1,795 yards, 8.9 yds/carry, 59 long, 15 touchdowns, 1 fumble
4. Jordan Porter, senior, Cholla
1,727 yards, 9.1 yds/carry, 83 long, 22 touchdowns, 2 fumbles
5. Jamarye Joiner, senior, Cienega
1,399 yards, 8.5 yds/carry, 80 long, 18 touchdowns, 3 fumbles
6. Wyatt Jeffries, junior, Empire
1,362 yards, 7.7 yds/carry, 46 long, 11 touchdowns, 2 fumbles
7. Christian Fetsis, senior, Pusch Ridge Christian
1,181 yards, 9.3 yds/carry, 69 long, 16 touchdowns, 5 fumbles
8. Ruben Rivera, junior, Pueblo
1,133 yards, 8.1 yds/carry, 53 long, 10 touchdowns, 1 fumble
9. Chris Kowalcek, senior, Catalina Foothills
1,021 yards, 6.4 yds/carry, 71 long, 20 touchdowns, 1 fumble
10. Lawrence Prior, senior, Buena Sierra Vista
1,015 yards, 8.1 yds/carry, 70 long, 13 touchdowns, 1 fumble
Honorable mention: Wyatt Adams, senior, Mountain View
1,009 yards, 8.6 yds/carry, 83 long, 1 touchdown
Receiving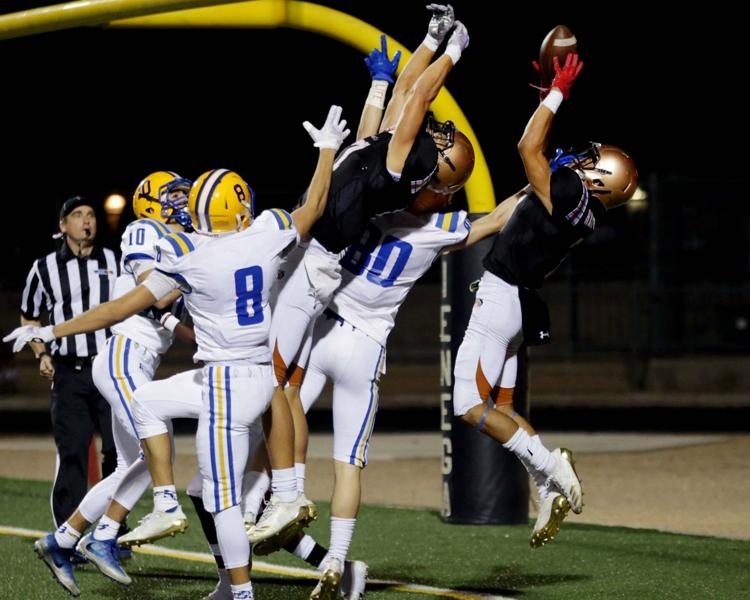 1. Aj Blair, senior, Cholla
1,589 yards, 17.5 yds/rec, 91 receptions, 70 long, 17 touchdowns
2. Terrell Hayward, junior, Cienega
1,021 yards, 20.0 yds/rec, 51 receptions, 72 long, 12 touchdowns
3. Luke Moran, senior, Sabino
896 yards, 18.3 yds/rec, 49 receptions, 85 long, 11 touchdowns
4. Teon Simmons, senior, Marana
735 yards, 22.3 yds/rec, 33 receptions, 70 long, 17 touchdowns
5. Jesus Valenzuela, senior, Marana
733 yards, 21.6 yds/rec, 34 recptions, 68 long, 8 touchdowns
6. Bennett Nottingham, senior, Sabino
683 yards, 13.4 yds/rec, 51 receptions, 42 long, 10 touchdowns
7. Joshua Hart, junior, Mountain View
619 yards, 24.8 yds/rec, 25 receptions, 57 long, 1 touchdown
8. Diego Miranda, junior, Marana
605 yards, 18.9 yds/rec, 32 receptions, 47 long, 2 touchdowns
9. Brandon Walker, senior, Empire
604 yards, 21.6 yds/rec, 28 receptions, 65 long, 10 touchdowns
10. Andrew Cook, junior, Ironwood Ridge
601 yards, 20.0 yds/rec, 30 receptions, 77 long, 8 touchdowns
Honorable mention: Clemente Quintero, senior, Catalina
588 yards, 26.7 yds/rec, 22 receptions, 65 long, 1 touchdown
Tackles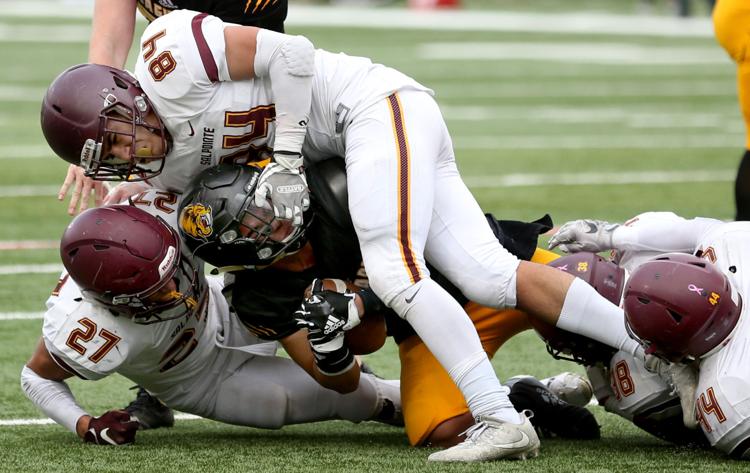 1. Chris Aguirre, senior, Salpointe Catholic
143 total tackles, 82 solo, 13 for loss, 7 sacks
2. Christian Villaescusa, senior, Cholla
119 total tackles, 94 solo, 13 for loss
3. Mitch Maas, senior, Pusch Ridge Christian
119 total tackles, 61 solo, 1 for loss
4. Jeremy Vallejos, senior, Cayon del Oro
114 total tackles, 31 solo, 2 for loss, 1 sack
5. T.J. Cephers, junior, Marana
111 total tackles, 66 solo, 4 for loss
6. Bobby Heitzinger, junior, Catalina Foothills
109 total tackles, 25 solo
7. Julio Carino, junior, Pueblo
102 total tackles, 61 solo, 3 for loss, 5 sacks
8. Blake Reilly, senior, Pusch Ridge Christian
99 total tackles, 53 solo, 12 for loss, 3.5 sacks
9. Joshua Pasos, senior, Salpointe Catholic
95 total tackles, 37 solo, 7 for loss, 2 sacks
10. Max Banach, senior, Buena Sierra Vista
88 total tackles, 44 solo, 2 for loss
Honorable mention: Arturo Alcaraz, senior, Salpointe Catholic
87 total tackles, 46 solo, 4 for loss, 1 sack
Interceptions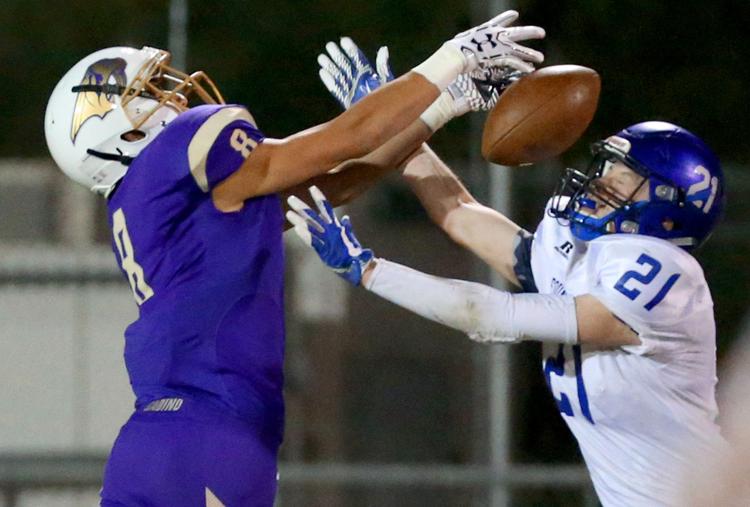 1. Philippe Kijana, junior, Catalina
8 interceptions
2. Eric Teitelbaum, senior, Tanque Verde
6 interceptions, 88 yards
3. Diego Armijo, sophomore, Sabino
6 interceptions, 227 yards
4. Ichiro Ramos, junior, Canyon del Oro
5 interceptions, 110 yards
5. Luke Mitchell, junior, Catalina Foothills
5 interceptions, 37 yards
6. Tamerat Mcleod, senior, Pusch Ridge Christian
5 interceptions, 75 yards
7. Lathan Ransom, sophomore, Salpointe Catholic
5 interceptions, 123 yards
8. Mitch Maas, senior, Pusch Ridge Christian
5 interceptions, 66 yards
9. Kevin Silva, sophomore, Amphitheater
4 interceptions, 16 yards
10. Gbara Mene-bie Jr., junior, Mountain View
4 interceptions, 45 yards
Honorable mention: Robert Garcia, senior, Rio Rico
4 interceptions