Sunnyside High School's boys soccer team has slowly — and quietly — been working on its game on Tucson's south side. But the Blue Devils' success isn't staying quiet anymore.
MaxPreps.com lists Sunnyside (18-0-2) as the No. 1 program in the state and third-best team in the nation. The Blue Devils have outscored their opponents 82-19 this season. They'll play at Marana on Thursday at 6 p.m.
"We expected to do well," senior Adrian Virgen said, "but not this well."
Third-year coach Casey O'Brien said the program's recent success has created a bit of a buzz. It's also sparked a new question: Could Sunnyside win its first state championship in boys soccer? AzPreps365.com, the AIA's official website, lists the Blue Devils as the No. 2-ranked team in Class 5A behind Phoenix Carl Hayden. Sunnyside was eliminated by Chandler in the quarterfinals of last year's Class 6A state playoffs. In 2017, Sunnyside fell in the play-in round.
While winning state is O'Brien's goal, that's not what makes this year's team notable.
"A lot of it doesn't really have to do with soccer. It's really just the extra things," he said.
The school's community is tough, O'Brien said, and sometimes there's not much family support. O'Brien said he's noticed negative influences, students not caring about school or thinking about their future.
Soccer provides a way to reinforce the values of hard work — and teamwork.
"It's very easy to take a wrong turn here," said O'Brien, a 31-year-old San Diegan. "There's a lot of people trying to push you in the wrong direction, a lot of people trying to pull you in the right direction, and you really have to make a concerted effort to stay on the right path."
Many of his players' struggles come from circumstances beyond their control. O'Brien said he's had parents of his athletes deported every year since he joined Sunnyside's staff four years ago.
He's also had athletes deal with deaths in the family. A brother of one of his players died last week.
And, like all programs, Sunnyside navigates eligibility issues. One of the Blue Devils, a native of Belize, hasn't yet been cleared to play.
"There's been a ton of adversity just constantly going on," O'Brien said. "It's been a tough year. And it's like that every year."
O'Brien said the team rallies together to support a teammate whenever they have something going on in their personal lives. O'Brien has attended funerals, sat with kids in the hospital and worked to best help his team. The adversity doesn't just affect the one student, O'Brien said. It affects them all.
"These kids all grew up together — they've all been around each other," O'Brien said. Dealing with the hardships is "tough — that part of it is tough. And it's probably pretty centralized here, I'd say."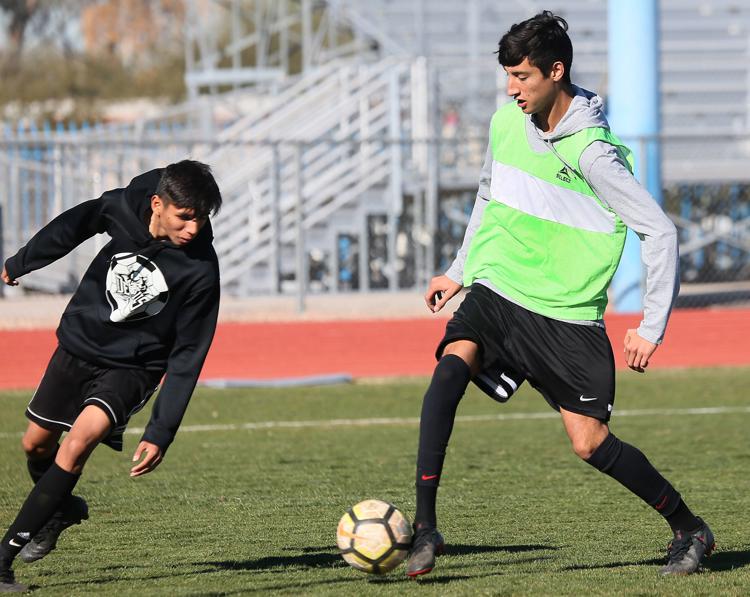 Junior Julio Lemas dealt with deaths in the family last year, and said the team was there to support him. The experience has taught Lemas that he can come to teammates — and his coach — with any issue.
"(O'Brien's) very involved with our players," Lemas said. "He just cares a lot about us, like a family."
The Blue Devils will spend the three weeks gearing up for the state playoffs. While winning it all remains the team's No. 1 goal, the fact that they're playing — and winning — together is what O'Brien says is the most important thing.
"At the end of the day, the biggest thing we have going on that maybe makes us a little bit different is just the fact that it's more of a family than a team," O'Brien said. "And I think the kids just genuinely love each other and look out for each other. It shows in the way that they play and shows in the way that they live."