This week's high school football playoff matchups, breakdowns and predictions
The Star's Justin Spears picks all of this week's Tucson high school football playoff games. 
Playoffs!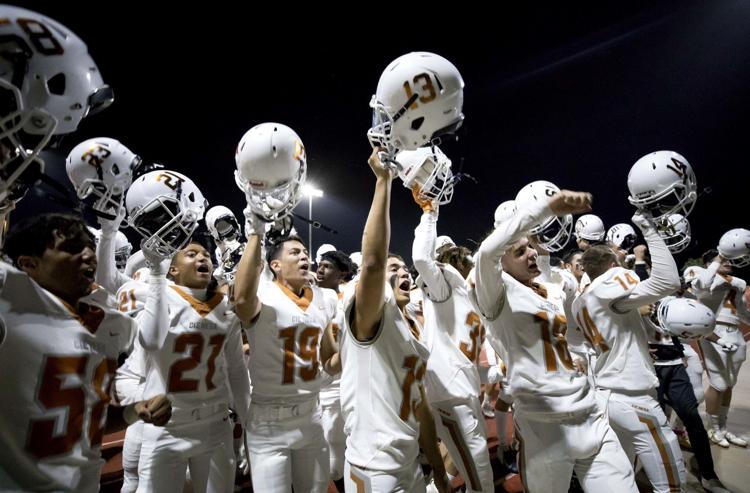 It's playoff time — the best time of the year for high school football.
This year has a postseason wrinkle. For the first time in state history, eight of the top teams in Arizona were selected to compete in an Open Division playoff bracket. Salpointe Catholic is the No. 4 seed, and will take on fifth-seeded Pinnacle next week. Playoffs start for Class 6A, 5A, 4A and 3A on Friday night.
The Star's Game of the Week comes out of Sahuarita, where the No. 5 Walden Grove Red Wolves hosts No. 12 Casa Grande in a rematch of the regular-season contest that WGHS lost. Casa Grande upset Canyon del Oro last week to secure a playoff spot.
The Star's Justin Spears breaks down — and predicts — each playoff matchup for teams around town. Friday's games are scheduled for 7 p.m. kickoffs and predicted winners are in ALL CAPS.
No. 10 Sabino (7-3) at No. 7 SAFFORD (8-2)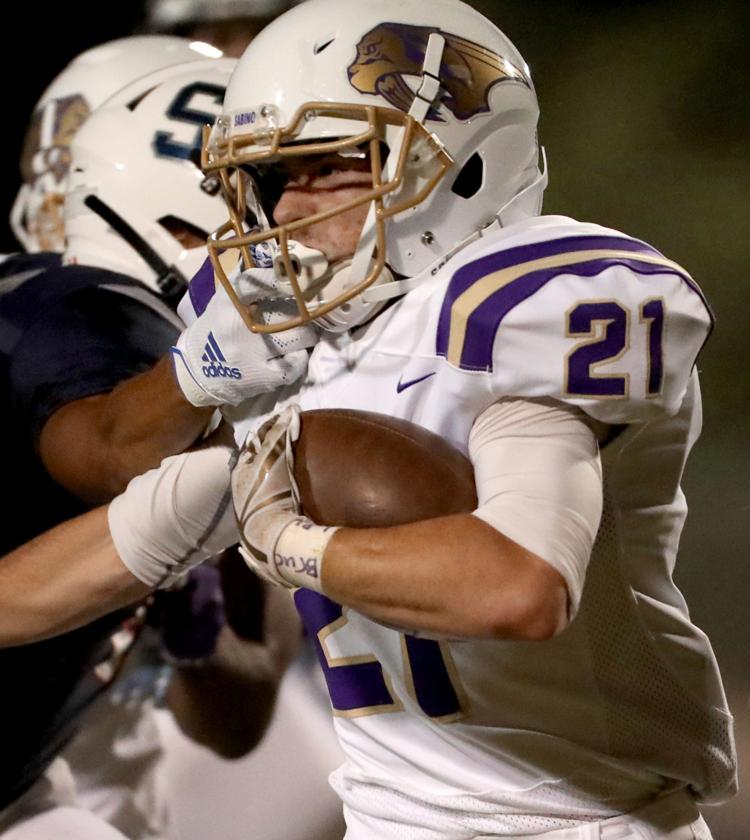 Bracket: Class 3A
Where: 1400 W. 11th St., Safford
What to expect: These two teams played each other to end the regular season last Friday, and Safford powered its way to a 28-6 win in Tucson. Safford's game plan: Run the ball. It gained 302 rushing yards a week ago, with Samuel Tobias and Eduardo Ogaz combining for 228 rushing yards. The Sabercats have struggled all season to stop the run: Sahuaro gained 376 rushing yards against Sabino in their rivalry game, and Queen Creek Benjamin Franklin put up 328 rushing yards in September. Notice the trend? Picking a winner is tough, but we'll give Safford a slight edge. Call it 30-17.
No. 16 Mountain View (6-4) at No. 1 GILBERT WILLIAMS FIELD (8-2)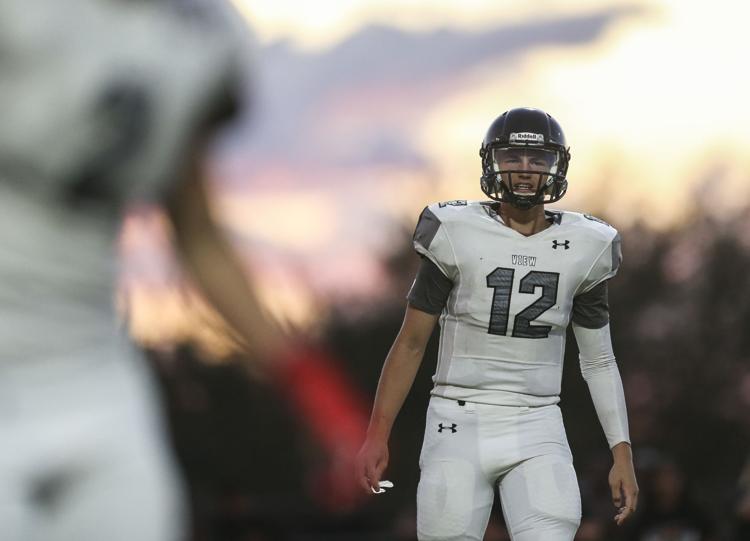 Bracket: Class 5A
Where: 2076 S. Higley Road, Gilbert
What to expect: Williams Field, winner of eight straight games, was in the Open Division conversation before just missing out. Mountain View won five consecutive games after starting the season 1-4 under first-year head coach Matt Johnson, including a victory over Flowing Wells last week. Quarterback Giovanni Ciaccio completed 7 of 9 passes for 162 yards and three touchdowns, while senior running back Aaron Logsdon had five rushes for 101 yards. Mountain View is playing tremendous football right now, but Williams Field has more horses on its roster. Call it 49-20.
No. 9 Sierra Vista Buena (8-2) at No. 8 PEORIA SUNRISE MOUNTAIN (7-3)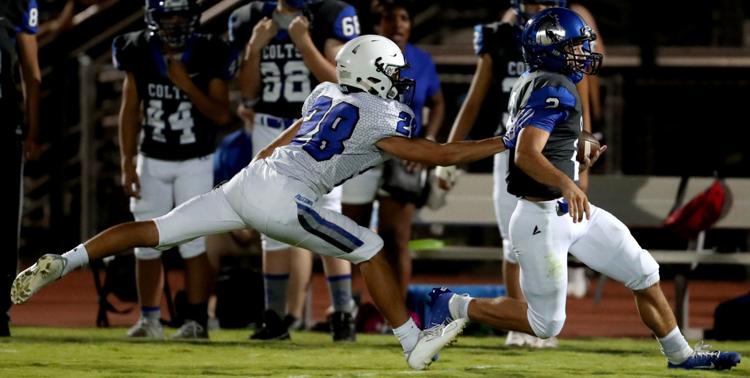 Bracket: Class 5A
Where: 21200 N. 83rd Ave., Peoria
What to expect: Speaking of horses, the Buena Colts will try to win their first playoff game under head coach Joe Thomas. To do it, Buena will need a near-perfect performance against Sunrise Mountain. Buena quarterback Jovoni Borbon is 35 yards away from reaching 5,500 for his career. A playoff victory would truly put the stamp on his remarkable high school career. Don't let Sunrise Mountain's No. 9 seeding fool you. This is a team that beat Phoenix Sunnyslope and top-seeded Gilbert Williams Field earlier this season. Expect Buena to keeps it close, but Sunrise Mountain to win. Call it 45-23.
No. 13 Ironwood Ridge (5-5) at No. 4 QUEEN CREEK CASTEEL (7-3)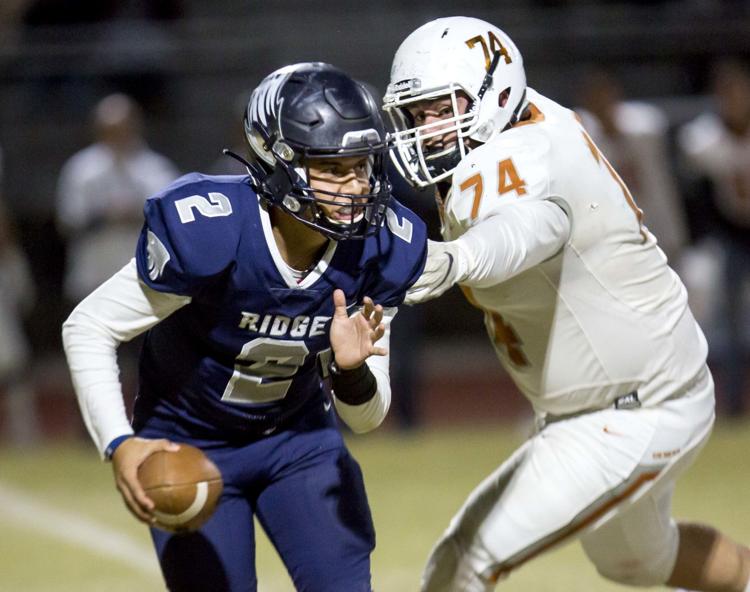 Bracket: Class 5A
Where: 24901 S. Power Road, Queen Creek
What to expect: First-year Ironwood Ridge head coach James Hardy and the Nighthawks sneakedsnuck into the playoffs with a 5-5 record. On Friday, they'll face an uber-talented team in Casteel. The home team boasts junior quarterback Dane Christensen, who has thrown for 2,460 yards and 21 touchdowns this season. In last week's win over Gilbert Campo Verde, Christensen threw for a career-high 461 yards and four touchdowns on 27-of-33 passing. The Nighthawks are better than their record shows because all five of their losses are against quality programs, but it's tough to pick against Casteel. Call it 52-28.
No. 10 Phoenix Sunnyslope (6-4) at No. 7 CIENEGA (8-2)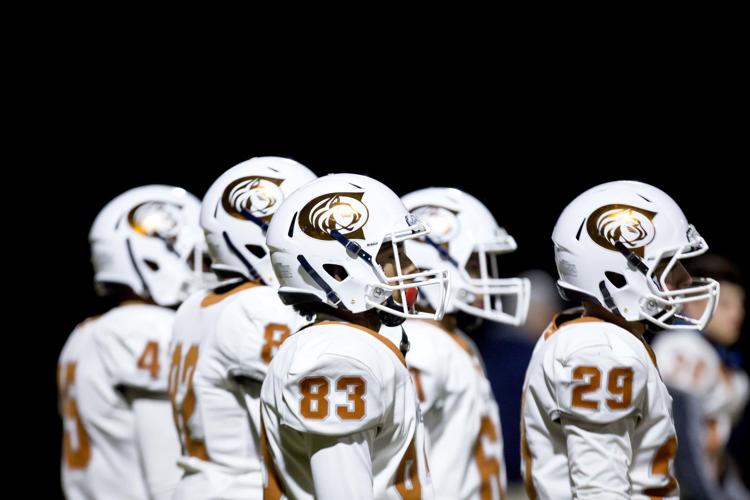 Bracket: Class 5A
Where: 12775 E. Mary Ann Cleveland Way, Vail
What to expect: This is another matchup of two teams that met earlier in the season, with the Vikings cruising by the Bobcats 38-10. Cienega is different now, however, compared to the second week of the season. Cienega's only other loss was to Peoria Centennial, and the Bobcats' defense has three shutout victories since then. That unit has also only given up 13 points over the last three weeks. Cienega's "D" is led by defensive lineman Damaggio Strevay, who had had three sacks last week, bringing his season total to eight. If he has a similar performance and puts pressure on Sunnyslope quarterback Niko Haen, then the Bobcats will avenge their loss from September. And they will — by one point. Call it 28-27.
No. 16 Glendale (8-2) at No. 1 SAHUARO (8-2)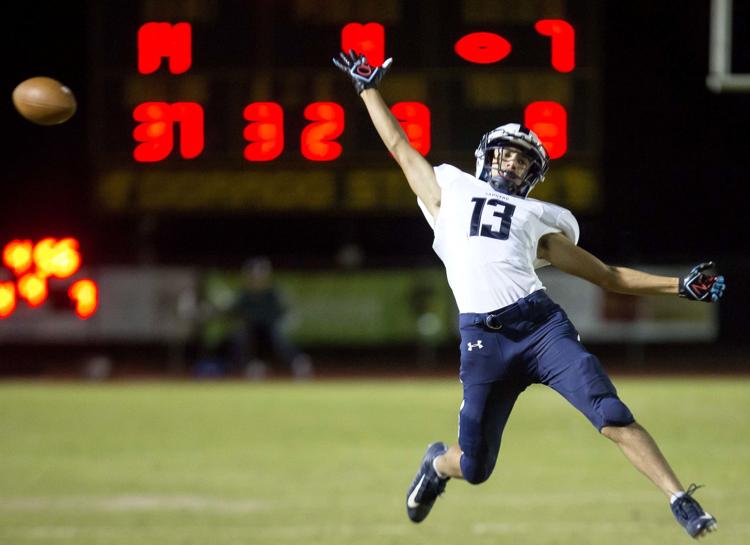 Bracket: Class 4A
Where: 545 N. Camino Seco
What to expect: Think the 4A bracket is deep? The No. 16 seed (Glendale) and No. 1 seed (Sahuaro) have the same record: 8-2. The Cougars were fortunate enough to land the No. 1 seed after CDO collapsed against Casa Grande, and will have home-field advantage throughout the playoffs. Sahuaro's Izaiah Davis, Trevion Watkins and Jamir Gasaway all have at least 600 rushing yards on the season. We expect all three to have close to 100 rushing yards apiece on Friday night. Sahuaro wins 35-14.
No. 14 Tempe Marcos de Niza (5-5) at No. 3 CANYON DEL ORO (8-2)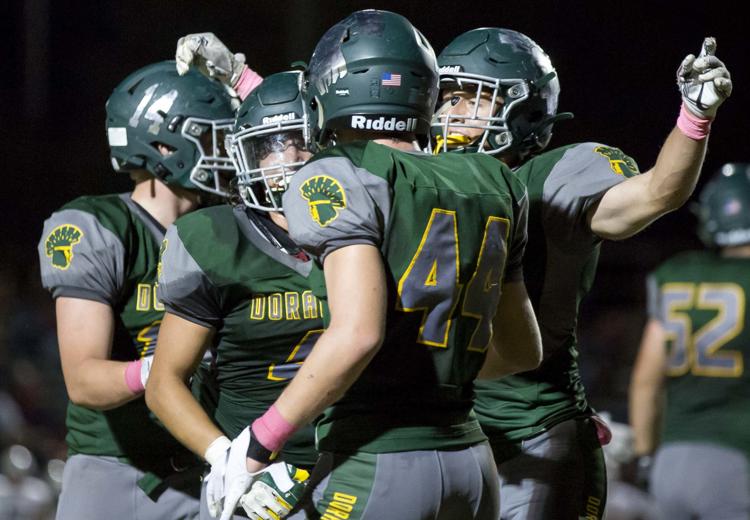 Bracket: Class 4A
Where: 25 W. Calle Concordia, Oro Valley
What to expect: Maybe a loss was exactly what CDO needed heading into playoffs. CDO beat Sahuaro in the seventh game of the season, but since the Dorados fell to Casa Grande, the Cougars were rewarded the No. 1 seed. However, both teams are coming off losses and Marcos de Niza is on a three-game skid entering this contest. The Padres haven't won a game in nearly a month, but managed to squeak into the playoffs anyway because of their strength of schedule. CDO hasn't won a playoff game in five years. Expect that streak to end with a 41-27 win.
No. 11 Pueblo (8-2) at No. 6 GILBERT MESQUITE (7-3)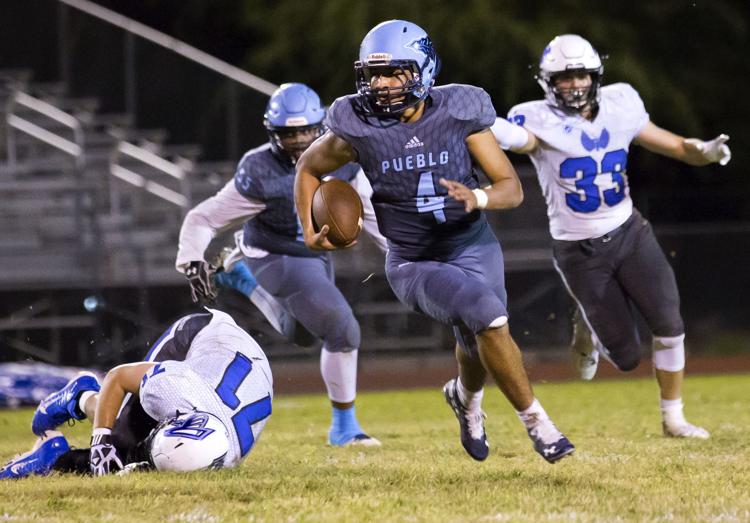 Bracket: Class 4A
Where: 500 S. McQueen Road, Gilbert
What to expect: Pueblo's defense has been on another level since losing to Walden Grove 34-13. Since that loss, Pueblo outscored opponents Rio Rico and Amphi 84-0. Mesquite dropped in the rankings after getting blasted by Scottsdale Saguaro 53-0 to end the season. It's gonna take a complete effort from Pueblo's defense to win on the road. We like Mesquite 43-30.
No. 12 Casa Grande (6-4) at WALDEN GROVE (9-1)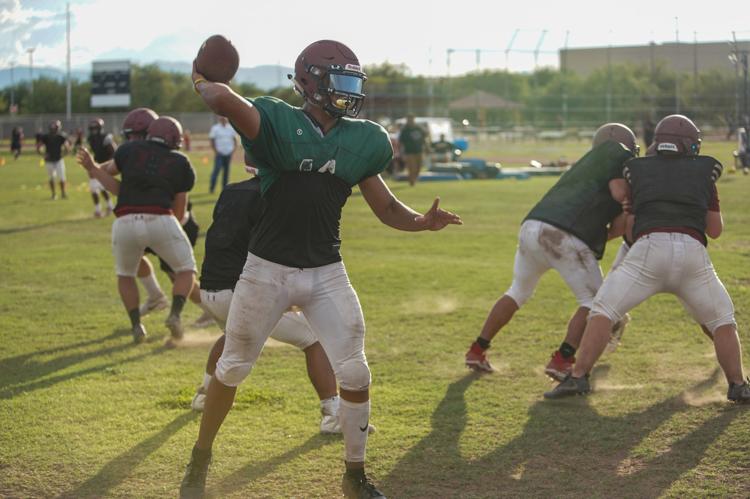 Bracket: 4A
Where: 15510 S. Sahuarita Park Road, Sahuarita
What to expect: This game will go down to the wire. Casa Grande is led by quarterback Angel Flores, who has 1,939 passing yards and 14 touchdowns this season. Flores torched Walden Grove's defense when the two met earlier, completing 24 of 29 passes for 316 yards and three touchdowns. Sophomore running R.J. Keeton also amassed 117 yards on 20 carries in that contest. Walden Grove linebackers Rick Avelar III and Sebastian Adamski have combined for 260 tackles and 27.5 tackles for loss this season. Adamski had 20 tackles while Avelar had 14 in the loss to Casa Grande earlier this season. If those two can duplicate their performances and if they get help from other defenders, especially in the secondary, we like the Red Wolves winning a tight one. Call it 20-14.